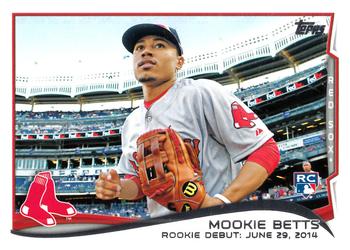 June 29, 2014: Mookie Betts debuts in Red Sox outfield
---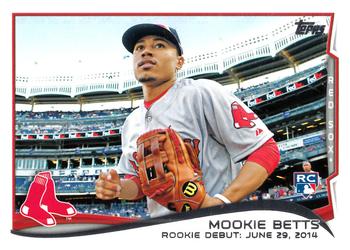 Just a year after winning the World Series in 2013, the Red Sox were struggling. With only two days left in June, they were in fourth place in the American League East, seven games behind first-place Toronto and five games behind the third-place Yankees. They had finished in last place in 2012, before bounding to the top in 2013.
The team was at the halfway point of the season, 81 games played and with a record of 37-44. Manager John Farrell was perhaps feeling the need to get the team going. The Red Sox had been shut out by the Yankees on June 27, but then won, 2-1, on Saturday night, thanks to a solo home run in the top of the ninth by Mike Napoli.
Mookie Betts was only 21 years old, but given advance billing by the Boston Globe as the "Sox' hottest prospect."1 He was still primarily a second baseman, but had begun to play some outfield (12 out of 54 games) with Double-A Portland Sea Dogs in 2014, where he hit .355 (.443 OBP) and earned himself a promotion to Triple-A Pawtucket. He started with the PawSox on June 3. One major feather in his cap that garnered attention in the circles that counted when evaluating prospects was a 66-game on-base streak.2
In his first 22 games with Pawtucket, Betts reached base safely, too, hitting .322 through June 27. The Globe's Christopher Gasper had already warned against rushing the "uber-prospect" to the majors.3 On June 24 Betts was named to the All-Star Futures Game to be played on July 13 at Target Field in Minneapolis.4 With Pawtucket, he had begun to play more outfield than second base (the Red Sox were well aware that they had Dustin Pedroia pretty much locked in at second base in Boston) and Shane Victorino's minor-league rehab work was suspended indefinitely on June 27; he wasn't coming back to the Red Sox outfield any time soon.5 Betts was also burning up the basepaths, with 28 steals in the season.
Betts was called up on June 28. GM Ben Cherington said, "I don't think we can be gun-shy about calling up a guy we believe in. We also wouldn't call someone up who we didn't feel could be successful right away."6
Betts debuted on June 29, a Sunday night game at Yankee Stadium. Daniel Nava was in left field, Jackie Bradley Jr. in center field, and Betts (batting eighth, just above JBJ) in right field. It was this the first big-league game in which they both appeared; they had, however, been roommates back in the Red Sox Instructional League back in the fall of 2011.7
Chase Whitley was starting for the Yankees and John Lackey for the Red Sox.
The Red Sox scored first, in the top of the second, when Stephen Drew hit a one-out single to right field, scoring Mike Napoli. Betts came up to bat for the first time in the big leagues, and grounded into a 5-4-3 double play.
Thanks to a three-run homer in the top of the third by David Ortiz, the Red Sox held a 4-0 lead. The home run into the right-center field bleachers was home run number 450 of his major-league career. The New York Times wrote, "For Yankees fans, it may have felt like No. 450 in the Bronx alone. No other player, perhaps in any generation, has terrorized Yankees pitchers over as long a stretch with such cold-blooded indefatigability."8
The Yankees got one back in the bottom of the third, and two solo home runs in the fourth (by Mark Teixeira and Carlos Beltran) made it 4-3. Betts banked his first big-league base hit in the top of the fourth, a two-out single to center off Whitley, but he was the only one to reach base for Boston that inning. Betts was thrown out attempting to steal second. "They told me, don't change anything, so I'll take that here and try to be aggressive and steal bases," the rookie said after the game.9
Bradley drew a walk to lead off the fifth inning, and the next two batters walked as well. The first walk was charged to Whitley, the next two to reliever Shawn Kelley, who was gone one batter later when Dustin Pedroia singled to right field, driving in Bradley. This gave Pedroia three RBIs in the game, to match the three Ortiz had. After the game, John Lackey said, "You can put whatever parts around those guys. You need the parts to do well, too. But they're the engine that runs this thing."10
David Huff came in to relieve. The Red Sox got one more run when Pedroia tried to steal second, getting caught in a rundown that allowed Nava to score from third. It was 7-3, Red Sox, so the two runs the Yankees scored in the bottom of the fifth still left Boston with a two-run margin. Ichiro Suzuki scored the first of those two runs after leading off with a triple, the three bases achieved in part as the result of an "ill-advised attempt on a diving catch in right field" by the rookie Betts.11 Indeed, for Betts, the game had been what Nick Cafardo dubbed a "mixed bag." It was, though, said to be only the third game he had ever played in right field, the two immediately preceding games in Pawtucket and this one.12
In the sixth, Betts walked and Bradley singled to left. Both runners advanced when Brock Holt singled to load the bases, but Nava struck out and Pedroia flied out off Dellin Betances. (Betts scored on his sacrifice fly.) Then Ortiz grounded out, second to first.
The 8-5 score stood to the end of the game. Manager John Farrell asked right-handed Burke Badenhop to relieve Lackey and work the sixth. He did, allowing a double to Beltran and a single to Kelly Johnson. Badenhop is perhaps somewhat forgotten in Red Sox circles, but he worked in 70 games in 2014 with a 2.29 ERA.
Betances retired the Red Sox in order in the seventh inning and Matt Thornton retired them in order in eighth. There was a parade of pitchers, each working an inning. Andrew Miller walked one Yankee in the seventh, but no one else reached base. Junichi Tazawa allowed one single in the Yankees eighth, but again no one else reached.
In the top of the ninth, Yankees skipper Joe Girardi gave Jose Ramirez an inning of work. Ramirez walked the first two Boston batters he faced, but then settled down and struck out Ortiz and Napoli, and got A.J. Pierzynski to fly out to left field. Closer Koji Uehara came and sandwiched two groundouts to second base around a strikeout. It was his 18th save of the season. He was named to the American League All-Star squad in July.
Lackey went to 9-5 and Whitley to 3-2. The game — not atypical for Red Sox-Yankees games of the day — ran 3:38. Most of the 48,124 fans attending the game went home disappointed in the loss but the Jays and O's had both lost, too, so New York remained just two games out of first place.
The Red Sox returned home to Fenway Park and were swept in three games by the Chicago Cubs.
By season's end, New York held second place but was 12 games behind the Orioles and not involved in any postseason play.
The Red Sox had indeed finished in last place in 2012, 26 games out. After winning it all in 2013, they fell back to last place again in 2014, this time 25 games behind Baltimore in the AL East. And, as it happens, they finished last once more in 2015, before rebounding to first place in 2016, 2017, and 2018 — in the latter year winning another World Series.
With Mookie Betts having joined JBJ in the outfield during this game (they were both 1-for-3), they had perhaps begun to build what, starting with that 2016-to-2018 run, was beginning to be called the best outfield in baseball.
In 52 games in 2014, Betts hit .291 (.368 on-base percentage), and then began to build a career that has seen him named to three consecutive All-Star teams, win three Gold Gloves, and be named MVP in 2018, leading all of baseball with 129 runs scored, a .346 batting average, and a .640 slugging percentage. His outfield mate, Jackie Bradley Jr., was an All-Star in 2016, won a Gold Glove in 2018, and was named the Most Valuable Player of the 2018 American League Championship Series.
Sources
In addition to the sources cited in the Notes, the author also consulted Baseball-Reference.com, in particular the box score at:
baseball-reference.com/boxes/NYA/NYA201406290.shtml
http://www.retrosheet.org/boxesetc/2014/B06290NYA2014.htm
Notes
1 Julian Benbow, "Sure Betts," Boston Globe, June 6, 2014: C1.
2 Kevin Thomas, "On Baseball: Mookie Betts's On-Base Streak Ends," Portland Press-Herald, May 14, 2014. The streak extended back into 2013, and finally ended on May 10, 2014 — though Betts drove in two runs that day on groundouts.
3 Christopher L. Gasper, "Single-Minded Thoughts on Sox," Boston Globe, June 24, 2014: C4.
4 As it turned out, he was otherwise engaged — playing for the Red Sox against the Astros on July 13.
5 Victorino did not return until 2015.
6 Nick Cafardo, "Cherington Focused on Present," Boston Globe, June 29, 2014: C10.
7 Peter Abraham, "De La Rosa Sent Down," Boston Globe, June 29, 2014: C9.
8 Zach Schonbrun, "Long a Tormenter of the Yankees, Ortiz Adds Yet Another Chapter," New York Times, June 30, 2014: D3.
9 Nick Cafardo, "There Was a Lot to Follow in Betts' Debut," Boston Globe, June 30, 2014: C1.
10 Peter Abraham, "Finally, a Return to Form," Boston Globe, June 30, 2014: C1.
11 Nick Cafardo, "There Was a Lot to Follow in Betts' Debut."
12 Baseball-Reference.com lists Betts as having played RF in four games with Pawtucket.
Additional Stats
Boston Red Sox 8
New York Yankees 5
---
Yankee Stadium
New York, NY
Box Score + PBP:
Corrections? Additions?
If you can help us improve this game story, contact us.
Tags
https://sabr.org/sites/default/files/Betts-Mookie-2014.jpg
600
800
admin
/wp-content/uploads/2020/02/sabr_logo.png
admin
2019-01-08 16:10:33
2020-04-17 10:23:42
June 29, 2014: Mookie Betts debuts in Red Sox outfield