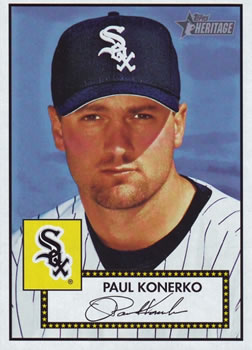 June 3, 2001: White Sox overcome 6-run deficit, win on Konerko's walkoff blast
---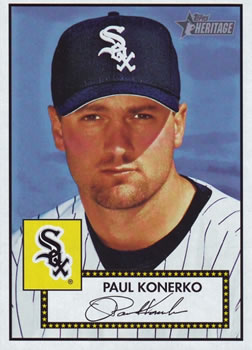 Sportswriter Fred Mitchell of the Chicago Tribune called it "one of the more remarkable comebacks in recent memory."1 Fellow beat reporter Phil Rogers described it as an "edge-of-the-seat victory."2 Trailing the Detroit Tigers by six runs in the bottom of the eighth, the Chicago White Sox staged an unlikely comeback to tie the game in the ninth and then win it on Paul Konerko's walk-off, three-run home run in the 10th. Reflecting on the victory and the exciting conclusion, Konerko said, "Now we're rolling and we come to the ballpark expecting to win, and that's how we felt all last year."3
Konerko's words were unimaginable just 10 days earlier. Tony Ginetti, sportswriter for the Chicago Sun-Times, wrote that "the Sox are trying for a complete recovery" following a rocky start in 2001.4 After capturing the AL Central title the previous year, their first division crown since 1993, skipper Jerry Manuel's 2001 White Sox languished 15½ games under .500 on May 23. The team had recently gotten hot, winning eight of its last nine games, including the first two of a three-game set against the visiting Tigers, to improve its record to 22-30, though still 12½ games behind the front-running Minnesota Twins. The Tigers, tied with the White Sox in fourth place, seemed to be going in an opposite direction. Manager Phil Garner's club had lost nine of its last 10.    
On a chilly, overcast, 52-degree Sunday afternoon, a crowd of 19,446 showed up at Comiskey Park II, which had replaced the venerable "Baseball Palace of the World" after the 1990 season. Toeing the rubber for the White Sox was 25-year-old right-hander Rocky Biddle, who had thus far struggled (1-4, 5.08) in his rookie season. After escaping a two-on, no-out jam in the first, caused by a leadoff walk and single, Biddle settled down to hold the Tigers scoreless through four innings in what emerged as a pitchers' duel with right-handed knuckleballer Steve Sparks. A six-year veteran with a 36-40 record (including 2-2 thus far in '01), Sparks breezed through four innings not allowing a hit.
The stalemate ended in the fifth when Tiger Deivi Cruz was hit by a pitch, stole second, and scored on Jose Macias's one-out double. Robert Fick followed with his seventh home run of the season to give the Tigers a 3-0 lead.
The White Sox finally solved Sparks' dastardly floater in the sixth when Chris Singleton managed a one-out infield single.
Both offenses warmed up in the eighth inning when rookie southpaw Ken Vining, making just his third big-league appearance, replaced Biddle. After consecutive one-out singles by Dean Palmer and Ryan Jackson, Lorenzo Barcelo was sent in to stop the bleeding. Damion Easley greeted the right-hander from the Dominican Republic with a two-out groundball double to short left field that drove in both runners, then scored on Cruz's two-bagger to give the Tigers what appeared to be an insurmountable 6-0 lead.
The White Sox came out swinging against Sparks in the eighth, collecting three straight leadoff singles, the last of which was Royce Clayton's run-producing grounder to plate Konerko. Carlos Lee added a two-out double to drive in two more and make the game interesting, 6-3, and send Sparks to the showers. Magglio Ordonez met reliever Jarrod Patterson with a single to pull the White Sox to within two. Biddle, who had retired to the clubhouse, commented, "I was in the lunchroom watching the game on TV […] I knew we were going to win. I was just rooting the team on."5
After rubber-armed reliever Kelly Wunsch quickly dispatched the Tigers on three straight grounders to start the ninth, the White Sox faced Tigers closer Todd Jones. Coming off an All-Star berth and an AL-best 42 saves in 2000, the right-hander entered the game with a miserable 5.59 ERA. He had been scorched for six hits and six runs (two earned) the last time he faced the White Sox, on May 25. Konerko drew a leadoff walk; Jose Valentin drew another one with one out. Singleton followed with a bullet down the left-field line, driving in both and tying the score, but was gunned down trying to stretch his double into a triple. "Todd has struggled and hasn't had the control that he typically has," Singleton said. "He walked Jose [Valentin] on four pitches. I could have taken a pitch or two just to make sure he is throwing strikes, but I figured, just go ahead and be aggressive. The first pitch I hit was a curveball, and I put a good stroke on it."6
Shell-shocked, the Tigers were on edge to start the 10th facing reliever Bob Howry. When home-plate umpire Greg Bonin called leadoff hitter Dean Palmer out on strikes, tensions flared, as the player angrily stomped away from the plate and slammed his bat in the dugout. According to the Tribune, Bonin gave him the boot for that outburst after which Palmer charged out of the dugout and appeared to bump the umpire.7 Skipper Garner was ejected moments later arguing the call. "I don't even know his name, but he's a straight coward," said Palmer about Bonin.8 The Tigers managed to get two aboard on a walk to Jackson and a two-out single by Easley, but Howry retired Cruz to end the threat.
After two quick outs to start the bottom of the 10th, journeyman Herbert Perry singled to end Jones's outing and start the rally. Matt Anderson, the Tigers' fifth pitcher of the game, balked, forcing Perry up a station, and then intentionally walked Ray Durham to play for an inning-ending twin killing.
To the plate stepped Konerko with a chance to be the hero of the day. Coming off a strong season in 2000 (21 home runs, 97 RBIs, and a .298 batting average), Konerko was mired in an awful slump, hitting just .163 (15-for-92) with three home runs and 10 RBIs in his last 26 games. All that was forgotten when the popular fan favorite blasted an 0-and-2 offering an estimated 408 feet over the left-field wall for a dramatic, walk-off three-run home run and ending the game in 3 hours and 17 minutes. It was the White Sox' ninth come-from-behind victory of the season, and their eighth in a row against the Tigers after losing their first four.
"I was just happy to get two hits today," said Konerko, whom teammates swarmed in the dugout. "May was bad. It's always the worst while it's happening and I've had some bad ones. It's not so much the results. It's the way you go about it. I'm still making outs because the approach is bad. I'm still fighting to find it."9
While Konerko's blast made a winner out of Howry (3-2), skipper Manuel gave credit to Biddle for his seven strong innings, yielding six hits and three runs. "The whole key for us is starting pitching," Manuel said. "If the starting pitchers do a good job, we'll be OK."10 It was the seventh time in the last eight games that a White Sox starter went at least seven innings and yielded three or fewer runs. Manuel, a target of fans' wrath for the club's poor start, added, "We also have to start hitting. That's a big issue." The White Sox managed to squeak out nine runs on 10 hits (one fewer than the Tigers) and drew four walks. It was the team's highest-scoring game since they plated 10 in a victory against the Texas Rangers on May 6.
With this stellar performance, Konerko went on a hot streak, batting .359 (23-for-64), homering seven times and driving in 19 runs over a 20-game stretch, during which the White Sox went 14-6 to reach .500 (36-36).
This game summary was the product of Prof. Wolf's seminar "Lying, Cheating and Stealing: America through the Lens of Baseball," taught during the spring term 2017 at North Central College, Naperville, Illinois.
Sources
In addition to the sources listed in the Notes, the author consulted Baseball-Reference.com, Retrosheet.org, and SABR.org.
http://www.baseball-reference.com/boxes/CHA/CHA200106030.shtml
http://www.retrosheet.org/boxesetc/2001/B06030CHA2001.htm
Notes
Additional Stats
Chicago White Sox 9
Detroit Tigers 6
10 innings
---
Comiskey Park
Chicago, IL
Box Score + PBP:
Corrections? Additions?
If you can help us improve this game story, contact us.
Tags
https://sabr.org/sites/default/files/Konerko-Paul-2001-Topps.jpg
600
800
admin
/wp-content/uploads/2020/02/sabr_logo.png
admin
2017-05-15 18:14:42
2021-06-03 02:43:52
June 3, 2001: White Sox overcome 6-run deficit, win on Konerko's walkoff blast