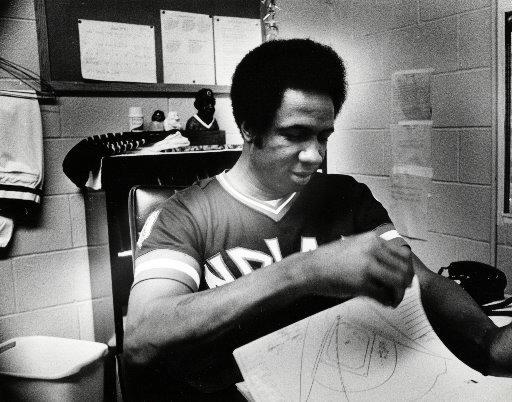 June 30, 1976: Indians' friendly exhibition in Toledo turns into a display of fisticuffs
---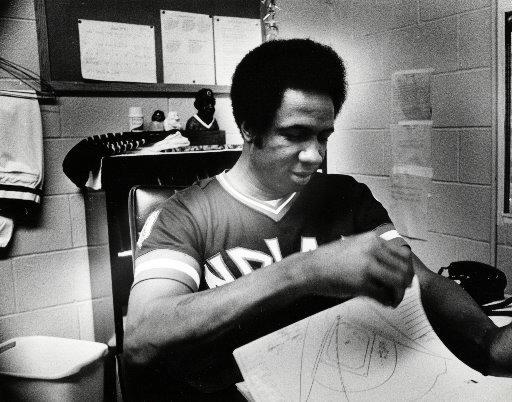 The Bicentennial loomed as the Cleveland Indians played a game at the home of their Triple-A affiliate, the Toledo Mud Hens, on June 30, 1976. But by the end of the game, the 5,013 fans in attendance would see a different kind of fireworks.
Instead of having a day off before starting a crucial series with the Yankees — the Indians at that point were in second place, seven games behind New York — the Tribe drove to the Mud Hens' home at the Lucas County Recreation Center, a horse track that had been modified to accommodate the Mud Hens when they returned in 1965, after the Glass City had been without minor-league baseball for nearly a decade. (In 1988 the stadium would be renamed Ned Skeldon Stadium, in honor of the Lucas County commissioner who had fought so hard for the return of minor-league baseball.1 The Mud Hens moved from the stadium to their current home, Fifth Third Field, in 2002.)
It was the Indians' first day off in nearly two weeks, and they had to play the Mud Hens. Russell Schneider, who covered the Tribe for the Cleveland Plain Dealer, explained that a standard agreement between a major-league team and its Triple-A farm club required the parent club to either play an exhibition against the team or pay the team $5,000.2 Like the city they called home, the Indians were going through financial difficulties — they would lose $500,000 that year3 — so a payment was assuredly out of the question.
It was a miserable night, with a 41-minute rain delay during the second inning, but the Indians tried to have fun with it. In the third inning, Indians manager Frank Robinson inserted hitting coach Rocky Colavito, a fan favorite from his time in Cleveland and Detroit, into the game in left field. Coach Jeff Torborg also saw a little playing time, as a pinch-hitter and then behind the plate. Robinson himself got into the lineup in the fifth inning. By the time he pinch-hit in the designated-hitter spot in the batting order, the Indians led 5-0. The pitcher for the Hens was Bullet Bob Reynolds, who as it turned out bore a grudge against Robinson.
Reynolds was the 17th overall pick of the Giants in 1966, but made his debut in 1969 with the Montreal Expos, who plucked him from San Francisco in the expansion draft. A waiver pickup by the Indians the previous August, Reynolds had found out at spring training that he had been cut — as it turned out, he would never reach the majors again. Worse yet, he found out from a reporter, not from Robinson himself. (This was not unprecedented. Two years earlier in spring training, both Mike Kekich and Jim Strickland found out from writers, and not from the team, that they were being sent to the minor leagues.)
Months later, Reynolds was still mad — mad enough to throw at Robinson. The pitch sailed high above catcher Rick Cerone and umpire Lanny Harris.
"It must have been 20 feet over Robinson's head," recalled Jim Weber, the longtime voice of the Mud Hens.4
Weber initially thought the pitch had gotten away from Reynolds in the steady rain — and that's what Reynolds initially said in the next day's Toledo Blade. "I played for him for two seasons in Puerto Rico and I thought we did have a good understanding," Reynolds said. "I never said anything to him before. In fact, I idolized him."5
Ultimately, Robinson flied out to center field. Reynolds was backing up third base, and as Robinson jogged past to go back to the dugout, he yelled at Reynolds, "You're gutless! If you're going to throw at someone, at least come close enough to knock him down."
"At least you're talking to me now," Reynolds said. "I should take care of you right now!"
And with that, the fight was on. Before Reynolds could even get his glove off, Robinson slugged him with a left to the jaw, followed by a devastating right cross. The Blade said it happened "with a suddenness that left both teams so stunned neither dugout emptied onto the field."
"Probably the most bizarre incident I've ever seen," Weber said.6
Reynolds sustained a cut tongue and a swollen jaw. Robinson obviously was ejected, but since the game was an exhibition, wasn't fined by either league. Robinson told Mud Hens general manager Charlie Senger, "I apologize to you and the fans of Toledo. It was an unfortunate incident and I'm sorry it had to happen."
And then he left hurriedly after the game with no comment to reporters.
In the seventh inning, catcher Ray Fosse hit a home run, but as he made the turn around first base, he twisted his knee, aggravating a cyst in the joint, which caused swelling and internal bleeding. First-base coach Harvey Haddix finished Fosse's home-run trot, and the catcher was placed on the 15-day disabled list. But the loss of Fosse and a great day at the plate by Charlie Spikes (who hit three home runs) were footnotes in the game. All anyone wanted to talk about was the donnybrook between Robinson and Reynolds.
The fight was front-page news in Cleveland (but was relegated to the sports front in Toledo). In the next day's Plain Dealer, writer Dan Coughlin accused Robinson of punching down — literally. "It's like dropping the H-bomb on Ecuador because somebody lobbed a brick through our embassy window."7
Robinson talked to reporters a day later, and appeared not to have cooled off any. "I don't think I have to apologize to anyone else because of what happened. (Reynolds) tries to intimidate people with his mouth. He's the one who started it all. He took the cheap shot, trying to look big to his teammates.
"I didn't send him down. He sent himself down."8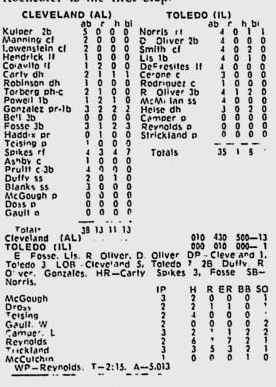 Notes
1 Dan Saevig, "So long, Skeldon: 'The Ned' has seen more than its share of characters," Toledo Blade, September 3, 2001. toledoblade.com/sports/mud-hens/2001/09/03/So-long-Skeldon-The-Ned-has-seen-more-than-its-share-of-characters/stories/200109030016.
2 "Indians call Smith to replace Fosse," Cleveland Plain Dealer, July 2, 1976: E2.
3 "Schneider Around," Cleveland Plain Dealer, August 26, 1976: 3D.
4 David Briggs, "Frank Robinson showed his famous edge in Toledo," The Blade, February 11, 2019. toledoblade.com/sports/pro/2019/02/10/frank-robinson-showed-his-famous-edge-in-toledo-baseball-mudhens-indians/stories/20190210131.
5 "Hen-Tribe Exhibition a Knock-Em-Down Affair," Toledo Blade, July 1, 1976: 48.
6 Briggs, op. cit.
7 "Loosen Up, Frank!" Cleveland Plain Dealer, July 2, 1976: E1.
8 Russell Schneider, "Reynolds threatened to get Robby: Witness Torborg backs manager's version of fight," Cleveland Plain Dealer, July 2, 1976, E2.
Additional Stats
Cleveland Indians 13
Toledo Mud Hens 1
---
Lucas County Recreation Center
Toledo, OH
Corrections? Additions?
If you can help us improve this game story, contact us.
Tags
https://sabr.org/sites/default/files/RobinsonFrank-CLE.jpg
600
800
admin
/wp-content/uploads/2020/02/sabr_logo.png
admin
2019-04-18 12:18:16
2020-04-17 10:23:36
June 30, 1976: Indians' friendly exhibition in Toledo turns into a display of fisticuffs