June 4, 1953: Pirates trade Ralph Kiner to Cubs just before game time
---
"You know what they say about Chicago. If you don't like the weather, wait fifteen minutes." — Ralph Kiner1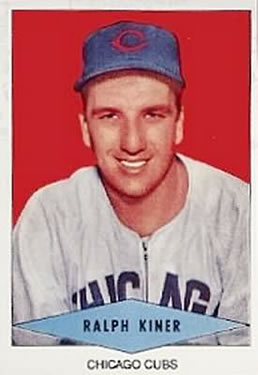 Ralph Kiner was about to see more of Chicago than he bargained for. While taking batting practice, the Pirates slugger learned he was traded to the visiting Chicago Cubs. "What's the number? Kiner asked. "22," said the (Cubs clubhouse) boy. "It's going to be tough getting used to that one," Kiner mumbled. He wore number 4 for most of his career in Pittsburgh.2
After the 1952 season, the Pirates' cost-conscious GM, Branch Rickey, had offered his star slugger a pay cut from his $90,000 salary, which was at the time the highest in the National League. Kiner rejected Rickey's offer, reminding him that he had led the National League in home runs in each of the previous seven seasons, to which Rickey allegedly replied, "We finished last with you. We can finish last without you.3"
Hours before the Pirates hosted the Cubs, Rickey completed a 10-player trade that sent Kiner along with fellow future broadcaster Joe Garagiola, George Metkovich, and Howie Pollet to the Cubs in exchange for Bob Schultz, Toby Atwell, Gene Hermanski, Preston Ward, Bob Addis, George Freese, and $150,000 cash.
The trade reduced the Pirates' payroll by $67,000. The addition of Kiner gave the Cubs a formidable duo in the middle of their lineup, paring him with Hank Sauer, who had tied Kiner for the home-run title in the National League the previous season. Pittsburgh fans hanged Rickey in effigy and some prominent citizens proposed a boycott of Forbes Field until Rickey was fired.4
After being warmly welcomed by his new teammates, Kiner asked, "What about Wrigley Field? How good can I do there?"5
Kiner was in the Cubs lineup for that afternoon's game, batting fifth, one spot behind Sauer. The visiting Cubs struck in the top of the first for their only run of the game. With one out, Eddie Miksis smacked a triple to right-center field and scored on Dee Fondy's single to right. Fondy was caught stealing second. Sauer kept the rally going with a single. Kiner, a home crowd favorite, received a warm ovation from the 3,182 in attendance when he came to bat. He left Sauer stranded at first, hitting a harmless popup to second.
The Pirates struck back immediately in their half of the first when speedy leadoff hitter Carlos Bernier hit an inside-the-park home run to center field. (The 1953 season was Bernier's only one in the major leagues; he batted .213 with three home runs and was caught stealing a league-leading 14 times in 29 attempts.)
Pete Castiglione led off the Pirates' second with a single and was sacrificed to second base by Mike Sandlock. Pitcher Bob Hall, a good hitter, drove in Castiglione with a single to left, breaking the tie.
Chicago hurler Paul Minner's woes continued in the third. Paul Smith singled, stole second base, and went to third on brand-new Cub Preston Ward's single. Frank Thomas' fly to right field plated Smith, and Ward took third on a wild throw by catcher Carl Sawatski. Danny O'Connell's fly ball to center field scored Ward and gave Pittsburgh a 4-1 lead.
Minner held the Pirates scoreless in the fourth and fifth innings despite allowing a baserunner in each inning. In the sixth, leadoff batter O'Connell lined a double to left-center field beyond the reach of a diving Frank Baumholtz to lead off the bottom of the sixth. Minner struck out Castiglione but the ball got by Sawatski. O'Connell beat Sawatski's throw to third and Castiglione reached second. Sandlock's single to right scored O'Connell. Castiglione went to third and scored on Dick Cole's fly to right. Hall sacrificed Sandlock into scoring position, but Bernier's grounder to short ended the half-inning.
In the top of the seventh, Cubs manager Phil Cavarretta pinch-hit for pitcher Minner and hit a one-out single. Cavarretta was left stranded as Baumholtz lined out and Eddie Miksis flied out.
With one out in the top of the ninth, the Cubs' Bill Serena singled to center field. With the eighth and ninth hitters due up, Cavarretta made a last-ditch effort to get back into the game by sending two of his newest Cubs, Metkovich and Garagiola, to pinch-hit. Metkovich flied out to left and Garagiola flied out to center to end the game.
With Kiner no longer a Pirate, Branch Rickey announced that Kiner's Korner would be removed. Originally dubbed Greenberg Gardens, Kiner's Korner was the space enclosed by a wire fence put up in 1947 to shorten the outfield distances at Forbes Field from 360 feet to 330 feet in left field and from 406 feet to 376 feet in left-center field after slugger Hank Greenberg joined the Pirates. Reminded that the change would require approval from the National League, Rickey said, "In any event, the Gardens will be removed as soon as we can do so."6
The Pirates did indeed finish in last place without Kiner, losing 104 games in 1953 and 101 games in 1954. Kiner had a strong 1953 season, finishing with a league-leading 35 home runs (28 of them for the Cubs) and 116 RBIs. But he slugged only 22 home runs in 1954. In 1955, his final season, his old mentor and friend Hank Greenberg, now the general manager of the Cleveland Indians, purchased Kiner's contract. Bothered by a bad back, Kiner played poorly for the Indians and was released after the season.
As for Branch Rickey, the Kiner trade made him so unpopular in Pittsburgh that in 1954 he announced that he would step down when his contract ended in 1955. Rickey's reputation was tarnished because of his treatment of Kiner. Bill James wrote: "Rickey, in one of the oddest moves of his career, (began) systematically destroying Kiner's reputation as a player, so that he could trade him, it's nuts."7
Sources

In addition to the sources cited in the Notes, the author consulted backtobaseball.com/playballregularseason.php?page=0&IDindex=PIT195306040 and the following:
"Kiner in Trade, Shifts to Cub Garb at Field; Cubs Get Kiner and Three Other Pirates for Six Players and Cash," New York Times, June 5, 1953: 1.
https://baseball-reference.com/boxes/PIT/PIT195306040.shtml
https://retrosheet.org/boxesetc/1953/B06040PIT1953.htm
Notes
1 Bob McCoy, "Insiders Say," The Sporting News, July 11, 1988: 10.
2 "Ralph Kiner Traded to Cubs," Lodi (California) News-Sentinel, June 4, 1953: 28.
3 Mike Kupper, "Ralph Kiner Dies at 91; Hall of Fame Slugger with Pittsburgh Pirates," Los Angeles Times, February 6, 2014.
4 Warren Corbett, "Ralph Kiner," SABR Biography Project. sabr.org/bioproj/person/b65aaec9. Accessed December 4, 2019.
5 Lodi News-Sentinel.
6 "Rickey Wants to Tear Down Greenberg Alley," Brooklyn Daily Eagle, June 5, 1953: 13.
7 J.J. Burbridge Jr., "Ralph Kiner and Branch Rickey: Not a Happy Marriage," The National Pastime, SABR, 2018. Accessed online at https://sabr.org/research/ralph-kiner-and-branch-rickey-not-happy-marriage on December 4, 2019.
Additional Stats
Pittsburgh Pirates 6
Chicago Cubs 1
---
Forbes Field
Pittsburgh, PA
Box Score + PBP:
Corrections? Additions?
If you can help us improve this game story, contact us.
Tags
https://sabr.org/bioproj/person/b65aaec9#sdendnote7sym
600
800
admin
/wp-content/uploads/2020/02/sabr_logo.png
admin
2020-05-12 12:54:20
2020-05-28 15:32:01
June 4, 1953: Pirates trade Ralph Kiner to Cubs just before game time