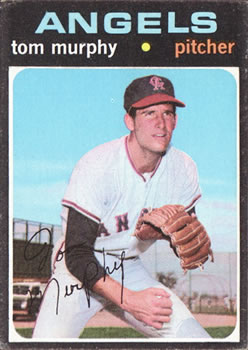 June 5, 1971: Tom Murphy outduels Jim Lonborg, pitches Angels to Fenway win
---
"As I grew up, I knew that as a building (Fenway Park) was on the level of Mount Olympus, the Pyramid at Giza, the nation's capitol, the czar's Winter Palace, and the Louvre — except, of course, that is better than all those inconsequential places" — Bart Giamatti1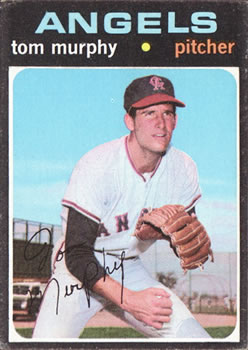 Saturday afternoon at Fenway Park with former Cy Young Award winner Jim Lonborg on the mound for the Red Sox. That sounded pretty good for a first visit to the oldest ballpark in the major leagues, dating its inaugural to April 20, 1912, just days after the sinking of the Titanic in the North Atlantic Ocean.
Narratives of Red Sox history remind fans of the magic of the 1967 season and the struggles that ensued leading to the 1971 season.2 They were the American League champions but lost the 1967 World Series in seven games to the St. Louis Cardinals, despite two outstanding pitching performances by Lonborg in Games Two and Five. Carl Yastrzemski hit his way to baseball's Triple Crown with 44 home runs, 121 RBIs, and a .326 batting average.3 For Lonborg, the season was also magical. He became the first Red Sox pitcher to win the Cy Young Award, leading the major leagues with 22 victories and the American League with 246 strikeouts.4 However, a Christmastime ski trip to celebrate the accomplishment and a new contract for the 1968 season proved fateful for Lonborg. One too many ski runs resulted in severely torn ligaments in his left knee. As SABR biographer Saul Wisnia recounts, the next three seasons brought marginal won-lost records (6-10, 7-11, and 4-1) for Lonborg, subsequent rotator-cuff problems, and frustration for Red Sox fans.5 Consecutive 87-75 records in 1969 and 1970 could muster only third-place finishes in the American League East.
The 1971 Red Sox had opened a three-game series with the California Angels on Friday night, June 4, by thrashing them 10-1. The Red Sox collected 17 hits including 15 singles, three each from Doug Griffin and Yastrzemski.6 The "power" was supplied by pitcher Gary Peters' RBI double in the second inning and catcher Duane Josephson's three-run double in the third inning. Peters scattered nine hits in pitching a complete game for his sixth win of the season to beat Andy Messersmith, the Angels starter. The victory enabled the Red Sox to hold their half-game lead in the American League East over the Baltimore Orioles.
The next afternoon Lonborg (1-1, 5.11 ERA) faced Tom Murphy (2-7, 4.87 ERA). A start on the Fenway Park mound had to bring back good memories to Murphy. After all, he had made his major-league debut at that very spot on June 13, 1968, pitching six innings in a 4-2 Angels victory. When he returned there two months later, he pitched a complete game in a 3-2 Angels win. Murphy was coming off a career-best record after winning 16 games in 1970, second only to Clyde Wright's 22 victories for the Angels.
The Angels struck first in the top of the second inning. With one out, consecutive singles by Jim Spencer and the former Red Sox outfielder Tony Conigliaro7 preceded an RBI double to right field by Ken Berry. With Conigliaro at third base, Jerry Moses was intentionally walked before Lonborg cut short any notion of a big inning by initiating a pitcher-catcher-first base (1-2-3) double play off the bat of Murphy.
Meanwhile, Murphy himself was inducing groundball after groundball before giving up his first hit in the bottom of the fourth inning on Rico Petrocelli's two-out single, a bouncer over third baseman Ken McMullen's head. In fact, after George Scott walked, any idea of a Red Sox threat was quickly "grounded" when Billy Conigliaro8 rolled out to third base, making it 10 groundball outs for the Red Sox bats in the first four innings. In the sixth inning and with the Angels still leading 1-0, Reggie Smith and Yastrzemski singled with one out to put Sox runners on first and third. With Petrocelli at bat, Murphy knocked down a smash to the mound, looking Smith back to third before throwing to first. Then Smith broke for home, but first baseman Jim Spencer's perfect throw to catcher Jerry Moses nailed Smith.9 Double play (1-3-2), inning over!
For the most part, the Angels were also being frustrated by Lonborg until the seventh inning. For example, in the top of the fifth inning, they had loaded the bases with no outs on two singles and a fielder's choice. Lonborg proceeded to retire Roger Repoz, Jim Fregosi, and Ken McMullen to end the scoring threat.
But the top of the seventh proved fateful for Lonborg. With one out, Sandy Alomar doubled to right. Alomar scored when Repoz singled to center and advanced to third on center fielder Billy Conigliaro's throwing error. Repoz was thus in position to score on McMullen's single for a 3-0 Angels lead.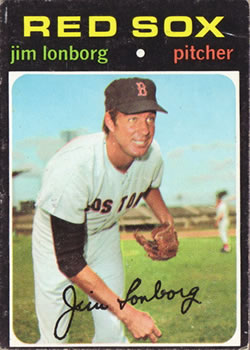 In the eighth inning, the Red Sox got one run back when Joe Lahoud, battting for Lonborg, hit his first home run of the year. Murphy still had his lead, but the Red Sox gave it one more shot in the bottom of the ninth inning. With one out, George Scott singled to left and advanced to second when Murphy wild-pitched with Billy Conigliaro at bat. Conigliaro singled to left but Scott stopped at third. He scored when Luis Aparicio grounded out to third base, Conigliaro advancing to second as the tying run. That brought catcher Duane Josephson to the plate with two outs. Murphy's 2-and-2 pitch completed the home team's frustration when home-plate umpire Hank Soar called the third strike on the outside corner. "Josephson jumped up and down in anger and by the time he gave up, Murphy and the rest of the Angels were in the clubhouse celebrating."10
For the California Angels, the day was all about the shortstop and the pitcher. True, shortstop Jim Fregosi struck out three times, popped out in his other at-bat, and ended the day batting .206. It had been an injury-riddled season that made him a part-time player, but on this day his glove was a difference maker with nine flawless chances. Murphy appreciated his shortstop: "Fregosi was everywhere those guys hit the ball."11 It was clearly Murphy's best game of the season, a third victory and all as complete games. As Boston Globe writer Ray Fitzgerald put it, "Murphy had the Red Sox killing worms with ground balls, getting 19 outs on balls hit into the dirt."12
Lonborg himself probably deserved a better fate in his eight innings of work. Boston Globe writer Clif Keane was just as metaphoric as his colleague: "The Angels broke enough bats swinging at Jim Lonborg's curves to keep a fireplace going for three days, but seven of the soft swings they made fell in for base hits."13 The legendary writer later referred to those hits as "squishy things" in his Boston Globe coverage.
Not only did the Red Sox lose this game and then the Sunday finale,14 they surrendered a month-long hold on first place in the AL East Division. As Boston was losing on Saturday, Jim Palmer pitched the Orioles into first place with a convincing 12-4 win over the Milwaukee Brewers, helped by home runs from Merv Rettenmund and Paul Blair. The Orioles never relinquished the division lead for the remainder of the 1971 season and the Red Sox never recovered, finishing in third place, 18 games behind the Orioles.
For Lonborg, the season's end also brought an end to his career in Boston when the Red Sox completed a blockbuster trade in October with the Milwaukee Brewers.15 In two years, another trade sent him to pitch for the Philadelphia Phillies, where he got another shot at postseason baseball in 1976 and 1977.16 Wisnia captured the essence of Lonborg's career: "Lonnie's last seven full years in the majors are usually an afterthought to armchair historians encapsulating his career, but those who simply say he "never came back" from his ski mishap are neither fair nor accurate. He never again won 20 games, but he was a successful and at times stellar pitcher."17
Author's note
I never met Bart Giamatti. He was a professor of comparative literature at Yale University and master of Yale's Ezra Stiles College in the early 1970s. A few blocks away, I was finishing my doctoral research. Giamatti, later to become the seventh commissioner of major-league baseball, was an avid Boston Red Sox fan. My rooting interests lie elsewhere, but the radio broadcasts of Red Sox baseball with Ken Coleman, Ned Martin, and Johnny Pesky were a frequent companion.
Sources
The author accessed Baseball-Reference.com for box scores/play-by-play information (baseball-reference.com/boxes/BOS/BOS197106050.shtml) and other data, as well as Retrosheet.org (retrosheet.org/boxesetc/1971/B06050BOS1971.htm). Baseball Almanac (baseball-almanac.com) provides a wealth of quotes about Fenway Park.
Notes
1 Baseball Almanac, "Fenway Park Quotes," baseball-almanac.com/quotes/fenway_park_quotes.shtml, accessed May 22, 2019.
2 "The Seasonal Narrative of the 1971 Boston Red Sox," TheSportsNoteBook.com, accessed May 28, 2019, thesportsnotebook.com/1971-boston-red-sox/.
3 Since the 1967 season, only Miguel Cabrera has accomplished that feat through the 2018 season. In 2012 the Tigers infielder hit 44 home runs, had 139 RBIs, and batted .330.
4 The Cy Young award was introduced in 1956.
5 Saul Wisnia, "Jim Lonborg," SABR Baseball Biography Project, sabr.org/bioproj/person/8eb88355.
6 The Sporting News, June 19, 1971: 25.
7 For Tony Conigliaro, this three-game series marked his return to Fenway Park after being traded by the Red Sox to the Angels in October 1970. The Angels received Conigliaro, pitcher Ray Jarvis, and catcher Jerry Moses for second baseman Doug Griffin, outfielder Jarvis Tatum and pitcher Ken Tatum. Conigliaro, the Angels, and the Red Sox are inextricably linked by the game at Fenway Park on August 18, 1967, when Conigliaro was beaned by a pitch from Jack Hamilton (David Mendonca, "August 18, 1967: Tony Conigliaro's career, and life, threatened by beaning," SABR Baseball Games Project). He was never the same again.
8 Billy Conigliaro is the younger brother of Tony Conigliaro.
9 Ron Rapoport, "Murphy, Sharp Defense Lead Angels to 3-2 Win Over Bosox," Los Angeles Times, June 6, 1971: C6.
10 Rapoport.
11 Ray Fitzgerald, "Fregosi, Murphy Relish Their Day After Long Battles with Adversity," Boston Sunday Globe, June 6, 1971: 74.
12 Fitzgerald.
13 Clif Keane, "Sox Bow, 3-2, Tumble Off Top," Boston Sunday Globe, June 6, 1971: 69.
14 The Red Sox lost the three-game series when the Angels won the Sunday afternoon finale, 5-2, behind Clyde Wright's pitching and a save by Dave LaRoche. Ironically, Jim Fregosi was a hitting star with two hits, including a solo first-inning home run for an Angels lead they never surrendered.
15 On October 10, 1971, the Red Sox traded Lonborg, Ken Brett, Billy Conigliaro, Joe Lahoud, Don Pavletich, and George Scott to the Milwaukee Brewers for Patrick Skrable, Tommy Harper, Lew Krausse, and Marty Pattin.
16 On October 31, 1972, the Milwaukee Brewers traded Lonborg, Ken Brett, Ken Sanders, and Earl Stephenson to the Phillies for Bill Champion, Don Money, and John Vukovich.
17 Wisnia. Notably, Lonborg had a second career after baseball. Having received a degree in biology from Stanford University while still a player, he enrolled in the Tufts University Dental School after retirement and received a dental degree. He practiced dentistry in Scituate, Massachusetts, a Boston suburb, until he closed his office in 2017.
Additional Stats
California Angels 3
Boston Red Sox 2
---
Fenway Park
Boston, MA
Box Score + PBP:
Corrections? Additions?
If you can help us improve this game story, contact us.
Tags
https://sabr.org/sites/default/files/MurphyTom.jpg
600
800
admin
/wp-content/uploads/2020/02/sabr_logo.png
admin
2019-07-05 11:27:23
2020-04-17 10:22:36
June 5, 1971: Tom Murphy outduels Jim Lonborg, pitches Angels to Fenway win