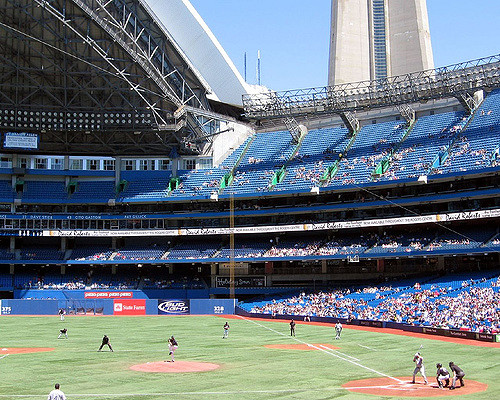 June 5, 1989: Blue Jays play first game in SkyDome
---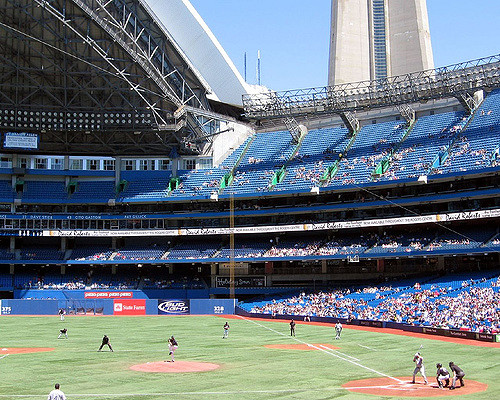 When Ontario Premier David Peterson aimed a laser pointer upward on June 3, 1989, technicians took the cue and hit the switch to begin opening gigantic roof panels at SkyDome. The world's first fully retractable roof was finally in motion,but the Saturday night sellout crowd gathered for a variety show booed as a rainstorm soaked them and performers alike. It was an inauspicious gala opening for the newest landmark on Toronto's skyline, located at the foot of the CN Tower.1
Two nights later, clear skies and mild 64-degree weather greeted curious fans filing into baseball's first convertible domed stadium. Finally, after 2½ years of construction and several hundred million dollars later,2 baseball was about to debut inside SkyDome. Canadian singer Anne Murray performed both "O Canada"and "The Star Spangled Banner," just as she had done forthe Blue Jays' first-ever game in 1977.
Left-hander Jimmy Key started for Toronto. Third baseman Paul Molitor, a multiple-time All-Star on his way to a third straight top-10 finish in the American League batting average standings, stepped to the plate as Milwaukee's leadoff hitter.
At 7:46 P.M., Key delivered the first pitch in the history of SkyDome, an 11-to-5 curveball Molitor took for a strike. Plate umpire Rocky Roe removed the ball from play, preserving it for Cooperstown. Molitor lined Key's third pitch into left-center field for the new ballpark's first hit. As center fielder Lloyd Moseby ranged far to his right to field the ball, the always-alert Molitor sprinted into second with a standup double. "It was a thrill, coming into Toronto, being the first batter at such a futuristic place. I was just trying to relax up there," Molitor reflected. "I wanted to swing at the first pitch because that's how I normally hit. But Jimmy gave me a good curveball to start and rather than take a poor swing, I took it for a strike. Later I got another curve and was able to hit it through the middle, and away I went."3
Next up was Robin Yount, in the midst of his second AL MVP season. Molitor moved to third base when Yount sacrificed, then scored the ballpark's first run on the next pitch when Gary Sheffield bounced out to shortstop Tony Fernandez.
In the bottom of the second, Brewers starter Don August pitched carefully to cleanup batter George Bell and walked him after Bell hooked a long drive inches to the foul side of the left field pole. On a first-pitch fastball to Fred McGriff, next up, the first baseman swung and launched the ball deep to left-center. It cleared the 375-foot marker for SkyDome's first home run, McGriff's 13th of a league-leading 36 he would hit in 1989.
Milwaukee came right back in the third with consecutive singles from Mike Felder and Gus Polidor. Molitor beat out a potential double-play grounder to shortstop, moving Felder to third, then Yount flied out to center, tying the game 2-2.
The Brewers went ahead in the fourth after recording a leadoff hit for a fourth straight inning. Rob Deer's opening single proved costly for Key when Glenn Braggs homered to give the visitors a 4-2 lead. Milwaukee kept at it in the fifth against Key, scoring their fifth run on a one-out walk by Molitor followed by line singles by Yount and Sheffield, the latter driving in Molitor.
After a wild weekend series at Fenway Park in which four Toronto relievers combined to pitch 19⅓ innings in three games, Key dutifully came back out for the sixth and stayed to the finish. He allowed just one baserunner over the final four innings and pitched his fourth complete game of the season, a gritty 141-pitch effort that gave the bullpen much-needed rest. "Everybody knew about the bullpen situation. I just wanted to go as far as I could without letting the game get out of hand," Key said. "I was a little tired the last couple of innings but didn't want to come out."4
Toronto scored a run in the eighth when Bell belted a one-out solo shot into the mezzanine level to cut Milwaukee's lead to 5-3. Left-handed closer Dan Plesac came on with three straight left-handed bats due up. He struck out McGriff but Moseby lined a double down the left-field line. Righty-swinging Bob Brenly pinch-hit for catcher Ernie Whitt and rocked a first-pitch drive to the left-center gap. The sellout crowd roared, hoping for a game-tying home run, but Braggs ran it down to end the inning. "I've never had any luck hitting in this park," Brenly joked.5
The Blue Jays went quietly in the ninth inning without hitting the ball out of the infield; SkyDome's first win belonged to Milwaukee.
For the 48,378 fans who witnessed the game live—at the time the largest Toronto home crowd ever—the result did not dampen the experience of seeing the innovative SkyDome up close, a ballpark unlike any that had come before it.
SkyDome was simply huge. The seating area was split into five decks with 53,000 seats for baseball. At its apex, the massive roof, weighing 11,000 metric tons, rose 282 feet high, equivalent to the height of a 31-story building. The roof could open or close in 20 minutes, eliminating canceled games or even long delays due to weather, a frequent problem at Toronto's first ballpark, the open-air, blustery, football-first Exhibition Stadium.
SkyDome had the world's largest scoreboard: four stories tall, 115 feet wide, illuminated by 420,000 lights that produced a "movie screen-quality picture."6 SkyDome had a McDonald's, a Windows on SkyDome buffet restaurant overlooking center field and a Hard Rock Cafe. There was a fitness club and even an embedded hotel with numerous rooms facing the field.
With 161 SkyBox luxury suites costing from $150,000 to $225,000 apiece7 and 5,800 SkyClub seats costing between $2,000 and $4,000 each,8 the Blue Jays, the city and the province tapped into monetary streams from well-heeled customers that would provide them with a share of over $40 million in gross revenue. Like the rain that poured into SkyDome on its gala opening night, fans (and ever more revenue) poured into SkyDome night after night, craving a glimpse of the Blue Jays and the new ballpark. After just six games played at SkyDome, Toronto moved to the top of the American League attendance chart in 1989 and stayed there for six straight seasons.9
"It's amazing. I guess I don't have words to describe it," Blue Jays manager Cito Gaston gushed after touring his new home ballpark before the first game. "This is the best right here. This has got to be the ultimate. This is really something."10 Whitt, a traditionalist, still appreciated the high-tech SkyDome: "Personally, I dislike domes. I prefer the older ballparks like Tiger Stadium in Detroit or Fenway Park in Boston. But the retractable roof is the thing that saves this one for me. It means we can have the best of both worlds. I mean this facility is the eighth wonder of the world. How can you criticize it? It's going to be wonderful for the spectators and hopefully, it'll be wonderful for the players."11
Milwaukee reliever Mark Knudson, who entered the game in the sixth inning, was ready to do away with the past, saying, "This is fantastic. The heck with old parks like Comiskey and Fenway. They've outlived their usefulness. As the game improves, I think the facilities should improve too. And I think this one is an improvement."12
Despite the losingouting, Key looked forward to future starts at SkyDome. "I'm going to enjoy pitching here. From what I saw tonight, if you keep the ball in gaps, you've got a shot. I think down the road it's going to be more of a pitcher's park than a hitter's park."13
"It's an incredible facility," said Braggs.14 "It's definitely a beautiful structure," said Yount.15 "There were no kangaroo hops, and this has the fairest dimensions of any of the domes," Milwaukee manager Tom Trebelhorn said. "If you juiced 'em, the ball went out, and if you didn't, then it didn't go."16
The Toronto Star suggested that "although the final price tag will admittedly be high, for the people of Metro [Toronto], the SkyDome will surely become a wellspring of civic pride—a magnet for business and tourists, a top venue for performers and a prime example of technology at its best."17
Indeed, SkyDome was already booked for several marquee events including the 1989 Grey Cup Canadian Football League championship game, WWF WrestleMania VI and concerts by the Rolling Stones, Rod Stewart and Frank Sinatra.
SkyDome certainly seemed like the way of the future: a multipurpose stadium hosting sports and entertainment in fair or foul weather that offered even casual fans a smorgasbord of dining and one-stop-shopping experiences. Other cities were already seeking to imitate SkyDome's blueprints, leaving the soulless, cookie-cutter stadiums of past decades behind, dreaming of similar new, impressive architectural landmarks and untold millions in potential profit.18
Sources
Besides the sources cited in the Notes, the author also consulted the Baseball-Reference.com and Retrosheet.org websites, Tom Cheek's and Howard Berger's Road to Glory: An Insider's Look At 16 Years of Blue Jay Baseball (Toronto: Warwick Publishing, 1993), and Labatt's Blue Jays Baseball broadcast of the game (CTV Television, Toronto, CFTO, June 5, 1989).
Photo credit
Creative Commons image by Oliver Mallich.

Notes
Additional Stats
Milwaukee Brewers 5
Toronto Blue Jays 3
---
SkyDome
Toronto, ON
Box Score + PBP:
Corrections? Additions?
If you can help us improve this game story, contact us.
Tags
http://sabr.org/sites/default/files/SkyDome-2007-CC-MallichOliver.jpg
600
800
admin
/wp-content/uploads/2020/02/sabr_logo.png
admin
2016-08-29 14:36:38
2020-06-05 12:26:13
June 5, 1989: Blue Jays play first game in SkyDome