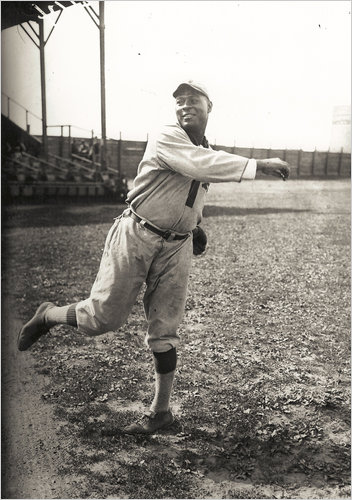 June 6, 1921: Bill Gatewood of Detroit Stars throws Negro National League's first no-hitter
---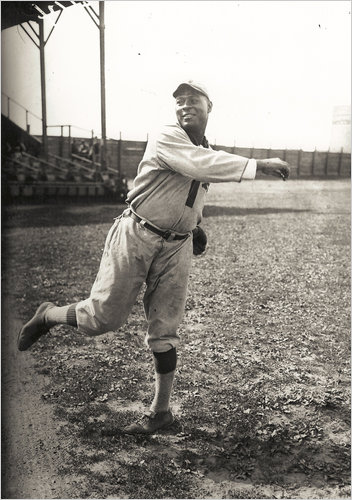 On June 6, 1921, Bill Gatewood of the Detroit Stars pitched the Negro National League's first no-hitter, defeating the Cincinnati Cuban Stars, 4-0.
Gatewood was a veteran pitcher, known for his spitball as well as for his versatility, and in 1921, he was part of a pitching rotation that included Bill Holland (real name Elvis William Holland), Andy Cooper, and William Force. And Gatewood was not just a reliable presence on the mound; he also got his share of good at-bats. In fact, in his no-hit game, he had a home run. The Chicago Defender's Frank "Fay" Young noted that Gatewood was even used as a pinch-hitter sometimes, and also referred to him as "one of the mainstays of the Detroit Stars … and partly responsible for their position at the top."1
Many pitchers go their entire careers without one no-hitter, but by 1921 Gatewood had already accomplished this at least once, and possibly twice. There was the 1910 season opener between the St. Louis Giants and the Louisville Stars (the exact date was not given in available newspaper accounts, but it may have been April 10).2 In that game, a pitcher identified as "George Gatewood" defeated Louisville 11-0, and pitched a no-hit game.3 But while the author called him George, this may have been a mistake, because the description of his career matched teams where Bill had played.
Much easier to document is the no-hitter Gatewood pitched in 1916. He was once again with the St. Louis Giants, and in a game against the Cuban Stars on May 13, he struck out six, allowed no hits, and won, 4-1.4 The St. Louis Post-Dispatch referred to him as "William" Gatewood; at other times, reporters called him Will, but the most common way for reporters to describe him was "Big Bill" – due to his imposing size. (By some accounts, he was 6-feet-7 and weighed about 240 pounds.5)
Gatewood left the St. Louis Giants in June 1920 and joined the Detroit Stars. In that debut year for the Negro National League, the Stars won 35 and lost 22, and Gatewood made a major contribution, winning 15 and losing 6. He was also a workhorse. On July 5, 1920, he pitched both games of a doubleheader against the Indianapolis ABCs, winning the first and losing the second. It was a remarkable feat for a player who by this time was close to 40 years old.6
The Stars played their home games at Mack Park, and despite the fact that it wasn't an easy location to get to, the games were well-attended.7 Given how well the Stars had done in 1920, there were high hopes for an even better year in 1921. And at first, things looked promising: the Stars got off to a fast start, winning 18 of their first 22 games.8 But while the Stars were looking good, Gatewood's pitching was erratic. However, the veteran pitcher could still show flashes of brilliance, and June 6, 1921 was one good example.
It was a Monday afternoon, and the weather was fair, with comfortable temperatures, when he took the mound against the Cincinnati Cuban Stars, a team described as "a rejuvenated club, which, in addition to several veterans, has eight new players."9 The umpires were two veterans – Harry Sarvis and Otto Gutzeit, both of whom were from Detroit. (The fact that the Negro National Leagues hired only White umpires in its early years would become a bone of contention for sportswriters like Frank "Fay" Young.10)
But in this game, it wasn't their race that was the issue; it was the fact that the two umpires seemed to be letting Gatewood get away with throwing at batters' heads, as well as using something that was making the ball do "funny things." When one of the umpires finally searched Gatewood's pockets, the answer was discovered: the pitcher was using bottle caps to make small nicks in the baseball. And yet, neither umpire ejected Gatewood, much to the frustration of the Cuban Stars.11
Meanwhile, Gatewood kept getting them out: He struck out 10 and walked two, facing only 29 batters. The best the Cuban Stars could do against him was "four outfield flies," none of which were difficult to catch.12 And demonstrating once again that he was a good hitting pitcher, Gatewood not only hit a homer but drove in another run with a single. The final score was 4-0, and the story of the game, which originally ran in the Detroit Free Press,13 was picked up by newspapers across the country. Interestingly, the Free Press erroneously referred to Gatewood as "Bert" rather than Bill, and the newspapers picked that up too.
The rest of the season reflected the ups and downs that Gatewood experienced. Three days after his no-hitter, he defeated the Cuban Stars again, combining with Bill Holland on a 6-0 shutout. But he had a poor outing on July 4, on the losing end of an 11-1 game against St. Louis; he gave up 13 hits. Overall, he ended the year with only six wins and seven losses, a far cry from what was expected of him, given how well he had done the previous year. The Detroit Stars, who were also affected by injuries to several key players, finished the 1921 season in fourth place.14
During Bill Gatewood's long career, which he spent with 15 different teams, he was sometimes a pitcher, sometimes a manager, and sometimes both. Among his other achievements, he pitched one more no-hitter, on June 28, 1926, when he was the player-manager for the Albany (Georgia) Giants; he defeated the Birmingham Black Barons 7-0. In the late 1920s, Gatewood became the manager of the Black Barons, and he was credited with teaching and mentoring a young Satchel Paige.15 But back when the Negro Leagues were new, it was Bill Gatewood who pitched the first no-hit game in league history, an accomplishment that even many of the mainstream (White) newspapers noted, on June 6, 1921.
Sources and acknowledgments
In addition to the Sources cited in the Notes, the author consulted Ancestry.com, as well as the Seamheads.com, Baseball-Reference.com, and SABR BioProject websites for pertinent material. The author thanks Kevin Larkin for fact-checking this article, Len Levin for copy-editing, and Baltimore-based reference librarian Donna Hesson for her research assistance.
Notes
1 Frank "Fay" Young, "Enters No-Hit, No-Run Fame," Chicago Defender, July 2, 1921: 1.
2 "Giants Will Take On the Louisvilles," St. Louis Star, April 7, 1910: 13.
3 David Wyatt, "St Louis Giants Off to a Successful Opening," Indianapolis Freeman, April 23. 1910: 7.
4 "Gatewood Hurls No Hit Game and Goes Over, 4-1." St. Louis Post-Dispatch, May 14, 1916: 2S.
5 Todd Peterson, Early Black Baseball in Minnesota (Jefferson, North Carolina: McFarland, 2010), 65.
6 "Detroit Wins and Loses to Taylor's Club," Indianapolis Star, June 6, 1920: 12. Seamheads shows Gatewood as born in 1881.
7 Richard Bak, Turkey Stearnes and the Detroit Stars (Detroit: Wayne State University Press, 1995), 70-71.
8 Bak, 73.
9 "Cubans to Start Series Saturday," Detroit Free Press, June 4, 1921: 13.
10 Brian Carroll, "From Fraternity to Fracture: Black Press Coverage of and Involvement in Negro League Baseball in the 1920s," American Journalism (Spring 2006): 80.
11 Peterson, 66.
12 "Stars Pitcher Denies Cuban Team Even a Hit," Detroit Daily Times, June 7, 1921: 12.
13 "No Hit Victory to Gatewood," Detroit Free Press, June 7, 1921: 18.
14 Bak, 73.
15 Charles P. Ward, "Ward to the Wise," Detroit Free Press, September 10, 1941: 15.
Additional Stats
Detroit Stars 4
Cincinnati Cuban Stars 0
---
Mack Park
Detroit, MI
Corrections? Additions?
If you can help us improve this game story, contact us.
Tags
https://sabr.org/sites/default/files/GatewoodBill.jpg
600
800
sabr
/wp-content/uploads/2020/02/sabr_logo.png
sabr
2021-06-01 10:33:26
2021-06-02 05:57:01
June 6, 1921: Bill Gatewood of Detroit Stars throws Negro National League's first no-hitter