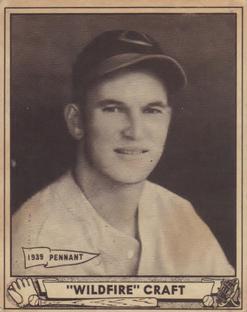 June 8, 1940: Reds' Harry Craft hits for cycle as 'our lads annihilate Dodgers'
---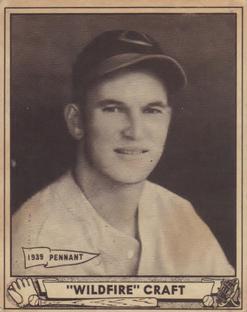 Baseball fans are usually divided into two camps: those who enjoy good hitting and those who enjoy good pitching.1 On a hot and humid Saturday afternoon at Crosley Field, fans saw both. The Brooklyn Dodgers and Cincinnati Reds played the second game of a four-game series, and it seemed as though three Dodgers pitchers served batting practice to the explosive Reds batters, while the Reds' pitcher sailed smoothly through his opponent's lineup. The two squads were tied for first place, although the Dodgers' 27-11 record had them 21 percentage points better than Cincy's 29-13 mark. In the middle of the Cincinnati batting order were 1940 Most Valuable Player Frank McCormick and future Hall of Famer Ernie Lombardi. McCormick and Lombardi, along with pitcher Paul Derringer, would represent the Reds in the 1940 All-Star Game.2
The Cincinnati Enquirer ran two large front-page headlines the next day. The first announced a French retreat during World War II in Europe. Immediately below, the second read, "Our Lads Annihilate Brooklyn, 23 To 2."3 According to the New York Times, the Dodgers "permitted the Reds, whom they bounced out of first place yesterday, to tumble them right back into the second spot."4 The Dodgers entered the game with a six-game winning streak, but that ended abruptly. In the Reds' bombardment of the Dodgers, left fielder Harry Craft became the fifth batter in Cincinnati history to hit for the cycle.5
Derringer took the hill for the hometown Reds looking for his fourth consecutive triumph. He was opposed by Brooklyn's Freddie Fitzsimmons, who was seeking his fifth straight victory. Fitzsimmons didn't even make it long enough to get an at-bat; he allowed five earned runs in the first two innings and was lifted for a pinch-hitter in the top of the third. Dixie Walker reached on an error by Lonny Frey to start the game, but Derringer then put the Dodgers down in order.
In the bottom of the first, Frey made up for his fielding miscue and "started the avalanche of Redleg hits and runs in the opening round with a long swat into the right-field bleachers."6 It was his third home run of the season. An inning later, the fireworks really started. Lombardi and Johnny Rizzo each singled, Craft doubled them both home, and Billy Myers doubled to score Craft. Derringer struck out, but Frey doubled in the fourth run of the inning.
In the third, with Carl Doyle now pitching for Brooklyn, McCormick walked and took third on a single by Lombardi. McCormick scored and Lombardi took second on Doyle's wild pitch with Rizzo batting. Rizzo popped out but Craft's triple drove in Lombardi. Derringer, batting .098 entering the game, singled and Craft scored. Suddenly Cincinnati had an 8-0 lead. 
In no time at all, the Reds were batting in the bottom of the fourth. After Frey's error to start the game, Derringer had retired all of Brooklyn's batters, and he had a no-hitter going. The Reds added a run on a single by McCormick and an RBI double by Lombardi. Rizzo walked and Craft singled, but both died on base as Doyle retired the Reds.
Brooklyn's bats finally had some life in the fifth. The Dodgers got two runs on a single by Cookie Lavagetto and doubles by Dolph Camilli and pitcher Doyle. Cincinnati responded with an outburst in the bottom of the inning, with the first four batters reaching on singles. With two runs in, one out and runners on the corners, Craft blasted a home run to complete the cycle. Myers was hit by a pitch, was sacrificed to second by Derringer, and was driven home on a single by Billy Werber. The Reds had sent 10 men to bat, as "they wheeled their Big Berthas into position again to score six times on as many hits, a walk, and a hit batsman."7
Cincinnati scored four more in the sixth. Nine men batted. Four singles, a walk, and a hit batsman (Craft) accounted for the action. Now it was 19-2, and even though it was the sixth inning, every Reds batter had already had at least five plate appearances.
Van Lingle Mungo relieved Doyle to start the seventh inning (after pinch-hitting in the top of the inning). A Cincinnati runner had crossed the plate in every one of the first six innings. In the seventh Mungo shut them out, although the Reds left the bases loaded. Craft drew a walk to continue his perfect on-base percentage. However, Cincinnati proved "that they don't play favorites on their good days by blasting Mungo for four more runs"8 in the eighth, getting another single by Craft and a home run by Rizzo. After eight innings, the home team had scored 23 runs and had left 15 runners on base. "The devastating Redleg blitzkrieg, the biggest of the 1940 major league season,"9 was five runs and six hits shy of the major-league record for most runs and hits in a game.
In the blowout, the Reds had sent 62 batters to the plate. Four players (Frey, McCormick, Lombardi, and Craft) had at least four hits. Seven players scored at least two runs each. As a team, Cincinnati hit 27-for-51 (a .529 clip), coaxed six walks, and had four hit batsmen. There was also a sacrifice. Craft reached base all seven times he batted.
Derringer pitched a complete game, facing 36 Brooklyn swingers, allowing two earned runs on seven hits (three doubles and four singles). He struck out six and walked one. He blanked Brooklyn through the first four and the last four innings.
In the other dugout, the Dodgers hurlers allowed six walks in addition to the 27 hits (19 singles, five doubles, a triple, and two home runs). Doyle started the bottom of the third and was left on the mound by manager Leo Durocher for four innings. He was touched for 14 runs on 16 hits. The recap in the New York Times mentioned that in his first three innings Doyle "allowed twelve hits, made two wild pitches, walked three men and hit three because of his frequent 'duster' pitches."10  In the colorful sportswriting lingo of the time, Lou Smith of the Cincinnati Enquirer wrote, "Along with being knocked slightly whacky, Doyle also did quite a job of plunking our boys with the stitched onion."11  He tied a modern record for hitting batsmen, previously shared by four pitchers.12  His 14 earned runs allowed are second for most allowed by a Dodgers pitcher in a game.
Craft, 25 and in his fourth season in the majors, hit only five triples and six home runs in 115 games in 1940. However, his triple in this game was his third in his last four games, and his home run was his second in two games. His 5-for-5 outburst raised his batting average from .264 to .289, and his slugging percentage from .438 to .497. (He ended the season with a .244 batting average.) Craft's teammate Frey was a triple shy of the cycle. Craft was the first of six major leaguers to hit for the cycle in 1940, the most in a single season since 1933, when eight men did it.13
Brooklyn rebounded to win five of its next six games, including three against the Reds, but Cincinnati spent only eight days in second place, going 71-40 during the remainder of the season. Brooklyn (88-65) finished second, 12 games behind the pennant- and World Series-winning Cincinnati Reds.
Sources
In addition to the sources mentioned in the Notes, the author consulted Baseball-Reference.com, mlb.com, and retrosheet.org. 
Notes
1 Lou Smith, "Our Lads Annihilate Brooklyn, 23 To 2," Cincinnati Enquirer, June 9, 1940: 1.
2 Derringer earned the victory in the 1940 All-Star Game as the National League defeated the American League, 4-0.
3 Smith.
4 Roscoe McGowen, "Reds, on 27 Blows, Rout Dodgers, 23-2; Regain First Place," New York Times, June 9, 1940: S1.
5 Prior to Craft, Cincinnati batters who hit for the cycle were John Reilly (August 6, 1890), Tom Parrott (September 28, 1894), Mike Mitchell (August 19, 1911), and Heinie Groh (July 5, 1915). After Craft, it was another 19 seasons before Frank Robinson became the sixth Reds player to hit for the cycle (May 2, 1959). Eric Davis is the seventh and, as of 2016, last Cincinnati cycle hitter (June 2, 1989).
6 Smith.
7 Ibid.
8 Ibid.
9 Ibid.
10 McGowen.
11 Smith.
12 McGowen. As of the 2016 season, 20 pitchers shared the record of hitting four batters in a game.
13 Over 12 days in 1933, three Philadelphia Athletics hit for the cycle: Mickey Cochrane (August 2), Pinky Higgins (August 6), and Jimmie Foxx (August 14).
Additional Stats
Cincinnati Reds 23
Brooklyn Dodgers 2 
---
Crosley Field
Cincinnati, OH
Box Score + PBP:
Corrections? Additions?
If you can help us improve this game story, contact us.
Tags
https://sabr.org/sites/default/files/CraftHarry-1939.jpg
600
800
admin
/wp-content/uploads/2020/02/sabr_logo.png
admin
2019-09-24 14:00:01
2020-10-14 17:53:54
June 8, 1940: Reds' Harry Craft hits for cycle as 'our lads annihilate Dodgers'