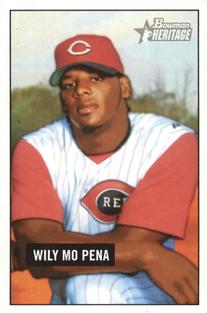 June 8, 2005: Wily Mo Pena's home run caps comeback win for Reds
---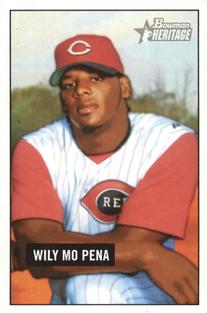 Bobblehead giveaways are exceedingly popular fan attractions. Let's face it, who doesn't love a collectible of a player from their hometown team? Drawing 32,014 fans to a summer Wednesday night game in Cincinnati, the Reds hosted their second giveaway of the season, a Wily Mo Peña bobblehead. It was the youngster's first-ever bobblehead night, adding him to the season's list of giveaways that featured local greats and legends like Ken Griffey Jr., Sean Casey, and Tony Perez.
The Cincinnati Reds (22-35), who had losing records in each of the last four National League seasons and were now at 22-35, were hoping for a brighter future on the basis of their young crop of outfield talent. With veteran leadership in Griffey Jr., the Reds had promising talent in Adam Dunn, Austin Kearns, and Peña, all 25 or younger. To complement the offense, the Reds had also made a splash in the free-agent market, signing Eric Milton to a three-year, $25.5 million deal.1
Similarly, the Tampa Bay Devil Rays (20-38) were in search of their first winning season since joining the American League in 1998. They had lost at least 90 games each season and were almost 20 games below .500 this season. Like their opponent, the Devil Rays held hope in their own young talent, which included ace pitcher Scott Kazmir, and outfielders Carl Crawford and Jonny Gomes, all 24 or younger. In an interleague matchup between two clubs building toward the future, Cincinnati's Eric Milton faced off on the mound against Tampa Bay's Doug Waechter.
The Devil Rays struck first in the top of the second inning when Nick Green ripped a double to center field that scored Alex Gonzalez, who had singled. This was the first of 20 runs scored in the slugfest. Leading off the bottom of the second inning, Wily Mo Peña crushed a solo home run to tie the game. Fans celebrated as Peña rounded the bases by waving their bobbleheads.2 The Reds added to their lead one inning later when Ryan Freel singled and third baseman Joe Randa connected for a home run. (There were seven home runs by the end of the game, six of them off Reds' bats.) With a 3-1 lead, things were going swimmingly for Milton. That is, until the Devil Rays' bats became red-hot in the top of the fifth.
After driving the count full, Nick Green won an eight-pitch battle with Milton and drew a walk. The next batter, pitcher Waechter, bunted and was safe on a fielder's choice when catcher Jason LaRue couldn't get Green out at second. Trouble for Milton began to snowball: The next batter, Crawford, lined a double to center, scoring Green and advancing Waechter to third base. Julio Lugo then reached first on an infield single on a ball hit back to Milton, loading the bases. Next, Eduardo Perez, son of Reds legend Tony Perez, launched a grand slam to left field. The offense continued to lay it on Milton: Aubrey Huff landed on second with a double, the fourth consecutive hit. Damon Hollins grounded out, advancing Huff to third base, and Alex Gonzalez's sacrifice fly to center field scored Huff. With a lineout from Toby Hall to shortstop Felipe Lopez, the inning ended. When the barrage was over, the Devil Rays had scored six runs on four hits, taking a 7-3 lead.
The Reds plated a run in the bottom of the sixth inning after Sean Casey and Ken Griffey Jr. singled to begin the inning. With two outs, Felipe Lopez singled and drove in Casey. The Devil Rays responded in the top of the seventh with two runs on a sacrifice fly off the bat of Alex Sanchez, which scored Julio Lugo, and an RBI single from Toby Hall that scored Aubrey Huff. With the Devil Rays leading 9-4, things were looking dismal for the Reds. According to the Baseball-Reference Win Probability Chart, the Devil Rays had a 97 percent chance of winning at this point in the game.
Jason LaRue led off the bottom of the seventh inning with a solo home run. In the eighth, the Reds' bats came alive. Peña singled and Adam Dunn connected for a two-run homer. The next batter, pinch-hitter Jacob Cruz, also joined the home-run bonanza, knocking a solo shot that brought the deficit to 9-8. The Devil Rays were blanked in the top of the ninth and their formidable closer, Danys Baez, came in to close out the game.
Ryan Freel led off with an infield single to third base and Joe Randa walked. Baez, who soon was chosen for the American League All-Star team, got Sean Casey to ground into a shortstop-to-first double play. With two outs, his team down by one run and a runner on third, Ken Griffey Jr. hit a clutch RBI single to right field, tying the game, 9-9. The next batter, Wily Mo Peña, had already had a good night, 2-for-4 with a home run, but this was his bobblehead night — his night. On Baez's sixth pitch to him, Peña crushed a ball to the upper left-field deck, giving the Reds an 11-9 walk-off victory.
Fans celebrated with by chanting Peña's name, waving his bobblehead again as he rounded the bases, and forcing him to come out of the dugout for a curtain call. Peña's game stats included three hits, three runs, and three RBIs with two home runs. "I hope tomorrow is another one so I can have a game like tonight," he said.3
Author's note
I was fortunate enough to be in attendance for this game and, even luckier, I caught the game-winning home-run ball! I was 11 years old at the time, and once a year I would go to a game with my cousins, uncles, and grandfather as part of a family outing — this was one of those games. Interestingly, I found a four-leaf clover earlier in the day while pulling weeds in my grandparents' garden. Did luck have something to do with it? The ball remains one of my most prized possessions, along with the Wily Mo Peña bobblehead.
Sources
baseball-reference.com/boxes/CIN/CIN200506080.shtml
retrosheet.org/boxesetc/2005/B06080CIN2005.htm
Notes
1 Associated Press, "D-Rays Waste Five-Run Lead, Perez Grand Slam," June 8, 2005. Found online at https://espn.com/mlb/recap?gameId=250608117.
2 Associated Press.
3 Associated Press.
Additional Stats
Cincinnati Reds 11
Tampa Bay Devil Rays 9
---
Great American Ball Park
Cincinnati, OH
Box Score + PBP:
Corrections? Additions?
If you can help us improve this game story, contact us.
Tags
https://sabr.org/sites/default/files/Pena-Wily-Mo-2005.jpg
600
800
admin
/wp-content/uploads/2020/02/sabr_logo.png
admin
2020-05-12 12:23:18
2020-05-28 15:33:15
June 8, 2005: Wily Mo Pena's home run caps comeback win for Reds