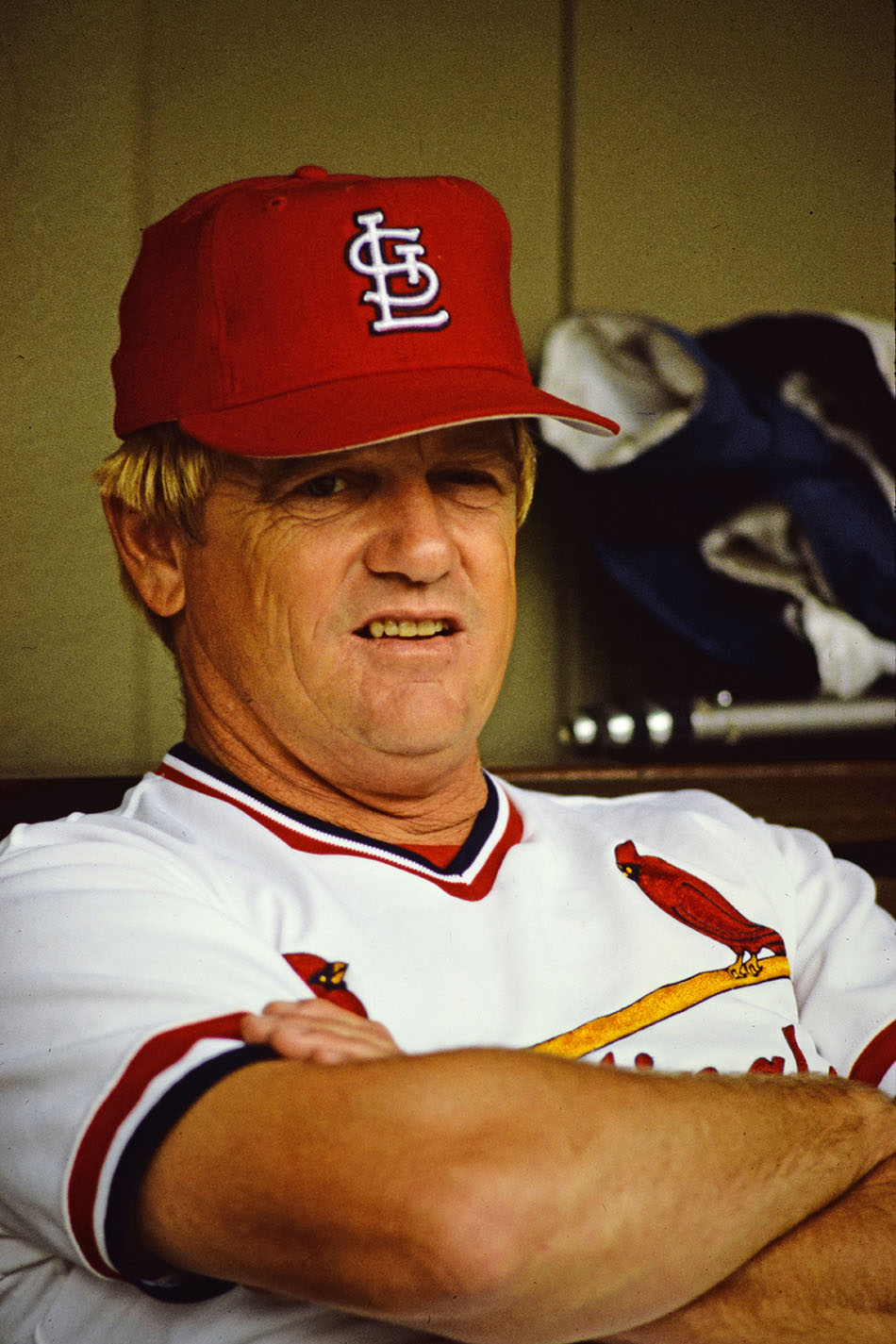 June 9, 1980: Whitey Herzog wins first game as Cardinals manager
---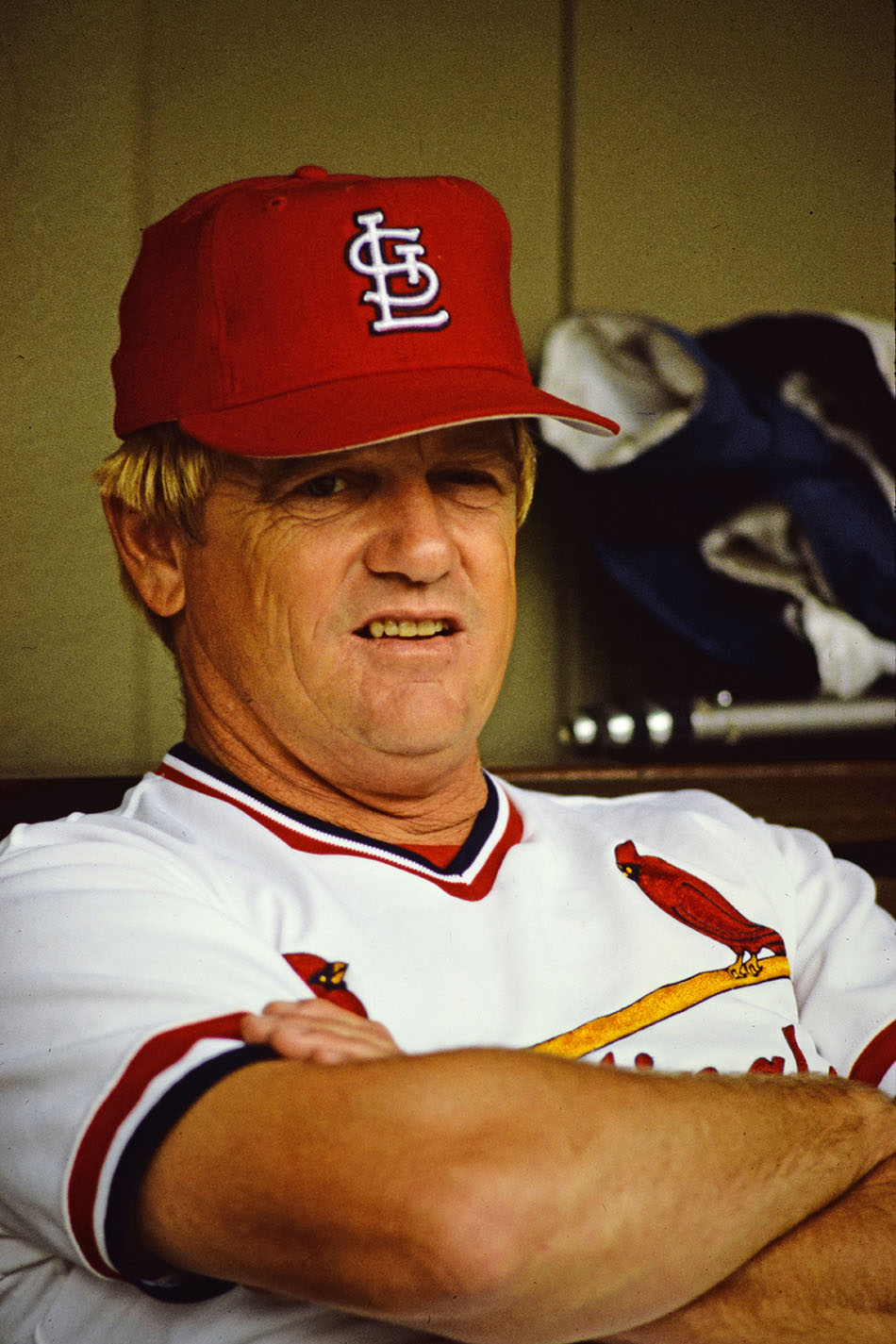 On the day of Whitey Herzog's first game as manager of the St. Louis Cardinals, he found himself, somewhat baffled, in Marietta, Georgia, trying to get to the team hotel in nearby Atlanta.
His misadventure began when he was given the wrong departure time for his flight. Then, after catching a later plane to Atlanta, he hopped into a cab and asked the driver to take him to the Marriott. Mistaking Herzog's request, the driver took him to Marietta. Later, Herzog would cut himself shaving and required firsthand experience with trainer Gene Gieselmann's ministrations.1
Despite the challenges, Herzog, whom August A. Busch Jr. had introduced as the Cardinals' new manager the day before at a sprawling estate that once belonged to Ulysses S. Grant, was convivial during pregame batting practice.
"I feel great," Herzog said. "Why? Because I haven't lost a game in this uniform yet."2
Thanks to a three-run, 10th-inning home run by center fielder George Hendrick, Herzog could still say the same at day's end.
Herzog had inherited a St. Louis team from previous manager Ken Boyer that had won just five of its past 26 games and at 18-34 had the worst record in baseball. The Cardinals' struggles had come despite an offense that led the league with a .275 batting average. Entering that day's game Keith Hernandez (.343), Ken Reitz (.335), Ted Simmons (.297), Hendrick (.296), and Garry Templeton (.288) all ranked among the league's batting leaders.
"I certainly like the averages on this team but the main concern is the pitching," Herzog said. "There is no guarantee that I can do any more with it than Kenny did, but we'll try to get the injuries healed up and then see where we stand."3
The Cardinals' beleaguered pitching staff was anchored by right-handers Pete Vuckovich and Bob Forsch. Jim Kaat, a 41-year-old left-hander the Cardinal had purchased from the New York Yankees on April 30, provided leadership and depth, but injuries and ineffectiveness had plagued the rest of the pitching staff.
John Fulgham, who had gone 10-6 with a 2.53 ERA in 1979, had a 3.04 ERA but was just 2-3 so far in 1980 and had lasted just three innings in his last start, against the Montreal Expos. Silvio Martinez, who won 15 games the previous season, had a 4.50 ERA when he went on the disabled list at the beginning of June with an elbow injury. A former player of Herzog's in Kansas City, closer Mark Littell, also was on the disabled list with an elbow injury that would require season-ending surgery.
Altogether, the Cardinals pitchers had combined for a 4.28 ERA — the worst in the league — heading into Herzog's debut.
In a 10-minute meeting before the game, Herzog laid out the ground rules for his players. There would be no curfew on the road, though players would be permitted to drink in the hotel bar, reversing a rule Boyer had instituted just a few days prior. If players wanted to listen to music while traveling with the team they had to use headphones, and there would be no music in the clubhouse after a loss. Most importantly, Herzog said, everyone was required to show up on time and anyone who failed to hustle could expect a fine.4
"He was saying things that really made sense to people," second baseman Tom Herr said.5
That task complete, Herzog handed the umpires a lineup that had been selected by his brother Butzy (pronounced "bootsy"6) — a devoted Cardinals fan who still lived in Herzog's hometown of New Athens, Illinois, 30 miles southeast of St. Louis.7
As they had much of the season, the Cardinals produced early, jumping out to a 5-0 lead. Templeton opened the game with a single to center field, then stole second base and scored on Hendrick's two-out single. Templeton singled home Reitz in the second inning and Simmons hit a solo home run to right field in the third.
The Cardinals added two runs in the sixth as Simmons and Hendrick led off the inning with back-to-back doubles and Hendrick scored on a sacrifice fly by Bobby Bonds. However, just as Herzog got his first glimpse of the Cardinals' offensive firepower, he also saw why the team was at the bottom of the National League.
Kaat had cruised through five innings before Dale Murphy and Chris Chambliss hit consecutive doubles in the sixth inning for Atlanta's first run. In the seventh, Kaat did himself no favors, walking Bruce Benedict to lead off the inning before Charlie Spikes doubled to left field. Benedict scored on a wild pitch, and Spikes scored on an error by Templeton at shortstop. After Chambliss hit an RBI single to make the score 5-4, Herzog made the first pitching change of his Cardinals career.
John Littlefield, a rookie right-hander whom Herzog mistakenly referred to as "Littlejohn" after the game,8 got St. Louis out of the seventh and retired the side in order in the eighth — all on groundballs — before a ninth-inning RBI single by Glenn Hubbard tied the game, 5-5.
"I thought after that, we'd surely win the game," Hubbard said. "Especially on a team that's been losing so much. I didn't think they'd come back, but they did."9
With one out in the 10th, Hernandez singled off Atlanta reliever Larry Bradford and Simmons singled to center, prompting Braves manager Bobby Cox to turn to veteran reliever Gene Garber to face Hendrick.
Hendrick was not fooled by Garber's twisting, side-arm delivery or the pitch (the St. Louis Post-Dispatch reported that Hendrick indicated it was a changeup, while the Atlanta Constitution quoted Simmons as saying Hendrick called it "some kind of slider"). Hendrick deposited his 12th home run of the season over the left-field wall.
Even then, the Braves refused to allow Herzog's first Cardinals win to come easily. Herzog removed his third pitcher of the evening, Kim Seaman, after he allowed a leadoff single to start the 10th.
Before sending Seaman to the showers, Herzog looked at the infielders who had gathered around the mound. "Just like Kansas City," he said. "Never a dull moment." As Seaman's teammates laughed, Herzog told the young reliever that despite the result, he'd thrown a good pitch.10
With that out of the way, George Frazier got a double-play ball and a strikeout to end the game.
"I don't think we're a last-place club and that's no reflection on anyone, but we've dug ourselves a big hole and we've got to put some streaks together," Herzog said. "But it's hard to put a streak together unless you get consistent pitching. We're going to have to straighten the pitching out."11
It didn't take Herzog long to realize that even with their potent offense, the Cardinals needed a roster upheaval. After three consecutive home losses against the Cubs, Busch asked Herzog what the team's trouble was and Herzog didn't mince his words.
"Well, Chief, you've got a bunch of prima donnas, overpaid SOBs who ain't ever going to win a goddamned thing. You've got a bunch of mean people, some sorry human beings. It's the first time I've ever been scared to walk through my own clubhouse. We've got drug problems, we've got ego problems, and we ain't ever going anywhere."
Busch seemed disappointed but not entirely surprised when he asked Herzog if it was really as bad as the skipper made it sound.
"We ain't going to win with this sorry bunch," Herzog said. "We've got to do some housecleaning."12
That August, Busch fired general manager John Claiborne and installed Herzog in his place. To focus on these new duties, Herzog temporarily handed the manager's job to Red Schoendienst.
That winter, Herzog remade the Cardinals' roster around pitching, speed, and defense. He began by signing free-agent catcher Darrell Porter and dealing Terry Kennedy, Littlefield, Al Olmsted, Mike Phillips, Seaman, Steve Swisher, and John Urrea to the San Diego Padres for Rollie Fingers, Bob Shirley, Gene Tenace, and Bob Geren.
The day after the Padres trade, Herzog sent Leon Durham, Reitz, and Ty Waller to the Chicago Cubs for Bruce Sutter. He followed that exchange by trading Fingers, Simmons, and Vuckovich to the Milwaukee Brewers for David Green, Dave LaPoint, Sixto Lezcano, and Lary Sorensen. By Christmas, Herzog also had released the aging Bonds. Those moves firmly established the Cardinals as Herzog's team and laid the groundwork for St. Louis's 1982 World Series championship.
Much like his path to Fulton County Stadium for his Cardinals debut, Herzog may have taken a roundabout way of getting there, but eventually he arrived exactly where he expected.
Sources
In addition to the sources mentioned in the Notes, the author consulted Baseball-Reference.com and Retrosheet.org.
baseball-reference.com/boxes/ATL/ATL198006090.shtml
retrosheet.org/boxesetc/1980/B06090ATL1980.htm
Notes
1 Rick Hummel, "'New Air in Atmosphere' For Redbirds," St. Louis Post-Dispatch, June 10, 1980: A10.
2 Ernest Reese, "Herzog Winner in Debut," Atlanta Constitution, June 10, 1980: D1.
3 Ken Picking, "Herzog Has Tough, Attractive Challenge," Atlanta Constitution, June 10, 1980: D1.
4 Doug Feldmann, Whitey Herzog Builds a Winner: The St. Louis Cardinals, 1979-1982 (Jefferson, North Carolina: McFarland & Company, Inc.), 58.
5 Hummel.
6 Feldmann, 43.
7 Feldmann, 57.
8 Hummel.
9 Reese.
10 Hummel.
11 Reese.
12 Whitey Herzog and Kevin Horrigan, White Rat: My Life in Baseball (New York: HarperCollins, 1988), 118.
Additional Stats
St. Louis Cardinals 8
Atlanta Braves 5
10 innings
---
Atlanta-Fulton County Stadium
Atlanta, GA
Box Score + PBP:
Corrections? Additions?
If you can help us improve this game story, contact us.
Tags
https://sabr.org/sites/default/files/Herzog-Whitey-Cardinals.jpg
600
800
sabr
/wp-content/uploads/2020/02/sabr_logo.png
sabr
2020-07-01 17:16:48
2021-06-09 04:47:38
June 9, 1980: Whitey Herzog wins first game as Cardinals manager