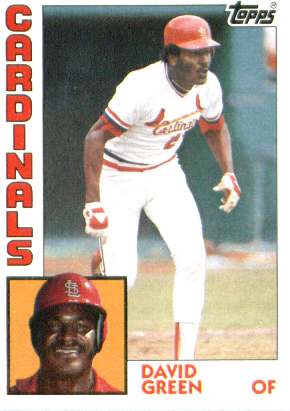 David Green is one of baseball's big "what if" stories. The imposing Nicaraguan was often called "the next Roberto Clemente." His talent has also been compared to that of Vladimir Guerrero, André Dawson, and Darryl Strawberry -- even Willie Mays. Alas, personal troubles and nagging injuries stopped him from realizing this vast potential. Looking back in 2009, David said, "I received some blows and I made bad decisions."[1]

This man came from a baseball bloodline. His father, Edward Green Sinclair, was one of the best Nicaraguan ballplayers of his era -- or ever. Eduardo, as everyone called him, was an Afro-Caribbean from Bluefields on the nation's English-influenced Atlantic coast. La Gacela Negra -- The Black Gazelle -- played from the early 1940s through the early 1960s. He starred in the outfield for the Cinco Estrellas club of Managua (the nine-time national champion from 1944 to 1954) and for the national amateur team. In order to understand David better, one should know the elder Green's story too.

David Alejandro Green, who was named for his paternal grandfather, was one of five boys and five girls born to Eduardo's wife, Bertha Casaya. Bertha was a mestiza (of Indian and Spanish descent) from Managua. Although the main language spoken in Bluefields, even today, is an English-based Creole, the Green household spoke mostly Spanish. Nicaraguan journalist and broadcaster Tito Rondón recalled that Eduardo, even though his given name was English, "named his children in Spanish. He insisted his son was called Dah-VEED."

David was by no means the only athlete in the family. Sisters Isabel and Carlota were two of the finest women's basketball players in Nicaraguan history. His three other sisters were Sonia, Milena, and Geovanna; his four brothers were Eduardo, Alfredo, Leonardo, and Enrique. Eduardo Jr. also played baseball but was not a true prospect, as Tito Rondón remembered. "Eduardo had the figure and the mechanics, he just couldn't hit a lick, so in uniform he impressed everyone except those who saw him play a couple of real games!"

Baseball references give David's year of birth as 1960, but according to Rondón, it was 1959.[2] In 2009, Rondón stated, "He took one year off when he signed. He was a member of Nicaragua's national team in 1978, so he had to produce his birth certificate to get his passport to travel and register at the event [the 25th Amateur World Series, held in Italy]. I was there."

During Green's playing career, there was controversy about his true age. In 1985, superscout Howie Haak, who covered all of Latin America for the Pittsburgh Pirates, said he had first seen David in 1973. Haak said, "He was 19, I checked with his mother."[3] If Green had been born as early as Haak suggested, though, he would probably have qualified for the national teams that played in the Amateur World Series from 1972 to 1974. Tony Chévez, who pitched for the Baltimore Orioles in 1977, was on the '72 and '73 squads. He stated in 2009 that Green was not there.

Tito Rondón noted of Haak's story, "That was probably older brother Eduardo, who was the apple of his father's eye, and who was supposed to carry on the family tradition." Tony Chévez's memory supports this: Eduardo Jr. was not on the national team either, but he was an opponent in the Nicaraguan amateur league, playing for his father's old team, Cinco Estrellas. Rondón continued, "He was light years away from being a regular on his team, never mind the national team (not even 100 hits lifetime). But his dad was obsessed with his being a star ballplayer. It took him a while to realize David was the real prospect."

While he was a good soccer player, David had not bloomed in baseball as an adolescent, Rondón also recalled. "In 1973, my last year as a young man playing ball, he was in a game in the Centroamerica High ballfield, which my team was scheduled to use next, so we watched the last few innings. He was a stick of a kid, 14 or so, a terrible player. We were curious because we knew who his dad was."

Young David's first ballclub at home was UCA Perfecta in the Hope and Reconstruction League (one of two the nation had from 1973 to 1977, following a split in the amateur ranks). He served as batboy around 1975. Eduardo Green Sr. was an assistant coach. This team was affiliated with Universidad Centroamericana in Managua; however, it competed at the First Division level, not college baseball. La Perfecta, a maker of pasteurized milk and other products, sponsored the club for a year.

Eduardo Sr. was also known as Cabo, or corporal. That was his army rank, and it informed his coaching. Tito Rondón observed, "Once he did [recognize David's ability], he started teaching the younger Green but very harshly. I watched a couple of times as Cabo pitched batting practice for UCA. At [nearly] 60 he still had a great arm. After he finished that he would throw to his 15-year-old son, officially a batboy, and he would throw hard, around 80 mph. David would swing and miss most pitches, and his father would scream at him in his English-accented Spanish, 'Hit it, maricón, concentrate, bat like a man not a girl,' etc. Someone once said he was frustrated by Eduardo's failure and he took it out on the kid."

By the time he was 16, in 1976, David had stepped up from batboy with UCA. He saw relatively little action, though -- the team already had a speedy man in center field named Jimmy Bolaños, whose father Nicolás had played on the national team with Eduardo Green in the 1950s. Jimmy stole 51 bases in 1977, then a Nicaraguan record.

Tito Rondón said, "David was too young to play regularly for UCA; if I recall correctly he had few at-bats in 1976 and did not hit. Then in 1977 he started to do better, but was not earthshaking. But everybody could see his talent, and all teams in Nicaragua wanted him for 1978. When the two warring leagues united, UCA disbanded and Búfalos-Bóer snapped him up. He had played a lot in 1977, but he was not ready to play center. Jimmy Bolaños was fast and very smart (the St. Louis Browns scouted his dad in the late 1940s), but not a great hitter. David was just not ready yet."

Another mark of Green's athleticism was how, with little training, he represented his country in track and field in 1977. At the Central American Games in El Salvador, he set a national record (since surpassed) with a long jump of 7.12 meters (23 feet, 4 1/4 inches).[4] [5] This mark was in line with the era's best Olympic decathletes.[6]

As Rondón noted, Nicaragua's amateur leagues reconciled in 1978, and David joined Bóer, the nation's longest-running baseball club. The team has gone by various names over the years, but at that time they were called the Búfalos. The young man blossomed, hitting .398 in 392 at-bats, with 20 homers and 70 RBIs.[7] He had a 30-game hitting streak, a Nicaraguan record that would last until 1999,[8] and his 156 hits are still a single-season high.[9]

Tito Rondón offers yet another firsthand recollection of Green's development. "Cabo and I were talking once in 1978, while David was hitting the tar out of the ball for Búfalos-Bóer and running, throwing and fielding like a demon. Eduardo (at that time the best outfielder ever in Nicaraguan baseball history) said to me, very intently, very seriously, 'David will hit more than me, maybe throw harder than me, he will have more power than me, he might even field better than me, but in one thing he will always lag behind me. He will never be as fast running the bases as I was.' It turned out to be a very accurate assessment."

From July 6 through July 22, 1978, the Central American and Caribbean Games took place in Medellín, Colombia. Green was part of the Nicaraguan team that won the silver medal behind Cuba. Later that summer, he also played center field for the national squad at the 25th Amateur World Series in Italy. He batted .310 as Nicaragua went 5-5.

Various major-league organizations had been observing. The Houston Astros had a Nicaraguan bird dog named René Cárdenas (also a journalist and pioneering Spanish-language broadcaster in the U.S.), who asked Eduardo Green for dibs on his son. Cárdenas then recommended David, only to find out later that Houston didn't believe the young man had what it took.[10] "I liked him," said Scipio Spinks, the Astros' junior scout on the case, "but Walt Matthews, the senior scout, didn't think he was good enough to sign."

Ralph Ávila of the Dodgers recalled that he wasn't interested because his organization already had five or six good young outfielders.[11] Tito Rondón said, "I remember the Phillies' Rubén Amaro telling me that he had offered Eduardo $27,000 [for David to sign], but $7,000 deferred until he reached the majors."

The team that wound up signing Green was the Milwaukee Brewers. The tandem of Julio Blanco Herrera (regional scout) and Ray Poitevint (scouting director) was responsible. Previously they had been a team with the Baltimore Orioles, signing Nicaraguans Dennis Martínez and Tony Chévez in 1973. Blanco Herrera, a Cuban, knew Manolo de la Reguera,  the Cuban broadcaster who dubbed Eduardo La Gacela Negra. [12] There's a good chance that he saw Cabo play.
As Blanco Herrera and Poitevint worked, the Sandinista revolution against Anastasio Somoza Debayle was in full swing. The final throes were a year away, but the unrest was still severe. Tito Rondón recalls hearing, "Julio Blanco Herrera showed up at El Cabo's house during the fighting in Managua in June of 1978 and signed 'Greencito' for $20,000, when he pulled out of his pockets ten 100-dollar bills and offered it as an advance. I remember being desperate for cash in those days; the banks were closed, so was your workplace, there was no electricity and the only way to get food was by paying cash."

In the early '80s, Poitevint said, "David Green was 15 years old when I first saw him [or so he believed -- the year was 1976]. He was extremely gifted, a kid playing in a league with guys 25 to 30, guys who would've made a pretty decent Double A club. Carlos García told us about him."[13] García was one of the great organizers in Nicaraguan baseball history. It was he who established the amateur league in 1970 after the local pro winter league went defunct in 1967.

Poitevint added, "David Green is without a doubt the most talented prospect -- physically and mentally -- I have been associated with in the twenty-two years I've been involved in scouting. . .David Green has Willie Mays's physical abilities and Pete Rose's mental abilities."[14] As for the second half of that statement, unfortunately David would not always act in his own best interest.

The Brewers signed Green officially on September 24, 1978. One item in his original contract was a three-month course in English at an Arizona college. "When I first got here, it was weird," David recalled in 1981. "I didn't know nobody. Nobody knew me. It was tough when I'd get hungry and I'd go to a restaurant and couldn't order anything."[15]

The following year, he started with Stockton in the California League, a "high A" classification. He held his own after a slow start, batting .262 with 8 homers and 70 RBIs. After going to the Arizona Instructional League, he was promoted to Double A for the 1980 season. That February, The Sporting News -- talking to a very bullish Ray Poitevint -- already tabbed Green as Milwaukee's best prospect. The article also described him as just 18 years old.[16]

Playing in Holyoke, Massachusetts, Green led the Eastern League with 19 triples (against only 13 doubles; .291-8-67 overall). He was named to the EL All-Star team. He also hit a key homer in the first round of the playoffs as the Millers became league champions. Mourning soon followed, however, as Eduardo Green passed away after a series of heart attacks on September 13. "I only want to see him wear a big-league uniform," said Cabo when David signed. He missed that dream by a little less than a year.[17]

On December 12, 1980, the Brewers finalized a major trade with the St. Louis Cardinals. They sent pitchers Lary Sorensen and Dave LaPoint to St. Louis, plus outfielder Sixto Lezcano and Green. In return they received Rollie Fingers, Ted Simmons, and Pete Vuckovich. The talks had started small but mushroomed.[18] Cardinals manager Whitey Herzog said, "We think so much of Green that we would not have made the deal if he had not been in it."[19]

At first, Green was off the table. Ray Poitevint argued vehemently against including him. In fact, former Brewers P.R. director Tom Skibosh recalled, "It got so heated that Ray Poitevint and Ray Scarborough [then a special assignment scout for the Brewers] almost came to fisticuffs in a meeting. Poitevint was saying, 'David Green is the future of this organization,' and Scarborough was saying, 'Forget the future. We have a chance to get these guys; we want to win now.' They almost went at it. They had to separate them."[20]

When he heard about the trade, David reacted strongly too. "I was mad. I don't know why. All I know is I was mad. . .My family was mad."[21] At the time, he was playing in the Mexican Pacific League (LMP) with the Obregón Yaquis. He won the league batting title in the 1980-81 season with a mark of .321, edging out local legend Héctor Espino. The Yaquis were LMP champion that year, but there was no Caribbean Series because of a Venezuelan players' strike.

The manager in Obregón that winter was Lee Sigman, who had been a shortstop in the Orioles system playing behind Dennis Martínez and Tony Chévez. What's more, Ray Poitevint had also signed Sigman as a player and hired him as a minor-league manager for the Brewers (they would remain close colleagues as scouts for many years too).[22] Sigman and Green were already good friends; in fact, the woman who became Sigman's wife was the sister of Green's girlfriend. Sigman managed Green at both Stockton and Holyoke, and when he became a skipper in Mexico for the first time, he brought David along.

Sigman's long history in both scouting and managing gives his opinion weight. "I'm not exaggerating," he told Nicaraguan sportswriter Edgard Rodríguez in 2007. "The reports on him projected more upside than Barry Bonds. Remember that David was a center fielder because of the ground he covered and his cannon arm. He was perhaps like Vladimir Guerrero, but even better. Vladimir has all five tools too, but David ran even better, with an impressive big stride. We all thought he was going to be a 30-30 player every year. Me, I loved watching him run and throw."

"The sky was the limit. He could do it all."[23]

In 1981, Green rose to Triple-A with the Cardinals' top affiliate, Springfield. That summer Inside Sports magazine labeled him "today's best prospect." Defensively, Redbirds broadcaster Terry Greene said, "I compare him to André Dawson. His range is phenomenal. On top of that, he's got a cannon for an arm. An accurate cannon."[24]

His season was merely good, though, not dazzling (.270-10-67). In addition to a groin injury, Lee Sigman thought that David may already have had troubles with alcohol. The loss of his father was a severe blow, since Eduardo was his mentor. In 2006, Managua sportswriter Edgard Tijerino said, "I have always believed that the key factor David needed to finish growing, maturing, and establishing himself consistently was the presence of his father."[25] (In fact, the weakness for drink may have been hereditary, as Cabo's contemporary Alfredo Medina recalled in 2005.[26]) The civil war in Nicaragua also left David unable to see his family and girlfriend. It was all very stressful for a young man alone and saddled with high expectations. Whitey Herzog said much the same thing in 1995, noting that he'd heard from a Milwaukee scout that Green had a problem before the trade was made.[27]

Nonetheless, the Cardinals called him up that September, making David just the fourth Nicaraguan to reach the majors. He hit only .147 as he had trouble with curveballs. In Herzog's view, Green was "overawed."[28] His first hit came on September 26, against Pittsburgh's Luis Tiant. It was his 14th game and his 16th at-bat.

Green returned to the Yaquis for the winter of 1981-82. He hit for fairly good average without much power (.274-3-36 with 26 steals in 84 games).

In spring training 1982, veteran Cardinals pitcher Jim Kaat said, "If you look at a group of horses standing around in a pasture, the thoroughbred sticks out. He looks like the thoroughbred."[29] In antelope terms, whereas his father the Gazelle was 5'11" and 155 pounds, David was more an Impala -- he stood 6'3" and weighed close to 200 pounds when he was fully grown. The following year, St. Petersburg sportswriter Shelby Strother would echo Lee Sigman's description: "He ran with an explosion of strength. Long powerful strides, muscled arms churning, veins in his neck bulging, teeth clenched. To see someone his size run so fast stuns the first-time observer."[30]

Green excelled in camp and went north with the big club in 1982 as a reserve outfielder. Lonnie Smith would typically start in center field and Dane Iorg in left, but Green would come in for defense in the late innings while Smith shifted over. He also got occasional starts and hit for good average.

In early May, however, Green pulled a hamstring as he collided with Braves pitcher Steve Bedrosian at first base. St. Louis called up Willie McGee from Louisville -- and McGee seldom left the center field position until he was traded away in 1990. The Cardinals wanted Green to get regular duty, so they sent him down to Louisville in early June. He hit so well (.345-9-40 in 46 games) that it was impossible to keep him down. St. Louis recalled David in early August, optioning Tito Landrum to Louisville. On August 15, he hit his first big-league homer off Randy Niemann at Pittsburgh's Three Rivers Stadium.

Green saw action in two games in the 1982 NLCS versus the Braves, getting a hit in his only at-bat and scoring the winning run in Game Two. In the World Series, he appeared in all seven games as St. Louis beat the Brewers, going 2 for 10 with a double and a triple (both off Mike Caldwell in Game Five). The following month, Whitey Herzog stated, "I think we've got to find a place to play David Green every day." The logjam in the outfield was the manager's thorniest problem.[31] George Hendrick was trade bait that offseason, but other clubs were more interested in Green.[32]

That winter David played for the first time in Puerto Rico, taking part in 28 games for the Ponce Leones (.296-6-21). He got in a dispute with manager Jim Napier, however, and the club removed him from the effective roster as of January 14. After apologizing, he returned for the playoffs; Ponce lost in the final round to Arecibo.[33] [34] This would not be the last time Green knocked heads with his bosses, though.

During spring training 1983, the St. Petersburg Times called the Cardinals' center-field job a "delightful dilemma."[35] The subtitle was "David Green has all the tools, but Willie McGee has the job -- for now." Green got back the position because McGee separated a shoulder running into the fence during an intrasquad game on March 28.[36] Once McGee recovered, though, he moved back in on April 30. On June 15, St. Louis resolved the situation by dealing Keith Hernandez to the Mets, moving Hendrick to first base, and putting David in right field. He played in a career-high 146 games; his 34 steals were also a personal best.

That September, David's mother Bertha and his younger brother Enrique arrived in St. Louis. The Cardinals and parent company Anheuser-Busch had worked for two months to get them out of war-torn Nicaragua. "David wanted it and we wanted it badly," general manager Joe McDonald said. "The country was in revolt and that was the reason we did have problems trying to get them out." Unfortunately, other relatives still remained, and brother Eduardo was in jail.[37] He had written a bad check and couldn't pay the fine, so it cost him four months.[38]

The Cardinals sent Green to the Instructional League to learn how to play first base and third base. He then enjoyed a very strong winter in Ponce (.311-8-31 in 46 games), again helping the Leones advance to the playoff finals. In spring training 1984, Whitey Herzog moved him to first base, in part because he viewed George Hendrick as the best right fielder in the National League.[39]

Possibly the move was a misuse of Green's arm and speed, though one should defer to Herzog's acumen. The manager said, "I can't believe how fast he's picking it up. . .I think you'll find out he was born to play there."[40] Green was positive too, saying, "I feel pretty good because I've worked hard and I'm getting used to it. I played the position before in Nicaragua, so I'm getting all the movements back." He added, "I get more involved. There's more action."[41]

At the start of camp, though, Bertha Casaya Green -- the keeper of David's scrapbook -- passed away. This loss too may have worsened his alcohol problem. He started the season hitting well but slumped. As Herzog remembered, things came to a head at Busch Stadium on Sunday afternoon, May 20. "Balls were whizzing past his ears. [Cincinnati broadcaster] Joe Nuxhall called down and said, 'What's wrong with your first baseman?'"

Andy Van Slyke replaced Green in the fifth inning. Several days later -- the Cardinals were tight-lipped about it at first -- Green entered rehab at the Hyland Center. He later said, "I didn't need to go. But I went anyway because somebody had to do it. There were a few guys with problems on the team, but they pick just one guy. It didn't hurt me."[42] David didn't spend the full month there, though, and Herzog also believed that he fell off the wagon soon after.[43] In a 1999 memoir, he wrote that Green "might have been the most talented player of his generation. . .but [his] troubles with alcohol were a nightmare."[44]

Cocaine was the scourge of the era, afflicting several Cards. Though Green was sometimes tarred with that brush, the worst that is known publicly is his poor judgment in dating the daughter of Luis Martínez, a St. Louis man who acted as an interpreter for pitcher Joaquín Andújar in 1984. According to Lonnie Smith, Martínez (a convicted felon) was a cocaine dealer.[45]

Green was reactivated in June 1984. He continued to play mainly first base that year, as Van Slyke shuttled between the outfield, third, and first. He hit 11 homers in the second half, including two off Larry McWilliams at Three Rivers Stadium on July 27. He finished with 15, his big-league high. In this regard, Whitey Herzog later made another interesting comparison: Darryl Strawberry. "He was probably faster than Strawberry and had a better throwing arm than Strawberry. They both had raw power but David didn't know how to use his."[46]

Green then returned to Puerto Rico for his third winter season with Ponce, but after 29 games (.242-1-11), he went to the Dominican Republic. His new team, the Licey Tigres, became league champion and moved on to the Caribbean Series in Mazatlán, Mexico. The Tigres won, getting a nice contribution from Green, who batted .285 with a double, triple, and homer and also threw out two baserunners from right field. He was named to the tournament All-Star team.[47]

The day before that series started, though -- February 1, 1985 -- St. Louis traded Green, Dave LaPoint, Gary Rajsich, and José Uribe to the San Francisco Giants. They landed a badly needed slugger, Jack Clark, who would help the Cardinals win the NL pennant that year and in 1987. On the other hand, Green started very slowly in San Francisco and had a disappointing year.

Although David said he felt like he was on the spot, as he also did after the Keith Hernandez trade,[48] it didn't come across to teammates. "All he did was laugh," [Duane] Kuiper said. "He spent his whole time in a Giants uniform laughing. He didn't hit at all, didn't live up to what everybody thought he was going to be, but Greenie was having a good time. You could never tell if your joke was really funny if you told it to Greenie because he would laugh no matter what."[49]

What Kuiper did not understand, though, was that the Nicaraguan was still not fully comfortable with English words and phrases. When he was in St. Louis, the Hispanic population was small. Aside from a few bit players, his only Latino teammate was Joaquín Andújar. The only member of the media there who truly understood him was the great Cardinals announcer Jack Buck, who spoke Spanish well.

1985 was also the year when rumors about Green's age were loudest, thanks to Howie Haak, although a Nicaraguan baseball guide supporting the later year of birth allegedly surfaced.[50] His stock continued to plummet. That December, the Giants traded him to Milwaukee for a player to be named later -- a Class A utility infielder named Héctor Quiñones.

The Brewers released Green on the last day of spring training in April 1986. "'I thought I had made the team, but they fell in love with Rob Deer,' said Green, whose contract was large enough, about $400,000, that the Brewers didn't want to pay a reserve player that much."[51]

Green then began to bounce around the baseball world. His first stop was in Mexico -- one of several to come there. Earlier in the 1980s, "the Brewers, angling for talent while battling the budget, established a working agreement with Juárez and two other clubs. Milwaukee would loan the clubs a dozen able farmhands in return for the right of first refusal for their Mexican players."[52] It was Ray Poitevint who worked out the arrangement.[53]

Green hit tremendously (.391-11-38 in 48 games) with the Monterrey Sultanes, another team in the Brewers' agreement. On June 24, Milwaukee sold his contract to the Kintetsu Buffaloes of Japan's Pacific League. Poitevint almost certainly brokered this deal as well, since he had built up a network in Japan over decades and helped many other foreign players land there.[54] Though another groin injury diminished the speed aspect of Green's game (no triples and only two stolen bases), he did a good job there overall (.270-10-39 in 67 games). Even so, Kintetsu signed Ben Oglivie that winter and released Green in January 1987.

Green returned to Mexico, playing 10 games for León (.316-2-10 in 15 games). After again suffering a pulled groin muscle and hurting his throwing arm, he came back to his Missouri home. He stayed in shape with indoor soccer. He even inquired about playing baseball in a local semi-pro outfit, the Mon-Clair League.[55]

On July 11, St. Louis granted his plea for another chance and assigned him to their Triple-A team, Louisville. He responded by hitting .356 in 50 games. So, that September he earned his last major-league action with the Cardinals. He was not on the postseason roster, though, despite injuries to Jack Clark and Terry Pendleton.[56]

At some point Green had also endured a knee operation. Still, "there were enough flashes of the old Green to intrigue the Cardinals, and general manager Dal Maxvill kept Green on the winter roster. 'I wouldn't do that unless I consider this a good investment,' Maxvill said. 'David Green is a good gamble.'"[57] David did not win the role with the Cardinals that he hoped for in spring 1988, though. The door was ajar after Jack Clark signed with the Yankees, but then the Cardinals signed Bob Horner (who had returned from Japan as a free agent) to play first base. Jim Lindeman got the backup OF-1B spot at the end of camp after Mike Laga separated a shoulder.

Meanwhile, Green returned to Triple A to play every day -- with disappointing results. While Maxvill had seen signs of maturity, the Nicaraguan "was dismissed at Louisville by farm director Lee Thomas when Green reportedly gave Louisville manager Mike Jorgensen some trouble."[58]

If he'd been a little more patient (and played better), things could have gone Green's way. Lindeman's balky back acted up in late April; Horner's power went off before a hurt shoulder ended his career that July. After that, Laga didn't hit when given his shot. The Redbirds also patched things at first base with catcher Tom Pagnozzi before trading for Pedro Guerrero. Even little shortstop José Oquendo filled in here and there.

Green started the 1989 season in Mexico once more. He looked good for the Aguascalientes Rieleros (.313-1-11 in 18 games), but got injured again. Even so, in May, the Atlanta Braves gave him another shot at a comeback. He joined their Double-A team, in Greenville, South Carolina. Future Minnesota Twins manager Ron Gardenhire, then managing the Orlando Twins, commented. "[Gardenhire], who entered the '80s as an infielder with the New York Mets, remembers the build-up [Green] had. . .in 1981. 'He was billed as the next Willie Mays. Talk about putting pressure on a young man.'" [59]

Green hit well with the G-Braves -- but the effort ended in another clash that July. He quarreled with manager Buddy Bailey on the team bus, questioning Bailey's authority.[60] Later that summer, Green got in a fight outside a St. Louis bar, as four men set upon him (one armed with an ax handle) at 1:15 A.M.[61]

The Nicaraguan returned to Mexico for the winter of 1989-90, joining the Tijuana Potros. Reportedly he was carrying a good deal of extra weight, and his hitting was nothing special (.243-4-21 in 44 games). Green stayed on for the summer season in Mexico. He hit very well for Tabasco (.322-17-67 in 110 games) and then received still another chance in the U.S., this time with the Texas Rangers organization. He played for their Double-A team in Tulsa at the tail end of 1990 and also in 1991.[62] He performed decently at Tulsa and even got some outside consideration for a callup in June '91 when Jack Daugherty went on the disabled list after an appendectomy. By then he was past 30, though, the oldest player on the Drillers. He did not get a chance even at Triple A, and his pro career came to an end after that season.

In January 1995, the former ballplayer made the papers again, in a way nobody would have wanted -- a charge of involuntary manslaughter. While driving in the St. Louis suburb of Country Club Hills at 6:30 in the evening, Green collided with another car in an intersection. An elderly lady passenger in the other vehicle suffered a broken pelvis and died of a heart attack two hours later. The following August, he was convicted of driving while intoxicated. The jurors, who deliberated for five hours, recommended that he serve six months in jail and pay a court-assessed fine.[63] Newspaper coverage of the story ended there, so knowledge of the actual penalties is lacking, but Green was fortunate that it wasn't worse for him.

Green continued to live in the St. Louis area, leading a private and peaceful existence. At one time he was involved with a friend's dog-grooming business, but as of 2010 he was working in security. He was happily married (from a prior union in the 1980s, he had a daughter named Giannina Bertha).

Green also kept in touch with the baseball world. In 2000, he was an assistant coach at Block Yeshiva, an Orthodox Jewish high school in St. Louis. The head coach was an old teammate from the 1987 Cardinals, Curt Ford. David also offered baseball instruction to children at a school run by the Cards, and he became a regular at the "Winter Warm-Up" autograph show sponsored by the "Cardinals Care" charity. He still got out to Busch Stadium on occasion, especially if his countrymen (such as Marvin Benard and Vicente Padilla) were in town playing.

In 2006, David's nephew, Eduardo Green III, signed with the San Francisco Giants organization. This young man was much like his uncle, standing 6'4" and blessed with speed and a strong arm in the outfield.[64] It does not appear, however, that he ever made it to the U.S. minor leagues.

Green has visited Nicaragua now and then over the years, notably in 1992-93. Tito Rondón recalled, "He wanted to play in the Nicaraguan League (Amateur First Division) in order to get in shape to try out for the Marlins. He was not allowed, as you had to promise to have quit pro ball in order to be reinstated to amateur competition. Those rules were actually criminal."

In June 2009, Green planned to attend a reunion of his Bóer team, but unfortunately he was not able to make it. Ahead of the reunion, he talked with Edgard Rodríguez. "I know that I didn't reach the level it was believed I could attain," he remarked. "Now just the memory remains, because life goes on. Even so, I don't feel bad. I left Nicaragua with the idea of playing in the big leagues and that they'd see me on television, and I achieved it. I have a World Series ring, and winning it was the best thing that ever happened to me."

Speaking of his homeland, he added with a smile, "I'm glad they even remember me and that they still support baseball. Nicaragua has talent, and the best thing is that now the kids are smarter."[65]

Special thanks to SABR member Tito Rondón for his additional research and input. Thanks also to Isabel and Alfredo Green, Edgard Rodríguez, Martin Coco (St. Louis Cardinals), and Mike Rockwell. Continued thanks to Tony Chévez and to Alfonso Araujo (Mexican winter statistics).

Sources

Eisenbath, Mike. The Cardinals Encyclopedia. Philadelphia, Pennsylvania: Temple University Press, 1999: 194.

Rains, Rob & Alvin Reid. Whitey's Boys: A Celebration of the '82 Cards World Championship. Chicago, Illinois: Triumph Books, 2002.

Costas, Rafael. Enciclopedia Béisbol Ponce Leones, 1938-1987. San Juan, Puerto Rico: Editora Corripio, 1989.

www.baseball-reference.com

www.retrosheet.org

www.japanbaseballdaily.com

Bjarkman, Peter C. A History of Cuban Baseball, 1864-2006. Jefferson, North Carolina: McFarland & Co.: 2006. (Amateur World Series information)

Photo Credit

The Topps Company
---