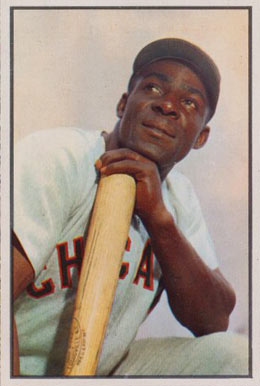 May 1, 1951: Minnie Miñoso homers in first plate appearance for White Sox; Mickey Mantle boosts Yankees with first career homer
---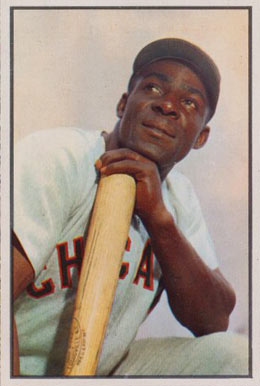 The long love affair between Minnie Miñoso, the first black player in White Sox history, and South Siders began with a bang in his first game with his new club. Traded as part of a three-team deal on April 30 that also involved the Athletics and the Indians,1 Miñoso, called by Chicago manager Paul Richards "the kind of player you need to win pennants,"2 homered in his first Chicago plate appearance to give the White Sox an early 2-0 lead, but the Yankees rallied for an 8-3 win in a game that also featured the first New York homer for another notable outfielder with double-M initials, Mickey Mantle.
The game served as a harbinger of a changing of the guard for the New York outfield. As Mantle starred, Joe DiMaggio, in his final season, missed the contest. He had "been troubled by a lame throwing shoulder, [and] turned up with an overnight development — a stiff neck. Instead of being started, he was carted to Mercy hospital for X-ray pictures and … [was] diagnosed [with] a muscle spasm that might yield quickly to heat and massage."3
Pitcher Bob Cain (0-1) started for the White Sox. Two weeks later he would go to Detroit in a trade, and in August he would gain lasting fame while pitching for the Tigers and walking the diminutive leadoff pinch-hitter Eddie Gaedel. Cain got off to a better start in this game by retiring the first two batters. A two-out double by Gil McDougald proved harmless and positioned Chicago to strike first.
Facing Vic Raschi, the two newest Chicago acquisitions got their White Sox careers off to promising beginnings. Fresh from Philadelphia, Paul Lehner singled with one out to bring Miñoso to the plate for the first time in his White Sox career. Miñoso got off to a dream start with a home run measured at 425 feet.4 Chicago led 2-0 after one.
At the beginning of another strong season that would lead to a third straight World Series championship, the Yankees replied quickly with a rally ignited by Cain's wildness. He plunked Yogi Berra to open the second and gave up an infield single to Phil Rizzuto to put two runners on with two outs. Cain only had to retire Raschi to escape the jam, but walked the pitcher to load the bases for Mantle, who hit leadoff in his rookie campaign. Mantle hit to Miñoso, whom the Chicago Tribune had described in an article that appeared on the day of the game as "a speedster who can operate in the outfield as well as in the inner defense,"5 which suggested that the White Sox prized his versatility over his glove.6 The recent acquisition "bobbled Mantle's grounder,"7 and the error plated two runs to tie the game.
The score remained 2-2 until the fourth although Cain lost again control in the third. For the second straight inning, he hit the first batter he faced, plunking McDougald this time. Cain wild-pitched McDougald to second but stranded him by retiring Gene Woodling, Berra, and Jackie Jensen without the ball leaving the infield.
Raschi retired the White Sox in order in the second and third innings. Belying their "Bronx Bomber" reputation, the Yankees played small ball in the fourth to take the lead. Joe Collins reached on a bunt single and went to second on Rizzuto's single. Raschi moved both runners up with a sacrifice, and Mantle hit a fly ball to center to give New York a 3-2 lead. Jerry Coleman singled in Rizzuto and stole second, but Cain avoided any additional damage. Chicago now trailed 4-2.
Raschi set down nine straight White Sox until Rizzuto's error with two outs in the fourth put Jim Busby on first, but Nellie Fox hit into a fielder's choice to keep the Chicago deficit at two runs.
Both teams scored in the fifth. With one out, Berra hit the first homer of his 1951 MVP campaign to put the Yanks up 5-2.
Possibly belatedly feeling the pain after having been hit previously by Cain, Berra exited the game after his blast, and Charlie Silvera replaced him. Gus Niarhos singled. Batting for Cain, Bud Stewart singled to send Niarhos to second. Chico Carrasquel completed the trio of singles to load the bases with none out and the 2-3-4 hitters due. With Raschi reeling, Lehner gave him a lifeline by bunting. The squeeze play scored a run to get the White Sox within 5-3, but Chicago would draw no closer. Miñoso reached on a fielder's choice to Raschi, and Eddie Robinson's fly to Jensen ended the frustrating frame for Sox partisans.
Randy Gumpert came on to pitch for Chicago in the top of the sixth. Continuing his productive day at the plate, Raschi doubled. Then "Gumpert tried to fool Mantle with a changeup. Years later, he described what happened. 'Mickey smacked the ball in dead center field right into the bullpen … it must have traveled 450 feet in the air!'"8
In recounting the long-ago event, Gumpert, who lived 90 years, apparently told different stories at different times. In another version, he recollected, "I threw Mantle a screwball. Evidently it didn't screw very well and he hit it into the bullpen in center field."9
Dan Daniel in The Sporting News had recently chided, "Mickey will have to learn that trying to knock the ball out of the park every time he comes up is a rough program."10 Mantle's first homer gave New York a commanding 7-3 lead in the sixth.
In the seventh, Cliff Mapes came in for Mantle for defense, but the veteran Raschi needed little additional assistance from his teammates. Still, the Yankees added on in the eighth against Marv Rotblatt. Collins walked, Rizzuto moved him to second with a sacrifice, and pinch-hitter Johnny Mize plated Collins with a single to give New York an 8-3 lead.
Tom Ferrick replaced Raschi in the eighth. Ferrick yielded a single to Miñoso in the eighth and two other Chicago hits in the ninth, but none of the runners scored. Miñoso had a good day at bat with his two hits. Cleveland general manager Hank Greenberg rued the need to trade Miñoso for pitching. "He has the chance to become one of the real good players of our time," said Greenberg. "He already looks like a great hitter, and his defensive weaknesses can be corrected. We wanted to keep him."11
The White Sox had pursued Miñoso since 1950. "We tried to get Miñoso in December during the winter meetings at St. Pete," Chicago general manager Frank Lane said. "We failed because he was too valuable a prospect, but we've been thinking about it ever since."12
Miñoso may have hit well but, as so often happened in the 1950s, the big bats of the Bronx Bombers overpowered the popgun attack of the South Siders as the Yankees spoiled Minnie's dynamic debut with a comfortable road win.
Sources
In addition to the sources cited in the Notes, the author also accessed Retrosheet.org, Baseball-Reference.com, and SABR.org.
Notes
1 The trade talks started between Chicago and Cleveland before expanding to include Philadelphia. "Richards and [general manager] Hank Greenberg of the Indians talked trade during the White Sox visit [to Cleveland.] But no one expected the negotiations to get far, because Hank was asking for Billy Pierce." Edgar Munzel, "What's Keeping Chisox Up? Why, a .317 Batting Average," The Sporting News, May 2, 1951: 16.
2 Art Morrow, "A's Get What They Needed — Lots of Help," The Sporting News, May 9, 1951: 7.
3 Irving Vaughan, "Cubs Lose, 11 Banished; Sox Beaten, 8-3," Chicago Tribune, May 2, 1951.
4 Warren Brown, The Chicago White Sox (Kent, Ohio: Kent State University Press, 2007), 228.
5 Irving Vaughan, "Sox Get Miñoso, Lehner; Play Yanks Today," Chicago Tribune, May 1, 1951.
6 The next day, Miñoso made another error that led to two more unearned runs in a 6-4 loss to New York. "Richards … was quick to blame Miñoso's shaky fielding on the fact that he has been moved around … so much in recent years. He played third, short and the outfield for San Diego last season and this year wound up at first base in his final few games for the Indians when Luke Easter was injured." Edgar Munzel, "Paul Tailors White Sox to Their Park," The Sporting News, May 9, 1951: 7.
7 The Sporting News, May 9, 1951: 18.
8 Harold Friend, "Mickey Mantle's First Home Run Was His Most Memorable," Bleacher Report, bleacherreport.com/articles/743050-mickey-mantles-first-home-run-was-his-most-memorable (accessed March 9, 2018).
9 Victor Debs Jr., "Randy Gumpert," The National Pastime (Cleveland: Society for American Baseball Research, 1999): 94.
10 Dan Daniel, "Spec Gives Casey Rosier Outlook on Yankees' Pitching," The Sporting News, May 2, 1951: 6.
11 Ed McAuley, "Hank Finally Gets His Man — Lefty Hurler," The Sporting News, May 9, 1951: 7.
12 Milt Woodard, "Frank Lane Engineer of 3-Club, 7-Player Deal," The Sporting News, May 9, 1951: 7.
Additional Stats
New York Yankees 9
Chicago White Sox 2
---
Comiskey Park
Chicago, IL
Box Score + PBP:
Corrections? Additions?
If you can help us improve this game story, contact us.
Tags
http://bioproj.sabr.org/bp_ftp/images5/MinosoMinnie.jpg
600
800
admin
/wp-content/uploads/2020/02/sabr_logo.png
admin
2020-11-23 01:43:21
2020-11-23 01:54:11
May 1, 1951: Minnie Miñoso homers in first plate appearance for White Sox; Mickey Mantle boosts Yankees with first career homer