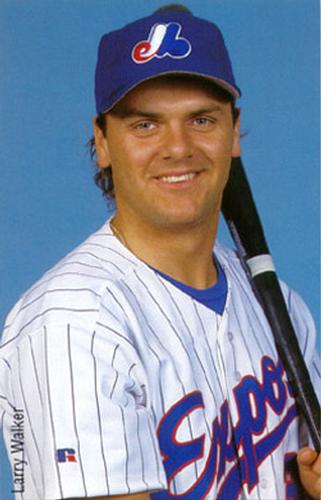 May 11, 1992: Larry Walker caps dramatic 10th-inning rally as Expos defeat Dodgers
---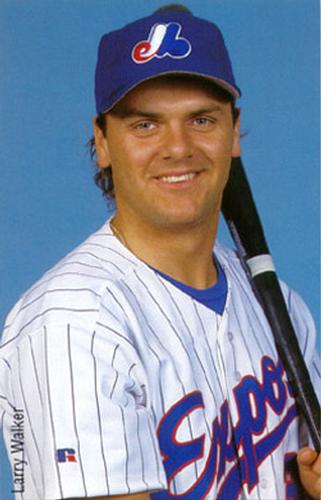 Montreal Expos manager Tom Runnells raised more than a few eyebrows during spring training in 1992 when he proclaimed his squad was "the team to beat" in the National League East.1 Although they had a promising group of young ballplayers, Montreal had finished dead last in the division in 1991 and a worst-to-first turnaround defied all logic. It wasn't the first or last time Runnells's judgment would be questioned. His decision to move veteran Tim Wallach from third base to first to free up a position for 24-year-old Bret Barberie did not go over well, and by May he was facing mounting criticisms from the players, media, and fans.
Montreal was supposed to have played a three-game set in Los Angeles starting on May 1, but the entire series was cancelled due to the civil unrest that began on April 29 following the acquittal of four LAPD officers on charges of using excessive force in the arrest and beating of Rodney King. The Expos, having just wrapped up a series against the Padres, chose to extend their stay in San Diego, and the 37-year-old Runnells made an ill-advised decision to schedule an early-morning practice at Jack Murphy Stadium before the flight back to Montreal. The move led to a player revolt that further undermined his authority.2
Because of the scheduling change, the first meeting of the season between Montreal and Los Angeles wasn't until May 11 at Olympic Stadium. The Dodgers, suffering through their worst season since 1912, came into the game having lost eight of their previous nine games. They were stuck in the NL West basement with a 10-17 record, while the struggling Expos sat in fifth place with a 12-16 mark, eight games behind the division-leading Pirates. With Barberie mired in a 7-for-42 slump, Runnells gave rookie Archi Cianfrocco his fourth consecutive start at the hot corner. Wallach, meanwhile, quietly went about his business at first base.
26-year-old Ken Hill (3-2, 1.64 ERA), acquired from the Cardinals in the offseason in return for Andrés Galarraga, drew the starting assignment for Montreal. He was opposed by Ramón Martínez (1-1, 3.25 ERA), the older brother of Pedro, who was pitching for the Dodgers' triple-A affiliate in Albuquerque.3
The Expos struck quickly against Martínez, with the first five Montreal batters reaching base in the bottom of the first inning. They loaded the bases on a single and stolen base by Marquis Grissom, a single by Delino DeShields, and a walk to John Vander Wal. Larry Walker opened the scoring by knocking in Grissom with a groundball single into right field, and 38-year-old Gary Carter cleared the bases with a double to give the Expos quick 4-0 lead. The three runs batted in gave Carter 1,202 in his career to move him within seven of tying Bill Dickey for the fifth-most RBIs by a catcher in baseball history.4
The Dodgers came right back against Hill in the top of the second inning, scoring a pair of runs on an RBI single by rookie Eric Karros and an RBI groundout by José Offerman. Los Angeles cut the lead to 4-3 in the next inning on an RBI double by second baseman Lenny Harris.
Hill was fortunate to give up only three runs in his five innings of work, as Carter threw out baserunners to end the last two of those innings. The future Hall of Fame catcher picked Offerman off first base to end the fourth, and when Harris attempted to steal second with two out in the fifth inning, Carter faked a throw and caught Stan Javier wandering off third base.
In the top of the eighth inning, former Expo Mitch Webster drew a two-out walk off reliever Jeff Fassero and stole second base. Fassero looked to have escaped the inning unscathed when Karros bounced a groundball to third, but Cianfrocco threw wildly to Wallach at first, and Webster trotted home to tie the score at 4-4.
The game went into extra innings, and Webster opening the tenth inning by driving a ball into the right-center-field gap. DeShields' relay throw to third base got away from Cianfrocco, which allowed a sliding Webster to get back to his feet and sprint home with the go-ahead run.
After Barberie led off the bottom of the tenth inning with a pinch-hit single off Roger McDowell, he was sacrificed to second by Grissom. Tommy Lasorda brought the southpaw Steve Wilson into the game with the left-handed hitting DeShields, who had four hits in the game, due up next. After a walk to DeShields, pinch-hitter Moisés Alou grounded out, allowing Barberie and DeShields to each advance a base. Walker came to the plate with two out and the potential tying and winning runs in scoring position. Despite Walker having reached base in all five of his previous plate appearances, Lasorda had Wilson pitch to him with first base open rather than facing the right-handed hitting Carter, which set up an all-Canadian matchup with the game on the line.5 Wilson's first pitch was lined sharply into shallow center field by Walker, Barberie scored easily, and DeShields slid across home plate just ahead of the throw to give the Expos a 6-5 come-from-behind victory. As the Expos spilled out of the dugout, DeShields slammed his batting helmet to the ground in celebration.6
An enthusiastic Walker was asked in the clubhouse about facing his fellow countryman in the 10th inning. "Do I think about a Canadian facing a Canadian? Definitely!" he exclaimed. "I remember facing him only one time before, and he got me out."7 Although Wilson's big-league career ended in 1993, he had a knack for getting Walker out. The two faced each other only four more times, and Wilson struck him out in each of those at-bats.
Walker's impressive night, which included two singles, four walks, three RBIs, and a stolen base, resulted in a very high Win Probability Added (WPA), which measures an individual player's impact on the outcome of a game.8 His WPA of 0.897 (or 89.7 percent) was the third highest single-game WPA posted by an Expos batter since the team's inception in 1969.9
Montreal continued to play mediocre baseball for the next week and a half. With the Expos stuck in neutral and Runnells having lost control of his team, GM Dan Duquette fired his manager on the morning of May 22. After 17 years of service in the organization, Felipe Alou was finally hired as the Expos field boss, making him the first Dominican skipper in the history of the major leagues.10 Alou had managed throughout the Expos' minor league system, earning the respect and admiration of his young players, and his laid-back attitude was a breath of fresh air after Runnells's amped-up, Type A personality. Alou moved Wallach back to his usual spot at third base and allocated his son Moisés regular playing time when an injury to Iván Calderón opened a spot in the outfield.
By the middle of June, the Expos were playing much better baseball, even pulling into a tie for first place for three days in late July. Under Felipe Alou's guidance, the Expos played .581 baseball in the second half and stayed in the pennant race until mid-September before fading down the stretch. Despite losing 11 of their last 17 games, they finished in second place with a surprising 87-75 record.
The 25-year-old Walker, affectionately known as "Booger" to Expos fans, enjoyed a breakout season. He excelled in all aspects of the game, hitting for a .301 average with 23 home runs, 93 RBIs, 18 stolen bases, and 16 outfield assists. For the first time in his career, Walker won the Silver Slugger and Gold Glove awards and was named to the All-Star team.11 His stellar performance earned him fifth place in NL MVP voting.
Montreal's other star 25-year-old outfielder, Grissom, put up a career year in 1992, finishing ninth in voting for the MVP Award. By season's end, Walker, Grissom, and Alou had established themselves as one the best outfields in the game. With Montreal's top prospect, 20-year-old shortstop Wil Cordero, making a successful major-league debut on July 24, they were clearly a team on the rise.12 After winning 94 games the following year, the talented young Expos, bolstered by a 22-year-old Pedro Martínez, went on to post the best record in baseball in 1994.
Sources
In addition to the sources cited in the Notes, the author consulted Baseball-Reference.com and Retrosheet.org.
baseball-reference.com/boxes/MON/MON199205110.shtml
retrosheet.org/boxesetc/1992/B05110MON1992.htm
Notes
1 Michael Farber, "Bucs will win weak division, but Expos could finish as high as third," Montreal Gazette, April 6, 1992: E-4.
2 Jonah Keri, Up, Up & Away: The Kid, The Hawk, Rock, Vladi, Pedro, Le Grand Orange, Youppi!, The Crazy Business of Baseball, & the Ill-fated but Unforgettable Montreal Expos (Toronto: Random House Canada, 2014), 270.
3 Pedro Martínez made his major-league debut on September 24, 1992. He was traded from the Dodgers to the Expos on November 19, 1993 for Delino DeShields.
4 Gary Carter knocked in 23 more runs before he retired at the end of the 1992 season, giving him 1,225 career RBIs, good for fifth-most in baseball history by a catcher. As of the end of the 2019 season, Carter had been bumped to seventh overall by Mike Piazza and Iván Rodríguez.
5 Both Larry Walker and Steve Wilson were from British Columbia; Walker hailed from Maple Ridge, while Wilson was from Victoria.
6 Jeff Blair, "Expos cash in on Walker's hit," Montreal Gazette, May 12, 1992: D-2.
7 "Walker wins battle of B.C. boys as Expos squeeze past Dodgers," Windsor Star, May 12, 1992: D-10.
Larry Walker's memory of their first encounter was correct. He grounded out facing Steve Wilson on June 26, 1990 when Wilson was a member of the Chicago Cubs.
8 Win Expectancy (WE) or Win Probability (WP) is the percentage chance of a team winning a game at a specific point in that game. It is calculated by comparing the current state of the game to similar situations in historical major-league games. Win Probability Added (WPA) captures the change in Win Expectancy from a plate appearance or baserunning event (i.e. stolen base, caught stealing/pickoff, or balk) and credits or debits the player accordingly. For instance, if a player hit a home run to increase his team's Win Expectancy from 25 to 65 percent then that player would be assessed a WPA of 0.40. WPA is an excellent way of measuring a player's impact on the outcome of a game. As of December 2019, the play-by-play data required to compute WPA is available for all MLB games played from 1974 onwards. According to the Baseball Reference web site, data from 1925 to 1973 is incomplete, however most seasons have play-by-play data for more than 80 percent of games played. No detailed play-by-play data exists prior to 1925. Only three Montreal Expos games are missing play-by-play data.
9 Larry Walker's 0.897 WPA was surpassed by Vladimir Guerrero (0.906 WPA) on June 29, 1999 against the Atlanta Braves. Andrés Galarraga had a 0.908 WPA on August 5, 1987 against the St. Louis Cardinals. Marquis Grissom's 0.948 WPA, recorded on July 25, 1990 versus the Pittsburgh Pirates, was the highest single-game mark in team history. Walker's 89.7 percent WPA was comprised of his game-winning single in the 10th inning (77 percent WPA), RBI single in the first inning (eight percent WPA), walk in the eighth inning (two percent WPA), walks in the second, fourth, and sixth innings (one percent WPA each), and stolen base in the fourth inning (one percent WPA). Please note although the WPA listed for the individual events is rounded to the nearest integer, they still sum to 89.7 percent.
10 Felipe Alou's hiring as Expos manager came almost 34 years after he became the second Dominican to play in the major leagues.
11 Larry Walker went on to win seven Gold Glove Awards, three Silver Slugger Awards, three batting titles, and the NL MVP Award. He was named to the All-Star team on five occasions.
12 Wil Cordero was considered by Baseball America to be the number one Expos prospect in both 1991 and 1992.
Additional Stats
Montreal Expos 6
Los Angeles Dodgers 5
10 innings

---
Olympic Stadium
Montreal, QC
Box Score + PBP:
Corrections? Additions?
If you can help us improve this game story, contact us.
Tags
https://sabr.org/sites/default/files/Walker-Larry-1992.jpg
600
800
admin
/wp-content/uploads/2020/02/sabr_logo.png
admin
2020-01-22 13:45:41
2020-04-17 10:22:19
May 11, 1992: Larry Walker caps dramatic 10th-inning rally as Expos defeat Dodgers