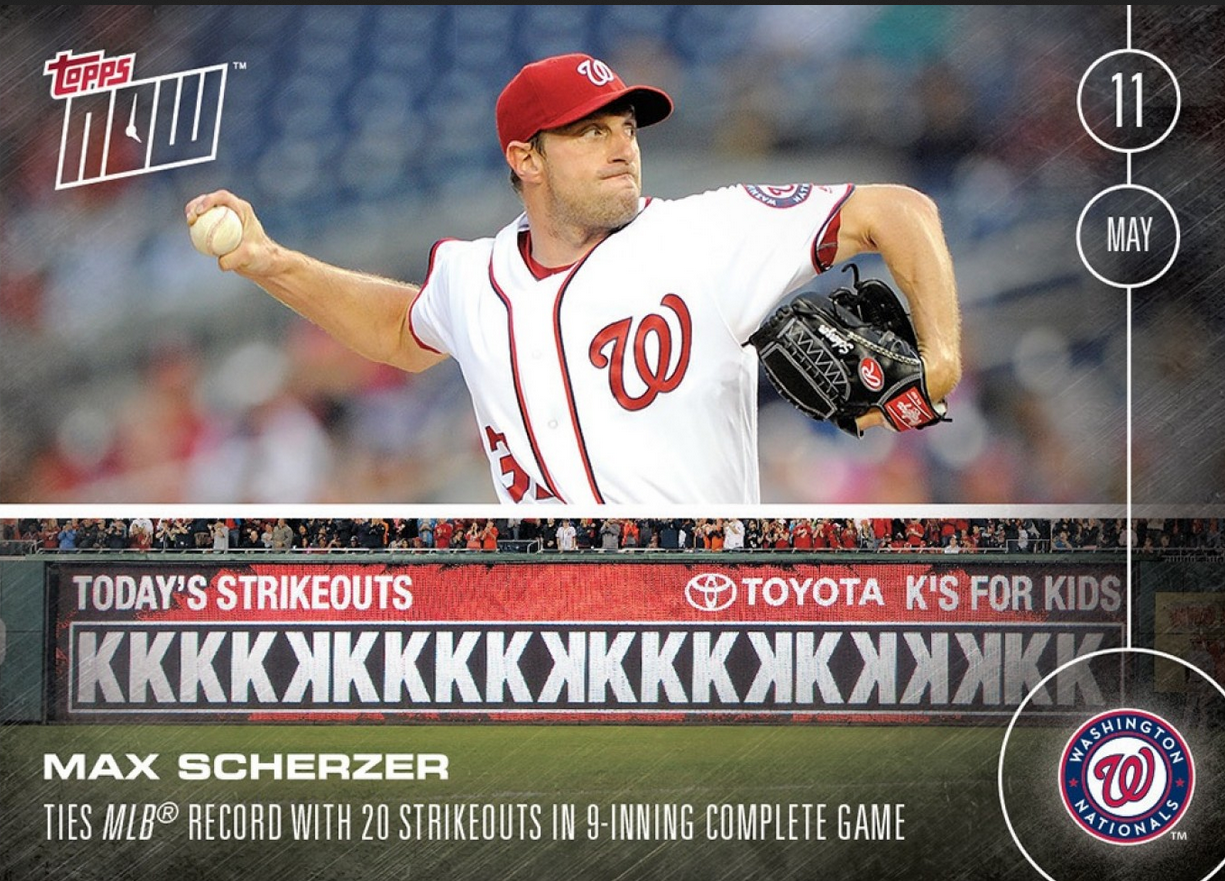 May 11, 2016: Nationals' Max Scherzer ties MLB record with 20 strikeouts
---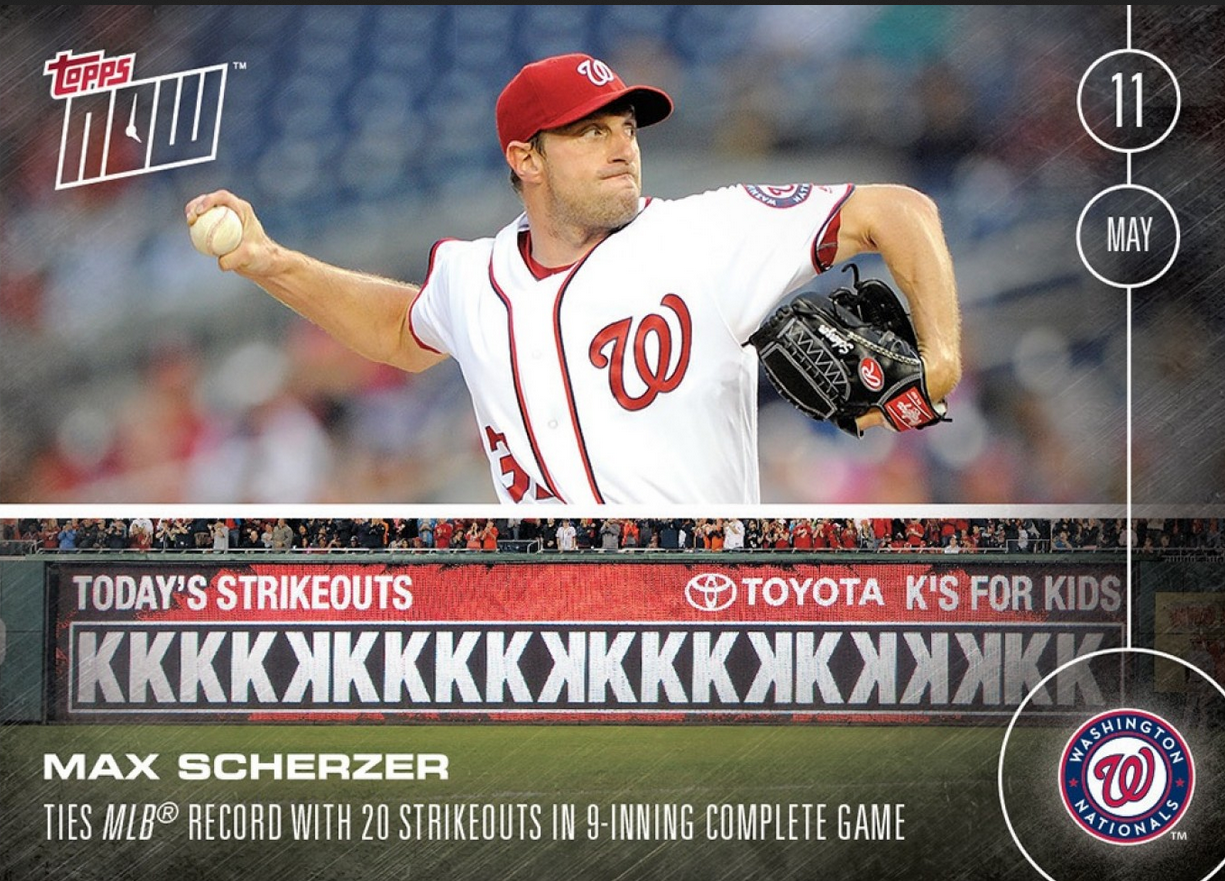 The storylines that precede a game can often provide a rich insight into baseball history. They provide the context for what we are about to see without revealing any hints as to what might unfold on the field. The pitching matchup for this interleague game, Max Scherzer for the Washington Nationals and Jordan Zimmermann for the Detroit Tigers, provided an opportunity to reflect on their accomplishments. Each pitcher had excelled at his craft in the recent past while pitching for the team he was opposing on this occasion.
Max Scherzer was drafted by the Arizona Diamondbacks in the first round (11th overall) in the 2006 amateur draft and debuted in the major leagues with them in 2008. He was traded to Detroit in December 2009 in a three-team deal1 and his major-league career began to take off. In five seasons with Detroit he won 82 regular-season games and four playoff games. In 2013, he won the American League Cy Award with a 21-3, 2.90 ERA record and a league-leading .875 won-lost percentage. Scherzer became a free agent after the 2014 season and on January 21, 2015, he signed a seven-year deal with the Nationals worth $210 million. Although his record was 14-12 in 2015, it was highlighted by two no-hitters.2 He finished the season with a career-high 228⅔ innings pitched and career-best 2.79 ERA while leading the league with four complete games.
Jordan Zimmermann was drafted by the Nationals in the second round of the 2007 amateur draft. Although Tommy John surgery in 2009 slowed his progress, he became a regular in the Nationals rotation in 2011 and remained so through 2015, winning 70 games, including a career-best 19 victories in 2013. On September 28, 2014, the last day of the regular season, he threw a no-hitter against the Marlins and beat them 1-0.3 As a free agent, Zimmermann signed a five-year, $110 million contract with the Tigers on November 30, 2015.
Scherzer was off to an uneven start in 2016 with a 3-2, 4.60 ERA record. In his most recent start, on May 6 at Wrigley Field, the Cubs hit four home runs and scored seven runs in his five innings of work. After his most recent appearance at Nationals Park, against the Phillies on April 26, he explained his difficulties. "My fastball's in a little bit of a funk,he said, explaining that he was not getting the proper arm extension."4 Meanwhile, Zimmermann was off to a good start, even after losing to the Texas Rangers on May 6. He finished a strong April with a 5-0 record and a 0.55 ERA.
The Nationals took the early 1-0 lead in the bottom of the first inning. Anthony Rendon lined a one-out double to right, advanced to third on Bryce Harper's single, and scored on Daniel Murphy's line-drive single to left-center. Scherzer pitched a "shut-down"5 top of the second inning and recorded strikeouts three, four, and five. In the third, though, José Iglesias hit Scherzer's first pitch into the left-field seats for his first home run of the year, tying the score at 1-1.
As Scherzer left the mound after the sixth inning, two-thirds of the way through the game, he had recorded 13 strikeouts and a manageable 77-pitch count. Among the crowd of 35,695, those immune to baseball superstitions could ponder and talk about whether the nine-inning, 20- strikeout record held by Roger Clemens and Kerry Wood was in jeopardy. Meanwhile, the Nationals got single runs off Jordan Zimmermann in the sixth and seventh innings to take a 3-1 lead. In the sixth inning, Anthony Rendon singled to left field and stole second base. After Bryce Harper walked, Daniel Murphy lined an RBI single to left field. In the bottom of the seventh inning, Danny Espinosa lined his third home run of the season, over the center-field wall.
Meanwhile, Scherzer reinforced the approaching drama with five consecutive strikeouts, two to end the seventh inning and all three outs in the eighth inning. The stage was set for the ninth inning as Scherzer took the mound with 18 strikeouts. Just like that, J.D. Martinez hit Scherzer's first pitch for his fifth home run of the season to cut the Nationals lead to 3-2. Scherzer recovered to strike out Miguel Cabrera for the third time. After Victor Martinez singled to put the tying run on base, Scherzer struck out Justin Upton swinging on an 0-and-2 count and tied strikeout record at 20. Perhaps there was a sigh of disappointment among the home crowd when Tigers catcher James McCann grounded out to third on an 0-and-1 count to end the game and secure the victory for Scherzer and the Nationals.
The nine-inning strikeout record had been set by Roger Clemens in 19866 and matched by Clemens in 1996, Kerry Wood in 19987 and Randy Johnson in 2001.8 Remarkably, not a single walk was yielded by any of these 20-strikeout pitchers. Most remarkable of all, Scherzer threw 96 strikes in 119 pitches. No pitcher in the history of the game has thrown so many strikes in so few pitches.9
What changed for Scherzer from that last outing in Chicago? "I believe the biggest difference between this outing and the one in Chicago is the fact that he was hitting his spots a lot better," said Nationals catcher Wilson Ramos. "He didn't really give up too many pitches over the zone. The two that he did were the two home runs, really. But he attacked the zone and kept moving those pitches and locating his fastball a lot better, I think that's the biggest difference."10 The numbers bear this out – 24 first-pitch strikes facing 33 batters.11
If Max Scherzer's 2016 season had got off to an uneven start, then this game better represented what he expected of himself given the often intense and competitive nature exhibited by elite baseball players. He noted in an interview that "to have a game like this against the caliber of hitters on their [Detroit] side, that puts a feather in my cap because I really respect and really admire how they go about the game."12 He finished the season with a 20-7, 2.96 record, winning 11 of his last 12 decisions and leading the league with 284 strikeouts and a .968 WHIP, all of which earned him the league's Cy Young Award. Washington Post columnist Barry Svrluga put it well, "For another night, at least, Max Scherzer … etched his name in a place from which it can't be removed."13
Author's note
From Section 219, I had a great view of strikeout after strikeout. As the strikeouts piled up for Max Scherzer, I could not help but think of a night game I saw at RFK Stadium on July 22, 2005. I bought a ticket for a seat in Section 420, high up but directly behind home plate. I had never seen Roger Clemens pitch but I wanted that view to watch him on this night. He didn't disappoint and struck out 10 Nationals in six innings of work in a rather easy Houston Astros 14-1 victory.
Sources
The author accessed Baseball-Reference.com for box scores/play-by-play information (baseball-reference.com/boxes/WAS/WAS201605110.shtml) and other data, as well as Retrosheet.org (retrosheet.org/boxesetc/2016/B05110WAS2016.htm).
Notes
Additional Stats
Washington Nationals 3
Detroit Tigers 2
---
Nationals Park
Washington, DC
Box Score + PBP:
Corrections? Additions?
If you can help us improve this game story, contact us.
Tags
https://sabr.org/sites/default/files/Scherzer-Max-2016-ToppsNow.png
600
800
admin
/wp-content/uploads/2020/02/sabr_logo.png
admin
2017-08-23 14:10:46
2020-04-17 10:25:45
May 11, 2016: Nationals' Max Scherzer ties MLB record with 20 strikeouts