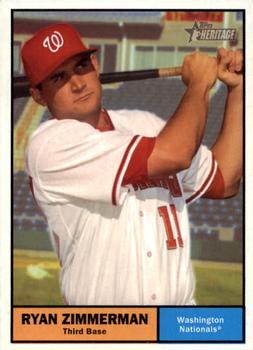 May 12, 2007: Another holiday, another Ryan Zimmerman walk-off homer
---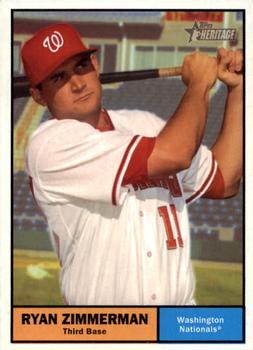 In 2007, the Washington Nationals and Florida Marlins could only be considered "contenders" in the sense that they were contending for last and next-to-last place in the NL East Division. However, those few hardy fans among the original 19,278 who remained to the end of this game were treated to a memorable ending.
Rookie Matt Chico (2-4, 6.03 ERA) was pitching for the Nationals. Reigning NL Rookie of the Year Hanley Ramírez1 led off with a double to right, then Dan Uggla was called out on strikes. After Miguel Cabrera walked, Ramírez tried to steal third but was thrown out by catcher Brian Schneider. Josh Willingham flied out to end the half inning. Ricky Nolasco2 (1-1, 7.30 ERA) took the mound for the Marlins. Facing the top of the Nationals' order, he worked a 1-2-3 inning, although with no strikeouts.
Chico's second inning of work went more smoothly than the first. Aaron Boone flied out on the first pitch, John Gall fouled out to the catcher. Although Miguel Olivo singled, he was left there when Reggie Abercrombie lined out to second. Nolasco also allowed only one baserunner in the bottom of the second when he walked Austin Kearns, but he was erased on a force out when Schneider grounded to second.
Chico started the third by striking out his counterpart: Nolasco's 2007 .000 BA remained unsullied.3 After Ramírez flied out, Uggla doubled to left, but advanced no farther since Cabrera struck out.
The Nationals got on the board in the third. Ryan Langerhans singled, then Chico reached on a bunt, moving Langerhans to second. Felipe López also bunted: he was out at first but advanced both runners. Nolasco then walked Christian Guzman to load the bases. Ryan Zimmerman flied out to center but deep enough to score Langerhans and advance both runners. Ryan Church walked to reload the bases but the Nationals could not take advantage: Kearns flied out to end the threat with the score 1-0, Nationals.
The Nationals' lead did not last long: The Marlins tied it in the fourth. Willingham doubled. After Boone flied out, Chico hit Gall with a pitch. Olivo's single to right allowed Willingham to score, but Gall was out trying to advance to third thanks to a good throw from Kearns in right. Abercrombie flied out for the third out with the scored tied, 1-1. In the bottom of the fourth Nolasco got Schneider and Robert Fick out, but then gave up singles to Langerhans and Chico. They were left on base when Gall caught López's bloop into right.
Chico started the fifth by getting Nolasco to pop out. But with a 2-and-2 count on Ramírez, the game entered a 2:51 rain delay. When the game restarted in front of a few hardy fans, Nationals manager Manny Acta brought in Levale Speigner to pitch.4 Speigner immediately gave up back-to-back doubles to Ramírez and Uggla, giving the Marlins a 2-1 lead. He intentionally walked Cabrera, then Willingham singled to right, but not far enough to score Uggla. But Uggla was able to score on Boone's single, bringing the score to 3-1, Marlins. The bases were still loaded but Gall and Olivo both struck out to leave them loaded.
Given the length of the rain delay, Nolasco was done as well. Matt Lindstrom gave up a single to Guzman, who was erased when Zimmerman grounded into a 6-4-3 double play. Church struck out swinging to end the inning.
Speigner managed to hold the score in the sixth. Abercrombie grounded out on the first pitch. Although pinch-hitter Jason Wood doubled, Ramírez struck out looking, then Uggla lined out to leave Wood on second.
The Nationals got one back in the bottom of the sixth. Kearns hit one just to the fence off Reynel Pinto. The ball got away from Abercrombie after he thought he caught it over the center-field wall: by the time the ball was corralled and thrown in, Kearns had scored standing. Abercrombie was not charged with an error. Schneider followed with a single, but he was erased when Fick lined out to the first baseman for an unassisted double play. Langerhans struck out to end the inning.
Winston Abreu5 took over the pitching duties for the Nationals in the seventh. He struck out Cabrera but then allowed a ground rule double to Willingham and walked Boone. After pinch-hitter Joe Borchard was out on a foul pop to the first baseman, Olivo singled to load the bases. But Abreu escaped the jam: He got Abercrombie to ground out to second. Pinto continued pitching for the Marlins, working a 1-2-3 bottom of the seventh on seven pitches.
Saul Rivera, the Nationals' fourth pitcher of the night (actually morning, given the rain delay), struck out pinch-hitter Alfredo Amézaga and got Ramírez to ground out. Uggla doubled to right but was left at second again when Cabrera flied out. Uggla was the 12th Marlin left on base. Kevin Gregg, the Marlins' fourth pitcher, earned his sixth hold on 10 pitches in the bottom of the eighth.
Jon Rauch, the Nationals' usual set-up man,6 started the top of the ninth by walking Willingham. Boone attempted to advance him on a bunt but Willingham was forced out at second. Borchard ended the half-inning by grounding into a double play.
Before the bottom of the ninth could be played, the players and the few faithful fans endured a second rain delay, of 47 minutes.
When play finally resumed, Taylor Tankersley started by walking Schneider, who was replaced by pinch-runner Nook Logan. After several fouls and pickoff attempts, Ronnie Belliard lined out. Dmitri Young singled, allowing Logan to advance to third. Young was replaced by a pinch-runner, pitcher Jason Bergmann in the only pinch-running appearance of his career. Tankersley then walked Jesús Flores on four pitches, loading the bases. López singled. scoring Logan and tying the game, 3-3.
When Guzman struck out looking for the second out, try to imagine the thoughts of the players and the 200 or so remaining fans:7 "It's 1:30 in the morning. It's now Mother's Day. We've sat through two rain delays that have been longer than the game itself. The Nationals' bench is empty. If Zimmerman doesn't do something here, we may be here until the sun comes up – assuming it doesn't start raining again!"
Marlins manager Fredi González replaced Tankersley with Jorge Julio. Given his 11.57 ERA, the results were perhaps not unexpected. Zimmerman hit his second pitch out to left-center for a game-winning grand slam. Holidays had been good to Zimmerman: his first two walk-off homers were on Father's Day and the Fourth of July the previous year. The few hardy souls who stayed to the end of the game certainly earned their bragging rights as fans as they witnessed his third walk-off homer in less than a year.
Apparently the Marlins had seen enough of Julio: he was traded later that day to Colorado for Byung-Hyun Kim.
Sources
baseball-reference.com/boxes/WAS/WAS200705120.shtml.
retrosheet.org/boxesetc/2007/B05120WAS2007.htm.
youtube.com/watch?v=DszbThprfsk (video of grand slam), accessed November 26, 2018.
Notes
1 The second-place and third-place 2006 NL ROY vote-getters were also in this game: Ryan Zimmerman and Dan Uggla respectively.
2 Nolasco had already spent time on the DL in 2007 with elbow inflammation and would appear in only five games in 2007. This was his next-to-last appearance in 2007. He recovered: By 2009 he was the Marlins' Opening Day starter although he continued to struggle with elbow problems throughout his career. thebaseballcube.com/players/profile.asp?ID=6446. Accessed November 26, 2018.
3 Once he was able to play regularly his BA improved. His final career BA was .134.
4 Levale Speigner's career consisted of a grand total of 48 appearances, finishing with a 9.19 ERA. However, he has a permanent place in Nationals fans' memories: Less than a month later, on June 9, he and his 9.10 ERA faced All-Star Johan Santana – and beat him 3-1. As of this writing, Nationals fans discussing an upcoming unfavorable pitching matchup will still try to invoke a "Levale Speigner reverse lock."
5 Abreu's extremely brief major-league career (0-1 record; 44⅓ innings pitched, of which 30⅓ were in 2007 for the Nationals) is in contrast to his longevity in the minors and foreign leagues. He was signed as a free agent by the Braves at age 17 and was still pitching at age 40. Along the way he pitched in seven countries and was signed 12 times as a free agent by nine major-league organizations.
6 Chad Cordero, the Nationals' usual closer, was on bereavement leave. wikipedia.org/wiki/Chad_Cordero. Accessed November 26, 2018.
7 Scott Allen, "Ryan Zimmerman's 11 Career Walk-Off Home Runs Ranked," Washington Post, August 23, 2018, washingtonpost.com/news/dc-sports-bog/wp/2018/08/23/ryan-zimmermans-11-career-walk-off-home-runs-ranked/?utm_term=.09687e2dfeed. Accessed November 26, 2018.
Additional Stats
Washington Nationals 7
Florida Marlins 3
---
RFK Stadium
Washington, DC
Box Score + PBP:
Corrections? Additions?
If you can help us improve this game story, contact us.
Tags
https://sabr.org/sites/default/files/Zimmerman-Ryan-2010.jpg
600
800
admin
/wp-content/uploads/2020/02/sabr_logo.png
admin
2019-04-30 15:34:39
2020-04-17 10:23:36
May 12, 2007: Another holiday, another Ryan Zimmerman walk-off homer