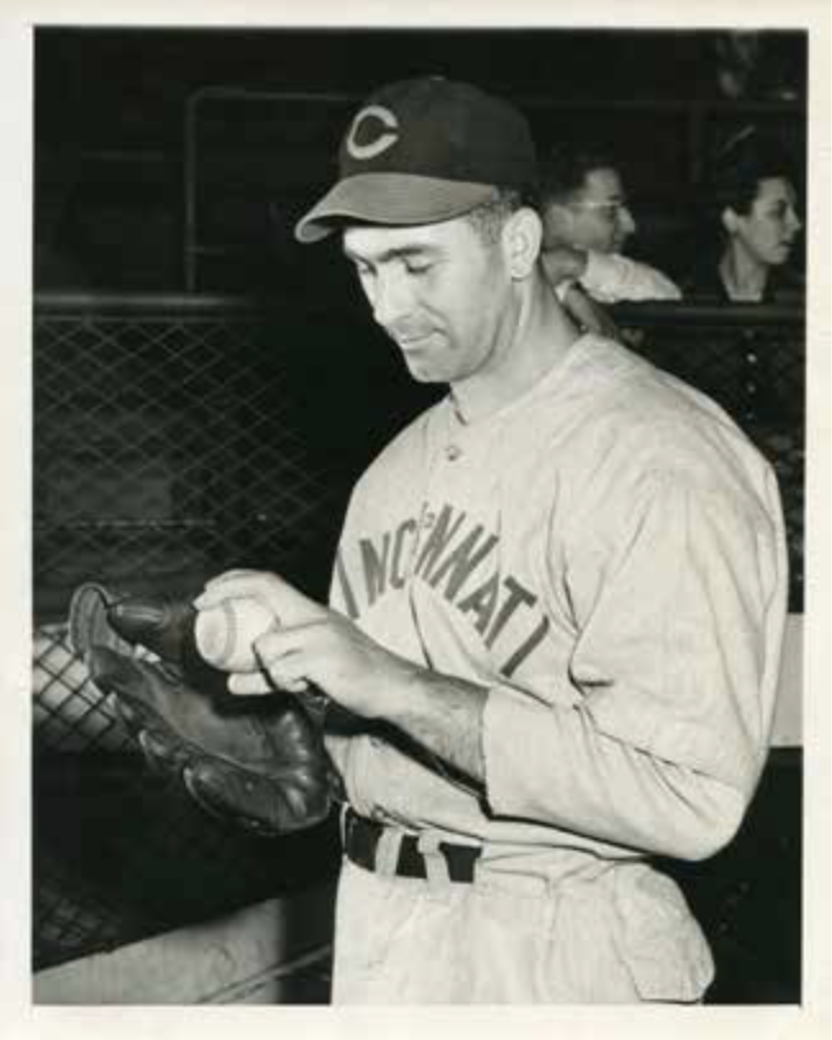 May 15, 1944: Reds' Clyde Shoun showin' his stuff in 79-minute no-hitter
---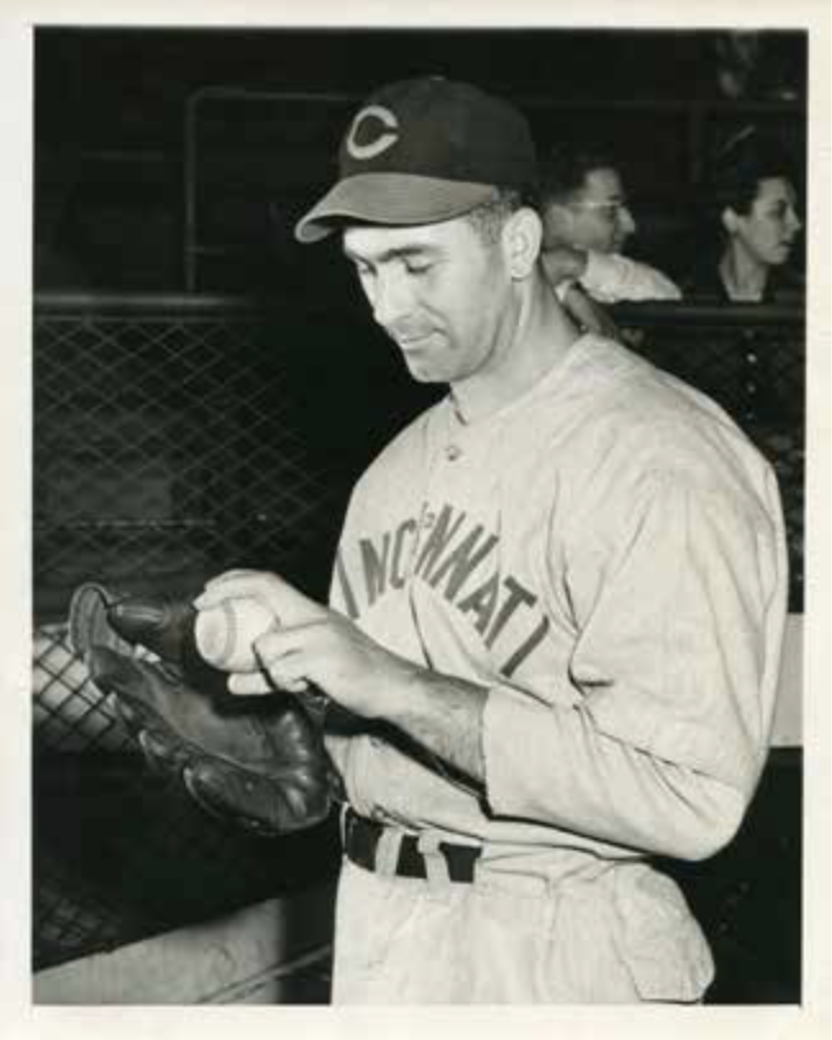 Clyde "Hardrock" Shoun didn't plan on playing in the big leagues in 1944. Since the end of the previous campaign, the 32-year-old Cincinnati Reds southpaw had expected to be drafted any day, and did not report to spring training. The call from Uncle Sam finally came in late March, and Shoun was inducted into the US Navy.1 But then Shoun got some unexpectedly good, yet frustrating news a few weeks later: his report date to boot camp was delayed. One day before the Reds' traditional season opener in the Queen City, Shoun joined his teammates.2
Since breaking in with the Chicago Cubs in 1935, Shoun had established a reputation as a rubber-armed reliever and spot starter, twice pacing the NL in appearances with the St. Louis Cardinals (1939-40). The United Press noted sarcastically that the journeyman's greatest claim to fame was that "he could warm up by throwing only one pitch."3 When he was traded to the Reds early in the 1942 season, Shoun's "usefulness as a pitcher was considered ended," opined the UP,4 but he unexpectedly found a new lease on life the next season, winning a career-high 14 games.
In mid-May of 1944, Skipper Bill "Deacon" McKechnie's Reds were in a rut when they prepared for the third contest of a four-game series against the Boston Braves at Crosley Field. His squad had lost five of its last eight games, dropping to 12-9, four games behind the Cardinals. In the first game of the Sunday doubleheader the previous day, staff ace and 1939 NL MVP Bucky Walters held the Braves hitless for 7⅔ innings before settling for his first and only one-hitter. Indicative of the way the season had unfolded thus far for the Reds, they were blanked by wartime hurler Ira Hutchinson on eight hits, and lost 6-0 in the second game. It was the Braves' eighth victory in their last 11 games, improving pilot Bob Coleman's sixth-place bunch to 11-13.
The Reds pitching staff, suggested one sportswriter in comments that probably engendered heated debate, was "generally conceded to be the best in the National League" the previous season.5 However, two integral pieces were now missing. Workhorse Johnny Vander Meer had been inducted into military service and 21-game winner Elmer Riddle was suffering from arm miseries. Into this fray stepped the good-natured country boy from the mountains of East Tennessee, Clyde Shoun, slated to make just his 55th start in 305 career appearances.
In the first three innings Shoun looked like a pitcher who had missed all of spring training and hurled only 4⅓ innings thus far in the season. Shoun was "going to be in plenty of trouble," thought beat writer Lou Smith of the Cincinnati Enquirer, when seven of the first nine Braves belted hard liners.6 The second batter of the game, Max Macon, who had punched five straight singles the day before, took Shoun deep to right field. Gee Walker, playing in the field for the first time in more than two weeks after a serious case of the flu, snared the fly on the run just in front of the wall, robbing Macon of a possible triple. In the second inning, Walker made a similar catch on Phil Masi's deep drive. A swirling wind, noted the UP, "capriciously wafted Boston fly balls almost out of reach," but seemed to let up at just the right moment.7 In the third Shoun issued a two-out walk to his counterpart, Jim Tobin. It was a sin that Shoun later regretted.
Jim "Abba Dabba" Tobin was one of few knuckleballers of the era, and by far the most successful. Beginning his eighth season, the 31-year-old Californian had a career record of 77-76, including a 3-2 slate thus far in 1944. On April 27 he had tossed a no-hitter against the Brooklyn Dodgers at Braves Field, just four days after blanking the Philadelphia Phillies on one hit. A dangerous hitter, Tobin had also walloped a homer in his no-hitter, and had smashed three round-trippers in a game two years earlier, against the Chicago Cubs. No wonder Shoun was careful with Tobin in the third. And like Shoun, Tobin, too, had been drafted, and was waiting for his call to basic training.
Tobin's "soft knuckleball pitches came up to the Cincinnati batters as big as pumpkins," gushed sportswriter Dan Kane of the Boston Globe, "then appeared to dissolve as they reached the plate."8 Through four innings Tobin had yielded only two innocuous singles, one by Shoun, and also profited from an excellent defensive play by shortstop Whitey Wietelmann, making his first start in three games since having "cysts sliced out of his eye," according to the Globe.9 Wietelmann knocked down Eddie Miller's one-out hard liner in the second and, while on the seat of his pants, fired to second base to nail Eric Tipton, who had singled.
Not to be outdone by his counterpart, Miller himself had two "thrill producing plays" which kept Shoun's no-hitter intact.10 In the fourth Miller fielded Macon's tricky leadoff grounder behind second base and made an off-balance throw to first to nab Macon by a step. In what might have been the most spectacular defensive gem of the game, Miller "leaped high into the air," reported the Enquirer, to snare Connie Ryan's one-out liner in the fifth "in the webbing of his glove."11 The day before, Ryan's broken-bat single in the eighth had ruined Walters' bid for a no-hitter.
"Tobin was a complete master of our boys," admitted Smith bluntly, but the Reds' all right-handed lineup (save for Shoun) caught a break against the right-handed hurler in the fifth.12 Tipton led off with a single, but was doubled up when Tobin fielded Miller's tapper to the mound to initiate a 1-4-3 twin killing. Weak-hitting third baseman Chuck Aleno stepped back on an inside knuckler and lofted a high fly that was aided by the wind just enough, according to the Globe, to keep it from going foul.13 Left fielder Chet Ross gave chase but then watched it sail over the 15-foot screen, a mere 328 feet from home plate, for a home run, sending the modest wartime crowd of 1,014 spectators on a hot, 90-degree afternoon into a unified cheer.
"After the fifth inning Shoun was a master of the Braves," remarked Smith ecstatically.14 Shoun relied primarily on two types of fastballs, described by Dan Kane of the Globe as "hopper" and "sinker," to retire the next 12 batters on routine infield flies and grounders.15 Adept at the plate for a pitcher (a career .202 hitter on 73 hits), Shoun also stroked a two-out double in the eighth.
As he had the entire game, Shoun made quick work of the Braves in the final frame. Pinch-hitter Stew Hofferth, coming off an MVP season with the Indianapolis Indians in the American Association, grounded to second for the first out. After Tobin popped up to catcher Ray Mueller in foul territory, the game ended in a mere 79 minutes when Shoun fielded Tommy Holmes's dribbler back to the mound, and tossed to first sacker Frank McCormick.
"It must be contagious," wrote the Enquirer about Shoun's no-hitter, which took place just a day after Walters came within four outs of the Reds' first no-no since Johnny Vander Meer tossed consecutive no-hitters in June 1938.16 Shoun fanned one, and only his third-inning free pass to Tobin stood between him and the first perfect game in franchise history. Hard-luck loser Tobin finished with a five-hitter, one of his eventual NL-leading 28 complete games. Coincidentally, Tobin joined the ranks of no-hit pitchers for a second time in 1944, when he turned the trick against the Phillies in the second game of a doubleheader on June 22. The game was called after five innings because of darkness. [Tobin lost credit for his second no-hitter almost five decades later. Major League Baseball's Committee for Statistical Accuracy amended its definition of a no-hitter in 1991, requiring that it be a complete game of at least nine innings].
Shoun's gem was his second of three career shutouts. He didn't join teammate Vander Meer in the double-no-hit club (nor has any other pitcher in baseball history), but nonetheless went the distance again in his second start, four days later, scattering 10 hits and five runs (four earned) in a 7-5 victory against the Philadelphia Phillies on the Reds 14-game homestand. Thrust into the starting rotation for much of the season, Shoun set career highs in starts (21) and innings (202⅔), and finished with a 13-10 slate. The call from the military eventually came, but the season had by then concluded. Shoun missed the entire 1945 campaign serving his country.
This article was published in "Cincinnati's Crosley Field: A Gem in the Queen City" (SABR, 2018), edited by Gregory H. Wolf. To read more articles from this book at the SABR Games Project, click here.
Sources
In addition to the sources cited in the Notes, the author also accessed Retrosheet.org, Baseball-Reference.com, the SABR Minor Leagues Database, accessed online at Baseball-Reference.com, SABR.org, and The Sporting News archive via Paper of Record.
https://www.baseball-reference.com/boxes/CIN/CIN194405150.shtml
https://www.retrosheet.org/boxesetc/1944/B05150CIN1944.htm
Notes
1 Lou Smith, "Riddle There, Mesner on the Way to Red Camp," Cincinnati Enquirer, March 30, 1944: 12.
2 'Shoun to Join Club Tuesday; Reds Contract Won by Katz," Cincinnati Enquirer, April 16, 1944: 33.
3 United Press, "Shoun, Reds, Hurls No-Hitter Against Braves," Springfield (Massachusetts) Republican, May 16, 1944: 16.
4 United Press, "Shoun, Reds, Hurls No-Hitter Against Braves."
5 Ibid.
6 Lou Smith, "Shoun Turns In No-Hitter Against Boston; Homer by Aleno Lone Run Off Tobin," Cincinnati Enquirer, May 16, 1944: 20.
7 United Press, "Shoun, Reds, Hurls No-Hitter Against Braves."
8 Dan Kane, "Shoun Hurls No-Hitter, Aleno Homers for 1-0 Reds' Win Over Tribe," Boston Globe, May 16, 1944: 1.
9 Ibid.
10 Lou Smith, "Shoun Turns In No-Hitter Against Boston; Homer by Aleno Lone Run Off Tobin."
11 Ibid.
12 Ibid.
13 Kane.
14 Lou Smith, "Shoun Turns In No-Hitter Against Boston; Homer by Aleno Lone Run Off Tobin."
15 Kane.
16 Lou Smith, "Shoun Turns In No-Hitter Against Boston; Homer by Aleno Lone Run Off Tobin."
Additional Stats
Cincinnati Reds 1
Boston Braves 0
---
Crosley Field
Cincinnati, OH
Box Score + PBP:
Corrections? Additions?
If you can help us improve this game story, contact us.
Tags
https://sabr.org/sites/default/files/Screen%20Shot%202019-10-01%20at%202.42.53%20PM.png
600
800
admin
/wp-content/uploads/2020/02/sabr_logo.png
admin
2019-10-01 14:40:43
2020-04-17 10:22:31
May 15, 1944: Reds' Clyde Shoun showin' his stuff in 79-minute no-hitter