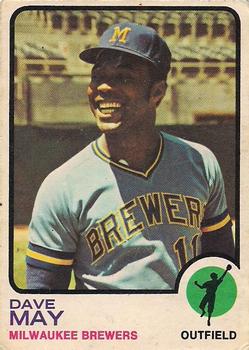 May 15, 1973: Davey May's 17th-inning blast hoists Brewers to victory
---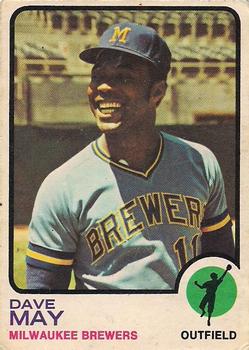 Glancing at the front page of Milwaukee's major morning newspaper, the Milwaukee Sentinel, readers could learn the result of the team's game the day before from the mood depicted by the cartooned image of a Beer Barrel man. If they won, he was shown jumping in glee. If they lost, his head was slumped over, clasped with both hands in disappointment. In the May 16, 1973, edition the air was under his feet and a smile spread across his face.1
Since used-car salesman and future Baseball Commissioner Allan "Bud" Selig's group purchased the team in early 1970 for $10.8 million and brought it from Seattle, the team had struggled to sustain success on the field and attract eager patrons into the Milwaukee County Stadium seats. Four years had passed since the Braves moved to Atlanta, and baseball was primed to replace the bevy of other activities that occupied the stadium, including tractor pulls, boxing matches, and even religious gatherings.2
Their cumulative winning percentage of .415 from 1970 through 1972 gave the 1973 club plenty to improve on. To perhaps keep the fans' eyes on the playing field between the generally downbeat game action, the club employed a token grounds crew member it called Bonnie Brewer. Dressed in lederhosen, she pranced around the infield between innings, sweeping bases clean and teasing opposing players and coaches with a soft tap on their backsides with her broom.3
The lead paragraph in Milwaukee Sentinel writer Lou Chapman's May 16, 1973, game story said it all: "What a beautiful May night it was — Davey May night, if you please, even though it lasted 4 hours and 53 minutes."4
Chapman wrote that the end of the game carried both clubs from agony to ecstasy and back again. In the Brewers' 2-1, 17-inning triumph over the Cleveland Indians, Dave May's decisive home run on that chilly Milwaukee night left the Indians in agony. May's teammates mobbed him the second he touched home plate.5 The winning dagger came off Indians left-handed reliever Brent Strom. The airplane at Mitchell Field in Milwaukee had waited patiently to carry the team to New York for their next series. Apparently, according to traveling secretary Tommy Ferguson, the plane would need to take off by 1:34 A.M. or not at all because of a curfew.6
As the game grew longer and longer, May promised his teammates that "he would take matters into his own hands if the Milwaukee Brewers had not won by the 17th inning."7
"Twice before I told them jokingly that if someone didn't hurry up and win it, I would," said May. "I even said it was time for someone else to pick up the slack and asked them weren't they getting tired of seeing my picture in the paper. Finally, when I went to hit, I had one thing on my mind. I knew I was going to either hit a home run or strike out trying."8
This was the Brewers' fifth extra-inning game of the young season, their second marathon in three days, and the second longest game in team history to that point. (The previous longest game came the year before against the Minnesota Twins on May 12. Milwaukee prevailed, 4-3, in 22 innings. The game spanned two days, with the final out occurring on the second day.9) Manager Del Crandall's crew needed 18 hits to seal the victory, a mighty sum that would typically produce a bevy of runs. Most of their six extra-base hits died on the vine, with several rallies snuffed out by double plays and baserunning gaffes. May's towering blast into the right-field bleachers, his AL-leading 10th of the young season, marked the fifth time May won a game with a home run in 1973.10
Born in New Castle, Delaware, in 1943, David LaFrance May had begun his fourth season with the Brewers after four years in which he played sparingly for the Baltimore Orioles. On this day, he cranked out four hits in seven plate appearances. Shortstop Tim Johnson matched that hit total from the eighth spot in the order. Third-year starter Jerry Bell hurled 11 masterful innings for the Brewers, striking out five and holding the Indians to a lone run. He closed his long worknight by setting the Tribe down in order in the 9th, 10th, and 11th innings.
Until the fateful blow, the theme of the May 15 marathon was wasted Brewers rallies. They reached base 10 times against Cleveland starter Dick Bosman in 7⅓ innings, with little to show for it. They left 15 runners on base for the game and had several chances to nail down a win in regulation. Don Money's leadoff double in the fourth yielded nothing. He was doubled up when he failed to retreat to second in time after May's fly ball to center.
Trailing 1-0 in the eighth, the Brewers knotted the score on a Pedro Garcia double. But Bobby Coluccio popped a suicide squeeze attempt to catcher Dave Duncan, who doubled up the scampering Garcia at third, preventing the Crew from taking the lead. One of their most serious threats in extra innings before May's home run came in the 13th. With the bases jammed, Johnny Briggs lifted a harmless fly to center.
The Indians mounted fewer threats and wasted most of those. In the opening frame, a double and a walk were not enough to alter the scoreboard. After taking a 1-0 lead in the fifth on singles by Chris Chambliss and Tom Ragland and a fielder's choice, the Tribe's bats fell dormant the rest of the day. After going hitless from innings 9 through 13, Indians manager Ken Aspromonte's crew posed benign threats in the 14th and 15th. Brewers relievers Frank Linzy (five innings) and Skip Lockwood (one inning) prevented damage and set up May's decisive clout.
May finished that season with a career-best 25 home runs, nine more than his 16 in 1971. This was definitely his peak season, as he tallied other career highs of 624 at-bats, 23 doubles, and 93 RBIs, with slash stats of .303/.352/.473. He also put together a 24-game hitting streak. His spike season helped the Brewers climb out of last place and register nine more victories than in the previous campaign, finishing at 74-88.
With the victory, the Brewers captured sole possession of first place in the American League East with a pedestrian 15-15 mark. The struggling Indians occupied the basement at 15-19, just two games back of first. Two full games separated six teams. Milwaukee and Cleveland were fresh off lackluster 1972 campaigns, with the Brewers nosing out the Indians for the cellar at 65-91 (21 games short of first place).
This article appears in "From the Braves to the Brewers: Great Games and Exciting History at Milwaukee's County Stadium" (SABR, 2016), edited by Gregory H. Wolf. To read more stories from this book at the SABR Games Project, click here.
Notes
1 Milwaukee Sentinel, May 16, 1973.
2 Todd Mishler, Baseball in Brewtown (Black Earth, Wisconsin: Prairie Oak Press, 2005): 48-50.
3 Mishler: 51.
4 Milwaukee Sentinel, May 16, 1973.
5 Ibid.
6 Ibid.
7 Ibid.
8 Ibid.
9 Milwaukee Sentinel, May 16, 1973.
10 The Sporting News, May 26, 1973.
Additional Stats
Milwaukee Brewers 2
Cleveland Indians 1
17 innings
---
County Stadium
Milwaukee, WI
Box Score + PBP:
Corrections? Additions?
If you can help us improve this game story, contact us.
Tags
https://sabr.org/sites/default/files/MayDave-1973.jpg
600
800
admin
/wp-content/uploads/2020/02/sabr_logo.png
admin
2018-04-03 12:32:05
2021-12-01 03:06:04
May 15, 1973: Davey May's 17th-inning blast hoists Brewers to victory