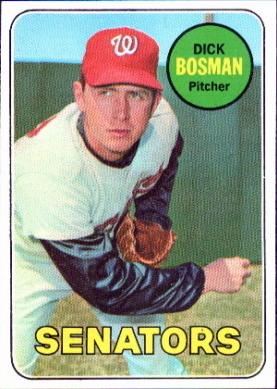 Dick Bosman didn't fool around. In his early days with the Washington Senators he was quoted as saying, "If you don't hustle while I'm pitching, I'll kick your ass." That quote stated very well Bosman's approach to the game.

He was born Richard Allen Bosman on February 17, 1944, in Kenosha, Wisconsin, the only son and oldest of four children born to George and Nella (Kloet) Bosman. Kenosha is a Lake Michigan town of about 90,000 people that lies between Milwaukee and Chicago. His father was a farmer; his mother stayed home and raised the children. George Bosman later gave up farming and went to work for a trucking firm in Kenosha.

Dick grew up in Kenosha, where his father was a very good fast pitch softball pitcher. George's prowess was so well known that a baseball field in Kenosha has been named after him and his uncle Clarence, also a pitcher. George – the greatest early baseball influence that Dick had – had a dream that his son would one day be a major league pitcher and did what he could to help him get there. Several sources list Dick as a cousin of Racine, WI native, and major leaguer, Duane Kuiper. Bosman, however, states that while the relationship exists, it is no closer than third cousin.

Another early influence on Bosman was his high school coach, Andy Smith. Smith would coach high school in the spring and Little League in the summer, guiding young boys through their entire baseball experience. Dick pitched for the Kenosha Bradford Red Devils and started in the 1962 state championship game, losing 2-0 on two unearned runs.

Following his graduation from high school, Bosman felt he would have received scholarship offers from major schools like the University of Wisconsin had his high school grades been better. He did receive several offers from major league clubs but opted to sign with Pirate scout Paul Tretiak. Bosman decided to delay his professional baseball career by a year, however, and attend UW-Parkside, an extension of the University of Wisconsin located in Kenosha. Meanwhile he played for a semipro team in Kenosha in the summer of 1962.

After a year at Parkside, Bosman decided it was time to begin his pro career. He spent the 1963 season pitching Rookie League ball for the Kingsport (Tennessee) Pirates of the Appalachian League. That December, Bosman was chosen by the Giants in the first year player draft. He reported to spring training with the major league club in 1964. While he was impressive, he was one of nine pitchers cut in late March, near the end of camp. As a result, Bosman was sent to the Giants' Class A team, the Lexington (North Carolina) Giants of the Western Carolina League.

The 20-year-old Bosman pitched in 35 games for Lexington that year, including nine starts. His 3.21 ERA that season apparently caught someone's attention, as the Washington Senators chose him in the December 1964 Minor League Player draft.  Bosman spent the 1965 season pitching for York, Pennsylvania, the Senators' affiliate in the AA Eastern League. Following the '65 season, he pitched in the Fall Instructional League in Florida. During his stint there he combined with Dick Loun to no-hit the Reds' entry in the league. Based on his time in the Instructional League, Bosman received an invitation to the Senators' big-league camp in 1966 as a non-roster invitee.

Senators manager Gil Hodges was quite impressed with Bosman in spring training that year, telling him that he had a chance to be a good big-league pitcher. Despite this fact, club GM George Selkirk cut Bosman from the big-league roster in early April. At that time Hodges told Bosman to go back to York, have a good month and they would bring him back up.

Bosman went to York, pitched well for about six weeks, and then got the call from the Senators to the big club. He made his major-league debut as a starter at Fenway Park against the Red Sox on June 1, 1966. His opponent was Jim Lonborg. Bosman went 7 1/3 innings, allowing three earned runs on nine hits to pick up a 6-3 win.

Over the next seven weeks Bosman made 12 appearances, including 7 starts. He compiled a 2-6 record with a 7.78 ERA. Included in those six losses were three blown saves. In late July the Senators sent him back to their farm team at York and replaced him with York's Barry Moore. Bosman returned to the parent club in September where he made one appearance out of the bullpen.

Bosman began the 1967 season with the Senators' AAA farm club at Hawaii. He went 12-11 in 26 starts with a 2.66 ERA for the Islanders, who finished the year at 60-87 (.408). Manager Wayne Terwilliger later said, "Dick's fastball topped out at about 85 mph, so he worked hard at fine-tuning his two best pitches, a sinker and a 'slurve.' Whoever named that pitch got it just right -- it was a combination of a slider that broke too much and a curve that didn't break enough. Bosman was managing to win despite everything, and it wasn't long before Washington called." He was promoted to the big club in August. In seven starts for the Senators Bosman went 4-3 with a 1.75 ERA. This included a five-hit blanking of the White Sox and Tommy John.

For the 1968 season the Senators replaced Gil Hodges with Jim Lemon. That year also marked the first time Bosman spent an entire season at the major-league level. He made 46 appearances, including 10 starts, going 2-9 but posting a respectable 3.69 ERA.

Prior to the 1969 season the Senators replaced Lemon as manager with the great Ted Williams. This was a move which probably did as much to turn around Dick Bosman's career as any other. Bosman credits Williams with teaching him to pitch from "above the neck." Under Williams Bosman flourished.

He began the 1969 season by pitching 2 1/3 innings of scoreless relief on opening day. He then alternated between the bullpen and rotation until the middle of June. He made six starts and five relief appearances between opening day and June 18. Included in that run was a 5-0 complete-game shutout over Cleveland on May 2. On June 18 Williams moved Bosman into a permanent spot in the team's starting rotation. In 20 starts after that, Bosman went 10-3 with a 2.04 ERA. His final totals – 14-5 with a 2.19 ERA – won him the AL ERA championship for 1969. His wins led the staff as the Senators had their first winning season in franchise history.

In 1970 Bosman, now 26, became the ace of the Senators pitching staff. He upped his win total from 14 to 16 even though the Senators fell from 86 wins in 1969 to 70 wins in 1970. This time he was the only member of the pitching staff to reach double digits in wins. One highlight was a one-hitter against Minnesota on August 13. César Tovar, a noted spoiler who broke up five no-hitters in the majors, led off the game with a bunt single. Bosman allowed only one walk after that, making the single run he received in the first inning stand up. 

In the offseason the Senators picked up Denny McLain from the Detroit Tigers in an eight-player deal that cost them their second starter, Joe Coleman. McLain, a 31-game winner in 1968, went just 10-22 for Washington in 1971, leading the league in losses as he had led it in wins three years earlier. Meanwhile, Bosman went 12-16 with a 3.73 earned run average. He led the Senators, who went 63-96, in wins, starts and innings pitched.

While pitching for the Senators in 1967, Bosman met his future wife Pam, a native of the nation's capital, whom he married in 1969. The couple had two daughters, Michelle and Nadine. They later adopted two others, Elizabeth and Amanda.

In the off-season prior to the 1972 season the Senators left Washington and moved to Arlington, Texas, where they became the Texas Rangers. Bosman made both the last start in Senators history and the first start in Rangers history.

1972 would be Ted Williams' last year as manager of the team. His retirement would follow a season in which the Rangers would finish 54-100. This was the fifth 100-loss season in the franchise's 12-year history but the first with Bosman on the roster. Dick turned in a respectable 3.63 ERA over 29 starts, including a 1-0 three-hit shutout of the White Sox in his last start of the season. In four years under Williams, Bosman went 50-43 with a 3.15 ERA and a 2-to-1 strikeout-to-walk ratio.

The Rangers began the 1973 season with Whitey Herzog replacing Williams as manager. Bosman made his fourth consecutive Opening Day start for the franchise. He began the season by going 2-5. On May 10 the Rangers traded Bosman and outfielder Ted Ford to the Cleveland Indians for pitcher Steve Dunning. Bosman was upset about the trade because he had spent his entire major league career in the same organization. Friendships he developed with teammates in Cleveland eventually changed his feelings about that and he came to enjoy his time in Cleveland. He remained with the Tribe into the 1975 season. There he was joined in the starting rotation by future Hall of Famer Gaylord Perry. Bosman developed a great deal of respect for Perry, saying that Gaylord had some of the best stuff he ever saw a pitcher display.

On July 19, 1974, Bosman no-hit the world champion Oakland A's. It took just 79 pitches to complete the gem, and he faced just 28 batters. The only thing that prevented it from being a perfect game was in the fourth inning, when Oakland's Sal Bando hit a swinging bunt down the third base line. Bosman fielded it properly, but his throw pulled the first baseman off the bag and Bosman was charged with a throwing error.

In 1975 some players from the A's approached owner Charles Finley saying, "If Bosman can no-hit us, we should trade for him." So Finley did just that, sending pitcher Blue Moon Odom to Cleveland for Bosman and fellow pitcher Jim Perry. Over the next two seasons Bosman went 15-6 in 49 games with a 3.80 ERA for the A's. He also made a brief appearance in the 1975 playoffs for the A's.

However, Oakland gave him his release at the end of spring training in 1977. Since his release came on March 29, it was too late in the spring for him to catch on with another major-league team. This left Bosman with the option of signing a minor-league contract with another team or retiring. Despite being just 33 years old, he opted to retire.

He moved to northern Virginia where he took a job with a man named Johnny Koons, who owned several car dealerships in the area. Koons had a son in Little League, so he asked Bosman to help out with coaching. This began Bosman's nine-year association with the Little League of Northern Virginia. He also took a job for three or four years as a coach for Georgetown University. It was during this period that Bosman developed an interest in coaching at the professional level.

Before the 1986 season Bosman was named the pitching coach for the White Sox AAA affiliate in Buffalo, New York. In June 1986, White Sox GM "Hawk" Harrelson fired manager Tony La Russa and pitching coach Dave Duncan. He replaced them with Jim Fregosi as manager and Bosman as pitching coach. Bosman served in this role through the 1987 season.

Before the 1988 season Bosman was approached by Orioles farm director Doug Melvin about a minor-league pitching instructor job. He accepted and served the Orioles in that capacity from 1988-1991. In 1992 Johnny Oates was named Orioles manager. He brought Bosman aboard as the major league pitching coach. Bosman served in this role for three seasons, but in 1995, when Oates left Baltimore to take the managerial job with the Texas Rangers, Dick followed, again as pitching coach. He served in this role through the 2000 season. During his tenure there the Rangers won three division championships (1996, 1998, and 1999).

Before the 2001 season Bosman accepted a position with the Tampa Bay Rays as minor-league pitching coordinator. For a three-week period in 2007, he served as interim major league pitching coach for the Rays. Other than that, he continued to hold the minor-league coordinator position through the end of the 2011 season. Bosman said he was very proud that the Rays major-league pitching staff was entirely homegrown, as he had directed the minor league pitching for the past decade.

Last revised: September 17, 2011



Sources

Interview with Dick Bosman – August 25, 2011

http://www.baseball-reference.com/players/b/bosmadi01.shtml

http://www.baseball-reference.com/bullpen/Dick%20Bosman

Wisconsin State Journal (Madison, Wisconsin), June 3, 1962

The Sporting News

December 14, 1963: 14.

January 22, 1966: 20.

March 26, 1966: 20.

July 16, 1966: 38.

Terwilliger, Wayne with Nancy Peterson and Peter Boehm. Terwilliger Bunts One. Helena, Montana: Globe Pequot Press, 2006: 157.