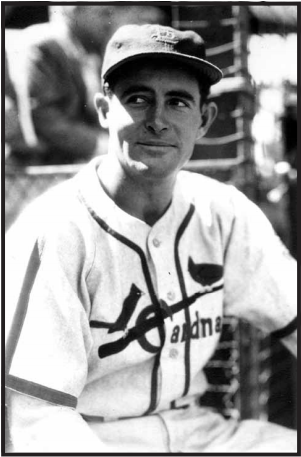 May 16, 1945: Rookie Jack Creel's extended one-hit relief not enough for Cardinals to top Braves
---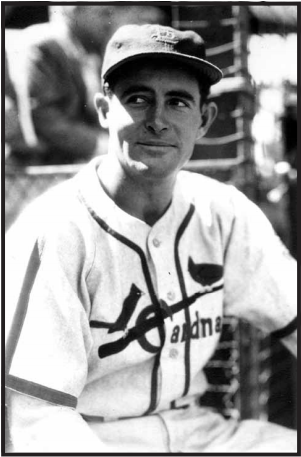 The 1945 St. Louis Cardinals, winners of three consecutive wartime National League pennants and World Series champions in 1942 and 1944, were counting on strong pitching to overcome the loss of key members of their offense to the military draft. Twenty-three-year-old All-Star outfielder Stan Musial, who had led the NL in hits in 1944, spent all of 1945 in the Navy; catcher Walker Cooper, another All-Star, played only four games in 1945 before being inducted in April.1
As restricted-travel spring training wound down in Cairo, Illinois, manager Billy Southworth had what a Cardinals beat writer called "the best National League pitching staff," one that could "reasonably minimize any sins that develop in what figures to be a weakened outfield and a lowered team offense."2
But there were definite clouds on the early-season horizon. Two of the pitchers Southworth was depending on — righty Mort Cooper3 and lefty Max Lanier, 39-19 between them in 1944 — were problematic. Cooper was holding out for a $15,000 salary and Lanier was scheduled for a military draft physical. Cooper was begrudgingly back in the rotation by late April but only briefly before a walkout and trade; Lanier won two of three starts, but was gone after he left the team on May 16 for military service.4 To compound these problems, two other starters, southpaw Harry Brecheen and right-hander Ted Wilks, who had won another 33 games between them in 1944, had ailing arms.5
All of this uncertainty created an opportunity for Jack Creel, a 29-year-old right-hander who had paired with southpaw Musial as a formidable mound duo for the Cardinals' 1940 Daytona Beach Islanders in the Class D Florida State League.6 By 1944 Creel, who had a 4-F deferment from military service because of a birth defect that left the fingers of both hands "in the shape of a baseball all the time,"7 was still toiling away in the Cardinals' extensive minor-league system with the Double-A Columbus (Ohio) Red Birds.
But the next spring the Cardinals counted Creel a definite prospect for their depleted pitching staff. He "caught Southworth's eyes" with his "curve assortment and speed."8 Creel made the team out of spring training and after three relief appearances of an inning each got his first major-league win, pitching the last two innings against the Braves in Boston on May 15. The win pulled the Cardinals to .500 and a third-place tie in the National League standings, 6½ games back of the torrid 18-5 Giants.
The next day, Wednesday, May 16, St. Louis dropped a tough 5-4, extra-inning decision in the first game of a doubleheader with 3,083 "cash and chilly customers" rattling around Braves Field.9 With Cooper's walkaway that morning, Bud Byerly was the emergency starter. He lasted 8⅔ innings; Blix Donnelly took over for the next five frames but was the losing pitcher on Dick Culler's RBI single in the 14th. Things were going the wrong way again in the bottom of the first inning of the second game when the Braves swarmed Southworth's starter, Al Jurisich, for four runs, capped by Carden Gillenwater's three-run homer with two outs. That did it for Jurisich; Southworth went to his bullpen for Creel, who retired Phil Masi on a fly ball to close out the half-inning and keep the score 4-0, Braves.
Creel then embarked on the kind of "just keep us close" game that managers with a stressed pitching staff dream about. He retired the Braves in order in the second inning. But for a leadoff walk to Tommy Holmes, he did it again in the third. Meanwhile, Boston starter Bob Logan, a 35-year-old, newly arrived lefty who had last pitched in the majors in 1941 for the Cincinnati Reds, was holding the Cardinals at bay, yielding only a hit and a walk through the first three innings.10 In the fourth, though, St. Louis got to him for a run when Buster Adams scored on Emil Verban's two-out single. It was now 4-1, Boston.
Creel walked Gillenwater in the Braves' fourth. He got as far as second base with two outs before Logan lofted a fly to right field for the third out. St. Louis staged a potential comeback in their fifth inning. Dave Bartosch walked with one out. Johnny Hopp popped to third base for the second out, but Adams nailed an opposite-field double to right. All of a sudden Logan was faced with Cardinals runners on second and third and the St. Louis cleanup hitter, first baseman Ray Sanders at the plate, representing the tying run.
Sanders had 55 extra-base hits and 102 RBIs for the Cardinals in their 1944 world championship season but, adding to the general woe the club was causing Southworth, was off to a cool start in 1945, hitting .247 with one home run and six RBIs through the first May 16 game. Sanders, a lefty hitter, got solid wood on the ball, lining an opposite field shot that Butch Nieman tracked down in left. The score remained 4-1, Boston; an opportunity for the Cardinals to give Creel some offensive support evaporated.
St. Louis went quietly against Logan in the sixth and seventh innings. In the meantime, Creel pitched out of a two-outs, bases-loaded situation in the Boston seventh fueled by an error, an intentional walk to Holmes, and another walk. He prevailed by getting Boston first baseman Joe Mack on a foul pop along the third-base line. The Cardinals mustered back-to-back, two-out singles by Whitey Kurowski and Del Rice to put runners on first and third in their eighth. Verban, up next, wasn't able to duplicate his RBI single back in the fourth inning. This time Logan got him to pop to shortstop, ending the threat.
As Boston batted in the eighth, Creel had yet to yield a hit. He got Chuck Workman on a fly ball for the first out, but the pesky Gillenwater nicked him for a single; then, pitching inside to Masi, he hit the catcher on the left hand11 to put runners at first and second with one out. Creel worked out of the mini-jam, getting Eddie Joost to rap into a double play. When Logan finished off the Cardinals in order in the ninth, it was over, still 4-1, Boston.
Creel had given Southworth 7⅓ innings of one-hit, shutout relief. Because Jurisich had started, Creel didn't get stuck with the loss for his yeoman effort. The Cardinals touched Logan for eight hits — but only the lone run — as he picked up the first win of a major-league career that began with the 1935 Brooklyn Dodgers.
Creel's effort gained him a degree of confidence from the pitching-strapped Southworth. A week later on May 23, the rookie got the ball for his first major-league start. The Cardinals were back home at Sportsman's Park. He started against the Brooklyn Dodgers, and this time, St. Louis gave Creel some support, easily handling three Brooklyn pitchers for 11 runs. Creel gave up a sole run and waltzed to a complete-game win. He got seven more starts over the rest of the wartime season — his only one in the majors — and finished 5-4. By 1946, with players returning from the service and the reserve clause binding Creel to the Cardinals, there was no room on the major-league roster for the 30-year-old. Instead, he was back with Columbus, now reclassified as Triple A, one of two clubs at that level in the Cardinals' vast minor-league empire.12
The 1945 Cardinals righted themselves quickly after the two May 16 losses had dropped them to a 10-12 record and fifth place in the National League. They won seven of their next eight games to reach 17-13 by May 25. Red Barrett (21-5), acquired on May 23 in the trade for disgruntled Mort Cooper, took over as the staff ace, and Brecheen's arm recovered; he won 15 games in 18 starts.
By the end of the season the Cardinals were a creditable 95-59.13 They finished second to the Chicago Cubs in the 1945 National League race, three games back. Their next pennant didn't take long, though. With their service returnees, including Musial, Harry Walker, Enos Slaughter, and pitchers Murry Dickson, Al Brazle, Howie Pollett, Howie Krist, Red Munger, and Ernie White, back for 1946, the Cardinals won their fourth National League pennant in six seasons and dispatched the Boston Red Sox four games to three in the World Series.
Sources
In addition to the sources cited in the Notes, I used the Baseball-Reference.com and Retrosheet.org websites for the box scores noted below and for player, team, and season pages, daily logs, and general information.
baseball-reference.com/boxes/BSN/BSN194505162.shtml
retrosheet.org/boxesetc/1945/B05162BSN1945.htm
Notes
1 "Salary Dispute Is Settled for Moment," St. Louis Post-Dispatch, April 28, 1945: 6.
2 Donald H. Drees, "Cards' Hill Strength May Overcome Other Weaknesses," St. Louis Star and Times, March 31, 1945: 7. Donald Drees should not be confused with Chicago and later, national, sportscaster Jack Drees (1917-1988) who, for sports fans of a certain age, was a trusted voice in the 1960s and early '70s. There is no indication that Donald Drees and Jack Drees were related.
3 Walker Cooper was Mort Cooper's older brother. They were born in 1913 and 1915, respectively, in the west-central Missouri hamlet of Atherton.
4 "Salary Dispute Is Settled for Moment"; Associated Press, "Cards in Chaos as Team Tumbles," Maryville (Missouri) Daily Forum, May 17, 1945: 6. The bad blood between Mort Cooper and Cardinals owner Sam Breadon over Cooper's holdout resulted in Breadon's trading Cooper to the Boston Braves for right-hander Red Barrett on June 23, 1945. Cooper had won two of three starts for St. Louis before he was traded. He had pitched in New York on May 13, but when the Cardinals continued their road trip to Boston, he went "over the hill," deserting the team on the morning of May 16. Hy Hurwitz, "Cooper Deserts Champs, Suspended," Boston Globe, May 17, 1945: 15.
5 Donald H. Drees, "Cards Split Twin Bill," St. Louis Star and Times, May 31, 1945: 17.
6 Musial (18-5) and Creel (22-7) teamed with another right-hander, Albert Thomas (18-8), to lead Daytona Beach to the 1940 Florida State League regular-season pennant with an 86-53 record. Because of a 14-man roster, the pitchers saw double duty as outfielders; on August 11 Musial damaged his shoulder trying to make a catch, ending his pitching career. Jan Finkel, "Stan Musial," SABR Baseball Biography Project, sabr.org, accessed July 1, 2020.
7 Gregory H. Wolf, "Jack Creel," SABR Baseball Biography Project, sabr.org, accessed July 1, 2020.
8 Drees, "Cards' Hill Strength."
9 Hy Hurwitz, "Braves Hand Cardinals Twin Defeat," Boston Globe, May 17, 1945: 15.
10 The Braves had acquired Logan just the week before in a trade with the Double-A Indianapolis Indians. This game was his first appearance for Boston.
11 Hurwitz. Masi left the game and was replaced by Clyde Kluttz, who pinch-ran and finished the game at catcher.
12 The minor leagues reclassified in 1946, adding the Triple-A designation for the American Association, the International League, and the Pacific Coast League. In 1946, the Cardinals had two Triple-A teams, Columbus in the American Association, and Rochester in the International League, among their 18 minor-league affiliates.
13 The juggernaut 1944 team won 105 games, taking the National League pennant by 14½ games over the Pittsburgh Pirates.
Additional Stats
Boston Braves 4
St. Louis Cardinals 1
Game 2, DH
---
Braves Field
Boston, MA
Box Score + PBP:
Corrections? Additions?
If you can help us improve this game story, contact us.
Tags
http://sabr.org/sites/default/files/Screen%20Shot%202016-08-07%20at%202.57.18%20PM.png
600
800
sabr
/wp-content/uploads/2020/02/sabr_logo.png
sabr
2020-08-11 13:50:42
2020-08-14 11:59:57
May 16, 1945: Rookie Jack Creel's extended one-hit relief not enough for Cardinals to top Braves