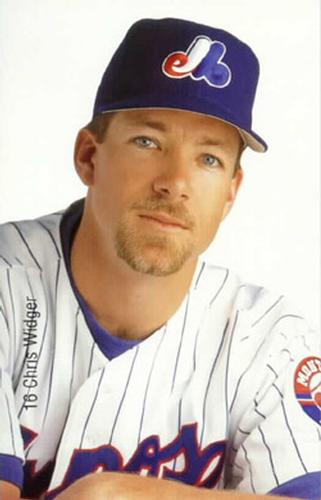 May 16, 1997: Widger helps Expos win a wild one
---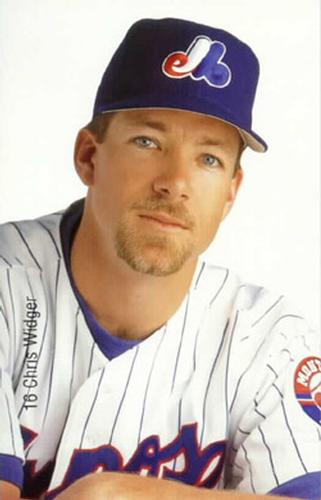 Fans arriving at Montreal's Olympic Stadium on Friday, May 16, 1997, likely never suspected that they were about to witness the largest comeback victory in the Expos' history to date. Although they faced a nine-run deficit after 2½ innings, the Expos never gave up. Behind a light-hitting catcher who would spend most of his career as a backup, the Expos clawed their way back and won a wild 27-run contest 14-13 over the San Francisco Giants.
The Giants were in first place in the National League West. However, their lead over the Los Angeles Dodgers had slipped to only one game after the Dodgers beat the Cincinnati Reds on Thursday night and the Giants lost to the Expos, 8-7. The Expos were in third place in the National League East with a 21-16 record.
The pitching matchup saw a relatively new Expos hurler opposing a former Expo who had been dealt to San Francisco less than a year earlier. Jim Bullinger, who had signed with Montreal before the season as a free agent, started for the Expos. Bullinger spent the first five years of his major-league career with the Chicago Cubs, with whom he compiled a 27-28 record in 148 appearances as starter and reliever.
San Francisco's starter was southpaw Kirk Rueter. Rueter was Montreal's 18th-round draft pick in 1991 and spent the first 3½ years of his major-league career with the club. On July 30, 1996, Rueter and reliever Tim Scott were traded to the Giants for pitcher Mark Leiter. It was a trade the Expos likely regretted, as Leiter left the club at the end of the 1996 season and Rueter proceeded to win 105 games over10 seasons for the Giants.
While this was a game to remember for the 22,365 in attendance, it was one to forget for the starting pitchers, who were both gone before recording an out in the fourth inning.
The first six batters for the Giants reached base on four hits, a walk, and an error. Among the hits were an RBI single by shortstop Jose Vizcaino and outfielder Glenallen Hill's fifth homer of the season, a two-run blast that gave San Francisco a 3-0 lead. Right fielder Vladimir Guerrero made two errors, one of which led to an unearned run, and after a pair of sacrifice flies, the Giants were leading by five runs before Montreal's first hitter stepped to the plate. Bullinger looked so ineffective during this stretch that manager Felipe Alou had reliever Salomon Torres warming up after Bullinger had only thrown 14 pitches.i
The Expos began to work their way back into the game in the bottom of the second inning, as first baseman David Segui hit his fifth homer of the season. This homer ended a streak of 21⅓ scoreless innings for Rueter, which spanned four starts.
With one out, the free-swinging 22-year-old Guerrero drew a rare walk and scored when catcher Chris Widger hit the first triple of his career, with two out. Never known for his batting talent, Widger hit only seven triples in 1,998 career plate appearances. His smash cut the deficit to 5-2, and it wasn't his last important offensive contribution in the game.
Any momentum the Expos had gathered in the bottom of the second was erased in the top of the third. J.T. Snow and Bill Mueller led off the inning with singles. With two outs, center fielder Daryl Hamilton delivered a big single to center, scoring both runners.
By this point Alou had seen enough from Bullinger and brought in Salomon Torres. However, Torres fared no better and, after walking a batter, he surrendered an RBI single to Hill that increased San Francisco's lead to six runs. Then Barry Bonds, who had already reached base twice in the first two innings, hit a three-run homer to deep right-center field that gave the Giants an 11-2 lead after only 2½ innings.
The Expos began to show signs of life in the bottom of the fourth. Consecutive singles by Henry Rodriguez, Guerrero, and Doug Strange loaded the bases with none out for Widger, who came through in the important at-bat with a two-run double. Alou summoned pinch-hitter Sherman Obando, who also delivered with a two-run single. This knocked Rueter out of the game before he had retired a single batter in the inning.
Reliever Anthony Telford retired the Giants in order and the Expos continued to try to work themselves back into the game in the bottom of the fifth. White was hit with a pitch by reliever Joe Roa, who then surrendered singles to Segui and Rodriguez. On Rodriguez's hit, Segui advanced to third. After the game he recalled, "[When] I got to third base in the fifth … Pete (Mackanin, the third-base coach) said, 'We're going to win this game.' "ii
Segui scored on a sacrifice fly and then, with two out in the inning, Widger had another clutch hit, a single, scoring Rodriguez and cutting San Francisco's lead to two runs.
Even though the Expos had cut into San Francisco's lead significantly, there was no reason for Mackanin to be so optimistic. The Expos had never come back from an eight-run deficit before, let alone when trailing by nine runs. The largest comeback wins in franchise history had been two seven-run comebacks. The first occurred in 1980, when Montreal beat San Diego 12-9 after trailing 9-2, and the second came in 1986 when the Expos trailed the Phillies 8-1, before coming back to win 10-9.
In the bottom of the sixth San Francisco manager Dusty Baker replaced Roa with Julian Tavarez, but Tavarez fared no better at stopping Montreal's comeback. Mark Grudzielanek reached base when Vizcaino booted a groundball. Grudzielanek stole second base and, two pitches later, White drove him home.
With two out, Strange singled to center field, scoring White and Segui, who had both singled, and Montreal had a 12-11 lead only 3½ innings after facing a nine-run deficit. The inning ended when Widger grounded out, failing to reach base for the first time in the game.
If Expos fans thought the excitement had finished with Montreal now in the lead, they soon found out that the game was far from over. Dave Veres replaced Telford and gave up a single to Rick Wilkins. After two wild pitches, Wilkins had advanced to third base.
After Veres walked Mark Lewis, Alou summoned southpaw Omar Daal as part of a double switch. Daal surrendered two singles, and San Francisco regained the lead, 13-12.
In the bottom of the eighth, Guerrero singled with one out and pinch-hitter Joe Orsulak walked on four pitches. Choosing to ignore the oft-heard advice that a hitter should wait to see a strike before swinging after a pitcher has walked the last batter, Widger drove the first-pitch fastball to center field to tie the game.
Baker called on closer Rod Beck in the bottom of the ninth, hoping to take the game into extra innings. However, Mike Lansing singled and advanced to second on a sacrifice bunt by White. Segui then hit a line drive single to left field, scoring Lansing with the game-winning run.
The Giants hadn't blown a lead of that size since the club moved to San Francisco. The New York Giants led the St. Louis Cardinals 11-0 on June 15, 1952, after four innings, but lost 14-12, which set a major-league record for largest blown lead at the time.iii
It was clear that the Expos had never given up on the game. Segui, who contributed four hits, said, "It's funny, because, in the dugout everybody thought we were going to win."iv Segui also said, "It shows you what this team is made of. We're scrappy. We're not going to roll over. That's the attitude of this team."
The offensive star for the Expos was one of the most unlikely names in the lineup. Better known for his defensive skills, Chris Widger went 4-for-5 with five RBIs. It was one of the best offensive performances of his career; he had four hits in a game only one other time.
Widger said, "I'm happy with the way I'm swinging the bat right now, but honestly, I'm just happy that we won the game." Widger said it was one of the most memorable experiences he'd had playing baseball." He continued, "That's the biggest game I've ever been a part of."v
This article appeared in "Au jeu/Play Ball: The 50 Greatest Games in the History of the Montreal Expos" (SABR, 2016), edited by Norm King. To read more articles from this book, click here.

Sources
Box scores for this game can be found on baseball-reference.com, and retrosheet.org at:
http://www.baseball-reference.com/boxes/MON/MON199705160.shtml
http://www.retrosheet.org/boxesetc/1997/B05160MON1997.htm
Notes
Additional Stats
Montreal Expos 14
San Francisco Giants 13
---
Olympic Stadium
Montreal, QC
Box Score + PBP:
Corrections? Additions?
If you can help us improve this game story, contact us.
Tags
https://sabr.org/sites/default/files/WidgerChris.jpg
600
800
admin
/wp-content/uploads/2020/02/sabr_logo.png
admin
2017-10-26 17:45:12
2020-04-17 10:25:41
May 16, 1997: Widger helps Expos win a wild one