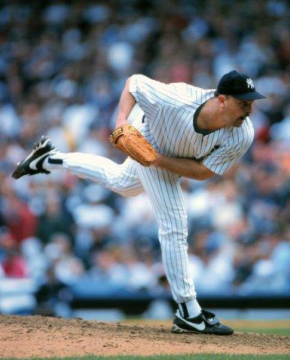 May 17, 1998: David Wells pitches first perfect game in Yankee Stadium since Don Larsen
---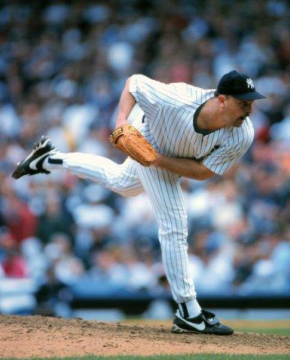 David Wells positively reeks of New York Yankees history. During one game he wore a game-used Babe Ruth cap he had purchased for $35,000. He wore number 33 when he played in the Bronx as a tribute to the Babe's iconic number 3, which was retired, and because they wouldn't let him wear the number 03. Hell, he even attended Point Loma High School in San Diego, which was the alma mater of Don Larsen, who pitched a perfect game for New York against the Brooklyn Dodgers in the 1956 World Series.
Who more appropriate, then, to pitch the first perfect game in Yankee Stadium since Larsen's own perfecto? Well, a lot of people, actually, based on Wells's performances since the season began. Yankees manager Joe Torre had expressed his hopes to Wells in a handwritten note: "You are one of the guys who can provide the leadership we need to get back to October," wrote Torre. "Being a great pitcher or player is all about responsibility."1
At game time the responsibility needed to be a great pitcher was still missing. In an April 30 start, Wells gave up four earned runs in 6⅓ innings during a 9-8 Yankees home win against the Seattle Mariners. He was worse the following start, on May 6 against Texas, when he almost blew a 9-0 lead he held after two innings, by giving up seven earned runs in the third. New York would win that one, 15-13. Wells was showing signs of finding his groove his next start on May 12, going eight innings in a 3-2 win over Kansas City, in which he retired the last 10 batters he faced. He had a 4-1 record going into the game with the Minnesota Twins, but a less than impressive 5.23 ERA.
His warm-up session prior to the game didn't inspire Wells with great confidence. "I went out into the bullpen and I was fighting myself a little bit," he said. "I launched a couple of balls into the stands out of frustration."2
Maybe he was being too hard on himself, because pitching coach Mel Stottlemyre liked what he was seeing, and felt Wells was going to have a good outing. "I felt like he was going to have a very special game," said Stottlemyre. "I always think of a shutout as being a particularly special game."3
Wells was dominant right from the beginning, as he barely broke a sweat while setting the Twins down on nine pitches in the first. The top of the second was almost as easy, except that it took 13 pitches to get through the heart of the Twins order: Marty Cordova (groundout), Ron Coomer (strikeout), and Alex Ochoa (foul popup to the catcher).
Wells got the only run he would need in the bottom of the second. Bernie Williams doubled to left, moved to third on a passed ball, and scored on a wild pitch by Twins starter LaTroy Hawkins.
Critical to any pitcher's success is how well he communicates with his catcher — Steve Carlton, for example, kept Tim McCarver on a major-league roster by employing him as his personal catcher when he was with the Phillies. On this day, the connection between Wells and his catcher, Jorge Posada, was almost other-worldly.
"Every (signal) I put down, he threw. It seemed like I was thinking everything along with him. It was freaky," Posada said. "I was putting down everything he wanted to throw. I'd tell him to throw it in the dirt and he threw it in the dirt. He was unbelievable that day."4
That "freaky" connection was particularly strong in the third inning, when Wells struck out the side. That was also the inning when the no-hitter came closest to ending, as Javier Valentin smacked a long fly ball down the left-field line that was foul by 20 feet. Valentin worked Wells to a full count before whiffing. It was the first of only four times that day that Wells went to a three-ball count on a hitter.
Whether a pitcher is pitching a perfect game or not, a 1-0 score is still pretty tight. Bernie Williams provided Wells a bit of breathing room when he smacked the first pitch he saw from Hawkins in the fourth deep to right to make the score 2-0. Wells probably didn't need the cushion, as he continued mowin' 'em down, striking out the first two batters in each of the fifth and the sixth. Then came the seventh.
If there was any inning in which Wells faced the prospect of losing his perfect game, it was the seventh. After Matt Lawton flied out to center, he went to 3-and-2 counts on the next two hitters, but Brent Gates grounded to first and Paul Molitor struck out swinging. That's when Wells's teammates began exhibiting the behavior that only happens when one of their teammates is pitching a no-hitter.
Anyone who watches the video of Wells's gem will notice that Torre sat in the dugout with his hands in his pockets the entire game doing his best imitation of a Buddha statue. That type of Zen calmness is needed by around the seventh during a no-hitter, because the players know what's happening and allow the traditional superstitions of baseball to take over, which generally means avoiding the pitcher like the plague.
"Nervousness gnawed at David Wells in the seventh inning yesterday, when he began realizing he might pitch a perfect game," wrote Buster Olney in the New York Times. He … desperately needed his superstitious Yankee teammates to speak and ease the mounting tension.
"But nobody would oblige him, save for (Yankee teammate) David Cone, who removed his good-luck sunglasses and approached Wells. 'I think it's time,' Cone said, his delivery perfectly dry, 'to break out the knuckleball.'"5
The Yankees also handled their nervousness in a productive manner in their half of the seventh, by smacking baseballs around Yankee Stadium. With one out, Williams doubled to left for his third hit of the game. Darryl Strawberry followed with a run-scoring triple. Chad Curtis brought Strawberry home with a single to make the score 4-0, leaving the rest up to Wells.
The eighth inning was marked by a relatively tough play when Ron Coomer hit a ball up the middle that Wells thought would go for a base hit, but second baseman Chuck Knoblauch knocked it down and threw it to first in time for the second out of the inning.6 After Ochoa popped out to first to end the frame, Wells's teammates had a chance to worry about having to play the ninth.
"[With a] no-hitter, I mean, you can still make an error and the guy will still get the no-hitter and you're off the hook," said Derek Jeter. "But with a perfect game there's no room for any flaws, no errors, nothing."7
The team was flawless in the ninth, as Jon Shave flied out to right fielder Paul O'Neill, Valentin struck out — Wells's 11th strikeout of the game — and Pat Meares flied out to O'Neill to complete the 13th perfect game since 1900 and launch the pandemonium. Wells's teammates mobbed him, then carried him off on their shoulders, which wasn't easy to do considering he weighed 250 pounds.
In his 2003 autobiography, Perfect I'm Not, Wells claimed he had been out partying with the cast of Saturday Night Live until 5:00 A.M. the morning of the game and was hung over when he took the mound. Whether that's true or not doesn't really matter, because not only did Wells show how pitching could be an art form that day, he went on to have an 18-4 season with a league-leading five shutouts. He also won a World Series ring, which was — there's no other word for it — perfect.
This article was published in SABR's "No-Hitters" (2017), edited by Bill Nowlin. To read more Games Project stories from this book, click here.
Sources
In addition to the sources listed in the notes, the author also consulted:
Sports Illustrated
Youtube.com
Notes
1 Tyler Kepner, "Baseball: Wells's Book has Teammates Amused and Torre Concerned," New York Times, March 1, 2003.
2 David Wells, video interview, mlb.com.
3 Mel Stottlemyre, video interview, mlb.com.
4 Peter Botte, "Jorge Posada's favorite moment: Catching David Wells' perfect game," New York Daily News, September 19, 2008.
5 Buster Olney, "Baseball: Rarest Gem for Yankees' Wells: A Perfect Game," New York Times, May 18, 1998.
6 This game took place the season before Knoblauch suddenly developed an inability to throw the ball to first base. He had 13 errors in 1998, then 26 in 1999, followed by 15 in only 82 games in 2000. The Yankees moved him to left field for the 2001 season.
7 Derek Jeter, video interview, mlb.com.
Additional Stats
New York Yankees 4
Minnesota Twins 0
---
Yankee Stadium
Bronx, NY
Box Score + PBP:
Corrections? Additions?
If you can help us improve this game story, contact us.
Tags
https://sabr.org/sites/default/files/WellsDavid.PNG
600
800
admin
/wp-content/uploads/2020/02/sabr_logo.png
admin
2018-10-23 13:13:03
2020-04-17 10:23:51
May 17, 1998: David Wells pitches first perfect game in Yankee Stadium since Don Larsen