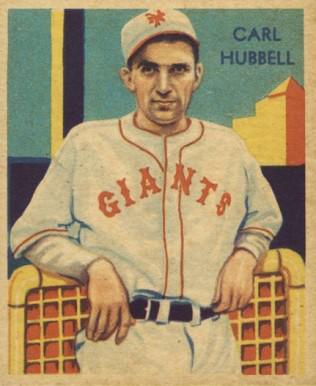 May 19, 1937: Carl Hubbell bests Dizzy Dean in 'Battle of the Century'
---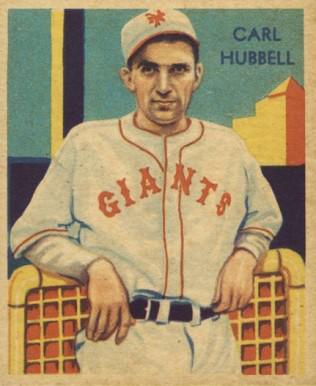 The game of Wednesday, May 19, 1937, between the New York Giants and St. Louis Cardinals was billed as the "Battle of the Century," because it featured the two best pitchers in the National League: southpaw Carl Hubbell of the Giants and right-hander Dizzy Dean of the Cardinals.1 A crowd of 26,399 attended the contest at Sportsman's Park in St. Louis.
Dean's 24 victories during the 1936 season were second only to Hubbell's 26. Dean's record in 1937, through May 18, was 5-1 with a minuscule 1.09 ERA. Hubbell was on a remarkable 21-game winning streak that had begun on July 17, 1936; he won his final 16 decisions of the 1936 season and compiled a 5-0 record with a 1.90 ERA to begin 1937. Two of the 21 victories came at Dean's expense: Hubbell defeated him by identical 2-1 scores on July 21 and September 3, 1936. Hubbell was modest: "You know, a streak like that is largely a matter of luck. One of these days a pitcher is going to be hot against us and is going to shut us out."2
Catcher Gus Mancuso deserved some of the credit for Hubbell's success. By observing how a batter positioned his feet, Mancuso could tell what kind of pitch the batter guessed was coming from Hubbell. Mancuso would signal to Hubbell to throw a different pitch, to cross up the batter.3
On May 19 Dean's catcher was Mickey Owen, a 21-year-old rookie making his third major-league start. Of greater concern than Owen's inexperience was Dean's sore right thumb, which was taped. "I burned a little hole in it lighting a cigarette," Dean explained before the game. "That's a good alibi," noted a bystander. "I don't need no alibis," Dean retorted.4
The game was a pitchers' duel, as advertised. Through five innings, the Cardinals led 1-0 on a second-inning home run by Joe Medwick. The St. Louis slugger entered the game with a league-leading .453 batting average. Years later, Hubbell would say Medwick was the toughest hitter he ever faced.5
Dean was cruising along but lost his composure in the sixth inning. Burgess Whitehead led off with a single to right field, and Hubbell moved him to second base with a bunt. The Brooklyn Daily Eagle described what happened next:
"With the count one and one [on Dick Bartell], Dean turned to look at Whitehead at second, half-faked a throw to the base and then in the same motion poured a fast one at Bartell. Dick swung, lifted a pop fly to short which was caught and everyone thought it was the second out until George Barr, plate umpire, declared Dizzy had balked in his pitch and waved Whitehead to third base, thereby giving Bartell another chance to hit. … Dizzy in a rage, threw his glove into left field and the ball into right field. After 10 minutes order was restored and Dean sulkily walked out to the mound to continue his pitching. He viciously whipped two bean balls at Bartell."6
Bartell then lifted a fly ball to Pepper Martin in right field, who dropped it, and Whitehead scored on the miscue. Lou Chiozza blooped a short fly to center field; Terry Moore ran in and dived for it but missed it, which allowed Chiozza to go to second base and Bartell to third. Jo-Jo Moore followed with a single to right-center, driving in Bartell and Chiozza, and the Giants led 3-1.
For the rest of the game, the seething Dean threw beanballs at "practically every Giant to face him."7 The Giants had enough of his headhunting. In the top of the ninth inning, Jimmy Ripple laid a bunt down the first-base line and collided intentionally with Dean near first base. A bench-clearing brawl ensued. Mancuso ran toward Dean but was stopped in his tracks by Owen's "flying tackle"; "the two catchers were still trying for headlocks and strangle holds" after "all other combatants had been separated" by the umpires and police.8 Hubbell remained "quietly on the sidelines"; he was paid to win ballgames, not fights, he would say.9 Strangely, only Mancuso and Owen were ejected, but Ripple and Dean were later fined $50 each by the league office.10
The game resumed with Ripple on first base and Dean pitching to Johnny McCarthy. Dean hit McCarthy with a pitch, and "it looked for a minute as if another riot would start."11 Harry Danning, batting for Mancuso, doubled to left-center to knock in Ripple with the Giants' fourth run.
In the bottom of the ninth, Hubbell allowed a single to Jimmy Brown, but calmly struck out Medwick and Johnny Mize to end the game. The final score was New York Giants 4, St. Louis Cardinals 1. Hubbell earned his 22nd consecutive victory. Dean whined: "That's no balk. I shoulda won that game, 1-0. We wuz robbed."12
Hubbell won two more games to extend his streak to 24 before losing to the Brooklyn Dodgers on May 31, 1937. His 24-game winning streak is the longest in major-league history, through 2016.
Notes
Additional Stats
New York Giants 4
St. Louis Cardinals 1
---
Sportsman's Park
St. Louis, MO
Box Score + PBP:
Corrections? Additions?
If you can help us improve this game story, contact us.
Tags
http://sabr.org/sites/default/files/HubbellCarl1937.jpg
600
800
admin
/wp-content/uploads/2020/02/sabr_logo.png
admin
2016-08-19 11:29:03
2020-04-17 10:26:03
May 19, 1937: Carl Hubbell bests Dizzy Dean in 'Battle of the Century'