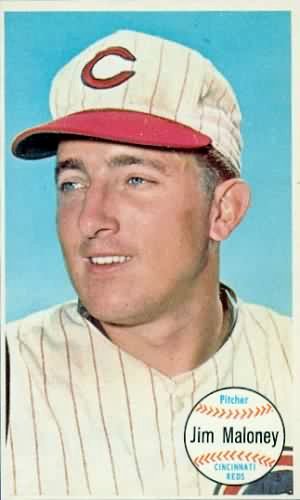 May 21, 1963: Reds' Jim Maloney strikes out eight consecutive Braves batters
---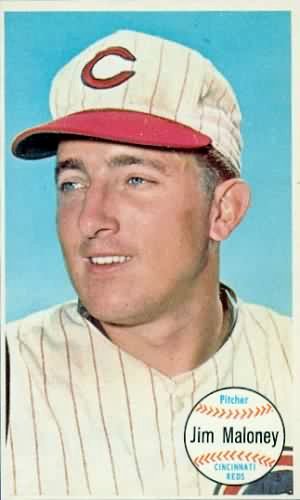 At the opening of the 1963 major-league season, the Cincinnati Reds projected pitcher Jim Maloney as the team's number-four starter, behind Bob Purkey, Joey Jay, and Jim O'Toole.1 Purkey and Jay were 20-plus-game winners the previous year, while O'Toole won 16.2 For his part, the 22-year-old Maloney, a 6-foot-2, 190-pound right-hander, had gone 9-7 after a June call-up, struggling with control early on before closing with a strong August and September, as he lowered his season ERA from 6.15 to 3.51.
By the third week of May 1963, however, the Reds were floundering, unable to reach .500, in a season that began with them as The Sporting News's pick to win the National League pennant.3 In good part, their lackluster performance was because half of their rotation was missing or ineffective: Jay was 1-7 with an ERA north of 4.00, his struggles connected to back problems,4 and Purkey had missed a month because of arm trouble.5
Maloney, on the other hand, was one bright spot, pitching better than expected, largely because he had learned to control his curve and was able to mix it with what was already an overpowering fastball.6 Going into his start in Milwaukee against the Braves on May 21, he was 5-1 with a 2.60 ERA. Roughly two weeks earlier, he had tossed probably the best game of his career to that point — a four-hit, 6-0 shutout over the St. Louis Cardinals in which he struck out 10 batters — but in Milwaukee, he turned in an even stronger performance against a club that featured three eventual Hall of Famers. By the time the game ended — a 2-0 Reds victory — he had struck out 16, including eight in a row, which tied what was then the modern era major-league record. (The record currently stands at 10 consecutive strikeouts, by the New York Mets' Tom Seaver against the San Diego Padres on April 22, 1970.) In this game, Maloney allowed two hits — both singles — and walked four, notching his sixth win of the season against one loss to that point.
As the day began, the Reds and Braves were in a virtual tie for fifth place, each a game under .500 — Cincinnati at 17-18 and Milwaukee at 19-20. The Reds came into Milwaukee having taken the last two of a three-game series against the St. Louis Cardinals, while the Braves — who had won five of their previous six games — had split a two-game set with the Cubs.
At game time, 8 P.M., the temperature was cool, 45 degrees, which was less than ideal for Maloney, whose arm didn't respond well to cold, often stiffening up.7 Manager Fred Hutchinson had pulled him after five innings in his previous start for that very reason; despite a 5-2 lead over the Cubs, Hutchinson went to the bullpen when temperatures in Chicago dipped below 50. "I'm not going to take a chance with THAT arm," Hutchinson said of his decision. "I could ruin a hell of a pitching career."8
While the cold didn't prevent Maloney from taking the mound that day in Milwaukee, it kept the crowd down: The attendance of 3,204 would turn out to be the second lowest of the season at County Stadium.
To face Maloney and the Reds, Braves skipper Bobby Bragan started 24-year-old left-hander Bob Hendley, who began the day 4-2 with a 3.74 ERA; in his previous start, he had carried a no-hitter through 8⅓ innings against the St. Louis Cardinals before three hits and two Braves errors ruined his shutout. (Hendley is best known for the September 9, 1965, contest against the Dodgers while he was with the Cubs. He allowed just one hit but lost 1-0, on an unearned run, as the Dodgers' Sandy Koufax pitched a perfect game.)
In the top of the first, Hendley set down the first two Reds he faced — Leo Cardenas on a fly to left and Pete Rose on a grounder to short — but Vada Pinson "slammed a two-out double down the right-field line and moments later scored on [Frank] Robinson's sharp single to left."9
As it turned out, that would be the only run Maloney needed, although the Reds added a another in the third inning, when Pete Rose drew a one-out walk, went to third on Pinson's second hit of the day, and crossed the plate on a sacrifice fly to center by Robinson to close out the scoring.
By then Maloney had begun his record-tying streak of strikeouts: He ended the home half of the first by striking out Eddie Mathews on a fastball, then struck out the side in the second — Norm Larker and Frank Bolling on curves and Denis Menke on a fastball — and did it again in the third, getting Del Crandall on a curve and then Hendley and Mack Jones on fastballs.10
Maloney started the fourth inning by getting Lee Maye on a fastball for a called third strike before facing Henry Aaron, the last Brave who had put a ball into play against him. On a 2-and-2 pitch, Maloney threw a slow, side-arm curve, which Aaron bounced to third, ending the streak.11 After the game Aaron suggested that if Maloney had thrown him a fastball instead, his streak might have gone on longer. "I'd've been a dead duck," he told a sportswriter.12 Maloney closed out the inning by striking out Mathews, who fanned three times in the game.
Through seven innings, Maloney had 15 strikeouts but the cold and the pitch count began to wear on him. "I lost a little fire off my fastball and as a result had trouble getting it in the strike zone," he said.13 In his 8⅓ innings, by one account, he threw 154 pitches.14 Another story set the number at 142.15
Maloney managed to last into the ninth, when he walked Maye leading off, struck out Aaron, and then walked Mathews. When he went to two balls and no strikes on Larker, Fred Hutchinson replaced him with reliever Bill Henry and the game took on a brief moment of drama as Bragan sent Joe Torre up to pinch-hit to finish Larker's at-bat. Torre grounded to second baseman Rose, who apparently had a shot at a game-ending double play if he'd thrown to Cardenas covering second, but he threw to first instead, putting the tying run in scoring position with Bolling due to hit.16 The threat did not turn into damage, however: Henry retired the two-time all-star second baseman on a fly to right, and the Reds reached .500 for the first time since the second game of the season.
After the game, the Braves, not surprisingly, heaped praise on Maloney. Bragan said, "[He] just overpowered us," while Aaron added, "He was faster than anyone else I've seen this season … faster than Sandy Koufax. At least for tonight."17 Mathews told an Associated Press reporter, "I've never seen anyone throw better. Certainly no one has ever thrown harder. And believe me, the fastball was moving."18
Maloney's long outing in the cold perhaps affected his next start, when he was not as sharp as he had been in Milwaukee, going seven innings and allowing five runs on nine hits and three walks in a 10-4 loss to Philadelphia. After that, he reeled off five consecutive victories on his way to what was statistically the finest season of his career: He closed the year at 23-7 with a 2.77 ERA and a career-high 265 strikeouts, good for second in the league after Cy Young Award winner Koufax, who rang up 306; Maloney's 9.57 strikeouts per 9 innings pitched led the league.
This article appears in "From the Braves to the Brewers: Great Games and Exciting History at Milwaukee's County Stadium" (SABR, 2016), edited by Gregory H. Wolf. To read more stories from this book at the SABR Games Project, click here.
Notes
1 Earl Lawson, "Freese Big Question Mark in Reds Bid to Regain Flag," The Sporting News, March 9, 1963, 20.
2 Unless otherwise noted, all statistics come from Baseball-Reference.com and Retrosheet.org.
3 C.C. Johnson Spink, "Fearless Forecast: Yanks, Reds to Win Flags," The Sporting News, April 13, 1963, 7.
4 Earl Lawson, "Reds Turning Cartwheels Over Mound Ace Maloney," The Sporting News, May 18, 1963, 15.
5 "Purkey Shows No Shoulder Woes in Posting First Win," The Sporting News, May 25, 1963, 19.
6 "Reds Turning Cartwheels."
7 Lou Chapman, "Record? It Was News to Reds' Jim," Milwaukee Sentinel, May 22, 1963, Part 2, Page 2.
8 Earl Lawson, "Maloney Masters Bender, Rates as Red Ace," The Sporting News, June 8, 1963, 7.
9 Lou Smith, "Maloney Fans 16 Braves As Reds Win 2-0," Cincinnati Enquirer, May 22, 1963, 1.
10 "Braves Call Maloney 'Best in Business,'" Wichita Falls (Texas) Times, May 22, 1963, 3B.
11 Ibid.
12 Ibid.
13 Smith.
14 Chapman.
15 "Braves Call Maloney Best …"
16 Bob Wolf, "Braves Patsy Once, Maloney Isn't Now," Milwaukee Journal, May 22, 1963, part 2, 17.
17 Lawson, "Maloney Masters Bender."
18 "Braves Call Maloney 'Best …'"
Additional Stats
Cincinnati Reds 2
Milwaukee Braves 0
---
County Stadium
Milwaukee, WI
Box Score + PBP:
Corrections? Additions?
If you can help us improve this game story, contact us.
Tags
https://sabr.org/sites/default/files/images/MaloneyJim1.jpg
600
800
admin
/wp-content/uploads/2020/02/sabr_logo.png
admin
2018-04-04 12:48:10
2020-04-17 10:24:50
May 21, 1963: Reds' Jim Maloney strikes out eight consecutive Braves batters