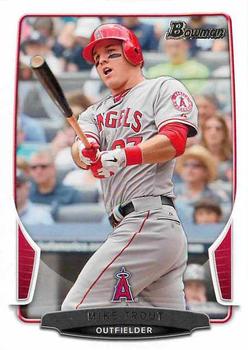 May 21, 2013: Angels' Mike Trout becomes youngest player in AL history to hit for cycle
---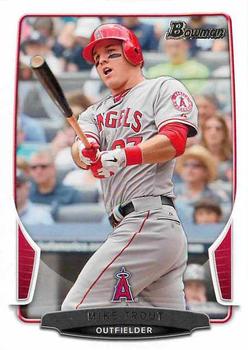 Mike Trout became the youngest player in American League history to hit for the cycle and drove in a season-high five runs as host Los Angeles handed Seattle its fifth straight loss. A crowd of 34,095 was on hand at Angel Stadium of Anaheim to see Trout add to his incredible résumé.
The Angels started the season with a 9-17 record in April, and they came into this contest with eight wins in 18 games for the month of May. Entering this 45th game of the season, the Angels were already 11 1/2 games behind division leader Texas. Seattle was struggling as well, in the midst of a four-game losing streak.1 The Mariners had just been swept in four games by Cleveland, losing three in walk-off fashion. So, on this Tuesday evening, two veterans took to the mound: Aaron Harang for the visitors and Jerome Williams for the home team.
The Angels jumped on Harang in the opening frame, although Trout didn't contribute. He was called out on strikes between a double by Erick Aybar and an RBI single by Albert Pujols. A deep home run over the wall in left-center by Josh Hamilton accounted for three quick runs. In the third, Trout singled and stole second, but he was left stranded. An inning later, Hamilton led off with a triple into the right-field corner. Howie Kendrick blasted a bomb to deep right-center. Alberto Callaspo doubled to right. Two outs later, Aybar traded places with Callaspo after a double to center. Trout then launched an RBI triple to deep center. The Angels had five hits and four more runs, and Danny Farquhar was called from the Seattle bullpen to relieve Harang.
In the Angels sixth, the scoring continued. They loaded the bases on two walks and a single. Mariners manager Eric Wedge yanked Farquhar and brought in Lucas Luetge to pitch. On the first pitch from Luetge, Trout cleared the bases with a double to left, adding three RBIs to his personal box score. He then scored on Pujols' second RBI single of the game. The Angels now led, 11-0.
With one out in the eighth, Trout came up and took the first two pitches. On the next offering, Trout deposited the ball over the fence in deep right-center. He raced around the bases to the roar of the crowd, and later commented,"I didn't really think about it until the eighth inning. I'm in the outfield, I'm like, 'Man, I got a triple, double, and a single.' And I got to 2-and-0 there, and I said, 'Hey, if I'm going to hit one, it's going to be this pitch.'"2 He added, "It was in the back of my mind, trying to hit a home run. I just barreled it up and it went out. It feels great."3 Even Wedge was impressed, saying, "That last pitch he hit for a home run, he took it off the ground and drove it the other way. Just a young, special player."4
Trout went 4-for-5 and his ninth homer of the season completed the cycle at the age of 21 years and 287 days. Mel Ott of the New York Giants is the youngest player ever to hit for the cycle, accomplishing the honor when he was 20 years and 75 days old in 1929.
The reigning American League Rookie of the Year appraised his performance modestly: "It's just a dream come true. To stand here after a night like this is definitely up there on my list of personal [accomplishments]. Triple, double, home run, and a single. It's tough to do, and hopefully, there's more to come."5 Can Trout do it again? Manager Mike Scioscia told reporters, "Just seeing his talent, you have to really shake yourself, because he's 21 years old. He has so many ways that he can help you win a game. Stolen base tonight, looked good in the outfield and obviously in the batter's box, had an incredible night. If I'm a betting man, I've got to believe there's another cycle in his career somewhere."6
The Los Angeles Angels of Anaheim had gone 20 days without gaining a game on the Texas Rangers.7 However, this win was their third in a row, part of a season-high eight-game winning streak. Trout started a seven-game hitting streak for himself, raising his average to .343 for the month of May. His amazing accomplishment was a "high point in an Angels season that has been filled with lows."8
There were a few other heroes wearing Angels uniforms. Hamilton celebrated his 32nd birthday by smashing a triple and home run for the Angels. Kendrick also added two blows, including a two-run home run in the fourth. Pujols also knocked in two, going 2-for-4. On the mound, Williams held the Mariners to six hits over eight innings, striking out six batters and lowering his ERA to 2.53 in picking up his third win of the season (against one loss). This was his longest outing of the season as well, and his teammates gave him more run support than in his previous three starts combined. Mark Lowe pitched the ninth, walking Raul Ibanez and retiring three Mariners on fly balls.
Seattle's Harang allowed five extra-base hits, all in the fourth inning. He was charged with seven of the Angels' 12 runs, causing his ERA to balloon to 8.58, and his record dropped to 1-5. He received no offensive support. Seattle's batters managed just five singles and a double, and they drew three walks, but only three runners reached as far as second base.
Trout became just the sixth player in Angels history to accomplish a cycle and the first to do so while also driving in five or more runs. The other Angels to hit for the cycle (as of 2016) are Jim Fregosi (July 28, 1964, and May 20, 1968), Dan Ford (August 10, 1979), Dave Winfield9 (June 24, 1991), Jeff DaVanon (August 25, 2004), and Chone Figgins (September 16, 2006). Trout also became the sixth player to hit for the cycle against the Mariners.10
As a final note of interest, Mike Trout hit for a natural cycle11 in four consecutive All-Star Games. In 2012 he singled against R.A. Dickey in the sixth inning (and then stole second base). In 2013 he doubled to right off Matt Harvey to lead off the game. In 2014 he tripled to center field on a full count off of Adam Wainwright in the top of the first, driving in a run; he also doubled to left in the fifth inning. In 2015, again leading off the game, he homered on a line drive off Zack Greinke, to complete the career All-Star Game cycle.
Sources
In addition to the sources mentioned in the notes, the author consulted baseball-reference.com, mlb.com, and retrosheet.org.
Notes
Additional Stats
Los Angeles Angels of Anaheim 12
Seattle Mariners 0
---
Angel Stadium
Anaheim, CA
Box Score + PBP:
Corrections? Additions?
If you can help us improve this game story, contact us.
Tags
http://sabr.org/sites/default/files/TroutMike-2013Bowman.jpg
600
800
admin
/wp-content/uploads/2020/02/sabr_logo.png
admin
2016-12-13 17:29:10
2020-04-17 10:25:58
May 21, 2013: Angels' Mike Trout becomes youngest player in AL history to hit for cycle