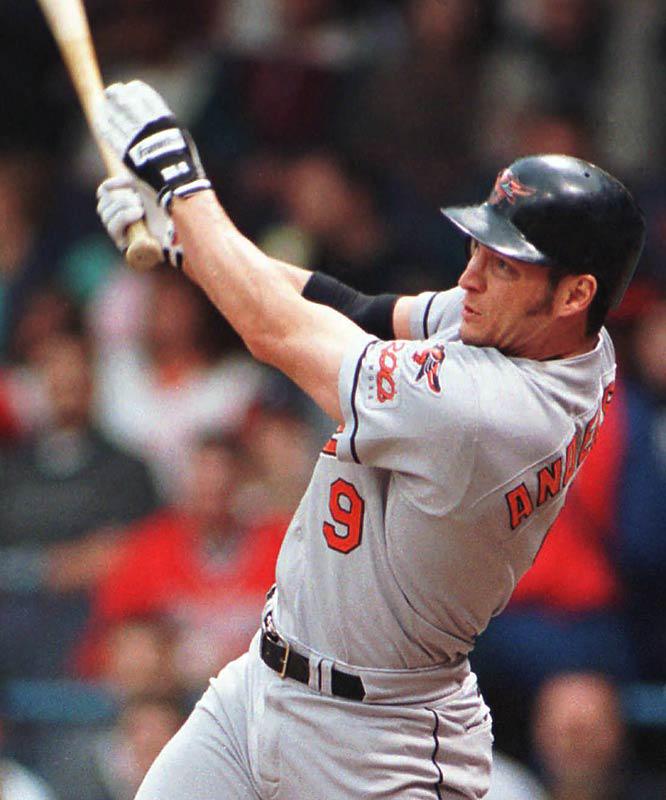 May 23, 1999: Orioles celebrate Texas BBQ night by grilling Rangers in 10-run inning
---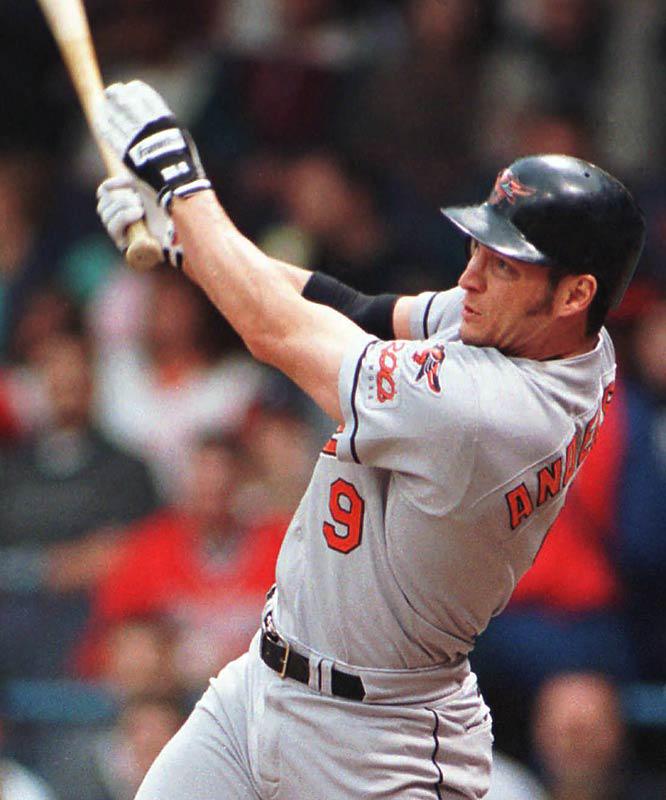 On ESPN's Sunday Night Baseball, a national cable audience watched the Baltimore Orioles set a few records as they pounded the Texas Rangers, 15-6. A crowd of 40,516 packed Oriole Park at Camden Yards to celebrate a promotion called Texas Barbecue Night, and they were treated to Baltimore batters "grilling a couple of Texas pitchers."1 The Orioles tied a club record by putting 10 runners across home plate in one inning. Brady Anderson, Baltimore's leadoff batter, became the first American Leaguer to be hit by a pitch twice in an inning.2
Baltimore, mired in last place in the American League's East Division with a record of 15-27, hosted the West Division's first-place Rangers in the final contest of a three-game series. Mike Mussina started the game for Baltimore, opposed by the Rangers' Mike Morgan. Morgan had once pitched for Baltimore, in 1988 when the Orioles suffered through their infamous 0-21 start.
Tom Goodwin led off for Texas with a double to center field. After Mussina retired Mark McLemore and Rusty Greer, two-time American League MVP Juan Gonzalez stroked an RBI single to right, giving Texas an early lead.
That lead soon evaporated. According to the Baltimore Sun, "The Orioles Run Pump – which displays the running total of each Orioles rally on the JumboTron scoreboard at Camden Yards – nearly blew a gasket in the first inning."3
Anderson led off the bottom of the first by taking a 1-and-2 Morgan fastball in his back. Mike Bordick singled to left, advancing Anderson to third. B.J. Surhoff plated Anderson with a sacrifice fly, fielded by Texas shortstop Royce Clayton. Albert Belle walked, and Jeff Conine doubled to left, driving home Bordick. Cal Ripken Jr. followed with a two-run double and moved to third when Delino DeShields singled to right field. Ripken scored when Rich Amaral sent a fly ball to center for the inning's second sacrifice fly. Charles Johnson singled to left, bringing up Anderson for the second time. The Orioles had batted around and had already scored five runs on five hits. This second time, Morgan's offering to Anderson hit him in his right leg, loading the bases and sending Morgan to the showers. Texas manager Johnny Oates brought in John Burkett. Bordick lined Burkett's 3-and-1 pitch down the left-field line, clearing the bases. Three pitches later, Surhoff crushed a ball far beyond the right field fence for his seventh home run of the season. Burkett finally struck out Belle looking to end the inning.
Thirteen Baltimore batters had come to the plate, and 10 of them had scored. Anderson scored each time he was hit by a pitch. Oates commented, "It's like a heavyweight championship fight. You come running out of your corner and he hits you with the first punch, right to the chin."4 Anderson, when told his name would go into the record books, said, "I like that. It's quite a thrill."5
Baltimore scored again in the third on Johnson's solo homer. Another tally was added in the fifth inning on an RBI single by Anderson. Meanwhile, Mussina allowed one run on six hits and two walks through six innings. In the seventh, however, he seemed to tire. With his pitch count already in the 90s, he gave up a double to Lee Stevens and a single to Clayton. Stevens scored on a double play, and then McLemore laced a single to right. Greer flied out to left to end the inning, and Baltimore skipper Ray Miller kept Mussina in the dugout when the eighth inning started. Rocky Coppinger came on in relief, with the score standing at 12-2. He allowed two runs in the eighth and two more in the ninth, as Rafael Palmiero, Gonzalez, and McLemore all homered for Texas.
The Orioles grabbed three runs back in their half of the eighth inning. Danny Patterson relieved Burkett to start the inning, and Bordick greeted him with a line-drive double to left. After two groundouts, including an RBI grounder from Belle, Conine singled, Jeff Reboulet (who had entered the game in the sixth to replace Ripken) walked, and DeShields doubled home Conine with the Orioles' final run. In a game that lasted 2 hours and 49 minutes, Baltimore had roasted Texas, 15-6.
The Orioles closed a six-game homestand with a 3-3 record. This victory, Mussina's seventh of the season, was his sixth without a loss (including two shutouts) at Camden Yards. Mussina tipped his hat to his teammates, saying, "To get runs like that in the first inning makes my job quite a bit easier."6 For the Rangers, Morgan had faced 10 batters and had thrown 32 pitches. He was charged with eight earned runs, and his ERA shot up almost a run and a half, to 6.26. Burkett allowed four runs in 6⅓ innings, and his ERA zoomed to 11.19. Patterson's three earned runs in one inning of work increased his ERA to 6.75. In their last seven games, Texas starters were 0-5 with a 12.38 earned-run average.7 The Rangers were glad to leave town.
The Orioles players "apparently enjoy spending Sunday with the Rangers,"8 as they had scored 16 runs against Texas a week earlier at The Ballpark in Arlington. Ray Miller said, "We swung the bat well. I think going into this game we were 2-4 against Texas and we were hitting about .355 against them."9 Baltimore banged out 15 hits. They left only five runners on base; the Rangers left on had 10. Every Baltimore starting batter scored at least one run. Eight different hitters drove in runs.
For the season, the two teams split 12 games and scored 155 runs between them. Despite the two Baltimore blowouts, the Rangers still won its division crown. Baltimore improved to 75-77 as September wound down, but won only three of its final 10 games (against the Red Sox and Yankees) to finish in fourth place in the East. The Orioles had spent all but three days of the season in either fourth or fifth place.
Orioles players were hit by pitches 61 times in 1999. Anderson led the majors. Pitchers nicked him 24 times. That was the highest total in the American League in 12 years, since Don Baylor was hit 28 times in 1987.
The Orioles' big inning on May 23 was the fourth 10-run inning by an Orioles team. They did it against the Yankees on July 8, 1969 (fourth inning), at Memorial Stadium; then against the Oakland A's on April 29, 1979 (seventh inning), at Oakland-Alameda County Stadium; and against the Seattle Mariners on August 21, 1985 (third inning), at the Seattle Kingdome. The 1999 feat was the first time Baltimore did it in the first inning and the first time it happened in their home ballpark. The 10-run burst was four runs shy of the American League record. On June 18, 1950, the Cleveland Indians scored 14 runs in the first inning against the Philadelphia Athletics.10 The Boston Red Sox tied that record in an interleague game against the Florida Marlins on June 27, 2003.
Sources
In addition to the sources mentioned in the notes, the author consulted baseball-reference.com and retrosheet.org.
http://baseball-reference.com/boxes/BAL/BAL199905230.shtml
http://retrosheet.org/boxesetc/1999/B05230BAL1999.htm
Notes
Additional Stats
Baltimore Orioles 15
Texas Rangers 6
---
Camden Yards
Baltimore, MD
Box Score + PBP:
Corrections? Additions?
If you can help us improve this game story, contact us.
Tags
https://sabr.org/sites/default/files/Anderson-Brady.jpg
600
800
admin
/wp-content/uploads/2020/02/sabr_logo.png
admin
2017-07-07 14:39:35
2020-04-17 10:25:48
May 23, 1999: Orioles celebrate Texas BBQ night by grilling Rangers in 10-run inning