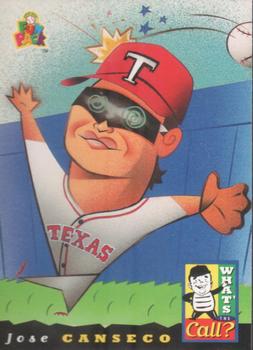 May 26, 1993: Ball bounces off Jose Canseco's head and caroms over the fence
---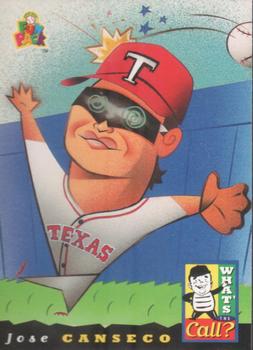 It has been said that when fans attend a major-league baseball game, more often than not they may see something happen on the field that they had never seen before. This statement may seem a tad silly. After all, how many different actions could happen during the course of a ballgame that had not been witnessed before?
Still, that is the claim many fans make. And on May 26, 1993, at Cleveland Stadium, the Texas Rangers, the Cleveland Indians, the umpires, and the 14,305 spectators no doubt did a double take at one certain play. If you listened closely, you might actually hear the venerable broadcaster Jack Buck proclaim, "I don't believe what I just saw!"
Texas and Cleveland were closing out a three-game series. The teams had split the first two games. In the opener, Cleveland received a surprise pitching performance when spot starter Tom Kramer threw a complete-game one-hitter at the Rangers. Texas turned the tables in the second game behind the pitching of Charlie Leibrandt, who won his fifth game of the year in a 5-1 victory.
The two teams were going in separate directions. The Indians were mired in last place in the American League East, 11 games behind front-running Detroit. The Indians, and the city of Cleveland, were celebrating their last season at Cleveland Stadium. A new open-air, baseball-only ballpark awaited them for the 1994 season. Although the Indians had little success in the old ballpark, there was quite a bit of sentiment: The team would leave its home after decades of baseball.   
Texas, on the other hand, was in the thick of the race in the AL West. Chicago was leading the division, but the Rangers and California were only a game back. Kansas City was three games behind and Seattle four. The Rangers were preparing to say goodbye to a couple of old friends. They would be moving into a new ballpark in Arlington. They were moving out of Arlington Stadium, the only home they had known since 1972, when the franchise moved to Texas from Washington. Also, the Rangers' Nolan Ryan was calling it quits after the season, his 27th year. The 11-time strikeout champ and author of seven no-hit games had been battling various injuries over the last two seasons and was pitching less often. But he could still draw a crowd when he was on the hill.
The starting pitchers for the third game were Kenny Rogers (3-3, 5.31 ERA) for Texas and Jose Mesa (4-3, 3.08 ERA). Rogers, a left-hander, was in his fifth season with Texas. He had been a reliever in his first four seasons, but Texas manager Kevin Kennedy moved him to the starting rotation in 1993.
As for Mesa, he was acquired from Baltimore in 1992 for minor-league outfielder Kyle Washington. It turned out to be one of the great trades in Indians history. Mesa, like many other pitchers, would make the switch from being a starting pitcher to a reliever, and became one of the major leagues' greatest relievers. But in 1993 he was being used as a stopgap starter. Injuries to starters Charlie Nagy, Mike Bielecki, and Bob Ojeda had decimated the Indians' rotation and they were looking for anyone with a strong arm, right or left. Mesa's start against the Rangers came on only three days' rest, as he took an injured Bielecki's turn in the rotation.
Texas struck first with three runs in the top of the first inning. Julio Franco and Rafael Palmeiro each homered, with Palmeiro's being a two-run job. But David Hulse, Jose Canseco, and Dean Palmer all struck out. Mesa struck out the side but gave up three runs.
The Indians scratched for a run in the bottom of the third to close the gap to 3-1. In the bottom of the fourth inning, Carlos Martinez led off and lifted a fly ball to right field. Canseco drifted back toward the warning track with his glove hand extended upward to catch the ball. Inexplicably, the ball evaded his glove, hit the top of his head, and bounced over the wall for a home run. Center fielder Hulse had come over on the play to back up Canseco and was cracking up laughing at what he just saw, as Canseco seemed stunned and kept looking at his glove.
In the days before replays were shown on the scoreboard (at least in Cleveland), people were wondering if what they thought they saw was in fact true. But there was Martinez circling the bases after connecting for his fourth home run of the season. "I thought it was gone," said Martinez. "Then I thought he was going to catch it. Then I saw it hit him in the head and bounce out. You've got to laugh at something like that. It's kind of funny, but that's the way this game is."1    
Hilarities aside, the Indians weren't done. Rogers, who may have been a bit unnerved, hit the next batter, Reggie Jefferson, and walked Glenallen Hill. But he settled down to retire Alvaro Espinoza on a fly out and Junior Ortiz on a comebacker. But then he walked Thomas Howard to load the bases and Felix Fermin's single to right field plated Jefferson and Hill and gave the Indians a 4-3 lead. 
The score remained 4-3 Cleveland through five innings. Cleveland skipper Mike Hargrove went to his bullpen, as Mesa gave him five innings and left with the lead. "When Rick Adair (Cleveland pitching coach) came back from the bullpen after watching (Mesa) warm up, he said, 'He's got nothing. We'll be lucky to get five innings out of him,'" said Hargrove. "He had to pitch and did a nice job."2
In the bottom of the sixth, Cleveland extended its lead to 7-3. Espinoza led off with a single and was sacrificed to second by Ortiz. After Howard grounded out, Fermin singled to center, scoring Espinoza. Carlos Baerga tripled Fermin home and the Rangers' Kennedy summoned Jeff Bronkey to replace Rogers. Albert Belle greeted him with a double to left field to score Baerga.
The Rangers scored a run each in the seventh, eighth, and ninth innings to make the final score 7-6. Mesa (5-3) got the win while Eric Plunk was credited with his third save of the season.
The talk in the clubhouse was not so much the Indians' win, but the baseball hitting Canseco in the melon and caroming over the wall for a home run. "Everybody else was looking for the ball on the ground," said Hargrove. "I've seen guys knock the ball over the fence with their gloves for home runs, but I've never seen somebody get hit in the head and have the ball go over the fence. I can't believe he was still standing. If I got hit with a ball like that, I'd be knocked flat."3      
"I'll be on ESPN for a month," said Canseco. "I'm entertaining. How can I be embarrassed? I've been through it all in baseball."4
The Indians (76-86) ended their last season at Cleveland Stadium in sixth place. Texas (86-76), finished in second place in the AL West, eight games behind first-place Chicago.      
Sources     
The author accessed Baseball-Reference.com for box scores, play-by-play information, and other data, as well as retrosheet.org.
baseball-reference.com/boxes/CLE/CLE199305260.shtml
retrosheet.org/boxesetc/1993/B05260CLE1993.htm
Video: youtube.com/watch?v=QixQMUu4CKI
Notes
1 Paul Hoynes, "Conk! Tribe Wins by a Head, Homer Hits off Canseco's Noggin," Cleveland Plain Dealer, May 27, 1993: 1D.  
Additional Stats
Cleveland Indians 7
Texas Rangers 6
---
Cleveland Stadium
Cleveland, OH
Box Score + PBP:
Corrections? Additions?
If you can help us improve this game story, contact us.
Tags
https://sabr.org/sites/default/files/CansecoJose-1993.jpg
600
800
admin
/wp-content/uploads/2020/02/sabr_logo.png
admin
2019-03-26 11:44:48
2021-05-27 07:13:01
May 26, 1993: Ball bounces off Jose Canseco's head and caroms over the fence