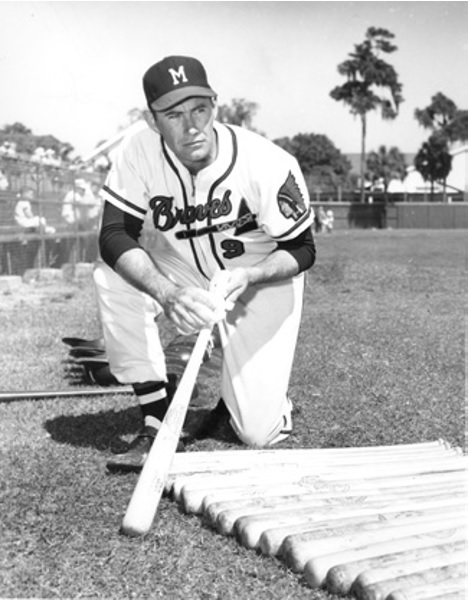 May 27, 1958: Braves win on Adcock's walk-off pinch homer
---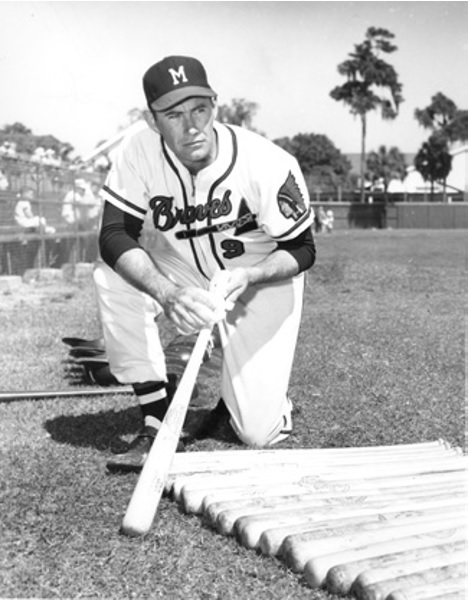 Joe Adcock was a slugger. On July 31, 1954, the Milwaukee Braves first baseman equaled a major-league record with four home runs in one game at Brooklyn's Ebbets Field. In 1956 he tied for second in the National League with 38 homers, more than his Hall of Fame teammates Hank Aaron and Eddie Mathews. Only 22 major leaguers had hit 300 career home runs before Adcock reached that mark in 1964.1
But after Adcock suffered two serious leg injuries in 1957 that limited his effectiveness in the field, Braves manager Fred Haney began platooning the right-handed-hitting Adcock with Frank Torre, who swung from the left side — even though Adcock hit almost as many home runs in just 65 games in 1957 (12) as Torre hit in his 714-game major league career (13).2
Adcock wasn't happy about the job-share arrangement. "I hit right-handers better than left-handers," he maintained. "And I'm against platooning. I want to play. … I'm not knocking the game or anybody connected with it [apparently referring to Haney and Torre]. I just want to play."3 (Adcock was right about his success against right-handed pitchers. According to statistics compiled by Retrosheet, he hit .280 in his major-league career against righties, .271 against lefties. In addition, he hit home runs in 5.3 percent of his at-bats against righties compared with 4.7 percent against portsiders.)
With righty Sam Jones on the mound for the Cardinals on May 27, 1958, at County Stadium, Torre got the call to play first base. But Adcock would wind up as the game's hero.
Jones and Braves ace Warren Spahn cruised through the first four innings until the Cardinals' 20-year-old rookie center fielder, Curt Flood, acquired from Cincinnati the previous winter, homered on an 0-and-2 pitch to put St. Louis on top, 1-0, in the fifth. The visitors added to their lead in the seventh when Don Blasingame drew a four-pitch walk after Spahn had walked Hal Smith intentionally to load the bases.4 The Cardinals tried to put another run on the board in the top of the ninth, as Ken Boyer tried to steal home with two out and two strikes on Jones, but strike three was called to end the inning.5
Meanwhile the Braves managed just two hits off Jones, both singles (one of them by Spahn), through eight innings and did not get a runner past second base.
With his club down 2-0. Eddie Mathews opened the bottom of the ninth by pulling a groundball that skipped under the glove of Cardinals first baseman Stan Musial for a single. Jones then hit Wes Covington on the leg with a two-strike pitch. That put the tying run on base. Haney asked Torre to advance the runners with a bunt, but third baseman Boyer fielded the ball and threw to shortstop Dick Schofield covering second to force pinch-runner Felix Mantilla, with Mathews moving to third.6 Eddie Haas went in to run for Torre.
Johnny Logan was Milwaukee's next batter, and it appeared his hard-hit groundball would end the game. It appeared to be a tailor-made double play. Blasingame fielded it and tossed to Schofield for the out at second base, but first-base umpire Vic Delmore ruled Logan beat Schofield's throw to first, a ruling that led to a vehement protest from the Cardinals.7 "The guy [Delmore] put his arm up to call him safe 10 feet before the ball, man, or anybody got there," St. Louis manager Fred Hutchinson groused after the game.8
When the dust settled, Mathews had scored, Logan was on first as the tying run, and the Braves had center fielder Bill Bruton due up.
Bruton had made his 1958 debut just three days earlier, his first appearance since tearing ligaments in his right knee the previous July.9 Down to his last out, Haney called Bruton back to the dugout and sent Adcock to the plate to hit for him — even though Bruton batted left-handed and Adcock swung from the right side. Haney wouldn't start Adcock against the right-handed-throwing Jones, but he was willing to put Adcock at the plate against him with the game on the line. He chose Adcock over left-handed swingers Carl Sawatski and Harry Hanebrink, both still on the Braves' bench.
"This was no time to worry about percentage," Haney explained afterward. "You pick the hitter with the best chance of getting you a home run."10
Jones's first pitch was a curve that was outside the strike zone. His second pitch was a fastball, letter-high and a little inside. Adcock swung and deposited the ball in the left-center-field bleachers, a blast estimated to have traveled 450 feet, and the Braves had turned a 2-0 ninth-inning deficit into a 3-2 victory.11
Talking with reporters after the game, Adcock confirmed that he had been sent to the plate with one mission. "That's what Haney told me — 'Go for the long one. We need a home run and you're the guy who can do it.' Turned out he was right.
"Not often you can do it in a spot like that. You strike out a lot more often, and then you're a bum. But I went up there looking for my kind of ball, and I got it."12
In the aftermath of Adcock's game-winning homer, the Braves lost the pennant — namely, a 37-foot-by-15-foot banner that hung from the left-field bleachers, honoring the Braves as the 1957 World Series champions. Two Marquette University students took it down in the hubbub after the home run and ran off with it. The next morning they turned themselves in at the office of Milwaukee County district attorney William McCauley. "It was like pulling down the goal posts," one of the students said. "We don't think it's funny this morning," the other added. Braves general manager John Quinn refused to press charges, and McCauley let them go without releasing their names after the young men apologized to team officials.13
Adcock's homer was the third of 12 pinch-hit home runs he hit in his career and the second of three game-ending home runs. What would have been a fourth walk-off blast is one of the most famous hits in baseball history. Adcock hit a ball that went over the County Stadium fence in the 13th inning on May 26, 1959, that ended a no-hitter by Pittsburgh's Harvey Haddix and gave the Braves a win. But when Hank Aaron, who had been on first base, ran to the dugout after touching second, Adcock was called out for passing him on the bases. Instead of a three-run homer, Adcock was officially credited with a double that scored Felix Mantilla from second.
This article appears in "From the Braves to the Brewers: Great Games and Exciting History at Milwaukee's County Stadium" (SABR, 2016), edited by Gregory H. Wolf. To read more stories from this book at the SABR Games Project, click here.

Notes
1 Gregory H. Wolf, "Joe Adcock," Thar's Joy in Braveland: The 1957 Milwaukee Braves (Phoenix: Society for American Baseball Research, 2014): 20.
2 Gregory H. Wolf: 23.
3 Cleon Walfoort, "Last Bet Pays Off; Haney Put All of His Money on Adcock," Milwaukee Journal, May 28, 1958: 19, part 2.
4 Details on the pitch counts from Bob Wolf, "With One Swing, Adcock Changes Defeat to Victory," Milwaukee Journal, May 28, 1958: 21, part 2.
5 Red Thisted, "Adcock's 2-Run Pinch HR in 9th Beats Cards," Milwaukee Sentinel, May 28, 1958: 3, part 2.
6 Ibid.
7 Ibid.
8 Lou Chapman, "Joe Got HR Haney Wanted," Milwaukee Sentinel, May 28, 1958: 3, part 2.
9 John Harry Stahl, "Bill Bruton," Thar's Joy in Braveland: The 1957 Milwaukee Braves (Phoenix: Society for American Baseball Research, 2014): 30.
10 Walfoort.
11 Bob Wolf.
12 Walfoort.
13 "Braves' Series Flag Back," Milwaukee Sentinel, May 29, 1958: 3, part 2.
Additional Stats
Milwaukee Braves 3
St. Louis Cardinals 2
---
County Stadium
Milwaukee, WI
Box Score + PBP:
Corrections? Additions?
If you can help us improve this game story, contact us.
Tags
https://sabr.org/sites/default/files/Joe%20Adcock.jpg
600
800
admin
/wp-content/uploads/2020/02/sabr_logo.png
admin
2018-03-27 19:14:23
2020-04-17 10:24:52
May 27, 1958: Braves win on Adcock's walk-off pinch homer