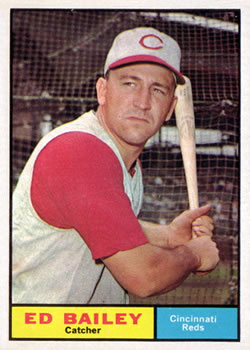 May 27, 1960: Ed Bailey's grand slam in ninth wins it for Reds
---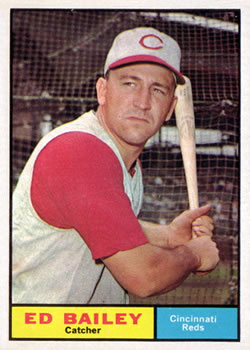 On a stormy Friday night in Cincinnati, the Reds won a dramatic victory over the Milwaukee Braves on a grand slam by catcher Ed Bailey in a tie game with two outs in the bottom of the ninth inning. The Reds overcame a five-run deficit built by two home runs from the Braves' Eddie Mathews in what was billed as a battle for third place in the National League.
Mathews' home run in the first inning was a solo shot over the center-field fence off the Reds' starter, changeup artist Bob Purkey. The Braves picked up a second run in the third when 37-year-old Red Schoendienst singled home Bill Bruton, who had reached second on a single and a stolen base.
Joe Adcock doubled in the fourth and scored after a sacrifice bunt by Johnny Logan and a sacrifice fly by Al Spangler. The Braves pushed the lead to 5-0 with two more runs in the top of the fifth thanks to Mathews' second home run, a towering two-out drive to the right-field moon deck. Mathews' homer brought home Schoendienst, who was playing in his 2,000th major-league game.
Braves starter Lew Burdette gave up four earned runs and was lifted after pitching 4⅓ innings. The Reds had threatened in each of the first three innings but were unable to score, even after putting the first three men on base in the first.
Returning to the mound after a 55-minute rain delay in the fourth, right-hander Burdette went to pieces in the Reds' noisy fifth. With one out, the Reds' Eddie Kasko and Vada Pinson reached on singles and both scored on a double by Gus Bell. Frank Robinson followed with a sharp single to left but Bell stopped at third.
Burdette then departed after four straight hits, leaving two men on base. Bell scored when Jerry Lynch singled off Braves reliever Bob Rush, moving Robinson to third. Rush eventually allowed the second of two runners he inherited from Burdette to score when Ed Bailey managed a sacrifice fly, cutting the Braves lead to one run at 5-4.
In the bottom of the sixth Adcock failed to cover first base on Elio Chacon's bunt to pitcher Rush. (It was scored a single.) Vada Pinson followed with a triple to tie the score, 5-5.
Ken MacKenzie entered the game for the Braves and was unhittable until the dramatic home half of the ninth. The Reds recorded one out before Pinson hit another triple off the Crosley Field scoreboard. Despite watching his young pitcher retire eight straight hitters and strike out the last three hitters, Braves manager Chuck Dressen called for intentional walks to Bell and Robinson, the third and fourth hitters in the Reds lineup.
Dressen decided not to bring in the recently ineffective reliever Don McMahon. And he hoped the rookie southpaw MacKenzie would be able to handle two left-handed hitters, Lynch and Bailey. MacKenzie responded immediately by throwing three straight strikes past Lynch for the second out of the inning. He had a 1-and-1 count on Bailey before the Cincinnati catcher drove one into the right-field stands. It was the third grand slam of Bailey's career.
Jim Brosnan was credited with the win, a reward for pitching shutout ball for the last four innings and allowing only a harmless double to Spangler in the sixth.
A day later Dressen said the Reds were a tough club to beat in Crosley Field. "A five-run deficit doesn't mean a thing to them. Their pitching has also been underrated. That big, tow-headed guy, (Jim Brosnan) did a great job of relief pitching Friday night."1
Dressen went on to explain that Bailey had hit "a fast ball that my kid pitcher (Ken MacKenzie) got too far inside."2 MacKenzie, as it turned out, would pitch only 8⅓ innings for the Braves in 1960 with an earned-run average of 6.48. Until Bailey touched him for the ninth-inning grand slam, MacKenzie seemed to be on the way to better results.
Burdette had been a last-minute substitute for planned starter Carl Willey, the Sporting News Rookie of the Year in 1958 who had already notched two wins against the Reds in the first two months of the season. Willey was called back to Milwaukee because of the illness of his wife. Willey returned to the team to start and take the loss on Sunday when Pinson swatted a two-run homer in the bottom of the ninth, allowing him to walk off with a 4-2 Reds win.
After ending a long contract holdout on March 19, Burdette had chafed at the way Dressen planned to use him in 1960, fearing that he'd lose a chance to win 20 games for the third consecutive year.3 He would finish the year with a 19-13 record and lead the Braves staff in innings pitched. He pitched a no-hitter against the Phillies on August 18, coming within one batter of a perfect game.
The Braves' dramatic loss, paired with another to the Reds on Sunday, brought an end to a particularly horrible month. The Braves lost 11 games in May 1960 and had 11 games postponed by bad weather. Seven of their losses were in games in which they led or were tied in late innings.4 With McMahon faltering, their bullpen was in turmoil. Bob Rush, who relieved Burdette and squandered the last of the Braves' early lead, was sold to the Chicago White Sox on June 11. Canadian pitcher MacKenzie, who took the loss, was demoted to Louisville of the American Association.
The night's star, Ed Bailey, became the Reds' regular catcher in 1956 and went on to become a five-time All-Star. A big left-handed power hitter popular with Reds fans, he had a reputation as an excellent pinch-hitter and drew respect from his peers. Stan Musial said of Bailey, who finished his 14-year career with 155 home runs, "Watching this strong, beautifully built man hit, I've often felt that if he didn't try to pull every pitch, but just met the ball, his natural power would carry it out of any ballpark – more often."5
But Bailey was never shy about his own talents. A 1958 Saturday Evening Post article by Earl Lawson, beat writer for the Cincinnati Post and Times-Star, called him "baseball's cockiest star."6 The article described him as a tremendous mountain of untapped potential. When Bill DeWitt replaced Gabe Paul as Reds general manager in 1961, one of his first moves was a surprising April trade of the brash Bailey to the San Francisco Giants.
The 11,364 fans who braved the Friday night's stormy weather were rewarded with a memorable start to the Memorial Day weekend. Reds officials estimated that the rain had cost them more than 10,000 walkup sales. "We had the largest advance sale since opening day," said ticket manager Charlie Morris.7
Among those making it to the game that night were Dizzy Dean and Pee Wee Reese, who watched the game from the press box. They intended to broadcast the Game of the Week on Saturday, but the contest was rained out.
This article was published in "Cincinnati's Crosley Field: A Gem in the Queen City" (SABR, 2018), edited by Gregory H. Wolf. To read more articles from this book at the SABR Games Project, click here.
Sources
In addition to the sources cited in the Notes, the author also consulted:
https://www.baseball-reference.com/boxes/CIN/CIN196005270.shtml
https://www.retrosheet.org/boxesetc/1960/B05270CIN1960.htm
Corbett, Warren. "Ed Bailey," SABR BioProject, sabr.org/bioproj/person/94a2e785
Schnetzer, Mark J. Before the Machine: The Story of the 1961 Pennant-Winning Reds (Cincinnati: Clerisy Press, 2011).
Thisted, Red. "Bailey's Slam in 9th Hangs Loss on MacKenzie," Milwaukee Sentinel, May 28, 1960.
Votano, Paul. Stand and Deliver: A History of Pinch Hitting (Jefferson, North Carolina: McFarland and Company, 2003).
Wolf, Bob. "Bailey's Grand Slam Homer in Ninth Beats Braves, 9-5," Milwaukee Journal, May 28, 1960.
Notes
1 Lou Smith, "Hook Again Named to Oppose Willey," Cincinnati Enquirer, May 29, 1960: 11.
2 Ibid.
3 Associated Press, "Burdette Scoffs at 'Overwork' Talk Last Year," Rhinelander Daily News, March 30, 1960: 9.
4 Bob Buege, The Milwaukee Braves: A Baseball Eulogy (Milwaukee: Douglas American Sports Publications, 1988), 261.
5 Bill James, The New Bill James Historical Abstract (New York: The Free Press, 2001), 39.
6 Al Warden, "Former Ogden Catcher Is Baseball's Cockiest Star," Ogden (Utah) Standard-Examiner, May 20, 1958: 10.
7 Lou Smith, "Hook to Face Braves," Cincinnati Enquirer, May 28, 1960: 9.
Additional Stats
Cincinnati Reds 9
Milwaukee Braves 5
---
Crosley Field
Cincinnati, OH
Box Score + PBP:
Corrections? Additions?
If you can help us improve this game story, contact us.
Tags
https://sabr.org/sites/default/files/BaileyEd_0.jpg
600
800
admin
/wp-content/uploads/2020/02/sabr_logo.png
admin
2019-10-07 00:41:20
2020-04-17 10:22:30
May 27, 1960: Ed Bailey's grand slam in ninth wins it for Reds