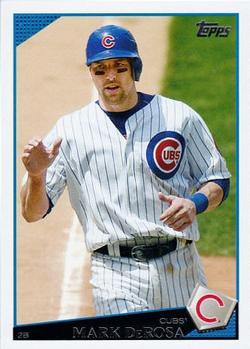 May 30, 2008: Cubs overcome eight-run deficit to defeat Rockies
---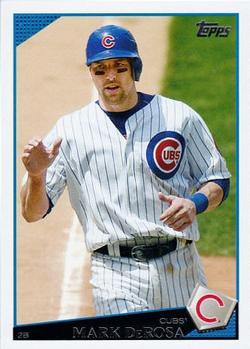 When Cubs fans preview the day's game, they look at the weather report for Wrigley Field, even before asking, "Who's pitching?" This afternoon they could expect warm temperatures (upper 70s) with steady winds from the southwest (10 mph gusting over 30 mph, from home plate toward the batter's eye in center field). If the light morning rain would hold up, the crowd of nearly 40,000 could look forward to a good chance of fly balls carrying over the fences.
The Chicago northsiders, riding a four-game winning streak, entered the game with the best record in the major leagues (33-21). Left-hander Ted Lilly (5-4, 5.23 ERA) started against Colorado's best pitcher of the season, right-hander Aaron Cook (7-3, 2.82 ERA). Chicago also had scored baseball's best 5.63 runs per game, compared with the Rockies' 4.15; Cubs pitchers had allowed only 4.00 runs per game, compared with 5.44 runs allowed by their opponents' staff.
Lilly faced more than strong breezes as he took the mound to start the game, after a 22-minute rain delay. Willy Taveras reached first base on a bunt single and then moved to third on a single by Jonathan Herrera. The runners held their places at first and third on a lineout to third base by Ryan Spilborghs and a fly to right field by Garrett Atkins. Three runs scored on Todd Helton's home run to center field. Back-to-back doubles by Chris Iannetta and Jeff Baker brought in another run, before Omar Quintanilla ended the inning with a lineout to second base. The Rockies led the Cubs 4-0 after the first half-inning.
Lilly struck out Spilborghs to start the third inning, then Garrett Atkins reached second base on center fielder Jim Edmonds' error. Edmonds, newly signed after San Diego released him earlier in May, received routine boos from bleacher fans who remembered his many years with the rival St. Louis Cardinals. Helton flied out to center field, then Iannetta homered to left field, bringing in two unearned runs. Baker doubled again, then scored a third unearned run on Quintanilla's single. Lilly finished the inning with a strikeout of rival pitcher Aaron Cook, the last batter he would face. In this his worst outing of the season, Lilly had allowed eight hits and seven runs — four of them earned — in three innings.
Cubs pitcher Carlos Zambrano led off the bottom of the third inning pinch-hitting for Lilly. Despite grounding out to second base in that plate appearance, Zambrano would win the National League Silver Slugger award for pitchers that season, for the second time, with a .337 batting average and four home runs in 83 at-bats. (He would also win that award again the following season, 2009.)
Jon Lieber took the hill for Chicago in the fourth inning and allowed a home run to Spilborghs, putting the Rockies up 8-0 heading into the bottom of the fourth. The two teams traded runs in the bottom of the fourth and the top of the fifth. The Cubs loaded the bases on Derrek Lee's single, Kosuke Fukudome's walk, and Edmonds' single. Mark DeRosa's one-out fly to right field got his team on the scoreboard. The Rockies then added their ninth run with a two-out double by Baker, followed immediately by Quintanilla's single. Chicago did not score in the home side of the fifth, leaving the Rockies' lead now at 9-1 after five.
Almost seeming to concede the contest, at the start of the next inning Chicago manager Lou Piniella substituted Henry Blanco for starting catcher Geovany Soto, and Micah Hoffpauir for Derrek Lee at first base. Piniella had also omitted starters Aramis Ramirez (third base) and Ryan Theriot (second base) from the starting lineup in favor of DeRosa and Mike Fontenot.
Piniella looked more like a genius with "the Midas touch"1 over the next two innings, as the winds shifted their favor from the Rockies to the Cubs. Colorado did not score in the sixth, then Hoffpauir led off the Chicago sixth with a double, followed by a home run from Fukudome. Edmonds added a back-to-back round-tripper, his first home run as a Cub. Booed for his error earlier, Edmonds now received a standing ovation from the Wrigley crowd. DeRosa and Ronny Cedeno grounded out and Lieber struck out to finish the inning, with the Rockies still in the lead, 9-4.
The Cubs haiku blog responded to events throughout the game. For example, one fan wrote,
Hopeless, down by eight
But Hoffpauir, Kosuke, Edmonds
Cut it down to five.2
After Lieber got the first two outs in the Rockies' seventh, Scott Eyre came on to pitch and struck out Quintanilla.
Hockey great Bobby Hull, guest singer that day for "Take Me Out to the Ballgame," rushed through the words, ahead of the crowd's "one, two, three strikes you're out." Then he imitated Harry Caray's inimitable style with a strong, "Let's get some runs!" Hull, apparently disappointed in his performance, commented to Cubs broadcaster Len Kasper, "It was a terrible 'Take Me Out to the Ballgame' sing, but we'll get 'em going."3
Colorado starting pitcher Cook endured the sixth but faced more trouble in the seventh. After a one-out single by Fontenot, Blanco homered and Hoffpauir singled. Manny Corpas took over for Cook. Corpas began the season as the Rockies' closer, but Brian Fuentes replaced him in that role after Corpas posted four blown saves and two losses in April. Totally ineffective, Corpas proceeded to allow hits to the next three batters: Fukudome singled, Edmonds doubled, and DeRosa homered. Chicago had claimed four homers over 12 batters and a 10-9 lead in the game.
Jason Grilli replaced Corpas and produced a groundout and a strikeout to end the inning.
Manager Piniella noted, "When DeRosa's ball went out, that's the loudest this place has been this year, by far. It was almost deafening."4
The Chicago lead thrilled Hull, who yelled, "How about that? Now I don't' feel so bad."5
In the top of the eighth, Carlos Marmol struck out three hitters — Scott Podsednik, Seth Smith, and Herrera — all on called third strikes, with a total of just 10 pitches. Colorado called on Taylor Buchholz to pitch the bottom of the eighth. He allowed one hit — a single — but no runs. The Cubs still led 10-9, heading to the ninth inning.
Chicago closer Kerry Wood gained his 13th save of the season when he retired the side after a leadoff walk to Spilborghs to give the Cubs the victory. They had overcome deficits of 8-0 and 9-1, scoring nine unanswered runs with Lee, Ramirez, and Soto on the bench.
"What can I say?" commented Piniella. "That's the description of a comeback win."6
Eyre, who struck out the only batter he faced, got credit for his second win of the season, with no losses. Corpas, who allowed three hits and three runs to the only three batters he faced, suffered his third loss of the season with no wins, as well as his fifth blown save.
Although Jeff Baker set a Colorado record with four doubles in the game, the Rockies lost their fifth game in a row; for the Cubs. It was their fifth win in a row, their 34th of the season, continuing with the best record in baseball.
After the game, DeRosa reflected on his doubts: "Early on we were like, it's going to be rough, but the way the wind was blowing, you never know." Rockies starter Cook, who seemingly had a meltdown in the sixth and seventh innings, reflected, "You never think you'll lose a game when you're up 9-1, but you still have to go out there and play 27 outs. We just didn't finish the game today."7
Haiku bloggers celebrated the comeback win. Steve Nawara said,
I stopped in the third
Went about my busy day
Missed a great comeback.
Blogger "Ed" followed next with:
I was luckier
In the car starting at noon
Heard or watched it all!8
For those who were counting, the Cubs' magic number for winning the National League Central Division title was now down to 106.9 They went on to win the next two games against the Rockies, completing a four-game sweep, on their way to capturing the division title.
This article appears in "Wrigley Field: The Friendly Confines at Clark and Addison" (SABR, 2019), edited by Gregory H. Wolf. To read more stories from this book online, click here.
Sources
In addition to the sources cited in the Notes, the author also accessed Retrosheet.org, Baseball-Reference.com, and SABR.org.
https://www.baseball-reference.com/boxes/CHN/CHN200805300.shtml
http://www.retrosheet.org/boxesetc/2008/B05300CHN2008.htm
Notes
1 Paul Sullivan, "Cubs Stage 8-Run Comeback to Beat Rockies," chicagotribune.com, May 30, 2008.
2 thecubsinhaiku.wordpress.com.
3 Michael Pope, "Cubs Should Thank Bobby Hull for Victory," bleacherreport.com, May 30, 2008.
4 Sullivan.
5 Pope.
6 Sullivan.
7 "Cubs Overcome 8-Run Deficit with a Four-Homer Barrage," nytimes.com, "May 31, 2008.
8 thecubsinhaiku.wordpress.com.
9 cubsmagicnumber.com.
Additional Stats
Chicago Cubs 10
Colorado Rockies 9
---
Wrigley Field
Chicago, IL
Box Score + PBP:
Corrections? Additions?
If you can help us improve this game story, contact us.
Tags
https://sabr.org/sites/default/files/DeRosa-Mark-CHC.jpg
600
800
admin
/wp-content/uploads/2020/02/sabr_logo.png
admin
2020-01-08 17:14:45
2020-04-17 10:22:20
May 30, 2008: Cubs overcome eight-run deficit to defeat Rockies