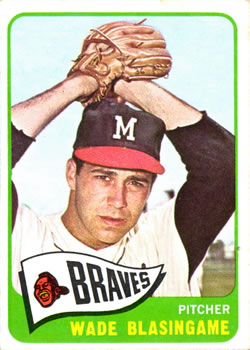 May 5, 1965: Mathews rips walk-off double in 14th; Blasingame goes the distance for Braves
---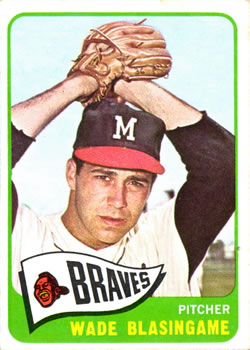 The Milwaukee Braves expected a lot from 21-year-old Wade Blasingame, a "fireballing southpaw" set to start his first full big-league season in 1965.1 Four years earlier, the club had showered the highly-touted prospect from Fresno, California, with an unimaginable bonus of $125,000. Blasingame progressed through the Braves' farm system, had a cup of coffee in 1963, and demonstrated his promise as a midseason call-up in 1964, collecting six of his nine wins in September.
But in 1965 the prized left-hander's rough spring and early-season woes worried the Braves. Slowed by a stiff shoulder, Blasingame lasted just 10⅓ innings and yielded eight runs in his first three starts. More disconcerting was his wildness (10 walks), a problem with which he contended his entire career. After tossing a nifty complete-game eight-hitter to defeat the Philadelphia Phillies, 6-1, on May 1 for his first victory of the season, Blasingame hurled the game of his life in the Braves' exciting win over the Houston Astros four days later at County Stadium in Beer City.
"This is the best game I've pitched, either up here or in the minors," he said of his complete-game, 14-inning, 12-strikeout effort."2 His batterymate, Joe Torre, left no doubt about his impression: "[It was] tremendous, a truly great game. [Blasingame] has everything to be a great pitcher. He has a good fastball that moves, a fine curve, and a sharp changeup."3
A prevailing sense of anger, mistrust, and apathy gripped Milwaukee as the Braves commenced their 13th and final season in Wisconsin as lame ducks. Three years earlier, in 1962, Lou Perini had sold the team to a Chicago-based syndicate led by William Bartholomay. When the latter announced in October 1964 that the team would move the following spring to Atlanta, Bud Selig, a minority owner of the Braves, filed a lawsuit to prevent the team from relocating. A judge's injunction temporarily stopped the move and forced the Braves to play one more year in Milwaukee, but put the club, and its fans, in an unenviable position. Save for an Opening Day crowed of almost 34,000, attendance at County Stadium was horrible to start the 1965 season. It reached its nadir on May 4 when just 913 spectators showed up to see the first contest of a two-game set against the Astros. "In Milwaukee, the grand delusion is at an end and the truth is readily apparent," wrote Shirley Povich of the Washington Post. "Milwaukee fans don't like the Braves or what they represent, and will not be persuaded otherwise."4
On Wednesday evening, May 5, County Stadium was filled with a paltry crowd of 1,391 to catch the Braves' final game of a nine-game homestand. Manager Bobby Bragan's bunch was tied with the St. Louis Cardinals for fourth place (8-8). Skipper Lum Harris's Astros were an early surprise. Their 12-8 record reflected a then team-record 10-game winning streak, though they had lost their last two games to fall into third place, a game behind the NL-leading Cincinnati Reds.
The game emerged as a tightly contested pitchers' duel. Blasingame blanked the Astros over the first five innings, surrendering two singles and two walks. His opponent, 31-year-old righty Turk Farrell, fared almost as well. The 10-year veteran, who entered the game with a 75-75 career record, retired the first 11 batters he faced before Henry Aaron smacked a two-out double in the fourth. In the bottom of the fifth, hot-hitting Joe Torre, who had seven hits in his last 14 at-bats, belted a solo shot for the game's first run.
The Astros' Rusty Staub, who entered the game in a terrible slump (8-for-55 on the season for an average of .145) jacked a "slow curve" from Blasingame with two outs in the seventh to tie the score.5 "This was the type of game that was bound to be decided on a break," wrote Bob Wolf of the Milwaukee Journal.6 The Astros caught one when Aaron led off the ninth inning with a screeching liner back to the mound. The ball caromed off Farrell's head and was caught by second baseman Joe Morgan for a "freak out."7 Dazed, Farrell retired Eddie Mathews and Torre to end the inning. He was then taken to a local hospital for x-rays. (He did not pitch again until May 19.)
In what proved to be Blasingame's only extra-inning game among 128 starts in his injury-plagued 10-year career, "Blazer" mowed down the Astros in the five extra frames. He yielded only one hit, a two-out double to Morgan in the 13th. "I didn't even ask him how he felt until after the 13th inning," said Bragan. "Then I told him I didn't want him to take a chance on ruining his arm."8
Houston relievers Jim Owens and Claude Raymond held the Braves hitless from the 10th inning through the 13th before Mack Jones, hitting just .135 (5-for-37), started a rally in the 14tt. His one-out grounder off Raymond took a "bad hop" and got by third sacker Bob Aspromonte for just the Braves' sixth safety of the game. After Aaron flied out to center, Mathews belted a fastball on a 2-and-1 count into the gap in "deep right center."9 "The only question was whether right fielder Staub could cut it off and prevent Jones from scoring," wrote Wolf.10 As Jones rounded third, he stumbled, almost fell, and, according to Wolf, "didn't regain his momentum until he was almost halfway home."11 Though the play at the plate was not close, the speedy Jones nonetheless took a dramatic slide to score the winning run. "I didn't know where the ball was," he said after the game.12
A "rejuvenated" Mathews, coming off a disappointing .233 season in 1964, collected his 15th RBI in 17 games with the walk-off double. "I figured it was going to be an inside pitch when I saw (catcher John) Bateman move inside," said the 33-year-old, nine-time All-Star. "Instead, (Raymond) got it out over the plate and I got good wood on it."13
Notwithstanding Mathews' heroics, the game belonged to Blasingame, who admitted that he was "tired a little" after his first extra-inning game since high school.14 "My fastball was moving good," he told Cleon Walfoort of the Milwaukee Journal, "although 75% of the pitches I threw were curves."15 Bragan was also impressed with Blasingame's curveball, which contributed to a career-high 12 punch outs. "The kid right now has the best curve in the National League," said the skipper.16 Pitching coach Whit Wyatt, a hard-throwing All-Star righty with the Brooklyn Dodgers in the early 1940s, considered Blasingame's mastery and control of the curve the prime reason for his success. "He became a winning pitcher late last season when he learned to get it over the plate so he could use it on any hitter and on any count," he said.17 Blasingame issued six walks, though one was an intentional pass to slugger Jim Wynn following Morgan's double in the 13th. "I had really good stuff and was getting the ball where I wanted it most of the time," said an obviously ebullient Blasingame.18
Described as "brilliant" by Walfoort, Blasingame seemed ready to join 24-year-old Tony Cloninger (19-14 in 1964) and 26-year-old southpaw Denny Lemaster (17-11) to form one of the most promising young staffs in baseball.19 "[Blasingame] appears on the threshold of greatness," opined Dave O'Hara of the Associated Press.20 In the most productive and only injury-free season of his career, Blasingame notched 16 of his 46 career victories in the Braves' litigious and apathetic last season in Milwaukee.
This article appears in "From the Braves to the Brewers: Great Games and Exciting History at Milwaukee's County Stadium" (SABR, 2016), edited by Gregory H. Wolf. To read more stories from this book at the SABR Games Project, click here.
Sources
In addition to the sources listed in the notes, the author consulted:
https://www.baseball-reference.com/boxes/MLN/MLN196505050.shtml
http://www.retrosheet.org/boxesetc/1965/B05050MLN1965.htm
SABR.org
Notes
1 Dave O'Hara, Associated Press, "Blasingame Is Seen As Star," Waukesha (Wisconsin) Daily Freeman, May 6, 1965, 17.
2 Ibid.
3 Ibid.
4 Shirley Povich, Washington Post News Service, "Braves Going; Interest Gone?," Milwaukee Journal, May 6, 1965, 17.
5 Cleon Walfoort, "Blasingame's Curve, 'Best in League,' Too Good for Astros," Milwaukee Journal, May 6, 1965, 17.
6 Bob Wolf, "Braves Win in 14th on Hit by Mathews," Milwaukee Journal, May 6, 1965, 17.
7 Ibid.
8 Walfoort.
9 Wolf.
10 Ibid.
11 Ibid.
12 Ibid.
13 Ibid.
14 Walfoort.
15 Ibid.
16 Ibid.
17 Ibid.
18 O'Hara.
19 Walfoort.
20 O'Hara.
Additional Stats
Milwaukee Braves 2
Houston Astros 1
14 innings
---
County Stadium
Milwaukee, WI
Box Score + PBP:
Corrections? Additions?
If you can help us improve this game story, contact us.
Tags
https://sabr.org/sites/default/files/BlasingameWade.jpg
600
800
admin
/wp-content/uploads/2020/02/sabr_logo.png
admin
2018-04-03 12:01:11
2020-04-17 10:24:51
May 5, 1965: Mathews rips walk-off double in 14th; Blasingame goes the distance for Braves