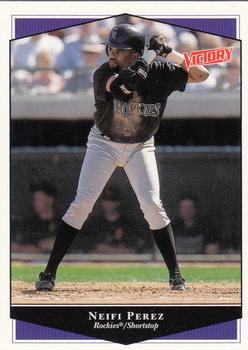 May 5, 1999: Rockies score at least one run in every inning in win over Cubs
---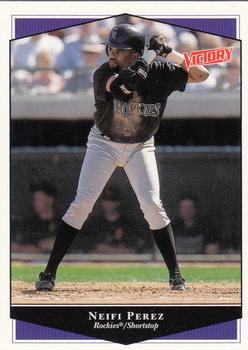 Chicago's Wrigley Field had already played host to a visiting team scoring at least one run in every inning of a nine-inning game against the Chicago Cubs. The date was September 13, 1964. The St. Louis Cardinals pounded out 18 hits in a lopsided 15-2 victory. The Cubs aided and abetted the Redbirds that afternoon; Chicago's seven errors contributed to the onslaught. The Cardinals were the second team in history to accomplish the feat. The New York Giants first turned the trick on June 1, 1923, in Philadelphia's Baker Bowl, blowing out the Philadelphia Phillies, 22-8.
In May 1999, 35 years after the Cardinals made history on Chicago's North Side, the Colorado Rockies (9-12) visited Wrigley for a three-game series against the Cubs (12-10). The Rockies won the opening game of the series, 6-1, on May 3. The Cubs came back in a wild second game, coming from behind and winning in walk-off style, 13-12. The two teams combined for 31 hits.
In the series' rubber game on Wednesday afternoon, May 5, the Rockies sent right-hander Pedro Astacio (1-3) to the mound against Terry Mulholland. The Cubs southpaw was 2-0.
The game began routinely enough for the offense-oriented Rockies. Mulholland quickly retired the first two batters before yielding singles to future Hall of Famer Larry Walker and Dante Bichette. With runners at the corners, Mulholland should have gotten out of the inning unscathed but was victimized by third baseman Gary Gaetti's error on a shot off the bat of Vinny Castilla. Walker scored. The Rockies were off and running.
The Rockies went up 2-0 on a second-inning home runby Neifi Perez, his first of the season. The Rockies shortstop went on to log three hits and three RBIs in the game.
The Cubs got even in their half of the second. Mark Grace led off with a walk. He took second on Henry Rodriguez's base hit, and scored when Jose Hernandez singled to left. Rodriguez was thrown out trying to go from first to third, and Hernandez wound up on second base on the throw that nipped Rodriguez. Gaetti walked. Benito Santiago drove in the tying run with a single to left; Astacio settled down and retired the next two batters.
Mulholland again had trouble with Walker and Bichette in the third inning. Walker opened with a double to deep right-center field. He scored on Bichette's single. Mulholland retired Castilla on a 6-4-3 double play and struck out Kurt Abbott to close out the half-inning.
With Chicago trailing by a run, Mickey Morandini opened the Cubs' third with a double. Sammy Sosa put the Cubs ahead with his sixth home run of the season.1 With one out, Rodriguez doubled and scored on Hernandez's hit. After three innings, the Cubs led 5-3.
Colorado's fourth inning opened with a single by Perez. With one out, Astacio sacrificed him to second. Rookie Chris Sexton, in only his second major-league at-bat, drove in Perez with a single to bring the Rockies within a run at 5-4.
They went ahead for good with to a two-run fifth inning. Walker tripled, his third consecutive hit. He scored on Bichette's third hit, a double to left. One out later, Abbott doubled Bichette home. It was now 6-5, Colorado.
Mulholland began the sixth inning by walking Sexton. He was the last batter Mulholland faced. Rookie Richie Barker took over the pitching duties. He retired Mike Lansing. Then, with Walker at the plate, Sexton stole second base. Walker walked. Bichette was out as he tapped a weak groundball to third, but the runners advanced to second and third. Castilla drew an intentional pass. With the bases loaded, Barker threw a wild pitch, allowing Sexton to score. Barker struck out Abbott to end the inning; the third strike was the last pitch of his major-league career.2
Sandy Martinez batted for Barker in the bottom of the sixth. The Cubs didn't score. Dan Serafini took the mound for the Cubs to begin the seventh inning. He walked Perez, but retired the next two Colorado batters. That brought up Sexton with one on and two out. He hit his first major-league home run3 to put the Rockies up 9-5.
The Rockies added two more runs in the eighth inning. Bichette began things with a single. Castilla reached on an error by second baseman Morandini. Todd Helton's single to right loaded the bases. Cubs manager Jim Riggleman replaced Serafini with Rodney Myers. Perez greeted Myers with a two-run double to right field. Myers then closed out the inning with a fielder's choice and a double play.
The Cubs scored a meaningless eighth-inning run on Gaetti's third homer of the season. Going into the ninth, the Rockies had scored in each of their half-innings and led 11-6.
Former Atlanta Brave and Milwaukee Brewer Brad Woodall was called on to work the final inning for the Cubs. Lansing started things off with a hit. He was erased when Walker hit into a fielder's choice. Walker scampered to second when Woodall uncorked a wild pitch. Bichette walked. Castilla grounded out third to first, with both Walker and Bichette advancing. There were two on, two out, and Helton up. He ripped a hard groundball toward four-time Gold Glove first baseman Grace. Grace knocked it down, recovered nicely, and had a play at first. However, his throw to Woodall was off the mark. Both Walker and Bichette scored, giving Colorado nine straight productive innings.4
Woodall retired Perez on a groundout ending the ninth. Like his teammate Barker, Woodall never appeared in another major-league game.5
Colorado's 18-hit, 13-6 victory put the Rockies in historic company. Manager Jim Leyland said, "Some of the players, when their careers are over and they're talking with somebody, they can say, 'We scored every inning in a game.' I'm just glad we won."6
At the opposite end of the spectrum, Mulholland lamented after being told he was now part of an answer to a trivia question: "Nobody wants to be part of that. Unfortunately we were today. You just hope you don't ever see that happen again in your career."7
After his error allowing the ninth-inning runs, Grace said, "When we get beat, we don't mess around, do we?"8
The Rockies weren't finished setting records. The day before, they had scored in the last four innings. Their 13-consecutive-inning scoring spree over the two games left them one inning shy of the National League record shared by the 1894 Pittsburgh Pirates and the 1949 New York Giants.
But the Rockies were equal to the challenge. Back home in Denver two days later for their next game and facing the Phillies' Curt Shilling, they tied the record as Walker hit a two-out home run in the first inning.
Sources

In addition to the box scores of the game, cited below, from the Baseball-Reference.com and Retrosheet.org websites, the author used those websites for player and team pages and game logs. Other sources are cited in the Notes.
baseball-reference.com/boxes/CHN/CHN199905050.shtml
retrosheet.org/boxesetc/1999/B05050CHN1999.htm
Notes
1 Sosa ended the 1999 season with 63 home runs, two behind National League leader Mark McGwire.
2 Barker's career consisted of five innings in 1999. He appeared in five games before being sent to Triple-A Iowa. His major-league record was 0-0.
3 Sexton played two years in the major leagues, 1999 with Colorado and 2000 with Cincinnati. He never hit another home run in the majors.
4 The play can be seen on YouTube (youtube.com/watch?v=lAg5NkeIDPI).
5 Woodall appeared in six games in 1999 before being sent to Triple-A Iowa with an 0-1 record.
6 Associated Press, "Rockies Leave 0 0's on Wrigley Scoreboard," Grand Junction (Colorado) Daily Sentinel, May 6, 1999: 17.
7 Paul Sullivan, "It Adds Up: Rockies Score at Will," Chicago Tribune, May 6, 1999: Section 4, 1.
8 Associated Press.
Additional Stats
Colorado Rockies 13
Chicago Cubs 6
---
Wrigley Field
Chicago, IL
Box Score + PBP:
Corrections? Additions?
If you can help us improve this game story, contact us.
Tags
https://sabr.org/sites/default/files/Perez-Neifi-1999.jpg
600
800
admin
/wp-content/uploads/2020/02/sabr_logo.png
admin
2020-02-25 11:20:55
2020-08-31 11:27:29
May 5, 1999: Rockies score at least one run in every inning in win over Cubs