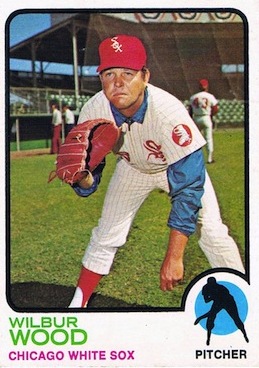 May 7, 1974: LaGrow knuckles under to Wilbur Wood in classic pitchers duel
---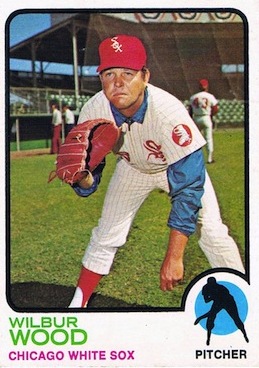 On an unseasonably chilly Tuesday night in early May, a small crowd gathered at Tiger Stadium to watch the Detroit Tigers take on the visiting Chicago White Sox. The 7,327 who braved the cold — there were chill warnings in effect for later that night — were in for a treat: arguably the greatest pitching duel Tiger Stadium would ever see.
Detroit sent out Lerrin LaGrow, a young right-hander in his first season as a starter. LaGrow had shown a few flashes of brilliance but was still a largely unknown commodity, more famous for provoking Bert Campaneris to throw his bat at him during the 1972 playoffs than for his pitching.
The Phoenix native was chosen in the sixth round of the 1969 draft out of Arizona State, where he had just won the College World Series, and made his major-league debut in 1970. LaGrow bounced between the minors and the majors for the next four seasons before finally landing a spot in the Tigers rotation in 1974. Though he was known as a fastball pitcher, LaGrow was hardly a prototypical power arm, striking out a meager 2.38 batters per nine innings entering the game.
Despite his low strikeout rate, LaGrow had been successful so far as a starter, allowing 12 runs in 34 innings. One of his biggest problems was run support. After a 10-inning complete-game loss to the Minnesota Twins on April 23, LaGrow groused, "That's not the last 1-0 game I'm going to lose this season."1
Starting for the White Sox was Wilbur Wood, a knuckleballing ace whose path to major-league stardom had been a circuitous one. The Cambridge, Massachusetts, native had been signed out of high school in 1960 by the Boston Red Sox. Working primarily out of the bullpen, Wood struggled to make much of an impact with the major-league club before eventually landing in Pittsburgh in 1964.
Wood's career took off following the 1966 season, after the left-hander was traded to the Chicago White Sox. In Chicago, knuckleball specialist Hoyt Wilhelm took Wood under his wing and persuaded Wood, who had previously dabbled with a knuckleball, to feature it as his primary pitch.
Wood quickly became the team's go-to reliever. In 1968 the knuckleballer set a major-league record with 88 appearances (which was broken the following year by Cincinnati's Wayne Granger). In 1971 Wood made the transition to a starting role and quickly became a star, finishing third in the Cy Young Award voting in '71, second in '72, and fifth in '73.
However, Wood was struggling to find his form early in the 1974 season. He had given up 10 home runs in only 51⅔ innings on his way to a 3-5 record. But thanks to White Sox owner John Allyn's offseason purchase of an $8,000 video system that allowed players to watch replays of game footage, Wood was able to diagnose the problem that was plaguing him. "I saw that my stride was much too long and it was causing my ball to break lazy," he commented.2 With his shortened stride, the knuckleballer hoped to recapture the form that had made him one of the most valuable pitchers in the league over the past few seasons.
The two pitchers were polar opposites: one a young, right-handed fastball pitcher, and the other a veteran left-handed knuckleballer. But on that night, they were every bit each other's equal, going pitch for pitch in a hotly contested battle.
The cold weather seemingly tipped the scales in LaGrow's favor. White Sox manager Chuck Tanner gave star first baseman Dick Allen, who was nursing a hand injury, the night off because he didn't want to risk further damage by letting the slugger play in the cold. Without Allen to contend with, LaGrow breezed through the White Sox order without breaking a sweat, spreading two hits over the first three innings. But Wood was even sharper. Shortening his stride was making a world of difference for the knuckleballer, who was perfect the first time through the lineup.
Tensions that had been running high as both teams struggled to score came to a head in the top of the seventh inning. After Ken Henderson singled for the White Sox, LaGrow attempted to pick him off. Henderson thought Mickey Stanley's tag was a little too forceful and the two got into a shoving match, causing both benches to clear. Cooler heads quickly prevailed, and the two teams avoided escalating the situation. LaGrow erased Henderson on a 6-4-3 double play to end the inning, and the scoring threat was defused as well.
The two pitchers cruised through the next two frames to send the game into extra innings in a scoreless tie. LaGrow had allowed just four hits and a walk while striking out four. Wood, although he was no longer perfect, was still dominant, allowing only one hit and two walks with eight punchouts.
The Tigers finally threatened in the bottom of the 10th. After Al Kaline walked with one out, to break a string of nine consecutive batters retired by Wood, Willie Horton threaded a groundball under third baseman Bill Melton's glove. It was only the Tigers' second hit of the night. The next batter, Jerry Moses, walked on a controversial ball-four call to load the bases. The usually calm Wilbur Wood was furious and stepped off the mound to argue with home-plate umpire Merle Anthony. Chuck Tanner, who happened to be Anthony's roommate when they played together for the Northern League's Eau Claire Bears in 1948, went out to back up his pitcher. "When I saw Wood complain, which he never does, I knew it was a strike and I knew I had to go out there," Tanner said.3 He was automatically ejected for arguing balls and strikes.
With the bases loaded — and the extra pressure of having to keep his sometimes difficult-to-catch knuckleball from the backstop — Wood got Jim Northrup on a soft popup to second base for the second out. Aurelio Rodriguez then grounded back to Wood to end the Tigers' only major threat of the game and send the game into the 11th still scoreless.
Showing no signs of slowing down, LaGrow went out for the 11th. He had allowed just one hit since the fourth inning. But White Sox catcher Ed Herrmann led off the inning determined to break the scoreless tie himself. "I went up there the last two times trying to hit one out," he said later.4 Herrmann worked his way to a full count before finally getting his pitch, which he drilled into the right-field bleachers for his second homer in as many games.
"I didn't want to walk him and I didn't want to throw my second-best pitch. So I threw my fastball and it was up," LaGrow said after the game.5 That would stand as his only mistake of the game. LaGrow retired the side and put the fate of the game on the shoulders of his offense, which had managed only two hits to that point.
Any hope of a comeback was soon dashed. Facing Ed Brinkman and then the top of the order for the fifth time, Wood put the Tigers down one-two-three in a drama-free bottom of the 11th to seal the victory.
Both pitchers went the distance in a fierce pitchers' duel, and unfortunately for Tigers fans who had stuck around through the cold, LaGrow's prophecy that he would lose another 1-0 game had come true.
Looking back on the game through a sabermetric lens confirms what everyone in the crowd knew to be true: This was one of the greatest combined pitching performances The Corner had ever hosted. According to one metric, Bill James's Game Score (GSc), it's believed to be the greatest. GSc serves as a shorthand for a pitcher's effectiveness in a single game, factoring in innings, runs allowed, hits, walks, and strikeouts. In a nine-inning game, the maximum GSc is 114 (for a 27-strikeout perfect game), with a Quality Start roughly equating to a GSc of 50. LaGrow's 11-inning performance earned a GSc of 86, while Wood's masterful shutout earned a 99. Their combined total of 185 represents the highest Game Score on record at Tiger Stadium. With an unlikely pair, an unproven youngster in Lerrin LaGrow and a struggling ace in Wilbur Wood, each pitching the game of his life, it's almost unfair that only one could go home the victor.
This article appeared in "Tigers By The Tale: Great Games at Michigan and Trumbull" (SABR, 2016), edited by Scott Ferkovich. To read more articles from this book, click here.

Sources
In addition to the sources cited in the Notes, Retrosheet.org and Baseball-Reference.com were also accessed.
https://www.baseball-reference.com/boxes/DET/DET197405070.shtml
http://www.retrosheet.org/boxesetc/1974/B05070DET1974.htm
Holtzman, Jerome. "Chisox Owner Allyn Gets Assist in Wood Comeback," The Sporting News, May 25, 1974.
Ferkovich, Scott. "The best-pitched game at Tiger Stadium featured two pitchers you'll never guess," Detroit Athletic Co., blog.detroitathletic.com/2014/08/22/best-pitched-game-tiger-stadium-featured-two-pitchers-youll-never-guess/, accessed May 1, 2015.
Wolf, Gregory H. "Wilbur Wood," The Baseball Biography Project, sabr.org/bioproj/person/ac0fe9f8, accessed May 1, 2015.
Notes
1 Jim Kaplan, "The Week (May 5-May 11)," Sports Illustrated, May 20, 1974.
2 George Langford, "Sox nip Tigers 1-0 in 11 on Hermann homer," Chicago Tribune, May 8, 1974.
3 Ibid.
4 Ibid.
5 Larry Paladino, Associated Press, "Tiger Notes Quotes," in the Owosso (Michigan) Argus-Press, May 8, 1974.
Additional Stats
Chicago White Sox 1
Detroit Tigers 0
11 innings
---
Tiger Stadium
Detroit, MI
Box Score + PBP:
Corrections? Additions?
If you can help us improve this game story, contact us.
Tags
https://sabr.org/sites/default/files/images/WoodWilbur.jpg
600
800
admin
/wp-content/uploads/2020/02/sabr_logo.png
admin
2018-02-07 18:22:17
2020-04-17 10:24:56
May 7, 1974: LaGrow knuckles under to Wilbur Wood in classic pitchers duel