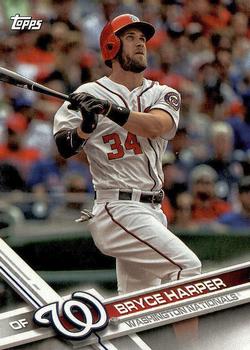 May 8, 2016: Nationals' Bryce Harper reaches base seven times without an official at-bat, but Cubs win
---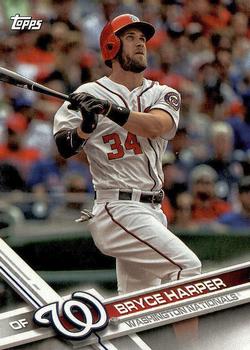 On a Mother's Day afternoon one month into the 2016 season, the Chicago Cubs hosted the Washington Nationals "in front of 41,233 at pink-splashed Wrigley Field."1 The two teams were playing the final game of a four-game series. After Washington had won five of six coming into Chicago, the Cubs had beaten them in three straight and were playing for the sweep. On the hill for the home team was Jake Arrieta. The reigning National League Cy Young Award winner was 6-0 with a minuscule 0.84 ERA. Washington countered with right-hander Tanner Roark (2-2, 2.35 ERA).
The fans got their money's worth, being treated to a 13-inning contest at The Friendly Confines, as Ernie Banks called Wrigley Field. Chicago's pitching staff prevented Bryce Harper, the reigning National League Most Valuable Player, from hurting them offensively, even though, according to MLB.com's Matt Kelly, "Harper picked up his pink Mother's Day bat and strode to the plate seven times, then proceeded to stride leisurely to first base each time."2 More importantly, Javier Baez sent the Cubs fans home happy when he launched a one-out, walk-off home run, securing a 4-3 Chicago win.
Arrieta struck out Ben Revere to start the game. Anthony Rendon singled to right on a line drive, and then Harper walked on four straight pitches. Arrieta escaped the inning by striking out Ryan Zimmerman and getting Daniel Murphy to fly out. Roark was a bit wild in the bottom half of the inning, hitting Dexter Fowler with a 1-and-2 pitch, allowing a single to Kris Bryant, and walking Ben Zobrist, but he too escaped damage by striking out Jorge Soler looking with the bases loaded.
Harper drew his second walk with one out in the third. Zimmerman stroked a double that deflected off third baseman Bryant's glove, rolling into foul territory. Harper sprinted around the bases and scored Washington's first run. This was the only time in the game that a walk to Harper led to any damage. An inning later, with the score still 1-0, Arrieta gave up singles to Wilson Ramos and Danny Espinosa. Roark hit a groundball in front of the plate and reached on Arrieta's fielding error. Suddenly the bases were loaded with no outs and the top of the order coming up. After Revere lined out, Rendon grounded to second. Zobrist's only play was to first, and Ramos scored. With runners on second and third and two outs, Arrieta intentionally walked Harper to again load 'em up, but Zimmerman struck out swinging to end the frame.
The Cubs scored an unearned run in the fourth when Zobrist reached on second baseman Murphy's error, advanced to third on two groundouts, and scored on a wild pitch by Roark. In the fifth, Murphy doubled to left and scored on Ramos's single into short left filed. The score remained 3-1 Chicago until the bottom of the seventh. Meanwhile, Arrieta did not return for the sixth inning, matching his shortest outing of the season.3 Reliever Trevor Cahill plunked Harper with the first pitch of his sixth-inning plate appearance, but Washington could not capitalize.
In the seventh, Oliver Perez took over for Roark. Cahill hit a line drive to Perez, who could not make the play, and Cahill was credited with a single. Fowler was hit by a pitch. Jason Heyward's sacrifice bunt advanced the runners. Nationals manager Dusty Baker pulled Perez and called for Yusmeiro Petit to face Bryant, who stroked a 1-and-0 pitch into center field, driving in the two Chicago runners and tying the score.
At the end of nine innings, the score was still 3-3. With two down and runners at first and second, Harper came to the plate in the top of the 10th. Adam Warren, the third Cubs hurler of the game, continued with the Harper game plan and intentionally walked him, once again loading the bases. Zimmerman lined out to deep left-center.
In the 11th inning, Heyward tried to score from first base when Bryant smacked a one-out double, but a "perfect 8-6-2 relay"4 cut him down at the plate, extending the game. Chicago skipper Joe Maddon challenged the umpire's ruling, but the umpire's call of out was upheld.
In the 12th, Harper was walked intentionally for the third time in the game (and sixth time overall in the game), and for the second consecutive time with runners on first and second and two men out. When he got to first base, Cubs first baseman Anthony Rizzo had nothing left to say. According to Rizzo, "Honestly, we ran out of stuff to talk about. We talked about everything. We talked about life, baseball, everything."5 The walk to load the bases again paid off for Chicago, as Zimmerman grounded weakly to third for the inning's final out. By walking Harper and taking the bat out of his hands, the Cubs, according to Harper, "had a plan and unfortunately it worked."6
Back and forth the teams had battled, and zeroes kept going on the scoreboard. After Petit had pitched four innings in relief for Washington, Jonathan Papelbon pitched two scoreless innings, and he gave way to Blake Treinen in the bottom of the 13th. After Travis Wood struck out, Baez "blasted a 2-2 slider into the bleachers in left."7 he Cubs won, 4-3. An ecstatic Baez told reporters after the game, "After the second strike I sat on the slider because they've been throwing it to me this series a lot. I was just looking for that pitch and he threw it into the zone."8 Using his pink Mother's Day bat, Baez launched his second homer of the season beyond the fence for the game-winner.
According to the Elias Sports Bureau, Harper became the first player (since before 1913) to reach base seven times without an official at-bat. He was the fourth batter to have six walks in a game, joining Jimmie Foxx (June 16, 1938 – a nine-inning game), Andre Thornton (May 2, 1984 – a 16-inning game) and Jeff Bagwell (August 20, 1999 – a 16-inning game). Harper walked 13 times in the four-game series (a record 9) and reached base 12 consecutive times without an official at-bat.10 For the day, Harper saw 27 pitches in his seven plate appearances, but he never swung his bat a single time. His on-base percentage jumped to .432, and he now had 30 walks in 31 games.11 Four players have reached safely in all seven of their plate appearances in a game, but Harper became the first to do so without a hit.12
It was the first walk-off victory of the season for the eventual World Series champion Cubs. Their depleted bullpen had tossed eight scoreless innings,13 giving Chicago its seventh win in a row. Although Arrieta did not get a decision, he was 22-1 with a 0.92 ERA in his last 27 starts, dating back to June 21, 2015. The Nationals had been in first place in the East Division coming into Chicago, but the four straight defeats dropped them to second, a half-game behind the New York Mets.
Sources
baseball-reference.com/boxes/CHN/CHN201605080.shtml
retrosheet.org/boxesetc/2016/B05080CHN2016.htm
Notes
1 Jamal Collier and Carrie Muskat, "Cubs' Streak Hits 7 on Walk-Off Blast in 13th," mbl.com, May 9, 2016. Found online at mlb.com/cubs/news/cubs-defeat-nationals-for-seventh-straight-win/c-176962464.
2 Matt Kelly, "DYK: Harper's Stunning 6-Walk Performance," mlb.com, May 8, 2016. Found online at mlb.com/news/stunning-facts-from-bryce-harpers-6-walk-game/c-177044936.
3 Arrieta lasted only five innings on April 28 against Milwaukee, but he allowed only one run and earned the victory.
4 Collier and Muskat.
5 Chris Kuc, "Baez's Walk-Off in 13th Makes It 7 Wins in a Row," Chicago Tribune, May 9, 2016: 3-1.
6 "Cubs Solve Harper," Philadelphia Daily News, May 9, 2016: 59.
7 Kuc.
8 Ibid.
9 Jamal Collier, "Harper Reaches Base 7 Times Without a Swing," May 8, 2016. Found online at mlb.com/news/bryce-harper-ties-record-for-walks-in-a-game/c-177023166 4.
10 On May 6, Harper walked in his final at-bat. Then, on May 7, he had a sacrifice fly and three bases on balls (one intentional). With the six walks and hit-by-pitch in this game, he had reached base 12 straight times without an official at-bat. In an interleague game against the Detroit Tigers on May 9, Harper grounded out to the pitcher in his first plate appearance, ending the streak.
11 Harper finished the 2016 season with 108 walks in 147 games.
12 Kelly.
13 Manager Maddon knew that relievers Hector Rondon, Pedro Strop, and Clayton Richard were unavailable for the game because of their recent workload.
Additional Stats
Chicago Cubs 4
Washington Nationals 3
---
Wrigley Field
Chicago, IL
Box Score + PBP:
Corrections? Additions?
If you can help us improve this game story, contact us.
Tags
https://sabr.org/sites/default/files/HarperBryce-2017.jpg
600
800
admin
/wp-content/uploads/2020/02/sabr_logo.png
admin
2018-02-22 15:05:16
2020-04-17 10:24:54
May 8, 2016: Nationals' Bryce Harper reaches base seven times without an official at-bat, but Cubs win