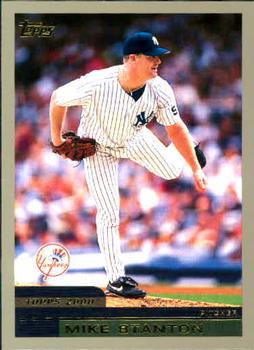 May 9, 1999: Mike Stanton's "bullpen game" start leads Yankees to win
---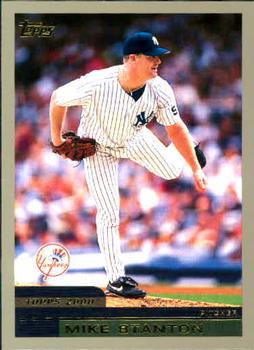 The 2018 season saw a breakout in "bullpen games," with managers strategizing to get more rest for their starters by using relief pitchers to open games, pitch two or three innings, then yield to another reliever. The practice is of recent vintage for regular season games, but circumstances across baseball history have sometimes necessitated the same approach — viewed, however, as something out of the ordinary.
Saturday afternoon, May 8, 1999, the visiting Seattle Mariners (14-16) had hammered interim1 manager Don Zimmer's Yankees (19-10) for 19 hits, with seven walks adding to the traffic on the bases, as they thrashed starter Orlando Hernández and relievers Tony Fossas, Jay Tessmer, and Dan Naulty in a 14-5 embarrassment. Ramiro Mendoza had been penciled as the Sunday starter, but developed a viral infection in his throat.2 Yankee general manager Brian Cashman suggested bringing up a spot starter from Columbus (International League), the club's Triple-A affiliate, but "Zimmer and pitching coach Mel Stottlemyre had other ideas."3
For "something that comes up once a year, maybe even not once a year,"4 as Zimmer characterized the situation, they opted to use two veterans from their bullpen, Mike Stanton and Jason Grimsley, in lieu of a call-up who would have been making his major league debut. Stanton would get the start; they would see how far he could go — Grimsley would be the next man out of the pen, with a similar plan.
Stanton, a 32-year-old left-hander reared in the Atlanta Braves' farm system, had pitched with the Braves for six-plus seasons before migrating to the Yankees in 1997 after short stays with Boston and the Texas Rangers. He hadn't started a game since 1988 in Class-A baseball; nor was he typically used as a closer, with double-digit saves — 27 in 1993 — in only one of his Atlanta seasons.5 Teams had used the righty Grimsley, 31, differently. He had been primarily a starting pitcher through his minor league career, and had started 20 games for the California Angels three seasons before. But for the 1999 Yankees, he had made nine relief appearances, picking up three wins through early May in only 13 innings pitched, working to a 2.77 ERA. Stanton had been less effective. In seven innings pitched over 14 appearances, he had a 1-2 record with a pair of blown saves and an ugly 12.86 ERA. But neither had pitched the day before and both were especially well-rested for relievers — Stanton with four days, Grimsley with three.
In just a tad of an understatement, Stanton told reporters "it was a day that was definitely out of the norm for me."6 Once advised he would start, Stanton opted for his usual bullpen routine, not starting to warm up until about eight minutes before game time and throwing only 20 warmup pitches. He described the experience of listening to the national anthem from the mound as "weird," but after that "it was just baseball."7
Sunny, 68-degree weather, perfect for May in New York, greeted the Sunday afternoon crowd of 49,622 at Yankee Stadium. They got to see Stanton stick to his reliever persona as he delivered the first pitch of the game to Brian Hunter from the stretch.8 Three pitches later, Hunter rolled out to Luis Sojo at second base, becoming the first of the seven straight Seattle hitters Stanton turned back before Dan Wilson touched him for a double in the top of the third inning. Unfazed, the lefty then retired Rafael Bournigal on a ground ball to shortstop Derek Jeter that kept Wilson at second base. That was handy, since Hunter, facing Stanton for the second time, followed with a single to right field; with his catcher's speed Wilson was out at the plate on Paul O'Neill's throw to Jorge Posada.
By this time Stanton was basking in the luxury of a three-run lead, courtesy of Jeter's home run in the first inning with Chad Curtis aboard and Posada's single in the second that scored Scott Brosius. The New Yorkers made it 4-0 in their third when Curtis walked, then scored after two were out on Bernie Williams's double to center field.
Stanton's mound opponent and the victim of the Yankees' early offensive efficiency was 36-year-old lefty Jeff Fassero. Fassero hadn't reached the majors until the advanced age of 28, but had turned in some productive years and even pulled a few Cy Young Award votes during six seasons in the National League with Montreal. Seattle had acquired him in a trade after the 1996 season; Fassero had responded with an AL-leading 35 starts and a 16-9 record in 1997. But he had barely bested .500 in 1998 and was off to a 1-3 record in seven starts to this point in 1999.9
Stanton, wandering into uncharted pitch count territory, walked David Bell to open the fourth inning. But before Stanton faced the next batter, Bell was on second base as a result of Stanton's throwing error on a pickoff attempt. Stanton gathered himself to strand Bell right there: He finished the inning on 11 more pitches, including three straight strikes to Edgar Martínez for the second out.
Those 11 pitches were the last of the 57 Stanton threw over four innings,10 as Zimmer determined he had gone his limit and sent Grimsley out for the top of the fifth. Except for a two-out walk to Wilson, Grimsley was perfect and put Seattle away still scoreless. That ended in the sixth, when Grimsley walked the leadoff hitter, Hunter, then yielded a single to Bell. Ken Griffey Jr. then forced Bell at second for the first out. Hunter moved to third on the play and scored on Martínez's ground ball to shortstop. Grimsley ended the half-inning by striking out the next batter, David Segui.
The Yankees were still in charge, 4-1. Grimsley resumed control as well, with a six-pitch seventh inning that featured a baserunner on Brosius's error at third, followed by Wilson's convenient 6-4-3 double-play ball on the first pitch. Grimsley cleared the Mariners on a pair of ground outs and a strikeout in the eighth. In his four innings, he literally did Stanton one better, throwing 56 pitches although allowing a run.
New York had added single runs in the seventh and eighth innings to lead, 6-1. As the game reached the top of the ninth, Zimmer and Stottlemyre, their plan working to perfection, relieved Grimsley with closer Mariano Rivera. He pitched around Jeter's one-out error, recording a shutout inning and preserving another win for Grimsley, who advanced to a heady — for a reliever — 4-0 on the young season. Stanton, ineligible for the win because he hadn't pitched five innings, had to be content with knocking more than four points off his earned run average. It went from 12.86 to 8.18.11 The Stanton-Grimsley-Rivera tag team spun a collective three-hitter that helped fans forget the prior day's loss.12
"There are times when the starters suck up innings for the relievers when we're tired," Stanton told writers. "This is one where it worked the other way around. We took one for the starters and it turned out good for us."13
Zimmer breathed a post-game sigh of relief. "We coulda got a little bit embarrassed today if everything didn't work out. Stanton and Grimsley, they both pitched outstanding. We all think we're so smart. But how do you figure that? We pull two guys out of the bullpen for eight innings and both of them were just great."14
Stanton, who pitched through 2002 with the Yankees, then with five more clubs from 2003 through the 2007 season, never started another major league game.15
Sources
In addition to the sources cited in the Notes, I used the Baseball-Reference.com and Retrosheet.org websites for player and team pages and game logs.
baseball-reference.com/boxes/NYA/NYA199905090.shtml
retrosheet.org/boxesetc/1999/B05090NYA1999.htm
Notes
1Yankee manager Joe Torrehad prostate cancer surgery in March 1999. Bench coach Don Zimmer took over as interim manager for the first 36 games of the 1999 season, from April 5 through May 16. The team went 21-15 during his tenure, and he when Torre returned, the team was first place by a game in the AL East. Zimmer had his own medical maladies with his knees throughout his managerial stint. Peter Botte, "Yanks Brace for Joe's Absence," New York Daily News, March 20, 1999: 55; Don Zimmer managerial page, Baseball-Reference.com, accessed October 31, 2018. Bill Madden, "Zim Manages Boss' Snub," New York Daily News, May 19, 1999: 69.
2The Yankees were also short-handed with starter Roger Clemens on the disabled list. Ben Walker, AP, "Bullpen Leads Yanks To Win," Post-Star (Glens Falls, New York), May 10, 1999: 19.
3Peter Botte, "Yank Pen Sharp from Start," New York Daily News, May 10, 1999: 72.
4Ibid.
5This was Stanton's 553rd major league appearance. The prior 552 had all been in relief. In 14 appearances to this point in the 1999 season, the longest he had pitched in a game was 1⅓ innings.
6Botte, "Yank Pen Sharp from Start."
7Ibid.
8Walker, "Bullpen Leads Yanks To Win."
9As Fassero's woes continued, Seattle traded him, with a 4-14 record and a 7.38 ERA, to the Texas Rangers on August 27, 1999.
10The most pitches Stanton had thrown in an appearance to that point in the season was 26 in the seventh inning against Baltimore on April 15.
11Stanton continued to whittle away at his ERA over the rest of the 1999 season and finished at 4.33 over 62⅓ innings.
12Not that they would have been especially concerned — the Yankees were the defending 1998 World Series champions and had a four-game lead in the AL East after this win. Although they started a season-high five-game losing streak in their next game and slipped into second place from May 18 through June 9, they coasted the rest of the way in first place and won the division by four games over the Red Sox. They then dispatched the Texas Rangers in the divisional series, beat the Red Sox four games to one in the ALCS, and swept the Atlanta Braves in the 1999 World Series. The Yankees completed a 1998-2000 trifecta when they also won the 2000 World Series. Seattle, for their part, was third in the AL West — which is where they finished the season.
13Walker, "Bullpen Leads Yanks To Win."
14Botte, "Yank Pen Sharp from Start."
15In addition to pitching for the Mets, Nationals, Red Sox, Giants, and Reds, the well-traveled Stanton made a curtain call with the Yankees for part of the 2005 season. He retired at age 40 after the 2007 season with a career ERA of 3.92 in 1178 games.
Additional Stats
New York Yankees 6
Seattle Mariners 1
---
Yankee Stadium
New York, NY
Box Score + PBP:
Corrections? Additions?
If you can help us improve this game story, contact us.
Tags
https://sabr.org/sites/default/files/Stanton-Mike-NYY.jpg
600
800
admin
/wp-content/uploads/2020/02/sabr_logo.png
admin
2019-01-22 10:22:38
2020-04-17 10:23:42
May 9, 1999: Mike Stanton's "bullpen game" start leads Yankees to win