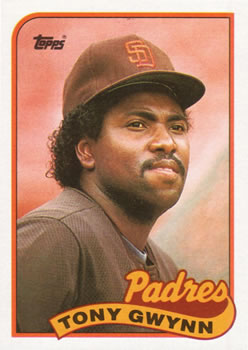 October 1, 1989: Padres' Tony Gwynn edges Will Clark for NL batting crown on final day
---
San Francisco Giants first baseman Will Clark was having a career year in 1989 as he helped lead the team to a division championship. He had been a model of hitting consistency throughout the season and heading into the final series of the year, against the San Diego Padres, he had a good shot at capturing the National League batting title. However, the Padres' Tony Gwynn, who already had three batting crowns in his trophy case, would have something to say about that.
Gwynn was no stranger to batting races, although none had been as close as the one in 1989. The contact hitter had already established himself as one of the top hitters in baseball, having led the league in batting average (.351) in his first full major-league season (1984) and then in 1987 (.370) and 1988 (.313).
As for Clark, it was his first run at a batting championship. His previous high was .308 in 1987. During his first three seasons, he was considered more of a power hitter, with sixth- and third-place finishes in home runs and a league-leading 109 RBIs in 1988. Clark was on the verge of becoming the first San Francisco Giant to win the batting championship.1
Clark's hitting had been unswerving throughout the entire season: .375 in April, .351 in May, .303 in June, .307 in July, .352 in August, and .316 in September/October. He hit .325 at home and .341 on the road, and batted .321 against left-handed pitchers and .340 against righties.2
He had suffered a bruised knee on September 21 and sat out three games to give it a rest. The Giants had already clinched the National League West Division and led the second-place Padres by four games. Clark could have easily taken off some or all of the final series. But he told Giants manager Roger Craig he didn't want to miss any more games: "If I'm going to win the title, I'm not going to win it sitting down. My job is to play."3
Going into the Padres-Giants series that started on September 29 in Jack Murphy Stadium, Clark led Gwynn in batting average, .3333 to .3316. The Giants won the first game, 7-2, as Clark went 2-for-4 while Gwynn collected only one hit in five at-bats. The Padres took the second game, 11-5, with Gwynn getting three hits in four at-bats. Clark managed only one hit in four at-bats, but still held a very narrow lead (.0006) over Gwynn, .3339 to .3333.
So the final game of the season, on Sunday, October 1, wouldn't have any effect on the final standings in the NL West; but what was at stake was the individual honor of a batting crown.
Kelly Downs (4-7) was the starting pitcher for the Giants. He had been on the disabled list from May 2 to August 12, but had secured a spot in the starting rotation upon his return. Greg W. Harris (7-9), who had been used exclusively in relief during September after getting seven starts in July and August, drew the starting assignment for the Padres.
In a low-scoring game, most of the drama centered on the battle for hits between Gwynn and Clark. Here are the sequential at-bat results of their pursuit.
| | | | | |
| --- | --- | --- | --- | --- |
| Player | Inning | Pitcher Faced | At-bat Result | Current Average |
| Clark | 1st | Greg Harris | Grounded out to first base | .3333 |
| Gwynn | 1st | Kelly Downs | Lined a single to right field | .3344 |
| Gwynn | 3rd | Kelly Downs | Grounded out to first base | .3339 |
| Clark | 4th | Greg Harris | Grounded out to second base | .3328 |
| Gwynn | 5th | Jeff Brantley | Beat out a grounder to shortstop that scored Alomar | .3350 |
| Clark | 6th | Greg Harris | Looped a single to left field | .3339 |
| Clark | 8th | Mark Davis | Flied out to center field | .3333 |
| Gwynn | 8th | Craig Lefferts | Grounded a single into right field that scored Alomar | .3361 |
The Padres scored their first run in the second inning when Phil Stephenson slammed a solo home run off Downs. Combined with Gwynn's RBI hits in the fifth and eighth innings, the Padres won the game, 3-0. Clark's lone hit was one of only four the Giants mustered against Harris and reliever Mark Davis.
Gwynn's hit in the fifth inning came close to being an out. He hit a two-out chopper over the mound that shortstop Chris Speier fielded and threw to first base. Umpire Ed Montague initially raised his fist to indicate an out, but changed it in mid-signal to a safe call. Giants first-base coach Bob Lillis was ejected on the play for his animated dispute with Montague over the call.4
Harris got credit for the win, giving up only the four hits and three walks in seven innings, while striking out seven. Downs took the loss, yielding one run on four hits and a walk in four innings. The Giants used the last four innings to provide work for the bullpen in preparation for the playoffs. Jeff Brantley and Craig Lefferts gave up the other two Padres runs.
Gwynn said that Clark congratulated him at first base after his hit in the eighth inning. He told Clark, "It's no big deal. You're going where I want to go. I'd trade a batting title to be going to the playoffs."5 Well aware of the batting title consequences, the hometown crowd was pulling for Gwynn each time he stepped up to the plate. On the other hand, Clark had to listen to boisterous heckling and booing from fans who obviously wanted to see him fail in each at-bat. While Gwynn acknowledged Clark's challenging situation throughout the game, Clark said, "The fans' jeering had no effect on me. Confidence is not one of my problems."6 Gwynn said, "I ended up winning it, but that doesn't take anything away from Clark's year."7
After the game, a disappointed Clark said, "It's too bad my whole season had to come down to one at-bat. If I get a hit and he doesn't, I win. If I don't get a hit, he automatically wins. That's why this game is fun." In admiration of Gwynn, Clark added, "I got beat by the best, and there's no disgrace in that. The thing about Tony Gwynn is, when everything is said, he goes out on the field and gets it done. That's what separates him."8
Gwynn's third consecutive batting title was the first time any player had accomplished the feat since Stan Musial did it for the St. Louis Cardinals in 1950-1952. Gwynn went one better 1994 to 1997, winning four consecutive batting crowns including one with a .394 average in the strike-shortened 1994 season. Ty Cobb holds the record for most batting titles (12) in a career,9 while Gwynn is tied with Honus Wagner for second with eight.
Clark finished the 1989 season with a slash line of .333/.407/.546. He led the league in runs scored (104) and finished second in hits (196), hit 23 home runs, and drove in 111 runs. His overall performance earned him a runner-up finish in the National League MVP Award voting behind teammate Kevin Mitchell, who led the league in home runs (47) and RBIs (125). He continued his torrid hitting during the National League Championship Series against Chicago, batting .650 (13-for-20).
There was similar drama in the American League batting race on the last day of the 1989 season. Minnesota Twins outfielder Kirby Puckett was less than a percentage point ahead of Oakland A's infielder Carney Lansford heading into Sunday's action. Puckett got two doubles in five at-bats to claim the title, ultimately beating Lansford by three points (.339 to .336).
Sources
In addition to the sources cited in the Notes below, the author also consulted Baseball-Reference.com.
Notes
1 Willie Mays was the last Giant to win a batting championship, in 1954, when he played for the New York Giants.
2 Seymour Siwoff, Steve Hirdt, Peter Hirdt, and Tom Hirdt, The 1990 Elias Baseball Analyst (New York: Collier Books, 1990), 228.
3 "Bottom Line: 3 in a Row for Gwynn," The Sporting News, October 9, 1989: 23.
4 Ray Ratto, "Gwynn a Hit in the Finale," San Francisco Chronicle, October 2, 1989: D1.
5 Ratto.
6 Associated Press, "Gwynn Edges Clark for Title," New Orleans Times-Picayune, October 2, 1989.
7 Ratto.
8 Ratto.
9 Baseball-Reference.com shows Cobb winning 12 batting titles (1907-1915, 1917-1919), while Retrosheet.org shows Cobb winning 10 titles. Two of his titles (1910 and 1914) have been the subject of dispute over the years.  The MLB.com website for Cleveland Indians history addresses the controversy for 1910, with two hits being mistakenly credited to Cobb. The dispute in 1914 centered on whether Cobb had the minimum number of plate appearances to qualify for the batting title. See: baseball-reference.com/leagues/AL/1914-standard-batting.shtml.
Additional Stats
San Diego Padres 3
San Francisco Giants 0
---
Jack Murphy Stadium
San Diego, CA
Box Score + PBP:
Corrections? Additions?
If you can help us improve this game story, contact us.
Tags
http://sabr.org/sites/default/files/GwynnTony.jpg
600
800
admin
/wp-content/uploads/2020/02/sabr_logo.png
admin
2020-09-30 20:42:53
2020-10-01 19:49:34
October 1, 1989: Padres' Tony Gwynn edges Will Clark for NL batting crown on final day