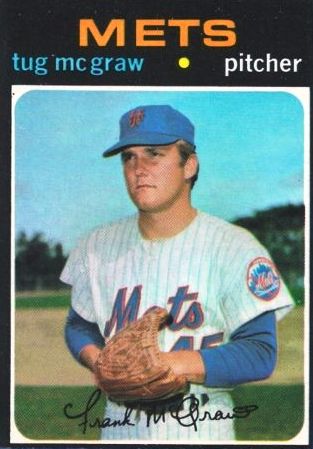 October 10, 1973: 'Ya Gotta Believe!' Mets win National League pennant
---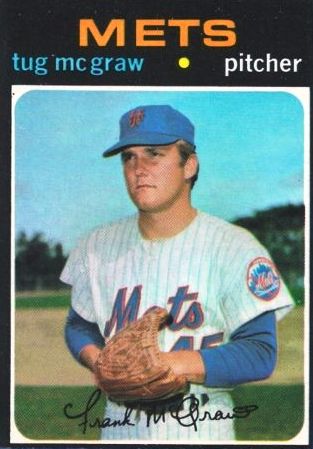 Before their 1973 postseason began, the New York Mets had last seen the Cincinnati Reds on August 20 to finish a four-game series at Shea Stadium. But the circumstances bore no resemblance to this day in October. The Mets had lost 8-3 and stood in last place in the National League East — 12 games under .500, seven games behind the NL East first-place St. Louis Cardinals, and about to host the NL West-leading Los Angeles Dodgers in a three-game series. Equally concerning was the work of relief pitcher Tug McGraw, who lost that day by giving up five earned runs in 3⅓ innings — making him 0-6 with a 5.45 ERA.
In his biography of Tug McGraw, Matthew Silverman noted that "McGraw experienced both fame and failure at astonishing levels in 1973."1 As Silverman describes it, McGraw had picked up the personal mantra "Ya Gotta Believe" earlier that summer through talks with Joe Badamano, a motivational speaker and friend of former manager Gil Hodges.2 He rarely hesitated to repeat it to fans, teammates, and even to Mets Chairman M. Donald Grant. In fact, when Grant came into the clubhouse one day for a rare pep talk, McGraw was quite vocal and let his phrase be heard. Ed Kranepool, McGraw's roommate and the Mets player representative, spoke to McGraw, sensing trouble when Grant stormed out of the clubhouse. "You better tell Donald Grant you didn't mean anything, that you were endorsing what he was saying," Kranepool said. "We went outside the locker room, Donald was there, and Tug stopped him and he apologized and everything was fine. It cleared the air."3
While it might be a stretch to suggest that Grant's midsummer pep talk spurred the turnaround for both McGraw and the Mets, the results after that day in August are quite clear. The Mets finished the season by winning 27 of their last 39. McGraw won five times without a loss and saved 12. The Mets reeled in, then passed their competition in the National League East to finish 1½ games better than the St. Louis Cardinals. With an 82-79 record, their winning percentage (.509) was the lowest ever for a postseason berth and their opponent in the NLCS, the Cincinnati Reds, was a powerhouse, having captured pennants in 1970 and 1972. They won the tough NL West with a mark of 99-63 (.611) — 3½ games clear of the Dodgers. Pete Rose arguably had his best season, batting .338 with 230 hits en route to MVP honors. Five players represented the Reds in the All-Star Game and their lineup included three future Hall of Famers.4 They had already beaten the Mets in 8 of 12 games in their season series. But that Mets team at playoff time was nothing like the one that steamed through the home stretch.
The Reds' eight hits in the first two NLCS games at Riverfront Stadium were a rather meager production. The split of the first two games meant the Reds faced the prospect of having to win two games on the road to take the National League flag. It didn't sit well with the Reds when shortstop Bud Harrelson (far from a power threat at the plate), innocently said after the second game, "They all look like me hitting."5 It particularly didn't sit well with Pete Rose. In the top of the fifth inning of Game Three, with Rose on first and the Reds down, 9-2, Joe Morgan hit a sharp grounder to first baseman John Milner, who threw to Harrelson to start a 3-6-3 double play. Rose slid hard into second base. Soon after, "a fight breaks out!"6 When the dust settled and the Reds took the field, the fans remained in an ugly mood — pelting the field with everything possible. After Rose was nearly hit with a bottle, manager Sparky Anderson took his team off the field. The umpires threatened a Mets forfeit until a group of players — including Tom Seaver, Yogi Berra, Cleon Jones, and Willie Mays — walked out to left field to restore calm and finish out a Mets win. As it turned out, Rose almost singlehandedly got the Reds to the fifth and deciding game by going 3-for-5 in Game Four with what turned out to be a game-winning homer in the 12th inning.7
The pitching matchup for the Game Five was a reprise of the opener at Riverfront. In that game, Jack Billingham allowed only three Mets hits. But when he left the mound after the eighth inning, Tom Seaver's RBI double in the second inning had him trailing. Seaver pitched an equally strong game, striking out 13. But a solo home run by Pete Rose in the eighth inning and a walk-off home run by Johnny Bench in the ninth inning were Seaver's undoing in the 2-1 loss.
As it turned out, the first inning of the deciding game foreshadowed the outcome that was to follow. Seaver got off to a shaky start. After a walk, a single, and a wild pitch, an intentional walk to Johnny Bench loaded the bases with two outs. But Seaver got Ken Griffey to fly out to center field to escape without damage, having faced six batters, three of whom would later be enshrined in the Hall of Fame, Joe Morgan, Tony Perez, and Johnny Bench. Jack Billingham was not so fortunate. Singles by Felix Millan and Cleon Jones and a walk to John Milner loaded the bases for Ed Kranepool. His single to left field drove in two runs for the early lead. For Kranepool, making his first start since September 15 and the only Met left from their first season in 1962, it was his first appearance and first hit of the NLCS. It couldn't have been timelier!
The Reds made it back to even with single runs in the third and fifth innings. A double to right field by Joe Morgan, an error by right fielder Cleon Jones and a sacrifice fly by Dan Driessen scored the Reds' first run. In the fifth inning, Pete Rose doubled down the left-field line and Tony Perez lined a two-out single to right-center to get them even, but that didn't last long!
The Mets went ahead for good with four runs in the bottom of the fifth inning with 42-year-old Willie Mays, in his final season, right in the middle of the scoring spree. Doubles by Wayne Garrett and Cleon Jones wrapped around a fielder's choice/bunt by Felix Millan scored the first run. After John Milner walked, Mays pinch-hit for Kranepool. Like Kranepool, Mays was also making his first appearance of the NLCS and, ironically, he also delivered his first hit. His Baltimore chop single drove in Felix Millan. Subsequently, Don Hahn's groundout to shortstop and Bud Harrelson's single gave the Mets a 6-2 lead. Seaver scored New York's final run in the sixth when he doubled and came home on a Cleon Jones single.
The Mets were taking no chances in the top of the ninth inning after Tom Seaver loaded the bases on a single and two walks. Despite having pitched 4⅓ innings in Game Four, Tug McGraw came in to retire Joe Morgan on a pop fly and Dan Driessen on a groundout for the save and the National League championship. Sportswriter Joseph Durso aptly captured the scene at Shea Stadium: "But then, in a swirling scene, thousands of persons in the crowd of 50,323 stormed the field … and clawed huge chunks of fence, sod and fixtures from the arena. Professional sports may have had more clamorous moments. But New York baseball has had none since the Mets won the World Series four years ago, after eight seasons as the comic relief of the leagues."8
Next up was the American League champion Oakland A's in the 1973 World Series. As improbable as that might have sounded in August, one needed only to remember what Tug McGraw had been saying over and over again: "Ya Gotta Believe!"
This article was published in "Met-rospectives: A Collection of the Greatest Games in New York Mets History" (SABR, 2018), edited by Brian Wright and Bill Nowlin. To read more articles from this book at the SABR Games Project, click here.

Sources
In addition to the references cited in the Notes, the author also accessed Baseball-Reference.com and Retrosheet.org.
https://www.baseball-reference.com/boxes/NYN/NYN197310100.shtml
https://www.retrosheet.org/boxesetc/1973/B10100NYN1973.htm
Notes
1 Matthew Silverman, "Tug McGraw," SABR Baseball Biography Project, sabr.org/bioproj/person/0834272a.
2 Ibid.
3 Tara Krieger, "Ed Kranepool," SABR Baseball Biography Project, sabr.org/bioproj/person/f9491612.
4 Johnny Bench, Joe Morgan, Pete Rose, Dave Concepcion, and Jack Billingham represented the Reds in the All-Star Game in Kansas City on July 24, 1973; Tom Seaver and Willie Mays represented the Mets. As of 2018, Bench, Morgan, and Tony Perez have been enshrined in the Hall of Fame at Cooperstown, New York.
5 Eric Aron, "Bud Harrelson," SABR Baseball Biography Project, sabr.org/bioproj/person/cb7f6459.
6 Matthew Silverman, Swinging '73, Baseball's Wildest Season (Guilford, Connecticut: Lyons Press, 2013), 146. "Ringside announcer Bob Murphy called Flushing's 'Fight of the Century' on WHN: And a fight breaks out! A fight breaks out! Pete Rose and Bud Harrelson. Both clubs spill out of the dugouts and a wild fight is going on! Jerry Koosman's in the middle of the fight. Everybody is out there. … Rose outweighs Harrelson about 35 pounds. … Another fight breaks out!"
7 Rose batted .381 in the NLCS and the rest of the Reds collectively hit .158.
8 Joseph Durso, "Mets in World Series; Defeat Reds for Flag," New York Times, October 11, 1973: 1.
Additional Stats
New York Mets 7
Cincinnati Reds 2
Game 5, NLCS
---
Shea Stadium
New York, NY
Box Score + PBP:
Corrections? Additions?
If you can help us improve this game story, contact us.
Tags
http://bioproj.sabr.org/bp_ftp/images4/McGrawTug.jpg
600
800
admin
/wp-content/uploads/2020/02/sabr_logo.png
admin
2019-10-15 14:12:14
2020-04-17 10:22:28
October 10, 1973: 'Ya Gotta Believe!' Mets win National League pennant