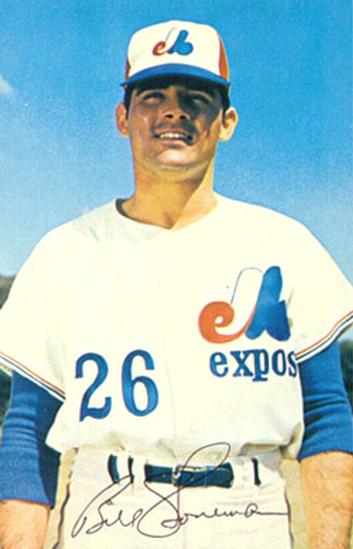 October 2, 1972: Bill Stoneman throws second no-hitter for Expos
---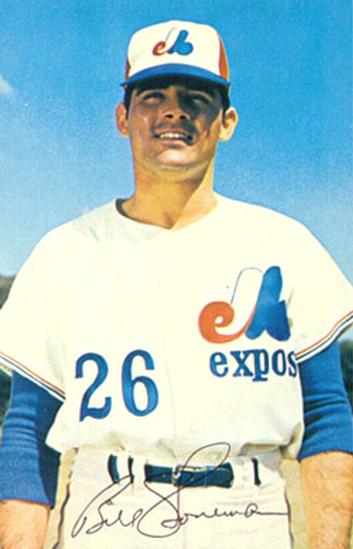 On September 28, 1972, the entire country of Canada ceased to function. Businesses closed. Kids were let out of school. The occasion was Game Eight of the epic hockey series between a team of Canadian National Hockey League players and the Soviet national team. The series, which Team Canada was expected to win in a skate, had come down to the final game with the series tied at three wins each and one tie. Canucks from coast to coast to coast watched intently as the final minutes ticked away with the score tied 5-5. Finally, Paul Henderson scored with 34 seconds left to play to seal the series victory for Canada and send an entire nation into a state of delirium. Take the Miracle on Ice, multiply by 10, and you will understand the elation Canadians felt after Henderson scored that goal.
Perhaps it was because of the afterglow of that event, or the cool October weather, that only 7,184 hardy souls attended a twi-night doubleheader between the Montreal Expos and the New York Mets at Jarry Park on October 2, 1972. They saw something in the first game that no one had ever seen before–the first major-league no-hitter ever pitched on other than American soil.
"There was only one way, it seems, that we could knock Team Canada from the front page," said Expos president John McHale. "That was for Bill Stoneman to throw a no-hitter – and he did."1
The Mets and Expos were winding down disappointing seasons. The Mets had a 79-72 record, good for third place in the National League East Division, 15 games behind the eventual division champion Pittsburgh Pirates. Since coming from nowhere to win the World Series in 1969, they had won 83 games in 1970 and 1971, and would do so again in 1972.
The Expos were 69-82 in their fourth season of existence. Since winning 73 games in 1970 when manager Gene Mauch "predicted "70 in 70" for what was then a second-year franchise, the Expos hadn't improved at all. They went 71-90 in 1971 and were on their way to a 70-86 season in 1972 (the season was shortened by a players' strike at the beginning of the year).2
The two starting pitchers had both been slumping. Mets starter Jim McAndrew was in the midst of a losing streak. After defeating the Phillies on September 12 to go 11-5, he had lost his next two starts, including a 4-0 whitewash in St. Louis. Similarly, Stoneman would never sing "Try to Remember That Kind of September" after the month he went through. In seven appearances, he went 1-5 with a 3.86 ERA. Somebody was due to have a good game.
It was clear from the get-go that that somebody was not to be McAndrew. After Stoneman struck out the side in the first (he also walked John Milner), the Expos struck quickly in the bottom of the inning. Leadoff hitter Ron Hunt doubled, moved to third on a Tim McCarver fly ball, and scored on a wild pitch. He would have come home anyway because after Ken Singleton struck out, Ron Fairly gave Montreal a 2-0 lead with a home run.
The Expos put it away in the bottom of the third. McAndrew plunked Hunt to lead off the inning.3 Hunt moved to third on McCarver's single to center, and scored on Ken Singleton's single; Singleton advanced to second on the throw to the plate. One out later, Jim Fairey was walked intentionally to load the bases for Boots Day. Boots belted the ball to right for a bases-clearing triple to give the Expos a 6-0 lead after three.
The Expos' final run, off Mets reliever Brent Strom in the fourth, was a singular achievement. Singleton singled home Hunt, who had singled and moved to second on McCarver's single. That made the score 7-0.
A big lead after four innings certainly doesn't guarantee a no-hitter. It doesn't even assure victory, at least not in baseball. The Mets came close to scoring in the fifth when Bill Sudakis walked with one out, moved to second when Stoneman flubbed a Don Hahn grounder and to third when Ted Martinez hit into a fielder's choice. With two on and two out, Stoneman fanned pinch-hitter Dave Marshall to end the Mets' only real scoring threat.
Stoneman's performance from the sixth inning on was marked by an oddity in that he didn't have a single three-up-three-down inning. He walked two batters in the sixth and one in each in the seventh, eighth, and ninth. He also left one runner on base in each frame (Lute Barnes, who received the first base on balls in the sixth, was erased on a double play).
The Mets' relief corps did a fine job. Strom, who came on with one out in the third, allowed one run. Bob Rauch pitched three scoreless innings and Ray Sadecki gave up one walk in working the eighth.
This was the second no-hitter of Stoneman's career, making him the 16th pitcher in the 20th century to pitch two gems. His first no-hitter was also historic as it came in the ninth game of the Expos' existence on April 17, 1969, and was the first ever thrown in an expansion team's debut season. When he left the major leagues he was the only pitcher to toss no-hitters in his first and last career complete games.
The two games were also similar statistically. In the 1969 game, Stoneman struck out eight and walked five. He struck out nine and walked seven in the 1972 one. Seven walks sounds high, but according to Expos manager Gene Mauch, they were the result of smart pitching rather than of poor control.
"Most of his walks tonight were because he made certain he didn't give the batters anything decent to hit after he fell behind," Mauch explained. "He simply said to hell with this and just gave them nothing to hit."4
As with any no-hitter, a pitcher has to rely on his defense to make outstanding plays. Tim Foli made two quality plays to keep the goose egg in the hit column. The first came in the fourth when he went far to his right to snag a blooper off Milner's bat that went behind third baseman Coco Laboy. The second came on the game's last out when Hahn–a former Expo–-smacked a grounder that bounced crazily after hitting the edge of the grass. Foli was able to snare it and throw to Fairly at first for the out.
"Both [no-hitters] ended with tough groundballs to shortstop," Stoneman said. "Foli stayed with it. He made the play look easy and it wasn't that easy."5
Expos management deserves kudos for arranging to show Stoneman the team's appreciation the very next night between games of another Expos-Mets doubleheader. They gave him a $2,000 bonus check and two Air Canada plane tickets to anywhere the airline flew. His wife, Diane, a former Air Canada stewardess, received a gold watch and his batterymate, McCarver, received a $500 gift certificate.
For his part, Stoneman was happy to have pitched his second no-hitter in the milieu familier of Jarry Park for the hometown crowd.6 "I heard the people yelling. It felt great," he said after the game. "Having pitched one on the road, I know that I'm happier to have pitched it here."7
Years later, Stoneman evaluated the two no-hitters not just in terms of what they meant to the fans or the team, but what type of pitcher threw them. "There were a lot of similarities to both games," he said, "but the pitcher who threw the first no-hitter and the pitcher who threw the second were two different pitchers in terms of experience."8
This article appeared in "Au jeu/Play Ball: The 50 Greatest Games in the History of the Montreal Expos" (SABR, 2016), edited by Norm King. To read more articles from this book, click here. It also appeared in SABR's "No-Hitters" (2017), edited by Bill Nowlin. To read more articles from this book, click here.
Sources
In addition to the sources listed in the notes, the author consulted:
Baseball-reference.com.
SI.com.
Box scores for this game can be found on baseball-reference.com, and retrosheet.org at:
http://www.baseball-reference.com/boxes/MON/MON197210021.shtml
http://www.retrosheet.org/boxesetc/1972/B10021MON1972.htm
Notes
Additional Stats
Montreal Expos 7
New York Mets 0
---
Parc Jarry
Montreal, QC
Box Score + PBP:
Corrections? Additions?
If you can help us improve this game story, contact us.
Tags
http://sabr.org/sites/default/files/StonemanBill.jpg
600
800
admin
/wp-content/uploads/2020/02/sabr_logo.png
admin
2017-08-18 00:39:12
2020-04-17 10:25:45
October 2, 1972: Bill Stoneman throws second no-hitter for Expos