October 27, 1985: Royals rout Cardinals 11-0 in Game 7 to clinch first World Series title
---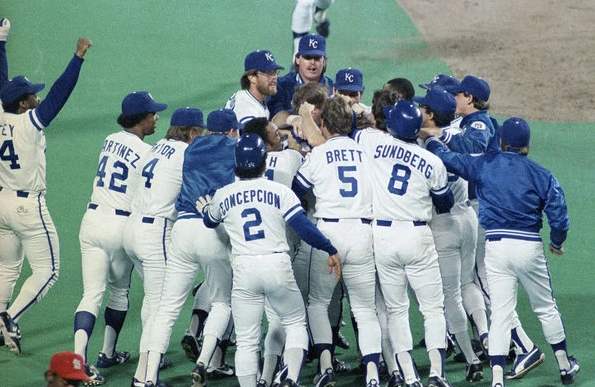 After the Royals narrowly escaped Game Six with a 2-1 victory, Kansas City's relief ace Dan Quisenberry remarked, "Every year the World Series should go seven games for the dramatics of it."1 The 41,658 fans who packed Royals Stadium on October 27, along with a national television audience, certainly expected a thrilling end to the intrastate I-70 Series, especially with the Royals' 20-game winner Bret Saberhagen — the eventual AL Cy Young Award recipient — going head-to-head against the Cardinals' 21-game winner John Tudor, who had hurled 10 shutouts in the regular season. Tudor already had defeated Kansas City in Games One and Four while Saberhagen had bested St. Louis in Game Three. As this game unfolded, however, the only dramatics were of the theatrical kind on the part of the Cardinals as the Royals put an exclamation point on their first World Series championship in 17 years of franchise history.
The Cardinals were still fuming about umpire Don Denkinger's missed call in the ninth inning on the previous night, which they believed had cost them the game and a six-game Series victory. Game Six was not the first time that the Redbirds had been dissatisfied with the umpiring in this series either. Cardinals starter Joaquin Andujar had complained about balls and strikes in Game Three, and the team had also "hotly disputed" the Royals' Jim Sundberg being called safe at home in Game Five, a 6-1 Kansas City victory.2 In regard to the Cardinals' prospects for Game Seven, manager Whitey Herzog had gone so far as to assert, "If John [Tudor] doesn't hit the corners, we're dead. If he doesn't get the calls from that guy [Denkinger], we're dead."3
Given the Cardinals' frame of mind, Herzog may as well have stated that his team was dead on arrival at the stadium as Tudor indeed failed to hit the corners, although Denkinger's ball-and-strike calls were not to blame. Tudor, who had walked only 49 batters in 275 innings during the regular season and three in 15⅔ innings in the World Series, lost his pinpoint control at the wrong time. In the bottom of the second inning, he issued a one-out walk to Steve Balboni that Darryl Motley followed with a blast into the seats in deep left field that gave the Royals a 2-0 lead.
The second inning provided foreshadowing to events in the bottom of the third. Lonnie Smith drew a leadoff walk and, after Willie Wilson flied out, advanced to second on George Brett's single. With Frank White at the plate, Smith and Brett then pulled off a double steal. After throwing eight pitches to White, Tudor surrendered a full-count walk to load the bases. Sundberg was up next and he drew the third base on balls, again on a full count, to force in Smith for the Royals' third run. At this point, Herzog pulled the plug on Tudor's evening, which at 2⅓ innings was his shortest outing in 1985. Tudor was so irate about his performance that he punched a cooling fan in the Cardinals dugout, incurring an injury to his left index finger that required stitches.
While a local hospital stemmed the bleeding from Tudor's digit, Bill Campbell took the mound for St. Louis to try to stop the flow of Royals runners across home plate. Balboni, the first batter he faced, had other ideas and stroked a single to left field that drove in Brett and White for a 5-0 lead. After Motley grounded out to first, Campbell intentionally walked Buddy Biancalana — the Royals' fourth free pass of the inning — in order to face Saberhagen, whom he struck out to end the frame.
Though Saberhagen was not a threat at the plate, he was cruising along against the hitters who stepped up to it to face him, having allowed only two harmless singles through the first five innings. In the bottom of the fifth, Saberhagen's teammates provided him with an even larger cushion than he already had, en route to turning a highly anticipated thriller into a laugher. The Cardinals, understandably, were not amused, and their tempers began to flare again in the fateful fifth inning.
Sundberg smacked a leadoff single that ended Campbell's stint on the mound. Jeff Lahti was the next fireman to take the hill, and he turned a brushfire into a raging inferno as Balboni and Motley hit consecutive singles, the latter of which plated Sundberg. Biancalana then struck out, and Saberhagen's bunt resulted in Motley being forced at second base for the second out; however, Lahti was not out of trouble yet. Smith belted a two-run double and advanced to third when left fielder Tito Landrum threw to home to try to nab Saberhagen. After Wilson drove in Smith with a base hit, Herzog inserted his third pitcher of the inning, Ricky Horton.
Brett greeted Horton with a single, prompting St. Louis's skipper to go to his bullpen once more. This time Herzog called for Andujar, another 21-game winner in the regular season, to enter the fray. Andujar fared no better than his predecessors as White worked an 11-pitch at-bat into an RBI single. The fiery Andujar, who was still angry about the umpiring in Games Three and Six, began to protest when Denkinger called a 2-and-2 pitch ball three against the next batter, Sundberg. When Denkinger called ball four on the next pitch, Andujar argued so vehemently that Denkinger ejected him, at which point the pitcher became so irate that "Mike Roarke, the St. Louis pitching coach, grabbed him and pushed and dragged him from the field and into the dugout."4
Herzog ran onto the field to argue with Denkinger and, according to one report, "all of a sudden, four-letter words were on sale for 99 cents a dozen," which resulted in the manager being tossed from the game as well.5 Herzog tried to downplay the content of his tirade, admitting only, "I did say to Denkinger I didn't think we should be out there tonight, that we should be at home."6 Shortstop Ozzie Smith agreed with Andujar's and his manager's tirades, asking, "When you're being cheated, how else are you supposed to react?"7
Outfielder Andy Van Slyke was the only Cardinals player to voice a dissenting point of view, opining, "I feel sorry for the kids around the country more than anyone else. Now they think this is the way a major-league ballplayer acts." In reference to the Cardinals' defeat, he added, "You swallow your pride, tip your hat, and come back to spring training next year."8
Once the dust settled, Bob Forsch became the fifth Cardinals hurler to take the mound — tying the World Series record set by the Baltimore Orioles in 1979's seventh game — and he promptly uncorked a wild pitch that allowed Brett to score what turned out to be the final run of an 11-0 Royals romp. The margin of victory tied the World Series Game Seven record, which had been set by Dizzy Dean and the 1934 St. Louis Cardinals, who had defeated the Detroit Tigers by the same score.
Saberhagen went the distance for a five-hit/no-walk shutout that gave him his second World Series victory. His two complete-game triumphs, in which he allowed a total of one run, garnered him the Series' MVP Award. The 1985 season was a banner campaign for the 21-year old pitcher: his wife had just given birth to their first child the previous day, he now was a World Series champion and MVP, and he soon would receive his first Cy Young Award.
Though Saberhagen was the hero of the moment, the entire Kansas City pitching staff had excelled. The Cardinals had led the NL in scoring during the regular season, but they managed only 13 runs against the Royals and batted a lowly .185, which was a record for the lowest team batting average in a seven-game World Series.9 Royals manager Dick Howser noted, "It was a struggle, but we had good pitching. … We played 14 pressure games [AL Championship and World Series] in a row, and our pitching was good."10
After losing three consecutive AL Championship Series to the New York Yankees from 1976 to 1978 and losing the 1980 World Series to the Philadelphia Phillies, the Royals had finally captured their first crown with a team that was considered to be weaker than any of their previous playoff squads. The fact that the 1985 Royals had become only the fifth team to overcome a three-games-to-one World Series deficit led Howser to assert, "This is a special club, and these are special players."11 Longtime stars Brett, McRae, and White had suffered through those previous failures and no doubt shared their teammate Quisenberry's assessment about their World Series championship: "It's glorious. What else can you say but it's glorious."12
Notes
1 Murray Chass, "Triumph 2-1 Iorg's Hit: Royals Stun Cardinals in 9th and Tie Series," New York Times, October 27, 1985: S1.
2 Johnathan Rand, "Herzog Levels Blast at the Umpires as Cards Lose for First Time in Ninth," Kansas City Star, October 27, 1985: 2J.
3 Joseph Durso, "Herzog Inveighs Against Umpiring," New York Times, October 27, 1985: S3.
4 Murray Chass, "Royals Trounce Cardinals, 11-0; Take Series on 3rd Victory in Row," New York Times, October 28, 1985: C8.
5 Dave Nightingale, "Unheralded K.C. Romps to Throne Room," The Sporting News, November 4, 1985: 19.
6 Joe McGuff, "'85 Season: Wild and Glorious," Kansas City Star, October 28, 1985: 1C.
7 Ibid.
8 Ibid.
9 Nightingale, "Unheralded K.C. Romps to Throne Room."
10 McGuff, "'85 Season: Wild and Glorious."
11 Ibid.
12 Ibid.
Additional Stats
Kansas City Royals 11
St. Louis Cardinals 0 
Game 7, WS
---
Royals Stadium
Kansas City, MO
Box Score + PBP:
Corrections? Additions?
If you can help us improve this game story, contact us.
Tags
https://h2j7w4j4.stackpathcdn.com/wp-content/uploads/2020/10/1985-KC-Royals-celebrate.png
387
595
admin
/wp-content/uploads/2020/02/sabr_logo.png
admin
2020-10-04 21:51:32
2020-10-05 00:03:31
October 27, 1985: Royals rout Cardinals 11-0 in Game 7 to clinch first World Series title