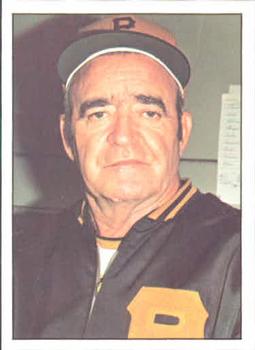 October 3, 1976: Pirates sweep doubleheader in Danny Murtaugh's final games as manager
---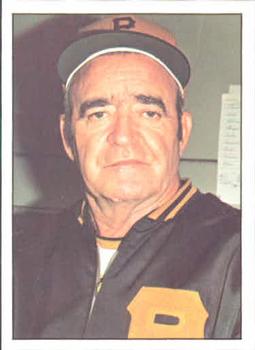 The Pirates' 1976 season and Danny Murtaugh's managerial career concluded with a doubleheader against the St. Louis Cardinals on October 3, 1976. Both teams disappointed that year, the Cardinals dropping from 82-80 in 1975 to 72-88 beginning the season's final Sunday. For Pittsburgh, although it had won only two fewer games than in its Eastern Division-winning season of 1975, as the season's final day dawned, the Pirates' 90-70 record put them 9½ games behind the division winners, the Philadelphia Phillies.1
Since 1970, the Pirates had dominated the National League Eastern Division, winning five division titles and one World Series in six seasons. As 1976 began, they were well positioned to win another division championship. Sports Illustrated predicted another title for the Pirates, opining, "Despite perennial doubts about Pittsburgh's overall quality, almost every year the Pirates win."2
However, the 1976 Pirates failed to live up to expectations. They won their first five games, and on April 25 stood in first place. A 7-1 loss to the Los Angeles Dodgers on April 26 dropped them to third place. They never occupied the top spot in the division again. At the end of April, the Pirates were three games behind the first-place New York Mets. By the end of May, they trailed the red-hot Philadelphia Phillies by 6½ games. Although the Pirates had a 16-10 record in June, they fell further behind the Phillies, trailing them by 9 games on June 30. By July 31, the Pirates' deficit had grown to 11½ games. After the completion of play on August 24, the Pirates trailed the Phillies by 15½ games. Then the Pirates got hot. They won 15 of 17, including a three-game sweep of the Phillies September 6-8. On the morning of September 13, the Pirates stood only four games behind. A two-game sweep of the Phillies on September 15 and 16, then a 4-1 win over the Mets on September 17 pulled them within three games. They got no closer. Over the next five days, the Pirates lost five of six to the Mets and Chicago Cubs, dropping them six games back on the morning of September 23. They were eliminated on September 26.
On October 3, the last day of the regular season, Murtaugh concluded his managerial career by guiding the Pirates to two 1-0 victories over the Cardinals. He had announced his retirement two days before, and on the campaign's last day, the Pirates and Cardinals treated 24,228 spectators to two games reminiscent of baseball in the Deadball Era. They combined for two runs and 22 hits, only three for extra bases. All four starters pitched complete games. The teams played the first game in 1:47, the second in 1:48, about the length of an average game in 1920.3
In the first game, Jim Rooker won his 15th of the season with a seven-hit shutout. The Cardinals mounted just one threat, when Keith Hernandez and Mike Tyson singled with none out in the fourth inning. Rooker then got Sam Mejias to ground into a double play and retired Charlie Chant on a grounder to shortstop. The Pirates scored the lone run of the game in the sixth on a double by Omar Moreno and an error by first baseman Hernandez. Rooker allowed only two harmless singles after the sixth inning. The win was Pittsburgh's 91st of the season, the fifth time in 12 years that Murtaugh-led teams had won more than 90 games.
The Pirates gave Murtaugh a proper sendoff by winning his final game as manager by the same score. Pittsburgh starter Jerry Reuss pitched even better than Rooker had in the first contest, allowing only five hits and one walk while striking out six. Only two Cardinals baserunners reached third, but the Pirates were stymied by Cardinals left-hander Pete Falcone. In the bottom of the ninth the game remained scoreless. Falcone, who often struggled with control, walked Richie Zisk to lead off the inning. Rookie Miguel Dilone ran for Zisk and stole second. Falcone then retired Bill Robinson and Bob Robertson, bringing rookie Tony Armas to the plate. Armas, making his first start in the majors, promptly got his first major-league RBI with a single to left, scoring Dilone and winning the final game of the 1976 season for the Pirates and Danny Murtaugh.
The day marked the end of an era in Pittsburgh baseball. An unlikely managerial choice when hired in 1957, Murtaugh must be the only major-league manager who got his job because of an orange drink. On the evening of July 31, 1957, the seventh-place Pirates were playing the Milwaukee Braves at County Stadium. After a disputed call at second base, umpire Stan Landes ejected Pirates manager Bobby Bragan. Bragan later described what followed: "I went back to the dugout and told Danny Murtaugh – he was one of my coaches – to get me a hot dog and a cold drink. All they could rustle up was an orange drink with a straw in it, and I took that and went back out there." Bragan offered Landes a sip which resulted in another invitation to leave the field. The next day, Pirates general manager Joe Brown met the team in Chicago and fired Bragan. The now former skipper mused, "Did the orange juice have anything to do with it? The pot had been boiling, and that made it boil over. A cup of cold orange juice." 4
Clyde Sukeforth, reportedly Brown's first choice to take over, "declined and recommended Murtaugh," who had three-plus years of managerial experience with New Orleans and Charleston. Although Brown named Murtaugh an "interim," he would eventually serve four different stints between 1957 and 1976 as the Pittsburgh skipper. During Murtaugh's managerial career the team won more games than for any other Pittsburgh manager before him except Fred Clarke, and won four division titles, two pennants, and two World Series championships.5
Murtaugh did not enjoy his first day as Pirates manager. His team lost both games of that day's doubleheader with the Chicago Cubs and fell into last place. The losses were Pittsburgh's seventh and eighth in a row. The team broke the losing streak two days later and went 25-23 the rest of the season, finishing in a tie for seventh and giving Murtaugh a 26-25 record in his first season as the Pirates manager.
By the end of 1957, Murtaugh was no longer an "interim" and managed the club through 1964, when a heart problem diagnosed in 1962 caused him to retire at age 46. He returned in the middle of the 1967 season, again for 1970 and 1971, and for a final stint from September 7, 1973, through the end of the 1976 season. His teams won the World Series in 1960 and 1971 and division championships in 1970, 1971, 1974, and 1975. Murtaugh's teams won 1,115 games and lost 950, a .540 winning percentage. They proved particularly adept at winning after major-league expansion in 1969. In his five full seasons of managing between 1970 and 1976, his clubs finished first four times and second in his final year. Although clearly a better team than the team he inherited in 1957, Murtaugh's 1976 squad, like the 1957 version, which featured key performers from the 1960 champions, included a number of players who would make key contributions to the 1979 championship team. In 1957, the Pirates featured Roberto Clemente, Dick Groat, Bob Skinner, Bill Mazeroski, Bill Virdon, Roy Face, Bob Friend, and Vern Law. The 1976 team included Dave Parker, Willie Stargell, Ed Ott, Omar Moreno, Bill Robinson, John Candelaria, Jim Rooker, Kent Tekulve, and Bruce Kison. As he headed into retirement, Murtaugh could look back with pride at his managerial career.
Murtaugh's last retirement proved brief. The offseason of 1976-77 proved to be a nightmare for baseball fans in general and Pirates fans and the organization in particular. On October 9, right-hander Bob Moose, a valuable and versatile pitcher and the author of a 1969 no-hitter against the New York Mets, died on his 29th birthday in an automobile accident. Less than two months later, on December 2, Danny Murtaugh suffered a stroke and died. Longtime Pittsburgh sportswriter Les Biederman wrote after Murtaugh's death: "You were someone special, on and off the field. You were kind, considerate, firm, loyal and above all, fair. And you were always modest. Your baseball cap always fit your Irish head." Successful on the field, respected off the field, Murtaugh left an indelible mark on the city and its baseball franchise. To think, it all started with an orange drink.6
This article appears in "Moments of Joy and Heartbreak: 66 Significant Episodes in the History of the Pittsburgh Pirates" (SABR, 2018), edited by Jorge Iber and Bill Nowlin. To read more stories from this book at the SABR Games Project, click here.
Notes
1 All references to game scores, standings, etc., come from retrosheet.org.
2 Sports Illustrated, April 12, 1976: 68.
3 For a discussion of average playing times, see reference.com/sports-active-lifestyle/average-length-baseball-game-cf7787f6118cdfcd (accessed March 18, 2017). On Murtaugh's retirement, see Charley Feeney, "Brown, Murtaugh Break Up Their Pirate Act," The Sporting News, October 16, 1976: 13.
4 Donald Honig, The Man in the Dugout: Fifteen Big League Managers Speak Their Minds (Lincoln: University of Nebraska Press, 1995), 24. Another account of the orange-drink argument can be found here: retrosheet.org/boxesetc/1957/B07310MLN1957.htm (accessed March 18, 2017).
5 Andy Sturgill, "Danny Murtaugh," SABR BioProject, sabr.org/bioproj/person/d9cd13bd (accessed March 8, 2017). See also Harold Rosenthal, Baseball's Best Managers (New York: Thomas Nelson and Sons, 1961), 103, cited in Sturgill, "Danny Murtaugh." For a description of Murtaugh's four terms as Pirates manager, see Robert Dvorchak, "The Next Manager Is … Danny Murtaugh, Pittsburgh Post-Gazette, November 29, 2009. The Sporting News had extensive coverage of the Bragan firing and Murtaugh's elevation to manager: Les Biederman, "Bragan Gets His Last Laugh as Buc Boss," The Sporting News, August 7, 1957: 3; J.G. Taylor Spink, "Luck of the Irish for Murtaugh," The Sporting News, August 14, 1957: 4; Les Biederman, "Murtaugh Learned of Firing in Midnight Call on Brown," The Sporting News, August 14, 1957: 4. Les Biederman, "Pilots Get Ulcers, Sukey to Raise Christmas Trees," The Sporting News, August 21, 1957: 8.
6 "Pirates Moose Killed in Crash on 29th Birthday," New York Times, October 11, 1976; "Danny Murtaugh Is Dead at 59; Won 2 Series as Pirate Manager," New York Times, December 3, 1976; Les Biederman, "Dan's Cap Always Fit His Irish Head," The Sporting News, December 18, 1976: 53. Mike Miley of the California Angels and Danny Frisella of the Milwaukee Brewers also died in vehicle accidents in January 1977. "Angels' Infielder Miley Dies in Auto Accident," New York Times, January 7, 1977; "Danny Frisella Dead in Car Mishap at 30," New York Times, January 4, 1977.
Additional Stats
Pittsburgh Pirates 1
St. Louis Cardinals 0
Pittsburgh Pirates 1
St. Louis Cardinals 0
---
Three Rivers Stadium
Pittsburgh, PA
Box Score + PBP:
Game 1
Game 2
Corrections? Additions?
If you can help us improve this game story, contact us.
Tags
https://sabr.org/sites/default/files/MurtaughDanny.jpg
600
800
admin
/wp-content/uploads/2020/02/sabr_logo.png
admin
2019-01-23 10:49:42
2020-04-17 10:23:41
October 3, 1976: Pirates sweep doubleheader in Danny Murtaugh's final games as manager