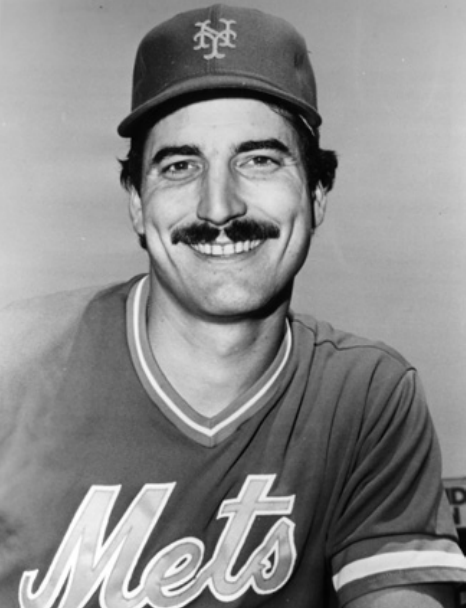 October 3, 1985: Keith Hernandez goes 5-for-5, but Mets fall to Cardinals
---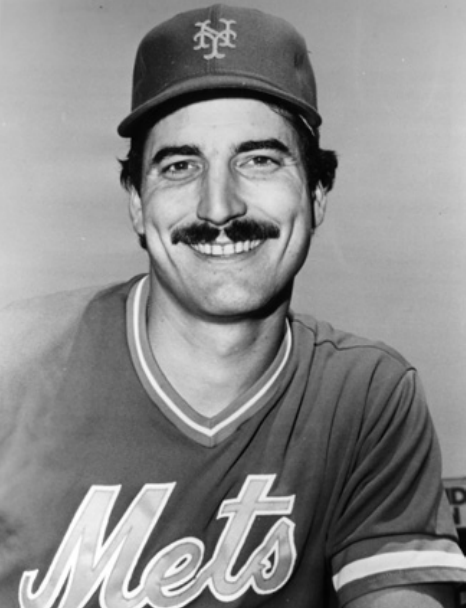 Keith Hernandez of the New York Mets had three five-hit games from August 8 to October 3, 1985.1 The third game in this stretch occurred in the finale of a three-game set with the St. Louis Cardinals, whom the Mets were battling for first place in the National League East. After winning the first game of the series on Darryl Strawberry's 11th-inning blast, and taking the next on the strength of Dwight Gooden's 24th win in a Cy Young Award year, the Mets found themselves one game back of the Cardinals with four to go.
Mookie Wilson led off this pivotal game with a single and moved to second on a controversial grounder to short by Wally Backman.2 Wilson scored on Hernandez's first hit of the night, a long single off the wall in right field."3 Gary Carter and Strawberry followed with singles to load the bases and put the Mets on the cusp of a big inning. But George Foster hit a grounder to Cardinals third baseman Terry Pendleton, who fired home to Darrell Porter for the second out of the inning, so the hopes of blowing the game open early for the Mets lay in the hands of Howard Johnson against Cardinals starting pitcher Danny Cox, who must have been experiencing déjà vu all over again.4
On September 10 the Cardinals and Mets had opened a three-game series at Shea Stadium with the two teams tied for first. Cox loaded the bases in the first and faced Johnson with two outs. Johnson hit a grand slam that gave the Mets and pitcher Ron Darling a comfortable 5-1 lead that they never relinquished.
Fast forward to October 3: bases loaded, first inning, two outs, Cox facing Johnson, the NL East title on the line. With that unpleasant memory in mind — and pitching at home now rather than on the road — Cox got Johnson to hit a groundball to Pendleton for a force out at third.
Going into the pivotal game three, Hernandez thought, "[t]wo things need to happen early tonight: [starter] Rick [Aguilera] needs to stop them in the first inning, and we need to score fairly early."5 Score early the Mets did, but as Hernandez knew, "[w]hat could have been an early big inning for us [became] instead a lift for the Cards."6
The Cardinals evened things up in the second. Pendleton singled with one out and advanced to third on a wild pitch. After a walk to Porter, Smith's grounder to second resulted in a force out and a run across. While the Mets needed four hits in the first to score one run, the Cardinals needed just one in the second. This was typical of the speed-oriented offense that manager Whitey Herzog used to great effect with the Cardinals of this era.
Hernandez led off the third for the Mets. In August he had testified in the infamous Pittsburgh drug trials which brought to light widespread drug use by major leaguers. His being traded to the Mets may have been directly related to his drug use,7 though Hernandez had his own thoughts on the matter.8 Regardless, with every normal incentive to boo any player wearing a Mets uniform that night, Cardinals fans seemed to have extra venom saved for Hernandez. Recalled Mets manager Davey Johnson, "All game long Keith had taken an unbelievable beating from the St. Louis fans. Every time he came up to bat, the crowd would chant, 'Coke is it,' and every time Keith came through with a base hit."9
St. Louis catcher Darrell Porter provided a further annoyance to Hernandez in his second at-bat when he asked home-plate umpire Ed Montague to check the pine tar on Hernandez's bat.10 After Montague didn't find any violation,11 Hernandez got his second hit of the game — a single — though he was quickly wiped off the basepaths when Carter hit into a double play.
In the bottom of the fourth, Porter got a one-out walk and Smith followed with a single. Cox's sacrifice moved the runners to second and third. Rookie Vince Coleman — who led the major leagues with 110 stolen bases in 1985 — singled Porter and Smith home, and the Cardinals had the upper hand with a 3-1 lead.
The Mets and Hernandez answered right back in the top of the fifth. After Aguilera grounded out to lead off, the speedy Wilson hit a single and took third on Backman's bunt to the third-base side. Hernandez hit a double, scoring Wilson. Carter flied out to right to end the rally, but the margin was down to one.
In the bottom of the sixth, Smith got a one-out single. A balk by Aguilera moved Smith to second and, after Cox struck out, he moved to third on a single by Coleman. Up stepped Willie McGee, who entered the game hitting .354 on his way to winning the 1985 NL Most Valuable Player Award. McGee drove in Smith with a single and the Cards led 4-2.
Aguilera, who was in his rookie season in 1985 and eventually went to three All-Star Games as a reliever with the Minnesota Twins, got Tommy Herr to fly out to center to end the sixth, closing the books on his night. It was just the 19th start in Aguilera's major-league career. Davey Johnson wrote about starting a rookie pitcher in a high-stakes game: "My pitching is short. I'm forced to start Rick Aguilera. It's asking a lot from a rookie, but I have no alternatives."12
The Mets rallied in the seventh but could not get any runs across the plate. Pinch-hitter Lenny Dykstra drew a leadoff walk off Ken Dayley, who was in for Cox. With two outs, Hernandez was up with a fast runner in Dykstra at first. For his fourth hit of the game, Hernandez hit a double off Dayley, but the Cardinals "save[d] a run when Coleman race[d] to the left field line to intercept my double into the bullpen, holding Dykstra on third."13
Herzog sent in the right-handed Todd Worrell, who retired Carter to get out of the jam.
The Mets threatened again in the top of the eighth. Strawberry led off with a double and moved to third on a passed ball by Porter. After Foster struck out, Strawberry scored on a single by Johnson to move the Mets one run closer, at 4-3.
In the ninth Hernandez stepped up to the plate with two outs and nobody on base. He squeezed out his fifth hit of the night: "I get it, cheap as it is: a bouncer deep to short."14
Well, whether it's a broken-bat single, a seeing-eye hit, or a dying quail, it all looks like a line drive in tomorrow's box score. (Or as the Steve Miller Band might sing it, "I hit a blooper, I hit a nubber, I hit a bleeder, I hit a squibber, don't want my hits to hurt no one."15
Right-hander Jeff Lahti, the Cardinals' save leader in 1985, replaced lefty Ricky Horton, who had replaced Worrell in the eighth — Herzog's bullpen-by-committee in full force16 — and retired Carter on a fly ball to right field to end the game, effectively ending the Mets' postseason dreams.
Going down to the wire in 1985 and coming up short left the Mets at a crossroads. Would they head into a tailspin next year or resolve not to let this happen again? Most coaches try to turn a failure into a teaching moment, and Davey Johnson was no different: "As I told the players the day before the season ended, 'I want you to make up your minds we're going to win it next year, that nothing is going to stop us, that we're going to win it next year.'"17
So, how did those '86 Mets do?
Sources
retrosheet.org/boxesetc/1985/B10030SLN1985.htm
baseball-reference.com/boxes/SLN/SLN198510030.shtml
Notes
1 Based on a search of five-hit games since 1904 on baseball-reference.com, Ty Cobb had the shortest timespan between three five-hit games, the 11 days from July 7 to July 17, 1922, which boosted his batting average from .394 to .409. Hi Myers of the Brooklyn Robins (August 21-22, 1917) and Roberto Clemente of the Pittsburgh Pirates (August 22-23, 1970) are the only players since 1904 to have five-hit games in consecutive games.
2 Shortstop Ozzie Smith and the Cardinals thought they had a double play as Smith seemed to simultaneously field the ball hit up the middle and touch second base before throwing Backman out. Joseph Durso, "Mets Stumble on the Threshold of First Place," New York Times, October 4, 1985. But Wilson was ruled safe and Hernandez came to bat with a runner in scoring position.
3 Keith Hernandez and Mike Bryan, If at First: A Season with the Mets (New York: McGraw-Hill, 1986), 324.
4 Hernandez and Bryan, 324, contains Hernandez's recollection of this uncanny similarity of circumstances: "After HoJo hit the grand slam off Cox at Shea Stadium three weeks ago, Cox boasted that Johnson would never get another hit off of him. Before the game tonight, I remind Hojo of the insult."
5 Hernandez and Bryan, 324.
6 Hernandez and Bryan, 324.
7 See Thomas Boswell, "Herzog: 11 Cardinals in Early '80s Used Cocaine Heavily," Washington Post, September 28, 1985, washingtonpost.com/archive/sports/1985/09/28/herzog-11-cardinals-in-early-80s-used-cocaine-heavily/359299db-f1e4-4a65-9a82-b6754bb2013a/ ("Almost every important Herzog trade since 1980 has, in retrospect, unloaded one of his confessed, rehabilitated or suspected cocaine abusers.").
8 In Hernandez and Bryan, 292-93, Hernandez offers two main reasons why he does not think he was traded because of drug use: (1) Cardinals starting pitcher Joaquín Andújar was also named as using cocaine but was not traded (because as Hernandez said, "you don't just trade twenty-game winners"), and (2) Herzog had wanted to trade him every year since Herzog joined the Cardinals in 1980.
9 Davey Johnson and Peter Golenbock, Bats (New York: G.P. Putnam's Sons, 1986), 315.
10 Hernandez and Bryan, 324.
11 Hernandez and Bryan, 324–25. According to Hernandez, Porter later claimed he had asked about the pine tar as a joke, only for Montague to take him seriously and measure how far up the bat the pine tar went.
12 Johnson and Golenbock, 11.
13 Hernandez and Bryan, 325. In an interview with Dave Anderson of the New York Times after the game, Hernandez said of his hit and the ballpark where he used to play: "I've seen a million balls go into that corner. … They either go all the way to the wall or get locked under the bullpen bench. If that ball does anything but what it did, Len Dykstra scores. Instead, he had to stop at third. That cost us a run right there. I guess that's the beauty of the game." Dave Anderson, "Mets Lament: 'It's Not Over,'" New York Times, October 4, 1985.
14 Hernandez and Bryan, 325. 
15 See (better yet, listen to) "The Joker," Steve Miller Band, songwriters: Eddie Curtis, Ahmet Ertegun, Steve Miller (1973).
16 Whitey Herzog and Kevin Horrigan, White Rat: A Life in Baseball (New York: Harper & Row, 1987), 175. Said Herzog: "Someone started calling it the 'bullpen by committee,' which is a cute way of saying everybody got a shot at it and everybody did his job."
17 Johnson and Golenbock, 316.
Additional Stats
St. Louis Cardinals 4
New York Mets 3
---
Busch Stadium
St. Louis, MO
Box Score + PBP:
Corrections? Additions?
If you can help us improve this game story, contact us.
Tags
http://sabr.org/sites/default/files/Hernandez-Keith.png
600
800
sabr
/wp-content/uploads/2020/02/sabr_logo.png
sabr
2020-07-28 16:18:00
2020-08-03 05:50:47
October 3, 1985: Keith Hernandez goes 5-for-5, but Mets fall to Cardinals