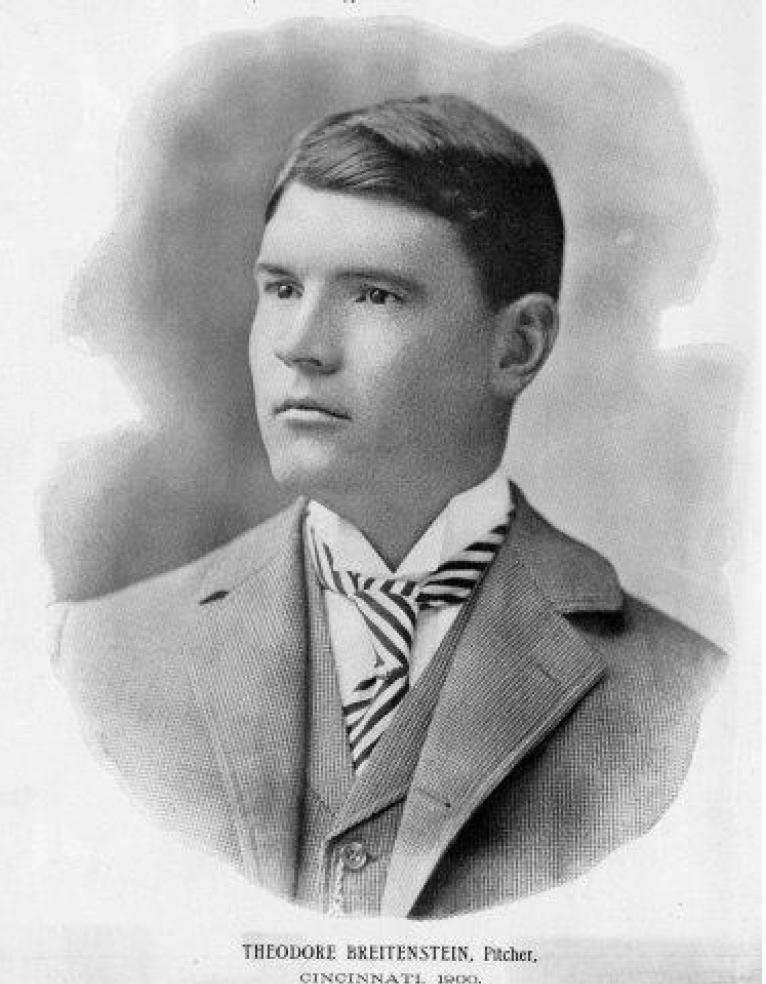 October 4, 1891: Theodore Breitenstein of St. Louis Browns throws no-hitter in his first major-league start
---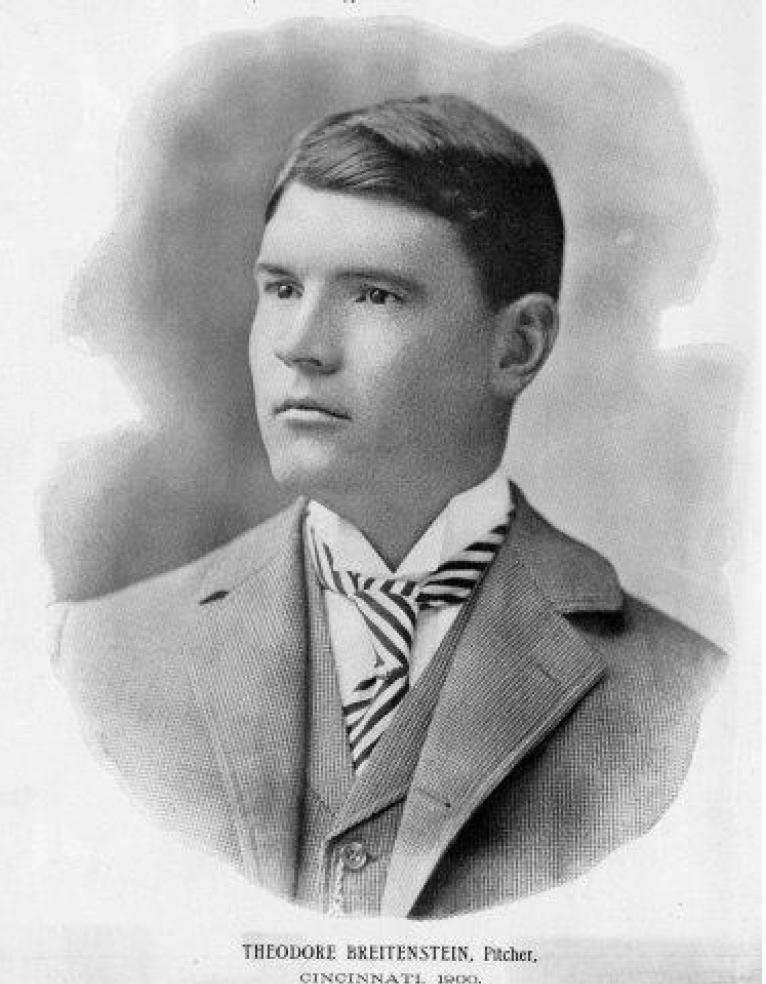 It was Sunday, October 4, the last day of the 1891 season, when Charlie Comiskey, the St. Louis Browns' first baseman and manager, let Theodore Breitenstein pitch the first game of a doubleheader against the Louisville Colonels in St. Louis. Breitenstein was a 22-year-old rookie, a little redhead from St. Louis. He stood 5-feet-9 and weighed barely 140 pounds.1 The Browns had already clinched second place in the American Association, and it was not possible to catch the first-place Boston Reds, so why not give the youngster a try? He had pitched well for the Browns in five relief appearances during the season and had earned this opportunity.
For the Louisville Colonels, it had been a tough year. After winning the 1890 American Association pennant, the team had fallen to eighth place in 1891. Manager Jack Chapman selected Jouett Meekin, a promising 24-year-old right-hander, to face the Browns in the first game of the doubleheader. The previous Sunday, in the second game of a doubleheader, Meekin fired a six-inning, two-hit shutout of the Browns in Louisville.2 Chapman hoped Meekin would repeat this effort in St. Louis.
It was a cold and blustery day in the Mound City, yet close to 5,000 fans came to Sportsman's Park for the doubleheader.3 Before the first game, Comiskey advised Breitenstein to let the Colonels hit the ball and to trust "Heaven and the outfield."4 Browns right fielder Tommy McCarthy said: "Bear down on the first man, kid. Get him away each inning and you won't have to worry."5
Breitenstein did bear down; he focused on each batter with great concentration. He was a left-hander with a whirling motion, and the Louisville hitters were baffled by his delivery. Breitenstein retired the Colonels inning after inning: Monk Cline, Farmer Weaver, and Captain Harry Taylor at the top of the order; the impressive rookie Hughie Jennings and veterans Chicken Wolf and Bill Kuehne in the heart of the order; and Tim Shinnick, Tom Cahill, and pitcher Meekin at the bottom of the order. To the surprise of everyone, Breitenstein delivered a nine-inning no-hitter! Except for a base on balls given to Taylor, it was a perfect game. Breitenstein faced 28 batters, one over the minimum, in his first major-league start. He struck out Taylor, Shinnick, and Meekin, and fanned Wolf twice. Only three balls were hit to the outfielders. The Browns backed him with flawless defense and scored eight runs off Meekin.6
Breitenstein did not realize he had a no-hitter going. He said:
"[Browns third baseman] Jack Boyle … and McCarthy gave me a big hand every inning. But they never mentioned the no-hit angle, and nobody on the bench said anything. Afraid I'd get excited. I was too busy worrying about the next batter to care what had happened before, so I never knew what was going on. It wasn't until after the game that Boyle … started pounding me on the back. 'Attaboy, kid, that's showin' 'em how,' he says. I says, 'Well, I was pretty lucky, I guess.' 'Lucky, hell,' he says, 'you shut 'em out without a hit.' And while I was trying to figure it out they carried me into the clubhouse on their shoulders."7
The next day a headline in the Louisville Courier-Journal read, "An Amateur Pitcher Shuts the Colonels Out Without a Single Hit."8 That "amateur" Breitenstein would have a successful professional career, winning more than 300 games over the next 20 seasons.
This article was published in SABR's "No-Hitters" (2017), edited by Bill Nowlin. To read more Games Project stories from this book, click here.
Notes
1 The Sporting News, April 5, 1934.
2 Louisville Courier-Journal, September 28, 1891.
3 St. Louis Post-Dispatch, October 5, 1891.
4 The Sporting News, February 21, 1929.
5 Ibid.
6 Louisville Courier-Journal and St. Louis Post-Dispatch, October 5, 1891. In a 1934 mention, The Sporting News said it had been just 27 batters, that one had walked but was then erased trying to steal. Contemporary reports and box scores reflect 28 batters.
7 The Sporting News, February 21, 1929.
8 Louisville Courier-Journal, October 5, 1891.
Additional Stats
St. Louis Browns 8
Louisville Colonels 0
---
Sportsman's Park
St. Louis, MO
Corrections? Additions?
If you can help us improve this game story, contact us.
Tags
https://sabr.org/sites/default/files/Breitenstein.png
600
800
admin
/wp-content/uploads/2020/02/sabr_logo.png
admin
2018-10-22 17:39:09
2020-04-17 10:23:51
October 4, 1891: Theodore Breitenstein of St. Louis Browns throws no-hitter in his first major-league start