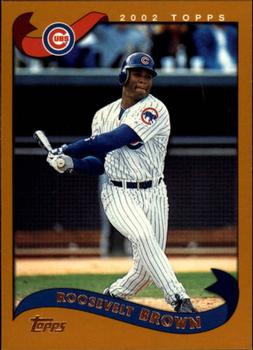 October 6, 2001: Cubs' Roosevelt Brown has his moment in the limelight
---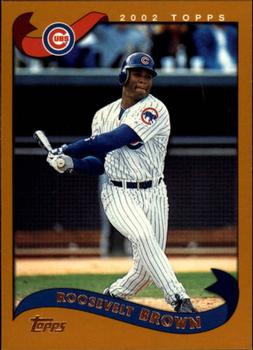 "A Cub hits two home runs and drives in seven runs — but it isn't Sammy Sosa. A starting pitcher takes a no-hitter into the eighth inning with nine strikeouts — but it isn't Kerry Wood."1 As Chicago Tribune sportswriter Bob Foltman observed, unlikely heroes do tend to emerge when September call-ups get a chance to shine in late-season major-league games.
For Chicago Cubs left fielder Roosevelt Brown, his moment in the sun came on a blustery 50-degree day in Wrigley Field on October 6, 2001.
Originally drafted in the 20th round by the Atlanta Braves in 1993, the Vicksburg, Mississippi, native was still looking to establish himself at the major-league level. After being traded to the Marlins in 1996 for Terry Pendleton, Brown was selected by the Cubs in the first round of the Triple-A phase of the Rule 5 draft.2 In his three seasons with the Cubs organization, Brown flashed some ability, but had appeared in only 88 games at the major-league level.
Brown started the 2001 season with the big club, but after appearing in only eight games in April, he was sent down to the Triple-A Iowa Cubs on April 25 when infielder Ron Coomer was activated.
If Brown was disappointed at the prospect of spending another season in Des Moines, he certainly didn't play like it. The left fielder was a productive member of the team, and flashed his offensive potential in games like a May 9 contest against Omaha in which he went 4-for-6 and drove in five runs.3
Brown returned to Chicago for a second time in June to fill in for an injured Rondell White. "When Rosey went down, there was no sulking on his part," said Cubs second-year manager Don Baylor. "He worked hard every day, made the All-Star team, and is back here on his merits."4 Brown enjoyed some success, most notably a five-hit night against the Detroit Tigers,5 but Brown returned to Iowa again on July 21.
Although fellow Iowa Cub Corey Patterson, the top prospect in the Cubs system, according to Baseball America,6 was more highly touted, Brown played an integral role in leading Iowa to a Pacific Coast League (Central) Division title. In 88 games, Brown batted .346 (the best average in the Cubs organization that season) with 22 home runs and 77 RBIs to earn a Triple-A All-Star nod from Baseball America.7 In fact, it was Brown's two home runs in a September 2 tilt against Salt Lake City that clinched Iowa's first division title in five years.8
After New Orleans swept Iowa in the first round of the Pacific Coast League playoffs, Brown returned to Chicago for his third stint of the season on September 9.
The season was interrupted by the September 11 terrorist attacks and the Cubs were still in contention for an NL Central Division crown, so Brown did not see action immediately. Once the Cubs were eliminated from wild-card contention on October 2, bench players began to get more playing time.
On Saturday, October 6, the Cubs sat locked in third place behind the Cardinals and the Astros, who would tie for the NL Central title. The Cubs had contended for much of the 2001 season, but faded badly in August and September. The recent dismissal of pitching coach Oscar Acosta, and a controversy over Baylor's use of conditioning and motivational guru, Mack Newton, cast a pall over the end of the Cubs season.9 Still, Chicago had improved markedly from its dismal 2000 record of 65-97 (the 2001 Cubs would finish 88-74), and chilly fall weather didn't keep an announced crowd of 35,020 from coming out to Wrigley Field to enjoy the next-to-last game of the Cubs season, against the Pittsburgh Pirates.
The Pirates, saddled with an NL-worst record of 61-99 at the start of the day, went down quietly in the first inning. Cubs right-hander Julian Tavarez, making his first start since September 1, retired the first three Pirates batters in order on only 10 pitches.
The Cubs offense jumped on Pittsburgh starter Tony McKnight in the bottom of the first as Brown powered the Cubs to a 3-0 lead. After a Corey Patterson infield single and a walk to Sammy Sosa, Brown teed off on a 3-and-1 pitch and sent it over Wrigley Field's right-field bleachers and onto Sheffield Avenue.
The Cubs scoring continued in the third when Sosa led off the inning with a home run, albeit one that did not make it to the bleachers. Pirates right fielder Rob Mackowiak lost a battle with the sun, a strong crosswind, and the right-field brick wall as he watched Sosa's drive fly over his head for an inside-the-park home run.10 Fred McGriff followed with a conventional homer over the fence to extend the Cubs' lead to 5-0. Batting after McGriff, Brown had a chance to embellish his game stats further by making it three consecutive homers for Chicago, but the left fielder lined out to center for the first out of the inning.
The Cubs added another run in the bottom of the sixth inning when Delino DeShields singled off reliever Rich Loiselle to score Todd Hundley, giving the Cubs a comfortable 6-0 lead.
All the while, Tavarez continued to mow down the Pittsburgh batters. The Cubs hurler did not allow a baserunner until the fourth inning, and recorded nine strikeouts through seven innings without allowing a hit. The pitcher credited Rick Kranitz, the Cubs' interim pitching coach, with giving him some solid advice prior to the game. "Today when I was warming up, Kranny told me to use a lot of sinking fastballs," said Tavarez after the game. "It's cold weather. It should be a good day to pitch. I'm telling you I did what he told me to do."11
Despite favorable pitching conditions, the Cubs continued to pile on the Buccaneer bullpen. In the bottom of the seventh, Michael Tucker tripled off Josias Manzanillo to lead off the frame, setting up another RBI opportunity for Roosevelt Brown. Brown took advantage by lofting a sacrifice fly to left field, giving the Cubs a 7-0 lead.
The Cubs starting pitcher began to run out of gas in the top of the eighth, however. Tavarez walked three of the first four Pirate batters in the inning to load the bases, then gave up his first hit of the day, a single to Mendy Lopez that plated two runs and cut the Cubs lead to 7-2. Manager Don Baylor removed his starting pitcher, and reliever Ron Mahay coaxed a double play to end the Pirates rally.
In the bottom of the frame, Brown and the Cubs quashed any hopes for a Pirates comeback by tacking on six insurance runs. Scott Sauerbeck, the Pirates' fifth pitcher of the day, gave up consecutive singles to Bill Mueller, DeShields, and Patterson. Sammy Sosa drove in two with a long double to the right-center gap, and a subsequent single by Tucker scored Patterson. With Sosa on third and Tucker on first, Roosevelt Brown stepped to the plate once more and launched his second three-run homer of the day. The six-run frame gave the Cubs a commanding 13-2 lead. Jeff Fassero closed out the Pirates in the ninth to preserve the final score.
In postgame interviews, Cubs skipper Don Baylor said he was looking forward to Brown's future with the club. "I plan on him being on this team [next season]," Baylor said. "I don't think he has more to prove in Triple-A. I think he's a major-league hitter."12
Brown certainly felt he deserved a long look, noting, "I just want to show what I can do. I've been doing the same thing I've been doing here down there. It's just a matter of getting time in and seeing pitches and feeling comfortable up here the same as I've done at every level I've been at."13
Brown got a chance to play in 111 games with the Cubs in 2002, but after he batted only .211 in 204 at-bats, Chicago released him at the end of the season.
Brown went to Japan to play two seasons for the Orix Blue Wave, who finished in the cellar of the Japan Pacific League in 2003 and 2004. Returning to the United States in 2005, Brown played one more season for the Charlotte Knights, the Triple-A affiliate of the Chicago White Sox. He never returned to the major leagues.
This article appears in "Wrigley Field: The Friendly Confines at Clark and Addison" (SABR, 2019), edited by Gregory H. Wolf. To read more stories from this book online, click here.
Sources
In addition to the sources mentioned in the Notes, the author consulted baseball-reference.com, mlb.com, and retrosheet.org.
https://www.baseball-reference.com/boxes/CHN/CHN200110060.shtml
http://www.retrosheet.org/boxesetc/2001/B10060CHN2001.htm
Notes
1 Bob Foltman, "Unlikely Stars Shine," Chicago Tribune, October 7, 2001: 3, 6.
2 Allan Simpson, "Rule 5 Keeps Teams Busy," Baseball America, January 5-18, 1998: 22.
3 "Offense Carries I-Cubs to 16-3 Win," Des Moines Register, May 10, 2001: 3C.
4 Teddy Greenstein, "Brown Has Rosier Outlook After Promotion, Outfielder Plans to Stick Around," Chicago Tribune, June 27, 2001: 5.
5 Teddy Greenstein, "15 Runs, 21 Hits, 50 Wins, Coomer Homers, Brown Has 5 Hits in Rout of Tigers," Chicago Tribune, July 7, 2001: 3.1.
6 Jim Callis, "Cubs' Cornerstone Will Require More Patience," Baseball America, February 19-March 4, 2001: 22.
7 "Classification All-Star Teams," Baseball America, October 15-28, 2001: 16.
8 Randy Peterson, "Bring on New Orleans; Brown, Cubs Cap Furious Title Run," Des Moines Register: 1C, 3C.
9 Teddy Greenstein, "Acosta's Firing No Easy Answer; Coach's Temper, Rift With Baylor Led to Problems," Chicago Tribune, October 5, 2001: 4.1.
10 Foltman.
11 Bruce Miles, "Tavarez Loses No-Hitter in 8th," Arlington Daily Herald, October 7, 2001: 2, 3.
12 Foltman.
13 Miles.
Additional Stats
Chicago Cubs 13
Pittsburgh Pirates 2
---
Wrigley Field
Chicago, IL
Box Score + PBP:
Corrections? Additions?
If you can help us improve this game story, contact us.
Tags
https://sabr.org/sites/default/files/BrownRoosevelt.jpg
600
800
admin
/wp-content/uploads/2020/02/sabr_logo.png
admin
2020-01-06 16:56:08
2020-04-17 10:22:20
October 6, 2001: Cubs' Roosevelt Brown has his moment in the limelight