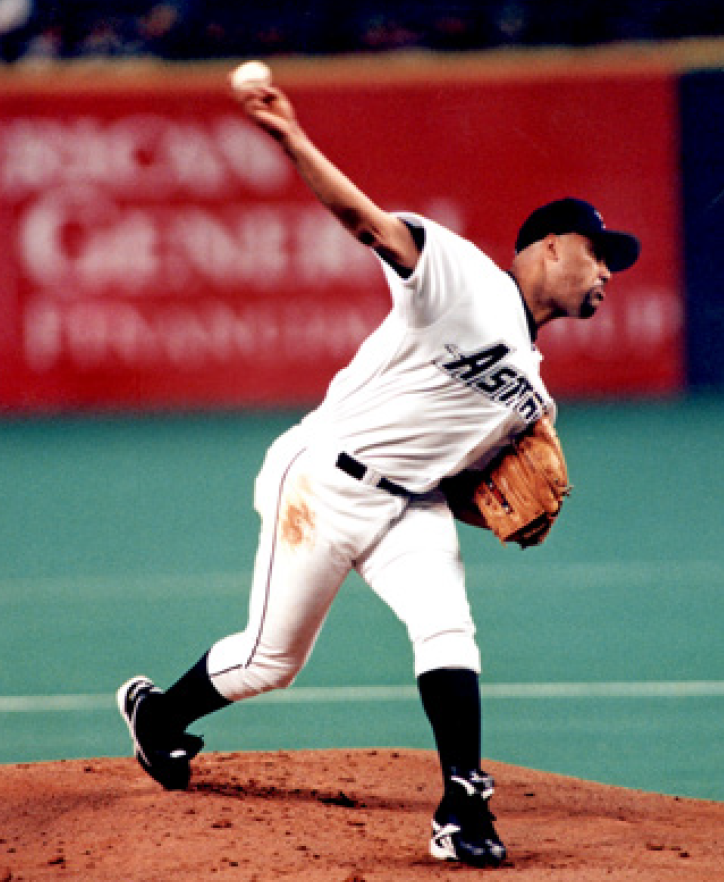 September 11, 1999: 'It's Lima time, baby': Astros ace wins 20th game of season
---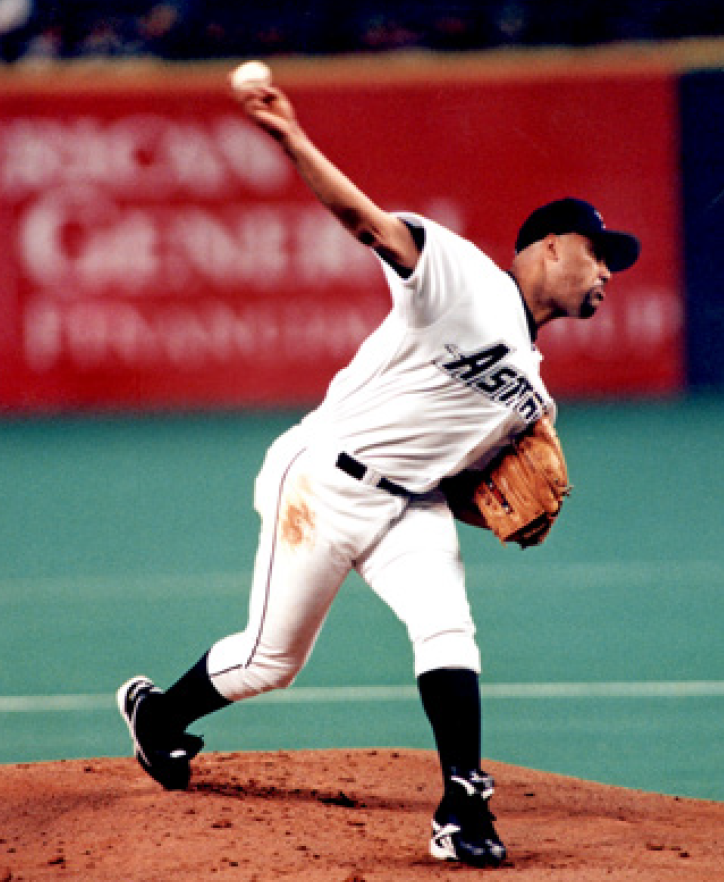 José Lima made a bold prediction during spring training in 1999.
The 26-year-old Houston Astros hurler claimed he would win 20 games in the coming season.
That prediction may have left some people scratching their heads. A year earlier he had predicted a 15-win season for himself and won 16. However, from 1995 through 1997, Lima had managed only nine wins against 21 defeats. And he was just one year removed from a particular spring-training game in '98 in which the Kansas City Royals belted the right-hander. There were "whispers" that the Astros might consider releasing Lima after that awful outing.1
Lima, however, proved doubters wrong on Saturday, September 11, 1999, when, from the Astrodome mound, he pitched his team to a 5-3 win over the Chicago Cubs.
The Dominican righty proved himself as not only a fantastic young major-league pitcher, but, for the second consecutive year, an extraordinary prognosticator, particularly when it came making self-assured predictions.
"I told you it was going to beLimatime, and it's Lima time, baby," he said after the win. "The reason I said that back in spring training was that I believe in myself."2
Lima, who improved to 20-7 with the victory, pitched effectively through seven innings, but gave up consecutive singles to Cubs pinch-hitters Lance Johnson, Roosevelt Brown, and Mickey Morandini to load the bases in the eighth. With no one out, Mark Grace lifted a sacrifice fly to center field that scored Johnson and cut the Astros' lead to 5-3.
With slugger Sammy Sosa strolling to the plate, already with 59 home runs on his stat sheet for the season, Astros manager Larry Dierker had seen enough from his starting pitcher. Dierker pulled Lima, who walked off the mound angry3 before a crowd of 52,010, the largest home crowd for an Astros game to that point in the '99 season.4
Lima wanted to finish what he had started. He had allowed seven hits, including a single by Sosa in the fourth, struck out seven Cubs and allowed no walks.
Jay Powell replaced Lima. The righty got Sosa to strike out swinging on a 2-and-2 count, then walked Henry Rodriguez, but induced Glenallen Hill to line out to second, stymying the Cubs' rally.
Houston threatened with a couple of baserunners in the bottom of the eighth, but failed to add to its lead. Billy Wagner slammed the door on Chicago's chances in the ninth. The lefty closer needed only nine pitches to retire the side. It was his 36th save of the season, tying the franchise record set by Doug Jones in 1992.5
As the Cubs' Lance Johnson grounded out to short to end the game, Lima "bolted from the dugout to retrieve the ball" from Wagner.6
"This one was for the fans," Lima said in the next day's Houston Chronicle. "The fans have been so great to me. I'm just thankful that I was traded from Detroit to Houston. That changed my whole career."
Lima, whom Detroit sent to the Astros in a nine-player swap before the 1997 season, began this game as well as he could have hoped. He struck out the side – Bo Porter, Chad Meyers, and Grace – all swinging.
By the time Lima had given up his first hit of the contest, his teammates had already given him a quasi-comfortable 3-0 lead. The Astros got on the scoreboard in the second when Tony Eusebio singled home Carl Everett from second with two outs. Everett had led off the inning and reached base after being hit by a pitch from Chicago starter Micah Bowie. The left-hander struck out Lima next to end the inning with runners stranded on first and second.
Bowie wasn't so lucky in the third. He began by walking Craig Biggio, who scampered to second on a wild pitch to Ricky Gutierrez. Five pitches later, Gutierrez singled to center, and Biggio raced home with the Astros' second run. After walking Jeff Bagwell to put Astros at first and second, Bowie caught a break. He struck out Everett swinging and Cubs catcher Jose Molina gunned down Gutierrez trying to steal third.
Now with two outs, Ken Caminiti strolled to the plate and slapped a groundball single to left, scoring Bagwell. The Astros led 3-0.
The Cubs tried to bounce back in the fourth, getting a run off Lima, who had been stellar to that point. Grace slapped a grounder between first and second for a one-out single, Chicago's first hit of the game. Sosa moved Grace to third with a bloop single to short right field. Rodriguez grounded into a force at second, scoring Grace to cut the home team's advantage to 3-1.
Houston got the run back in the bottom half of the frame when Eusebio hit a solo home run deep to right-center field. It was his fourth homer of the season, and it gave Houston a 4-1 advantage. The Astros picked up another run in the fifth when Ryan Thompson singled to center, scoring Gutierrez from second.
The run spelled the end for Bowie, who finished the game giving up six hits and five runs, all earned, in 4⅔ innings. Bowie took the loss, which dropped his record to 1-6.
Houston's win was its ninth in a row, a season high, and 19th in 27 games.7 (The Astros won the next day to sweep the Cubs, and eventually extended their winning streak to 12 games before losing 8-6 to Philadelphia in 10 innings on September 15 in the Astrodome.) The win improved Houston to 88-56, as the first-place Astros maintained a three-game lead over Cincinnati in the National League Central.
The Cubs, losers of five in a row, dropped to 56-86 and 31 games behind Houston.
One of the few bright spots for the Cubs during the '99 season was Sosa's pursuit of a second consecutive year of 60 home runs. Sosa led St. Louis slugger Mark McGwire 59 homers to 55. During the thrilling 1998 home run chase, McGwire had totaled 70 and Sosa 66. In '99 McGwire would again eclipse Sosa, 65-63.
Sosa failed to reach 60 the next day in the Astrodome, which he revealed was not his favorite place to swing a bat.
"I never liked this place," Sosa said. "I mean the Astrodome, not the city. I like Houston fine. But I've never had any luck here. I'm so happy knowing that tomorrow is my last game here. When I come back next year, no more Astrodome."8
The ballpark closed at the end of the '99 season, perhaps to the delight of many hitters. "The Dome walls seem to pulse, a haunting place, as if the product of the pen of Edgar Allen Poe," wrote Mickey Herskowitz in the Houston Chronicle.
Sosa was 1-for-10 in the series in Houston and was hitting just .125 with one home run off Lima that season.9
However, the slugger insisted he was not pressing at the plate. "I never press," Sosa said. "They're just pitching me great. Good pitching is going to beat good hitting. I don't want it (hitting 60th) to get to me. I just want to be relaxed and do my job. I'm going out there and keep hacking and looking for my pitch."10
Lima's win made him the sixth Astros pitcher at that point to win 20 or more in a season, the first since Mike Scott hit the milestone in 1989. Dierker was the first, with exactly 20 in 1969. Others included J.R. Richard (20) in 1976, and Joe Niekro in both 1979 (21) and 1980 (20). Mike Hampton won also 22 for the Astros in '99. Subsequently, Roy Oswalt won 20 games in both 2004 and 2005, and Dallas Keuchel won 20 in 2015.
On this Saturday, taking Lima out of the game in the eighth was a tough decision for Dierker, who "described himself as ambivalent even as he strolled to the mound" to remove the pitcher.11
"When you're going for 20," Dierker said, "you'd like to get a complete game. My heart is with the starting pitcher. He wants to go on. You saw how late I went out. I had really mixed feelings. I believe he probably could have gotten Sosa out. But Sammy has four home runs off him in the last couple of seasons. If he hits one here, it puts them ahead."12
After the game, Lima said, "I'm the kind of guy who wants to finish what he started."13
After "seeming irritated"14 while walking off the mound, Lima was dancing near the dugout once Wagner recorded the final out, celebrating 20 wins and an uncanny ability to predict his fortune.
"I know people think bad when José Lima does his dance, but that is just José Lima, that's not going to change," the flamboyant pitcher said. "This (game ball) is for my mother and for the fans of the Astros. They stayed for the whole game."15
This article appears in "Dome Sweet Dome: History and Highlights from 35 Years of the Houston Astrodome" (SABR, 2017), edited by Gregory H. Wolf. To read more articles from this book at the SABR Games Project, click here.
Notes
1 Mickey Herskowitz, "Lima Delivers on His Promise; José Proving His Act Belongs in The Show," Houston Chronicle, September 12, 1999.
2 Ibid.
3 Michael A. Lutz, "Lima First in NL With 20 Wins," Associated Press, September 12, 1999.
4 Herskowitz.
5 Ibid.
6 Ibid.
7 Carlton Thompson, "Lima Delivers on His Promise; Righthander Downs Cubs for 20th Win," Houston Chronicle, September 12, 1999.
8 Herskowitz.
9 Ibid.
10 Lutz.
11 Herskowitz.
12 Ibid.
13 Ibid.
14 Lutz.
15 Ibid.
Additional Stats
Houston Astros 5
Chicago Cubs 3
---
Astrodome
Houston, TX
Box Score + PBP:
Corrections? Additions?
If you can help us improve this game story, contact us.
Tags
https://sabr.org/sites/default/files/LimaJose.png
600
800
admin
/wp-content/uploads/2020/02/sabr_logo.png
admin
2018-10-02 13:56:24
2020-04-17 10:23:53
September 11, 1999: 'It's Lima time, baby': Astros ace wins 20th game of season