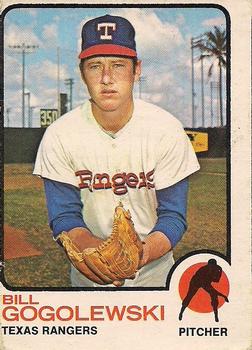 September 12, 1972: Rangers' Gogolewski tosses 1-hitter to outduel the Ryan Express
---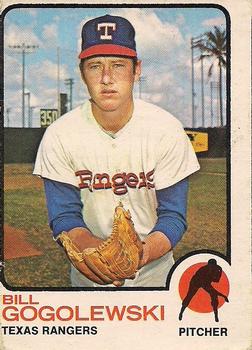 "Any time Nolan Ryan pitches," reported the Los Angeles Times, "there's a chance for a no-hitter. But this time it was a different pitcher."1 That "different" pitcher was the Texas Rangers' 24-year-old right-hander Bill Gogolewski who mowed down the first 20 batters he faced, and later yielded a two-out double in the eighth inning to settle for a one-hitter in the game of his life. It was an incredible game," Gogolewski told the author. "I made one bad pitch, one bad decision, and it cost me a hit."2
The Rangers were in a freefall, having lost 10 of their last 12 games when they arrived in Anaheim to kick off an 11-game road swing. Fourth-year skipper Ted Williams's squad was in last place in the AL West (51-84), and would finish last among the 12 AL teams in most offensive categories in '72, including home runs (56), batting average (.217), and slugging percentage (.581). The club's pitching staff matched their offensive counterparts by finishing last in team ERA (3.53), complete games (11), shutouts (6), and of course, losses (100) in the strike-shortened season.  The Rangers' dismal record kept their division opponents, the California Angels, out of the cellar. Led by first-year pilot Del Rice, the Halos (63-72) were in fifth place.
Toeing the rubber for the Angels was Nolan Ryan, whom Merle Heryford of the Dallas Morning News described as "probably the fastest man in the league."3 The Angels had acquired the 25-year-old speedballer, along with three other players from the New York Mets in exchange for Jim Fregosi in an offseason trade that has been considered among the most lopsided in baseball history. While Ryan posted a pedestrian 29-38 record in limited action in parts of five seasons with the Mets, he transformed into one of the AL's best pitchers in '72, entering the game with a 16-13 record and 2.53 ERA. In 33 starts, he had struck out at least 10 batters on 12 occasions, and had thrown a one-hitter, two two-hitters, and three three-hitters.
While Ryan made national headlines with his 100-mph heater, Oshkosh, Wisconsin, native Bill Gogolewski hurled in relative obscurity. Chosen in the 18th round of the 1965 amateur draft, "Gogo," as his teammates called him, debuted as a September call-up for the Washington Senators in 1970. The following season he was arguably the Senators' most effective pitcher, winning six of 11 decisions and posting a robust 2.75 ERA in 124⅓ innings as a part-time starter and reliever. But in the Rangers' first season in Texas, the 6-foot-4, 200-pound hurler had struggled thus far in '72 (3-9, 4.39 ERA in 121 innings) and had not notched a victory since he tossed a five-hitter against Minnesota on May 19.
Gogolewski recalled that he was looking forward to starting against Ryan. "We pulled into Anaheim Stadium and on the marquee it said 'Nolan Ryan vs. the Texas Rangers.' And I thought, 'the rest of the team isn't going to show up, or what?' That was an incentive." In fact, Gogolewski had been pitching his best ball of the season, surrendering just 15 hits and six earned runs in his last 22 innings, though he came up winless in those three starts.
The Tuesday evening match-up between two sub-.500 teams drew a sparse crowd of 4,292 to Anaheim Stadium, known as the "Big A" for the 230-foot-tall letter A that served as the park's main scoreboard. The Rangers came out swinging against Ryan. Leadoff hitter Dave Nelson lined a single to right field and reached second when Leroy Stanton juggled the ball for an error. Nelson moved to third on Toby Harrah's fly ball and scored on Ryan's wild pitch.
After Gogolewski set the Angels down 1-2-3 in the first, the Rangers took their cuts at Ryan's fastball. Joe Lovitto sliced a one-out single to center field and moved to second on another wild pitch by Ryan, who led the majors with 18 wild ones in '72. Bill Fahey, batting a meager .150, hit a bouncer past first base to drive in Lovitto for a 2-0 lead. It looked as though Ryan was on the ropes. Fahey moved to third on a single by rookie Vic Harris (batting .106), who stole second with Gogolewski at the plate. After "Gogo" fanned, Ryan walked Nelson to load the bases, but punched out Harrah to end the threat. "It was amazing how quick [Ryan's] fastballs got to you," recalled Gogolewski, who whiffed in each of his three plate appearances against Ryan. "By the time you react, it's at you. But I wasn't worried about those strikeouts."
No batter for either team reached base again until Ryan issued a one-out walk to Nelson in the fifth. Nelson took advantage of Ryan's high leg kick to swipe the 40th of his career-high 51 steals that season. Then, in a dazzling display of speed, Nelson took off on a hit-and-run with Harrah at the plate.  Harrah hit a grounder to third base that Ken McMullenfielded cleanly and threw to Bob Oliver at first. Not slowing down, Nelson rounded third and slid home just beating Oliver's throw.
Gogolewski "yawned through the first six innings," opined Rangers beat reporter Merle Heryford.4 The Angels pounded Gogolewski's devastating slider into the dirt, making 12 infield groundouts and hitting only five outfield fly outs in the entire game.
Texas threatened in the seventh when Fahey was hit by a pitch on his right elbow and stole second. Still smarting from the blow, Fahey departed for pinch-runner Dalton Jones, and went to the hospital for x-rays. Nelson beat out a two-out infield single, moving Jones to third, and swiped another base to put two men in scoring position. Ryan reared back and fanned Harrah to end the frame.
The Angels' Sandy Alomar attempted to break up Gogo's no-hitter by bunting to lead off the seventh. Gogolewski fielded the tapper back to the mound and fired a strike to first baseman Larry Biittner. When umpire George Maloney called Alomar out, Angels skipper Del Rice burst onto the field to protest, but to no avail. Vada Pinson drew a two-out walk to end Gogolewski's perfect game, but the tall right-hander set down the next batter.
After issuing a walk to McMullen to lead off the eighth, Gogolewski fielded Stanton's chopper back to the mound to initiate a 1-6-3 double play. Billy Parker, who entered the game batting a paltry .171, stepped to the plate. "Fahey got hurt and Dick Billings came in [from left field to catch in the bottom of the seventh]," explained Gogolewski. "He said to me, 'I'm not calling your pitches.' He knew I had a no-hitter going. He had put down a slider for Parker. But I thought, 'No, they'll be looking for it because they knew that that was my out pitch.' " Parker blasted a clean double over center fielder Lovitto's head. "It was supposed to be a fastball inside and it was a fastball belt-high outside," said Gogolewski. "And Parker drove it to right center."  Parker's hit, which both the Dallas and Los Angeles papers described as the Angels' only hard-hit ball of the game, ended Gogolewski's quest to throw the first no-hitter in franchise history. A good-natured Midwesterner, Gogolewski took a deep breath, and then retired pinch-hitter John Stephenson on a popup to second base.
After Ryan pitched a scoreless ninth, Gogolewski tossed a 1-2-3 frame to complete the game in 2 hours and 11 minutes. In what was described as a "brilliant performance" by Merle Heryford, Gogolewski finished with a one-hitter, issued two walks, and struck out three in what proved to be his second and final shutout in his six-year major league career (1970-1975), during which he went 15-24.5 Gogolewski's career day, opined sportswriter Don Merry of the Long Beach(California) Independent, "was more surprising than it was overpowering."6 A tough-luck loser, Ryan yielded six hits and only two earned runs, and struck out 15. Ryan concluded the campaign in a blaze, making five more starts, striking out 54 in 44 innings, while yielding only 21 hits and five earned runs (1.02 ERA) to finish the season with a 19-16 record and a 2.28 ERA. He led the league in shutouts (9), strikeouts (329), and fewest hits per nine innings (5.3).
Gogolewski's gem was one of the Rangers' last highlights of the '72 season. The club lost its next 15 games, and finished with a major-league worst 54-100 record, 38½ games behind the division champion Oakland A's.
This article was published in "The Team that Couldn't Hit: The 1972 Texas Rangers" (SABR, 2019), edited by Steve West and Bill Nowlin. To read more articles from this book at the SABR Games Project, click here.
Sources
https://www.baseball-reference.com/boxes/CAL/CAL197209120.shtml
https://www.retrosheet.org/boxesetc/1972/B09120CAL1972.htm
Notes
1 "Gogolewski One-Hitter Too Much for Ryan, 3-0," Los Angeles Times, September 13, 1972: III, 1.
2 Author's interview with Bill Gogolewski on August 17, 2015. All quotations from Gogolewski are from this interview.
3 Merle Heryford, "Gogo 1-Hitter Defeats Angels," Dallas Morning News, September 13, 1972: 4B.
6 Don Merry, "Ryan Fans 15, but Rangers Win, 3-0," Independent (Long Beach, California), September 13, 1972: 43.
Additional Stats
Texas Rangers 3
California Angels 0
12 innings
---
Anaheim Stadium
Anaheim, CA
Box Score + PBP:
Corrections? Additions?
If you can help us improve this game story, contact us.
Tags
https://sabr.org/sites/default/files/Gogolewski-Bill.jpg
600
800
admin
/wp-content/uploads/2020/02/sabr_logo.png
admin
2020-03-24 13:03:38
2020-08-25 01:13:20
September 12, 1972: Rangers' Gogolewski tosses 1-hitter to outduel the Ryan Express