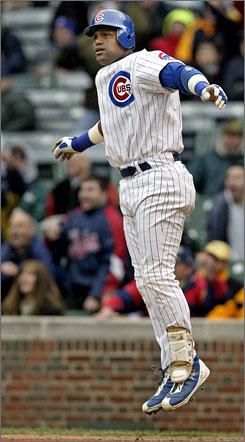 September 12, 1998: Sammy Sosa slams 60th home run of the season
---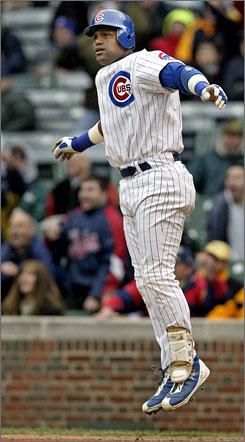 The 39,170 spectators who packed Wrigley Field on September 12, 1998, weren't so much interested in the visiting Milwaukee Brewers (70-78 and 25 games behind the Central Division-leading Houston Astros. Their focus was on the Cubs, who with an 82-66 record were tied with the New York Mets in the National League wild-card race and needed to keep winning. They also hoped to see Sammy Sosa become the fourth player to join the 60-home-run club. They weren't disappointed; Sosa's 60th helped the Cubs to a 15-12, come-from-behind victory.
One of the highlights of the 1998 season was Sosa and Mark McGwire competing to break Roger Maris's home-run record for a single season. (That competition has since been tainted by disclosures that both players used performance-enhancing substances.) McGwire hit number 62 on September 8. Sosa came into the September 12 game only three behind with 59.
Both starting pitchers, the Brewers' Rafael Roque and the Cubs' Mike Morgan, worked three-up, three-down first innings. The Brewers got their first hit in the second inning when Jeromy Burnitz lined a one-out double to right.
The Cubs scored two runs in the bottom of the second inning, but the Brewers answered in a big way in the top of the third, scoring eight runs, three of them unearned. Catcher Bobby Hughes singled to lead off the inning and went to second base on a sacrifice by Roque. Fernando Vina reached base on an error by shortstop Jose Hernandez, and after Mark Loretta singled, the bases were loaded. David Nilsson hit a triple to center, and the Brewers took the lead, 3-2. The Brewers' bats stayed hot. Jeff Cirillo doubled, driving in Nilsson, and after Burnitz's homer, his 35th of the season, the Brewers led 6-2. Solo homers by Geoff Jenkins and Hughes gave the Brewers an 8-2 lead.
In the top of the fifth the Brewers got to reliever Dave Stevens, scoring two runs, increasing their lead to 10-2.The Cubs cut the lead to 10-5 after six innings on a solo homer by Hernandez in the fifth and a two-run shot by Gary Gaetti in the sixth.
The Brewers increased their lead to 12-5 in the top of the seventh inning. With two outs, Bob Hamelin, pinch-hitting for Roque, doubled to right field, and Jenkins scored on an error by right fielder Sosa. Felix Heredia came on in relief of Stevens, and Vina singled, scoring pinch-runner Ronnie Belliard, who was making his major-league debut. The inning ended when Vina was out at second trying to stretch the hit.
Valerio de los Santos came into pitch for the Brewers in the bottom of the seventh. He walked leadoff batter Lance Johnson, and Mark Grace had a one-out double to left field, putting runners at second and third for Sosa. On a 3-and-2 count, de los Santos threw Sosa a changeup, and the result was a 430-foot blast, home-run number 60 for Sosa, that landed on Waveland Avenue and made the score 12-8.
After the game, Sosa talked about his 60th round-tripper. "Really, in that situation, I wasn't thinking of a home run," he said. "I thought (on Friday) I was patient, and (Saturday) I was real patient. When I'm like that, I have a better chance to make contact. That's what happened. It was a 3-and-2 changeup, and I don't want to strike out in that situation. I fought through that at-bat, and I never gave up. I knew I had number 60 and I jumped and said, 'Yes, I've got it.' But besides that, I just kept it normal. My situation right now is great, and everybody knows that, but I don't want to show up the other team. I have a lot of respect for the other team."1
Herb Neurauter retrieved the home-run ball after it bounced off Waveland Avenue and ricocheted into an apartment building vestibule. Neurater, who lived down the street from Wrigley Field, dove for the ball and fought off other people to retain the keepsake. He returned the ball to Sosa, requesting that he have some pictures taken with him, and four autographed balls, one of them signed with the number "60."
The inning wasn't over. Glenallen Hill stepped to the plate and hit a homer, making it a 12-9 game. Chad Fox replaced de los Santos on the mound in the eighth for the Brewers, and Tyler Houston, pinch-hitting for Scott Servais, homered, making the score 12-10.
Terry Mulholland and Rod Beck pitched a scoreless top of the ninth, and the Brewers brought in their closer, Bob Wickman, for the final three outs, but things didn't go as planned. Sosa hit a first-pitch single to left. Although the fans wanted to see number 61, Sosa was happy with his single, commenting, "I just wanted a base hit, that was the key. We were losing by two runs. We didn't need a homer."2 Hill came through, getting a single to center. With the tying runs on base and nobody out, Gaetti bunted, advancing both runners into scoring position. After Mickey Morandini walked on a 3-and-2 pitch, Houston singled just past Brewers second baseman Fernando Vina to right field, tying the game. Cubs manager Jim Riggleman had Orlando Merced, a switch-hitter, pinch-hit for Manny Alexander. Merced was a recent acquisition by the Cubs, having spent most of the season with the Minnesota Twins before being traded to the Boston Red Sox in late July. After being released by Boston on September 1, he had gone 1-for-4 as a pinch hitter for the Cubs. That average improved when he hit a 1-and-0 pitch into the right-field seats for a game-winning home run. After his topsy-turvy season, Merced was understandably elated that his homer overshadowed Sosa's 60th. "If you said that one or two weeks ago, I'd have said you were crazy," he said.3
There was a lot of emotion in the Cubs locker room after the game. Riggleman had high praise for Sosa, commenting, "Sammy just continues to do great things. He's become one of the elite players in the game. He gets on base, he runs, he plays hard. He gives a great effort every day. He excited the crowd with that three-run homer that I think really lifted our ballclub and gave us a little hope. For him to get to that mark — Maris, Ruth, McGwire and Sammy are the only ones — he continues to put himself into the elite among today's players as well as in the history of the game."4
The man who made history, Sosa, was elated. "Unbelievable, I have to say. I could never feel more happy than I feel today. Especially since we won. It was something unbelievable."5
The atmosphere was very different in the Brewers' locker room. Manager Phil Garner said, "This was a tough one to lose. That was really, really tough."6 Brewers pitching coach Don Rowe defended the bullpen, saying, "Our guys in the bullpen are gassed. The sixth inning kills us. Our starters just aren't experienced enough to get us deep into games and we end up using two or three (relievers) every night. I'm surprised some of their arms haven't fallen off."7 Of the pitch that Sosa hit for his 60th home run, Rowe said, "That was an experience right there. De los Santos should have bounced that pitch in the dirt to see if Sammy would chase it. He wanted to strike him out. He should have let Sosa get himself out."8
This article appears in "Wrigley Field: The Friendly Confines at Clark and Addison" (SABR, 2019), edited by Gregory H. Wolf. To read more stories from this book online, click here.
Sources
In addition to the sources cited in the Notes, the author also accessed Retrosheet.org, Baseball-Reference.com, SABR.org, and The Sporting News archive via Paper of Record.
https://www.baseball-reference.com/boxes/CHN/CHN199809120.shtml
http://www.retrosheet.org/boxesetc/1998/B09120CHN1998.htm
Notes
1 Terry Armour, "60 'Feels Great,' but Sosa's Far From Finished," Chicago Tribune, September 13, 1998: 3-3.
2 Tom Haudricourt, "No. 60 Puts Sosa in Elite Quartet," Milwaukee Journal Sentinel, September 13, 1998: C1.
3 Paul Sullivan, "Sosa Hits 60th Homer in Thriller," Chicago Tribune, September 13, 1998: 3-1.
4 Armour.
5 Ibid.
6 Drew Olson, "Bullpen Takes Road to Defeat," Milwaukee Journal Sentinel, September 13, 1998: C1.
7 Ibid.
8 Ibid.
Additional Stats
Chicago Cubs 15
Milwaukee Brewers 12
---
Wrigley Field
Chicago, IL
Box Score + PBP:
Corrections? Additions?
If you can help us improve this game story, contact us.
Tags
https://sabr.org/sites/default/files/Sosa-Sammy-2003.jpg
600
800
admin
/wp-content/uploads/2020/02/sabr_logo.png
admin
2020-01-06 16:46:15
2020-04-17 10:22:20
September 12, 1998: Sammy Sosa slams 60th home run of the season