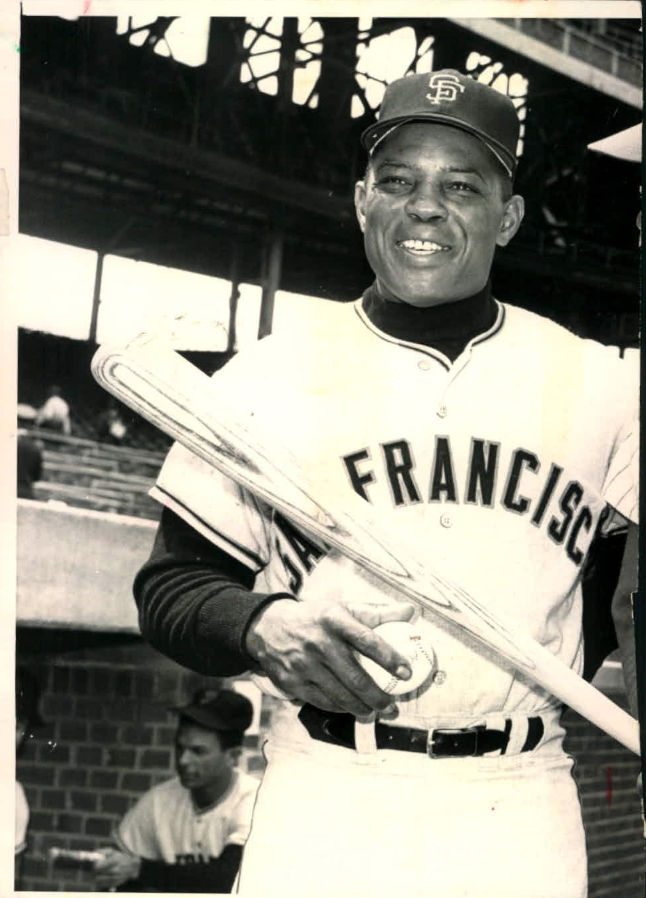 September 13, 1965: Willie Mays clouts 500th home run
---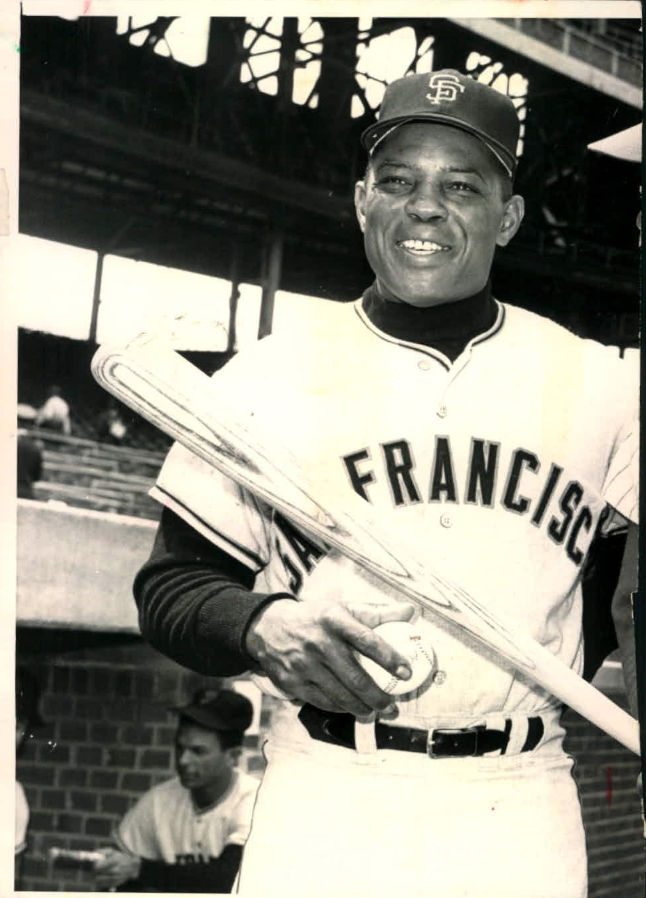 "It was a fastball, and I thought I hit it good," said Willie Mays after clouting a round-tripper against Houston in the inaugural season of the Astrodome to join the rarefied company of Babe Ruth (714), Jimmie Foxx (534), Ted Williams (521), and Mel Ott (511) as the newest member of the exclusive 500-home-run club.1 There was "never the slightest question where the ball was going" once it rocketed off Mays' bat, wrote Clark Nealon of the Houston Post.2
The Say Hey Kid was not slowing down at the age of 34. After walloping 47 home runs in 1964 to capture his second NL home-run crown in three years and the third of his career, Mays got off to a hot start in 1965, belting 17 homers and driving in 35 runs in his first 37 games. Described by Giants beat writer Jack McDonald as a "scourge at the plate," Mays was coming off one of the most productive stretches of his storied career.3 In August he set an NL record with 17 home runs in a month (one more than Ralph Kiner in September 1949, and since broken by Sammy Sosa's 20 in 1998); knocked in 29 runs in 31 games; batted .363; and was named unanimously the league's Player of the Month.
The Giants were hitting on all cylinders as they arrived in Houston to play a four-game set with the Astros to start a 10-game road swing. Under first-year skipper Herman Franks, the Giants (83-59) had won their previous 10 games to tie the 1962 team for the longest winning streak since the franchise relocated from New York to the Bay City in 1958, and moved into first place, two games in front of the Los Angeles Dodgers. Houston changed its name from the Colt .45s to the Astros in 1965 to inaugurate a new era in professional sports in the first domed stadium, the Astrodome. Manager Lum Harris, who had taken over for the last 13 games of the previous season, had inherited an offensively challenged squad. The league's lowest-scoring team in 1964, Houston (61-83) was in ninth place at this point in '65 and seemed primed to equal the 96 losses the team suffered in each of its first three seasons since entering the league as an expansion club in 1962.
Getting the start for the Astros was Don Nottebart, a 29-year-old right-hander with a career record of 30-42 in parts of six seasons. The Massachusetts native had struggled thus far in '65, winning only four of 18 decisions. Toeing the rubber for the Giants was 27-year-old Dominican right-hander Juan Marichal, with a mark of 21-10 and a career record of 104-49 in parts of six seasons. Marichal had been involved in one of the ugliest scenes in baseball history three weeks earlier. While batting against Sandy Koufax in a game against archrival Los Angeles at Candlestick Park, Marichal clubbed Dodgers catcher John Roseboro with a bat in what Leonard Koppett of the New York Times called a "burst of uncontrollable temper."4 Marichal drew a nine-day suspension from Commissioner William Eckert, and was making his fourth start since that horrific moment.
The crowd of 19,827, well off the season average of 26,561, showed up in the Astrodome on a Monday evening to catch a glimpse of history, whether they knew it or not. The Giants squandered a golden opportunity in first inning when Mays and Willie McCovey came up empty with one out and Dick Schofield on third. In the bottom of the frame, fan favorite Jimmy Wynn, affectionately known as the Toy Cannon because of his 5-foot-10, 160-pound muscular frame, belted a towering home run to give the Astros a 1-0 lead.
As Mays, with 499 career home runs, stepped to the plate to lead off the fourth inning, a smattering of applause gradually gave way to silence. The Alabama native took three straight balls and then dropped his bat after what appeared to be the fourth, and headed to first. But the home-plate umpire, veteran Augie Donatelli, called Mays back to the box on a delayed strike call. On Nottebart's next pitch Mays hit what Bob Stevens of the San Francisco Chronicle described as a "monstrous, 440-foot blast into the centerfield bleachers."5 The clout "ate its way beneath the dome and into the stands so quickly," continued Stevens, that "Wynn in centerfield didn't have time to do any more than turn a shoulder." While the Astros' faithful gave the 12-time All-Star a standing ovation, his teammates mobbed him in the dugout.
Nottebart, perhaps shaken by surrendering Mays's historic homer, loaded the bases by issuing walks to McCovey and Len Gabrielson bookending a double by slugger Jim Ray Hart, who had burst on the scene by clouting 31 home runs as a rookie the previous season. Tom Haller hit an "infield roller" to first baseman Walt Bond for the first out, as Stretch McCovey scored and Hart and Gabrielson advanced.6 The Astros played for a double play by intentionally walking light-hitting Hal Lanier to face Marichal. No slouch at the plate, Marichal singled to center to drive in Hart and end Nottebart's day. Schofield greeted reliever Dave Giusti with a long fly ball to Wynn to send Gabrielson across the plate and give the Giants a 4-1 lead.
In the top of the sixth, the Giants scored their fifth and final run. Haller hit a one-out single to center field and scored on Marichal's first career triple, deep in the right-center-field gap.
Marichal, noted Bob Stevens, was "not as sharp as normal" and seemed to be bothered by the softness around the mound after a college football game two days earlier.7 The Astrodome crowd voiced their displeasure with Marichal by booing him throughout the game.
The Astros threatened in the middle innings, but came up empty each time. In the fourth Houston had men on first and third with two outs; and on second and third with two outs in the fifth. The Astros' best scoring chance was in the sixth, when Bond and Rusty Staub occupied first and second via singles with one out, but Marichal squelched that opportunity as well. "Juan reached somewhere into the centerfield seats," wrote Stevens, "kicked his leg toward the top of the dome" and retired Ron Brand and Eddie Kasko on three pitches to get out of the jam.8
While Giusti and Ron Taylor retired all nine Giants batters they faced in the final three frames, Marichal, the "Dominican Dandy," also faced the minimum. With his 118th pitch of the game, he induced Kasko to pop up meekly to keystone sacker Lanier to complete his league-leading 24th game in 2 hours and 10 minutes.
Even on a day without his best stuff, Marichal was superb, yielding only eight hits and no walks while striking out three to tie Koufax with his 22nd victory of the year. He lowered his ERA to 1.79, well in front of Koufax's 2.14. Nottebart, collared with his 15th loss of the season, was charged with four runs (all earned) and surrendered five of the Giants' eight hits.
Notwithstanding Marichal's workmanlike effort, the man of the hour was Willie Mays, who became the youngest slugger in NL history to reach the 500-home-run plateau. Though Mays was often considered flamboyant on the field, he was soft-spoken and reserved off it. Jack Gallagher of the Houston Post described Mays reverently as "simplicity itself … a plain man, not given to flowery statement."9 Mays was not one to toot his own horn or call attention to his statistical accomplishments. "I wasn't even looking to get 500 this year, to tell the truth," said Mays, whose 52 homers easily led the NL (and the big leagues), followed by teammate McCovey's 39.10 Mays downplayed any notion that he'd be able to break the Sultan of Swat's record for homers. "I'll have to average 40 a year to catch up with that guy," he said. "I don't think I can do it."11
Mays got some good ribbing from 44-year-old teammate Warren Spahn, the longtime Boston/Milwaukee Braves hurler whom the Giants had signed on July 19 after his release from the New York Mets. "I saw your first one," said Spahn, in his last of 21 seasons, "and now your 500th. You're a wonder."12 Indeed, on May 28, 1951, Mays collected his first hit off Spahn, a home run in his fourth big-league game, in the Giants' 4-1 loss to the Boston Braves at the Polo Grounds in New York.
The Giants won 10 of their final 18 games but finished runner-up to the streaking Dodgers, who went 15-3 down the stretch to capture their second pennant in three years. Mays continued his torrid hitting. In addition to his league-leading home-run totals, he also paced the majors in on-base percentage (.398) and slugging percentage (.645) and was named the NL MVP for the second time.
This article appears in "Dome Sweet Dome: History and Highlights from 35 Years of the Houston Astrodome" (SABR, 2017), edited by Gregory H. Wolf. To read more articles from this book at the SABR Games Project, click here.
Sources
In addition to the sources cited in the Notes, the author also accessed Retrosheet.org, Baseball-Reference.com, the SABR Minor Leagues Database, accessed online at Baseball-Reference.com, SABR.org, and The Sporting News archive via Paper of Record.
Notes
1 Jack Gallagher, "Mays Makes It Simple. Don Threw, Willie Hit," Houston Post, September 14, 1965: Section 4, 2.
2 Clark Nealon, "Mays Lashes 500th Homer. Willie, Juan Win 11th in a Row," Houston Post, September 14, 1965: Section 4, 1.
3 The Sporting News, September 25, 1965: 2.
4 Leonard Koppett, "Marichal Clubs Roseboro With a Bat," New York Times, August 22, 1966. https://nytimes.com/packages/html/sports/year_in_sports/08.22.html.
5 Bob Stevens, "Giants Win; Mays Hits 500th," San Francisco Chronicle, September 14, 1965: 45.
6 Ibid.
7 Ibid.
8 Ibid.
9 Gallagher.
10 Ibid
11 Murray Chass (Associated Press), "Mays' 500th, Marichal's 22nd Boost Giants Lead," Daily Telegram (Eau Claire, Wisconsin), September 14, 1965: 13.
12 The Sporting News, September 25, 1965: 11.
Additional Stats
San Francisco Giants 5
Houston Astros 1
---
Astrodome
Houston, TX
Box Score + PBP:
Corrections? Additions?
If you can help us improve this game story, contact us.
Tags
https://sabr.org/sites/default/files/MaysWillie.png
600
800
admin
/wp-content/uploads/2020/02/sabr_logo.png
admin
2018-09-11 13:58:46
2020-04-17 10:24:40
September 13, 1965: Willie Mays clouts 500th home run