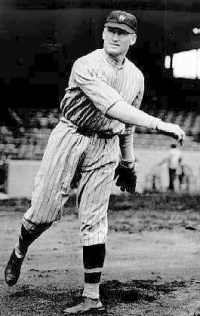 September 14, 1921: Washington's Walter Johnson, backed by a triple play, faces only 27 Browns batters
---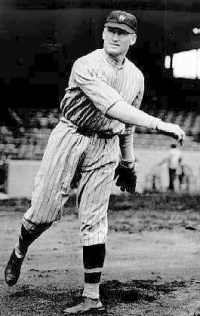 So great a pitcher was Walter Johnson that his September 14, 1921, victory over the St. Louis Browns may not be among his greatest games. That is remarkable considering that he faced just 27 batters — the minimum for a nine-inning game — and won 1-0. Yet because he gave up three hits and struck out only five — both pedestrian figures for Johnson — were it not for a fourth-inning triple play, the game would hardly merit comment. After all, this was a man who pitched one nine-inning no-hitter, one seven-inning no-hitter, eight one-hitters, and 18 two-hitters.1
For 10 consecutive seasons– 1910 to 1919 — Johnson won at least 20 games, and twice in that span posted over 30 wins. In 1912 he went 33-12, and topped that in 1913 by finishing 36-7. Yet in 1920 "a combination of a bad cold, a sore arm, and pulled leg muscles limited him to an 8-10 mark in only 21 appearances."2
When the 1921 season began, the Washington organization was convinced that Johnson was back in his best form.3 But early on, he struggled. When he lost a June 19 game to the Browns and Dixie Davis, 2-1 in 10 innings, his record fell to 4-8, and his earned-run average stood at 4.76, more than double his lifetime mark. By this mid-September meeting with the Browns, Johnson had lifted his record to 13-13 — including 2-2 against St. Louis — but he was not pitching up to his own high standards.
Entering this showdown, the Browns (72-67) were in third place, 3½ games ahead of the fourth-place Senators (68-70) but 14½ games behind the first-place New York Yankees. Washington had been within striking distance of the league leaders all season before dropping 15 of 17 games from August 22 to September 9. This game was the final meeting between Washington and St. Louis, with the Browns holding a slim 12 wins to 9 advantage.
Johnson was facing St. Louis for the fifth time in 1921, and for the fourth time he was matched against Davis. In their most recent encounter, Davis did not make it to the end of the first inning, as Washington pummeled the Browns 13-1. Despite that outcome, Davis was 4-1 against Washington for the season. To his dismay, Davis was not faring as well against the rest of the American League, resulting in a 13-14 record coming into the game.
Both pitchers threw brilliantly this afternoon. Johnson was untouched by St. Louis their first time through the batting order. He recorded nine straight outs, striking out two Browns in the second inning and another in the third. Washington's offense was little better against Davis. Clyde Milan singled with one out in the first, but two outs quickly followed. Davis surrendered two consecutive singles with one out in the third, but Milan grounded to Browns third baseman Frank Ellerbe, who stepped on third base for out number two, and threw to first, beating Milan by a step, for out number three.
St. Louis mounted a rally in the fourth inning, although disgruntled Washington fans blamed the team's predicament on the team's shortstop rather than Johnson. Jack Tobin got the Browns' first hit when shortstop Donie Bush could not hold on to Tobin's grounder, which the Washington Times described as "a hot shot."4 Ellerbe followed with "an infield bounder that took a short hop just as Bush set himself to make the catch."5
Whether the two plays were correctly scored as hits, or were properly errors, mattered little for the time being. No matter how the two Browns arrived at their bases, they were edging off first and second with no outs, as a dangerous hitter — George Sisler — stepped to the plate.
If Bush had failed Johnson on the two previous batters, he was about to make amends. Both baserunners took off with the pitch, and Sisler shot a liner toward left. Bush went to his right, leaped, and grabbed the ball in his glove for an out. He pegged to Bucky Harris at second, who in turn threw to Joe Judge at first, before either Tobin or Ellerbe could return to their base. In the twinkling of an eye, the inning ended. It was a triple play; Washington's first since May 8, 1914.6
Johnson dominated the rest of the game. He threw strike three past the first two batters of the fifth inning, before Hank Severeid sent a foul pop to third baseman Howie Shanks. In the sixth, with two outs, Shanks made a brilliant one-handed pickup and throw on a grounder to his left. Notwithstanding the earlier triple play, Shanks's defensive effort was cited as "the brightest bit of the day's fielding."7
Tobin began the Browns' seventh by hitting a slow, high bounder over the box that Bush rushed in for but could not hold. It was Tobin's second hit, and the third for St. Louis, even though not one of them had left the infield. The Washington Herald's Jack Nye thought Bush might have cut off all three Browns hits "by clever fielding."8 He called one play — probably Ellerbe's ball — comparatively easy, but viewed the other two as difficult chances, to which no blame should be attached.
After two fly outs, Tobin was still at first — but not for long. Johnson caught him "napping at first base,"9 and Tobin raced toward second, attempting a delayed steal. Johnson threw to the shortstop covering the bag, and Tobin was run down and tagged out.
In the bottom of the seventh, Davis was undone by a bout of wildness. Judge collected Washington's fourth and final hit, a single to center field. He went to second on Sam Rice's bunt, and to third when Harris grounded out to shortstop. Davis walked both Bing Miller and Shanks. With the bases loaded, Val Picinich, who struck out in his first two at-bats, was hit on the fist, "sticking out his finger to prove it."10 That forced Judge home with the only run of the afternoon. Davis recovered his control — one batter late — getting Johnson out on a pop-fly foul near first, but the damage was done. Washington led 1-0.
Johnson secured the victory by easily disposing of the final six Browns. In the eighth, St. Louis went down on a groundout followed by two fly balls. In the ninth, a fly ball to right field was sandwiched between two groundouts.
Johnson threw a mere 80 pitches to complete his only shutout of the season in 1 hour and 22 minutes.11 The small, vociferous crowd applauded Johnson at every opportunity.12 He gave them many reasons to cheer, as he had control, a fine fastball, and a curve that "was positively wicked."13
The St. Louis Globe-Democrat reported that "grand-stand critics"14 lobbied the press box afterward to charge Bush with three errors rather than Johnson with three hits. Their reporter disagreed with the crowd's assessment; finding that on each occasion Bush "made extraordinary effort."15 The Washington Times's Louis Dougher held a dimmer view of the postgame assembly. He called them an "irate mob" roaring "in high dudgeon."16 The scoring decisions were not changed.
Herm Krabbenhoft calls a game in which a pitcher, or pitchers, face only 27 opposing batters in a nine-inning game, despite allowing at least one baserunner, an "imperfect perfecto."17 He has identified 82 such games from 1901 to 2019, including this game, and another game pitched by Johnson on June 10, 1913, against Detroit.18 Johnson missed the no-hitter for which his fans clamored, but this pitching feat is even more rare.19
Sources
In addition to the sources mentioned in the Notes, the author consulted Baseball-Reference.com and Retrosheet.org.
baseball-reference.com/boxes/WS1/WS1192109140.shtml
retrosheet.org/boxesetc/1921/B09140WS11921.htm
Notes
1 His seven-inning no-hitter of August 25, 1924, was a rain-shortened, complete-game, 2-0 victory over the Browns.
2 Charles Carey, "Walter Johnson," sabr.org/bioproj/person/0e5ca45c.
3 "Griffs Whistle as Opening Day Comes," The Sporting News, April 14, 1921: 3.
4 Louis A. Dougher, "Cleveland Indians Here Tomorrow for Hot Games," Washington Times, September 15, 1921: 11.
5 Dougher.
6 retrosheet.org/TP1900-24.htm. That earlier triple play occurred in the ninth inning of a home game against the Philadelphia Athletics.
7 Dougher.
8 Jack Nye, "Fast Triple Play Helps Big Kansan Win Tight Battle," Washington Herald, September 15, 1921: 8.
9 "Davis Hits Batter and This Costs Him Hurling Duel with Johnson, 1-0," St. Louis Globe-Democrat, September 15, 1921: 8.
10 Dougher.
11 Nye.
12 Dougher.
13 Dougher.
14 St. Louis Globe-Democrat.
15 St. Louis Globe-Democrat.
16 Dougher.
17 Herm Krabbenhoft, "Imperfect Perfectos," retrosheet.org/Research/KrabbenhoftH/Imperfect%20Perfectos.pdf.
18 Krabbenhoft.
19 There have been 260 no-hitters from 1901 to 2019. baseball-reference.com/friv/no-hitters-and-perfect-games.shtml.
Additional Stats
Washington Senators 1
St. Louis Browns 0
---
Griffith Stadium
Washington, DC
Box Score + PBP:
Corrections? Additions?
If you can help us improve this game story, contact us.
Tags
http://bioproj.sabr.org/bp_ftp/images2/JohnsonWalter.jpg
600
800
sabr
/wp-content/uploads/2020/02/sabr_logo.png
sabr
2020-08-19 12:36:36
2020-08-19 12:36:36
September 14, 1921: Washington's Walter Johnson, backed by a triple play, faces only 27 Browns batters