September 14, 1987: Blue Jays hit 10 home runs to set all-time record; a Ripken streak ends
---
A crowd of 27,446 showed up on a cool, clear late-summer night1 in Toronto to watch a series opener between two teams headed in opposite directions. The host Blue Jays were locked in a tense American League East Division race with Detroit. Both teams began play with identical 85-57 records, six games ahead of third-place New York. It was the ninth time in the Blue Jays' last 21 games that they began the day tied atop the standings with Detroit.
Meanwhile, Baltimore staggered into town a season-worst 23 games behind Toronto, loser of six straight contests. They would finish the year with 880 runs allowed, second worst among all clubs, and their highest total in 36 years. The Orioles were headed for their fourth straight losing season since winning the 1983 World Series, finishing with 95 losses, their most ever in a 162-game schedule. On June 15 the O's dropped into sixth place in the seven-team AL East and stayed there for the rest of the campaign.
A week before, on Labor Day, the unofficial end of summer was marked by the annual Canadian National Exhibition air show, featuring military aircraft soaring above Exhibition Stadium along Toronto's lakefront. What fans didn't realize this Monday night was that the Blue Jays were about to stage their own air show, unlike anything seen before or since in major-league history.
The 1987 campaign will be remembered as the Year of the Home Run in the American League. Its 14 clubs set a new record by averaging 1.16 home runs per game per team.2 Whether it was due to slight differences in manufacturing the baseball, batters corking bats, batters bulking up, or simply bad pitching, balls were flying out of ballparks at a noticeably higher pace than in previous years.3 While some chalked it up to random variation, others were unconvinced. "The 1987 baseball is a souped-up specimen," wrote one reporter. "Balls hit on the handle or on the end of the bat are going out of the park, exactly as they did on Robert Redford's patty-cake swing in the film 'The Natural.' "4 By season's end, the Blue Jays would establish single-season franchise records for home runs, runs scored, slugging percentage, and on-base plus slugging (OPS).5
The game started quietly with a scoreless first inning, and after durable Toronto veteran Jim Clancy worked a quick 1-2-3 second inning, his teammates began their assault on Baltimore pitching in the bottom half.
Against starter Ken Dixon, Toronto catcher Ernie Whitt led off the frame by belting a home run, and after Jesse Barfield doubled, Rance Mulliniks drove him home with a two-run shot on Dixon's next offering. Two outs later, Dixon walked rookie leadoff hitter Nelson Liriano. On the next pitch, center fielder Lloyd Moseby hit the Blue Jays' third home run of the inning to give them a 5-0 lead, ending Dixon's night. It was the final appearance of Dixon's major-league career.
Leading off the third, Mike Hart nicked Clancy for a home run but in the bottom half, Toronto slugger George Bell greeted Baltimore reliever Eric Bell with a dinger to left field. The crowd roared again two outs later when for a second consecutive inning, the bespectacled Mulliniks cracked a home run over the right-field fence. After just three innings Toronto led 7-1 and had already matched its team record for home runs in a game with five.
In the fourth, while new Baltimore pitcher Mike Griffin allowed "only" an RBI single by Tony Fernandez, he was able to keep the Blue Jays from hitting a home run for one inning. That would not be the case in the fifth. Leading off again, the veteran Whitt blasted the home side's sixth home run of the night, establishing a new team record.
All eyes were now on Toronto's chase for the major-league record books. The standard for home runs by one team in one game was eight, accomplished seven times before that night,6 most recently in the American League by Boston in 1977 against the Blue Jays, a game in which Whitt appeared as a pinch-runner and catcher late in the game.
In the bottom of the sixth, George Bell struck again, smashing his second home run of the evening, his league-leading 45th of the season and his team's seventh of the game.7 After the season, Bell would be named the American League's MVP.
History was within reach.
At the seventh inning stretch, Toronto led 10-2 as Clancy walked off the mound having pitched seven solid innings yielding a solo home run and an RBI double among seven total hits with six strikeouts. Blue Jays manager Jimy Williams pulled three of his starters in the top of the inning, but the Jays' relentless offense still surged. With a run already in, Canadian-born Rob Ducey, now playing center field in place of Moseby, launched a three-run shot, his first major-league home run and the record-tying eighth for his team. Toronto continued pouring it on despite a 14-2 score, adding two singles to put runners on the corners, bringing the hottest hitter in the lineup back up to the plate.
Sensing history, the crowd buzz escalated as the sizzling Whitt strode to the plate with two home runs already on his ledger. In fact, Whitt was in the midst of a 6-for-15 stretch over four games in which all six hits were home runs.8 "I can't deny I wasn't thinking home run that last time," Whitt said after the game. "I was just going up there looking for my pitch. It seemed like they were throwing the ball right into my swing."9 Whitt got the green light when the count reached 3-and-1, then belted the next pitch high over the right-field fence for his third home run of the game and the ninth for the home side. Whitt became just the second Blue Jay to hit three home runs in a game and Toronto now had the all-time record for most home runs by one team in one game.10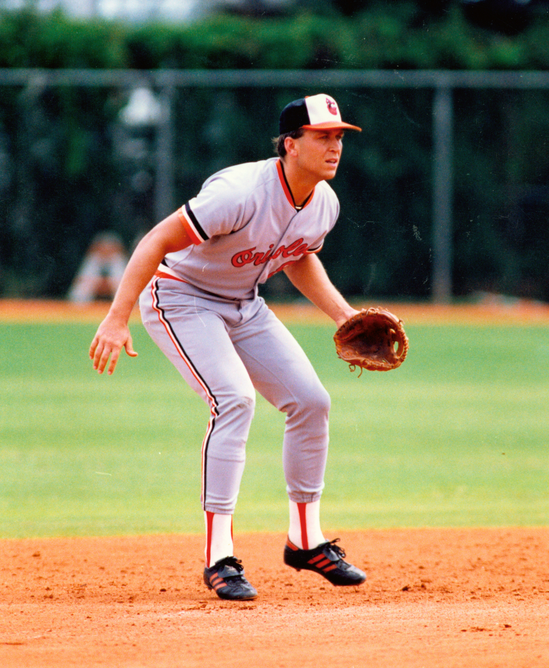 For the closing act of the Toronto air show, rookie slugger Fred McGriff induced one more ovation when he hit Toronto's 10th home run of the night leading off the bottom of the eighth, McGriff's 19th of the year and a Toronto record for rookies.11 When he rounded second base, he passed in front of Ron Washington, sent in to play shortstop for Baltimore at the start of the inning in place of ironman Cal Ripken Jr. While it was widely reported that Ripken's consecutive-inning streak ended at 8,243 that night, published SABR research shows that he actually played in 8,264 straight innings before coming off the field.12
Yet it was the Blue Jays' record that was the overwhelming story. From that night through the end of the 2015 regular season, the Blue Jays' ten home run game was seriously challenged only once. The Cincinnati Reds set a National League record in 1999 when they hit nine home runs in the first eight innings of a game in Philadelphia.
How could one team hit 10 home runs in a game? "It was because of the batting practice (coach) Rocket Wheeler and I threw," joked normally stoic Toronto batting coach Cito Gaston.13 "Rocket had five guys who hit home runs and I had four. How do you explain it? Well, you're just seeing the ball well," said Gaston. "When it's coming in, it seems as big as a basketball. That's something for all of them to be proud about. We might not ever again see a game like that."14
Conversely, how could one team give up 10 home runs in one major-league game? Baltimore bullpen coach Elrod Hendricks had no explanation. "No matter what we threw, they hit out," he said, describing the obvious. "You never want to be embarrassed, but you reach a point in the game where anger is not going to help you, so you might as well just relax. Even if you lost 2-1, it's just one game."15
Indeed, in the standings, blind to margin of victory, Toronto had won one game and Detroit – victor over Boston that night – had won one game. The Blue Jays and Tigers remained tied for first place with 19 games remaining. "I'll never forget this night, but this is no time for celebration," an even-keeled Whitt remarked after the game. "Let's face it, tonight means nothing if we don't win this thing."16
"Okay, so this one goes down in the books but, while Ernie's always gonna remember it, this night's over as soon as the sandwich goes down the throat," said the ever-loquacious Moseby. "I think our guys have got this in perspective."17
Despite the pressure of the pennant race, Whitt sensed that he and his teammates still knew they would always treasure this record-setting game and their place in history. "You're going to remember a game like that forever."18
Acknowledgments
The author would like to thank Dr. Robert J. Williams for finding the article "Cooperstown 10" listed in the Notes.
Notes
Additional Stats
Toronto Blue Jays 18
Baltimore Orioles 3
---
Exhibition Stadium
Toronto, ON
Box Score + PBP:
Corrections? Additions?
If you can help us improve this game story, contact us.
Tags
http://dev.sabr.org/wp-content/uploads/2015/10/1987Donruss-BlueJays.jpg
600
800
admin
/wp-content/uploads/2020/02/sabr_logo.png
admin
2015-10-22 11:39:35
2020-12-08 22:46:52
September 14, 1987: Blue Jays hit 10 home runs to set all-time record; a Ripken streak ends