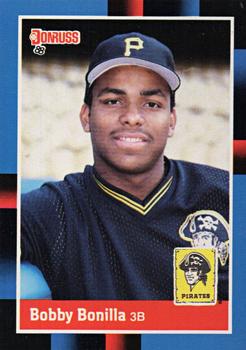 September 14, 1988: Bobby Bonilla ends homer drought with extra-inning clout for Pirates victory
---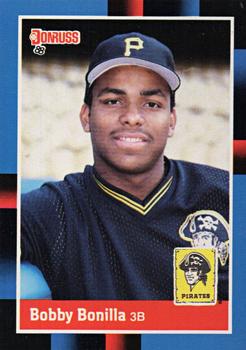 The Montreal Expos hosted the Pittsburgh Pirates for a two-game midweek series that completed Montreal's next to last homestand of the season. The 73-71 Expos were third in the National League East Division, 13½ games behind the division-leading New York Mets. Montreal had clobbered the St. Louis Cardinals in their preceding two games, 14-2 and 7-1,1 and hoped to gain ground on the second-place Pirates, who were 3½ games ahead of the Expos.
Montreal first baseman Andres Galarraga powered Montreal's offense with outfielders Tim Raines and Hubie Brooks adding speed and power. The veteran pitching staff was led by Pascual Perez and Dennis Martinez, complemented by an effective bullpen. The Expos hovered around .500 through most of the season's first half, but a 12-17 August dropped them to double-digit games behind the Mets by Labor Day. One significant difference between the 1987 and 1988 Expos was their success against the NL West: Montreal compiled a 23-13 record vs. the San Diego Padres, Los Angeles Dodgers, and San Francisco Giants in 1987 but struggled with a 15-21 record against the same three teams in 1988.2
Pittsburgh steadfastly stood in second place, 10 games behind the Mets. The 1988 Pirates were on pace for their best finish since they won the 1979 World Series. Since their championship nine years before, Pittsburgh's best record was 84-78 in both the 1982 and 1983 seasons. Pittsburgh was in the first half of a 10-game road trip, having split two one-run games with the Mets before arriving in Montreal, including a 1-0 victory the previous night when Bobby Bonilla doubled home Andy Van Slyke with the game's only run.3 The Pirates featured a trio of strong young offensive sluggers, Bonilla, Van Slyke, and a third-year Barry Bonds. The ballclub was maturing as the season progressed; Van Slyke noted, "You learn a pennant race is not just four months. Some of these guys here were playing every day for the first time."4
Montreal manager Buck Rodgers sent rookie right-hander Brian Holman to the mound. Holman was 3-7 with a 3.38 earned-run average in 80 innings since his June call-up. He pitched solidly throughout the season, usually pitching five or six quality innings per start. Montreal's first-round selection in the 1983 amateur draft opened the season with the Triple-A Indianapolis Indians and debuted with Montreal on June 25 against Pittsburgh in Montreal.5 He lost that start, then lost a second game against Pittsburgh in August. His pitching repertoire included a fastball, curveball, forkball, and changeup.6
Pittsburgh manager Jim Leyland countered with Mike Dunne, a second-year pitcher who was 7-11 with a 3.93 ERA over 24 starts and 149 innings. He snapped a personal four-game losing streak in his previous outing, on September 9, when he allowed two runs in seven innings against the Philadelphia Phillies and won for the first time in two months.7 Dunne had faced Montreal twice earlier in the season, losing on June 5 and tossing six shutout innings in a no-decision on August 2. Leyland had pulled Dunne after he made 114 pitches that night. "It's an old philosophy, but I believe it," the manager said then. "If a pitcher's in trouble a lot in the early innings, eventually it catches up to him. Maybe he would've gone on and shut them out, but he was in a lot of trouble, he'd made about 115 pitches and he had a three-ball count on nine hitters."8
Bonds started the game by flying out to left field. Jose Lind was the first runner aboard with an infield single but was forced at second base on Van Slyke's grounder. Van Slyke stole second. Bonilla walked on a full count, but Sid Bream lined out to right field, stranding both baserunners. Tracy Jones started Montreal's half with a foul popout. Dave Martinez tripled to right field and scored on Galarraga's groundout to give Montreal a 1-0 lead. Brooks grounded out to end the inning.
Pittsburgh responded in the second inning. Glenn Wilson started the rally with a center-field single. Mike LaValliere flied out. Felix Fermin singled to center as Pittsburgh threatened once again. Dunne struck out when a two-strike bunt attempt drifted foul, but Bonds singled up the middle, scoring Wilson and advancing Fermin to third base. Lind struck out swinging, the only unproductive plate appearance he had that evening. The teams were tied, 1-1.
In the bottom of the inning with one out, Tom Foley singled up the middle and stole second after Nelson Santovenia flied out. Jeff Huson walked on four pitches, bringing up Holman with two runners on and two outs. Holman grounded back to Dunne, ending the inning.
Holman established his rhythm during the middle innings, and the Pirates didn't have multiple runners on base again until the eighth inning. The Expos threatened in the bottom of the third inning. Jones walked and Martinez singled, but Galarraga hit into a double play and Brooks grounded out with Jones stranded at third base. In the fourth, Montreal placed a runner on base; for Pittsburgh in the following frame, Lind singled but was thrown out by Jones attempting to stretch his hit into a double. Dunne improved as the game progressed, retiring the Expos in order in the sixth and seventh. After eight innings, the teams remained deadlocked 1-1.
Montreal reliever Joe Hesketh entered the game in the ninth inning. After a groundout and a strikeout, LaValliere singled and pinch-hitter Gary Redus walked. Pinch-hitter R.J. Reynolds hit a comebacker to Hesketh, ending the threat. Pittsburgh reliever Scott Medvin entered the game in the bottom of the inning, facing the middle of Montreal's order. Medvin needed only 11 pitches for two fly outs and a strikeout, and the game moved into extra innings.
Bonds started the 10th inning with a center-field single, took second on Lind's sacrifice, and stole third base on Van Slyke's called third strike. The dangerous Bonilla was intentionally walked to place Pirates baserunners at the corners for just the second time in the game. With an opportunity to snag the lead, Bream flied out to right field. In the bottom half, Medvin continued to silence Montreal's bats, retiring the home team on two groundouts and a strikeout looking. The 11th inning saw two new relievers who pitched scoreless frames.
In the 12th inning, pinch-hitter Al Pedrique grounded out and Bonds popped out. Lind doubled to left field, his fourth hit of the game. Van Slyke was intentionally walked. With two outs and runners on first and second, Bonilla lined a 2-and-2 changeup "that almost hugged the foul line and crashed into the cement behind the right-field wall"9 to give Pittsburgh a 4-1 lead. Bream struck out looking, but the damage was done.
Brian Fisher, who had pitched a scoreless 11th inning for Pittsburgh, induced a Brooks groundout to start Montreal's half of the 12th. Tim Wallach provided Expos fans with some hope on a single to left. But Foley hit a grounder to second for a game-ending double play.
Fisher pitched two scoreless innings for his eighth win while Tim Burke absorbed his fourth loss after allowing Bonilla's three-run clout. Burke said, "Nobody in this room feels as bad as I do. The changeup was what I thought would work."10 Lind finished 4-for-5 with a sacrifice while Bonilla's 21st homer was complemented with two walks. The homer was his first in a month and he was hitting only .211 since the All-Star break in mid-July.11 After the game Montreal manager Rodgers, asked why he walked Van Slyke after Lind opened the 12th inning with a double, responded, "Bonilla hasn't been hitting the ball well lately at all. I'd rather be facing him than Van Slyke."12 Before the game Leyland was struggling with his lineup and asked his coaches to provide ideas. Leyland received four different lineups, two without Lind and two without Bonilla; fortunately for Pittsburgh, Leyland's lineup ultimately included both players.13
Bonilla finished the season with a .274 batting average, 24 homers, 100 runs batted in, and an .842 OPS, the first time he reached the 20-home run and 100-RBI milestones in his 16-year career. His 5.1 Wins Above Replacement (per Baseball-Reference.com) in 1988 was his career high. During his career, Bonilla attained 20 homers six more times and 100 RBIs three more. Pittsburgh completed the 1988 campaign with an 85-75 record. Their second place NL East finish, 15 games behind the division-winning Mets, was their best since their 1979 World Series championship. Montreal completed the season just behind Pittsburgh in third place with an 81-81 record, 20 games behind New York and five behind Pittsburgh. The loss to Pittsburgh was one of 10 games Montreal played in 1988 requiring at least 12 innings; the Expos compiled an 8-2 record in those contests.
Sources
Besides the sources cited in the Notes, the author consulted Baseball-Reference.com, Retrosheet.org, and the following:
James, Bill. The New Bill James Historical Baseball Abstract (New York: The Free Press, 2001).
baseball-reference.com/boxes/MON/MON198809140.shtml
retrosheet.org/boxesetc/1988/B09140MON1988.htm
Notes
1 Paul Carbray, "Brooks Makes Cards Pay," Montreal Gazette, September 14, 1988: 20.
2 Carbray, "Expos Notebook: Raines, Heaton Nurse Shoulders," Montreal Gazette, September 6, 1988: 24.
3 Bob Hertzel, "It Was Much Bigger Than a 1-0 Win for the Pirates," Pittsburgh Press, September 14, 1988: 27.
4 Hertzel: 29.
5 Carbray, "Holman Suffers Shaky Major-League Debut," Montreal Gazette, June 26, 1988: 17.
6 Bill James and Rob Neyer, The Neyer/James Guide to Pitchers: An Historical Compendium of Pitching, Pitchers, and Pitches (New York: Fireside Books, 2004), 320.
7 Paul Meyer, "Bucs' Dunne Chills Phillies, 5-2," Pittsburgh Post-Gazette, September 10, 1988: 13.
8 Meyer, "Bucs' Rally Tops Expos, 3-2," Pittsburgh Post-Gazette, August 3, 1988: 13.
9 Paul Meyer, "Bonilla's Homer in 12th Lifts Bucs, 4-1," Pittsburgh Post-Gazette, September 15, 1988: 20.
10 Paul Carbray, "Bonilla Gets Justice with Homer," Montreal Gazette, September 15, 1988: 59.
11 Carbray: 59.
12 Carbray: 59.
13 Hertzel, "Bonilla Remains a Big Hit in Leyland's lineup," Pittsburgh Press, September 15, 1988: 29.
Additional Stats
Pittsburgh Pirates 4
Montreal Expos 1
12 innings
---
Olympic Stadium
Montreal, QC
Box Score + PBP:
Corrections? Additions?
If you can help us improve this game story, contact us.
Tags
https://sabr.org/sites/default/files/Bonilla-Bobby-1988.jpg
600
800
sabr
/wp-content/uploads/2020/02/sabr_logo.png
sabr
2020-05-01 18:10:02
2020-05-28 15:35:17
September 14, 1988: Bobby Bonilla ends homer drought with extra-inning clout for Pirates victory