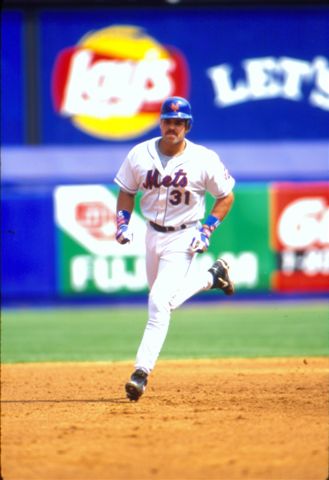 September 16, 1998: Mets keep pace with Cubs as Piazza, Hundley homer
---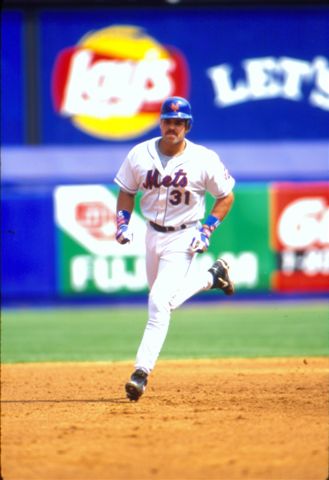 In front of a crowd of over 24,000, the New York Mets stole a game from the Houston Astros that they desperately needed to win in order to keep their hopes of earning a wild-card berth alive.
The game, which took just over four hours to complete and saw the Mets take three of four from the Astros, kept the Mets (86-68) a half-game back of the Chicago Cubs (86-67) in the National League wild-card chase and came about in dramatic fashion thanks to late-inning home runs by future Hall of Fame catcher Mike Piazza and the man he replaced when he was traded to the Mets in a "perfect storm of things coming together" from the Florida Marlins, former catcher Todd Hundley.1
Both starting pitchers found success early in the game, as neither the Mets' Bobby Jones nor the Astros' Mike Hampton gave up any runs. However, each pitcher issued two walks, and Hampton committed a balk, giving the early innings slightly more excitement than they otherwise would have featured.
The high point of the first two innings for the Astros came when seven-time All-Star second baseman Craig Biggio stole second and third in the first inning. The two steals gave him 49 for the season to date and eclipsed his career high of 47 in 1997.
The Houston fans found more to get excited about as Mets starter Bobby Jones gave up two runs in the third inning after walking Biggio, getting right fielder Richard Hidalgo to ground out, then giving up a home run to Carl Everett. Everett's homer, to deep right field, was his 15th of the season.
After the home run, Jones settled down and, while he walked five batters, he did not give up another run during his eight innings pitched. He struck out five.
For the Astros, starter Mike Hampton had an interesting night, walking six and striking out four during his time on the mound. He never had a calm inning, allowing at least one baserunner each inning and giving up eight hits. He offset that by inducing four double plays, keeping the Mets off the scoreboard during his eight innings of work.
The most nerve-wracking inning for Hampton was the fourth, when an error by Astros shortstop Tim Bogar allowed Mets center fielder Brian McRae to reach base. After walking right fielder Butch Huskey, Hampton got two quick outs, striking out second baseman Carlos Baerga and inducing shortstop Rey Ordonez to ground out. However, he then walked pitcher Jones to load the bases for the leadoff hitter, left fielder Tony Phillips. Hampton got Phillips to ground out to short, ending the bases-loaded threat and keeping the Astros on top.
Neither Jones nor Hampton wound up with a decision for their work in the evening's game.
The action picked up in the top of the ninth inning when Astros closer Billy Wagner, in relief og Hampton, gave up a leadoff single to pinch-hitter Todd Pratt. Wagner struck out Tony Phillips and got Edgardo Alfonzo to fly out to right fielder Richard Hidalgo. But John Olerud hit a two-out single, setting the scene for Piazza, who, on a 2-and-2 count, took a pitch over the center-field wall for a three-run home run, his 32nd homer of the season, giving the Mets the lead. Wagner then struck out McRae to end the inning. This was Wagner's fourth blown save of the season.
In the bottom half of the inning, Mets reliever Dennis Cook got Ricky Gutierrez to fly out to right field before giving up a tying home run to Astros catcher Brad Ausmus. Ausmus's homer, which went to deep left field, was his sixth of the season. Cook then struck out both Tim Bogar and Billy Wagner to send the game to extra innings.
In the top of the 10th, Wagner gave up a leadoff single to Jermaine Allensworth, who moved to second on a throwing error by left fielder Moises Alou. Luis Lopez, a second baseman who was subbed into the game, bunted Allensworth to third. Allensworth held third as Rey Ordonez grounded to second, and Matt Franco, playing first base as a defensive replacement, struck out to end the inning, stranding Allensworth.
In the bottom of the 10th Mets reliever Greg McMichael walked three (one intentional) after two outs, but struck out Ricky Gutierrez to end the inning.
In the 11th, Sean Bergman took over for Wagner and got two quick outs, Tony Phillips on a fly ball to right field, and Edgardo Alfonzo on a groundball to second. Todd Hundley, the former Mets catcher who was relegated to the bench after Piazza was acquired from the Marlins, pinch-hitter for McMichael. Hundley swung on a 2-and-0 pitch and put his last home run as a member of the Mets into the stands to give the Mets the lead. Piazza struck out to end the inning.
In the bottom of the inning, Mets reliever Turk Wendell struck out Brad Ausmus, Dave Clark, and Russ Johnson on 16 pitches to end the game and give the Mets their 86th win of the season.
Said Hundley of his winning blast, "I knew when I hit it I got it. … I was just trying to hit the ball hard and not pull it off. My numbers in this place are brutal. I hate this place."2
The four-game series between the Mets and the Astros prompted Amazin' Avenue blogger to proclaim it "my favorite regular season series I have watched since being a fan."3
The win moved the Mets to 6-4 in their last 10 games. The Astros also moved to 6-4 over their last 10, but won the season series with the Mets, 5 games to 4. The Astros stood at 97-57 for the season and remained in first place in the National League Central Division.
This article was published in "Met-rospectives: A Collection of the Greatest Games in New York Mets History" (SABR, 2018), edited by Brian Wright and Bill Nowlin. To read more articles from this book at the SABR Games Project, click here.

Sources
In addition to the sources cited in the Notes, the author consulted Baseball-Reference.com and Retrosheet.
https://www.baseball-reference.com/boxes/HOU/HOU199809160.shtml
http://www.retrosheet.org/boxesetc/1998/B09160HOU1998.htm
Notes
1 Anthony McCarron, "Eight Amazin' Days: Oral History of The Trade That Sent Mike Piazza From the Dodgers to the Marlins to the Mets," New York Daily News, July 22, 2016, nydailynews.com/sports/baseball/mets/amazin-days-oral-history-piazza-trade-route-mets-article-1.2721781. Accessed January 21, 2018.
2 Jason Diamos, "Baseball; Latest Script: Hundley and Piazza Both Do It," New York Times, September 17, 1998, nytimes.com/1998/09/17/sports/baseball-latest-script-hundley-and-piazza-both-do-it.html. Accessed January 21, 2018.
3 Daniel Convery, "A Torrid Summer Love Affair and Heartbreak: An Existential Love Letter to the 1998 Mets," SBNation.com, May 10, 2016, amazinavenue.com/2016/5/10/11653974/a-torrid-summer-love-affair-and-heartbreak-an-existential-love-letter. Accessed January 21, 2018.
Additional Stats
New York Mets 4
Houston Astros 3
---
Astrodome
Houston, TX
Box Score + PBP:
Corrections? Additions?
If you can help us improve this game story, contact us.
Tags
https://sabr.org/sites/default/files/images/PiazzaMike-195.99_FL_Ponzini.jpg
600
800
admin
/wp-content/uploads/2020/02/sabr_logo.png
admin
2019-10-16 15:43:49
2020-04-17 10:22:27
September 16, 1998: Mets keep pace with Cubs as Piazza, Hundley homer